Lighter Loaded Baked Potato Soup is the answer to your prayers if you've been avoiding one of your favorites thinking it's a calorie bomb. You know because #fitnessgoals. You can enjoy this one relatively guilt free thanks to no heavy cream and 2% milk instead of whole. I find that you can cut back to 2% and not lose the creamy texture. I would strongly recommend against using any lower fat on the milk. At under 300 calories for a 1.5 cup serving, this potato soup has a place in your healthy eating life. How exciting is that?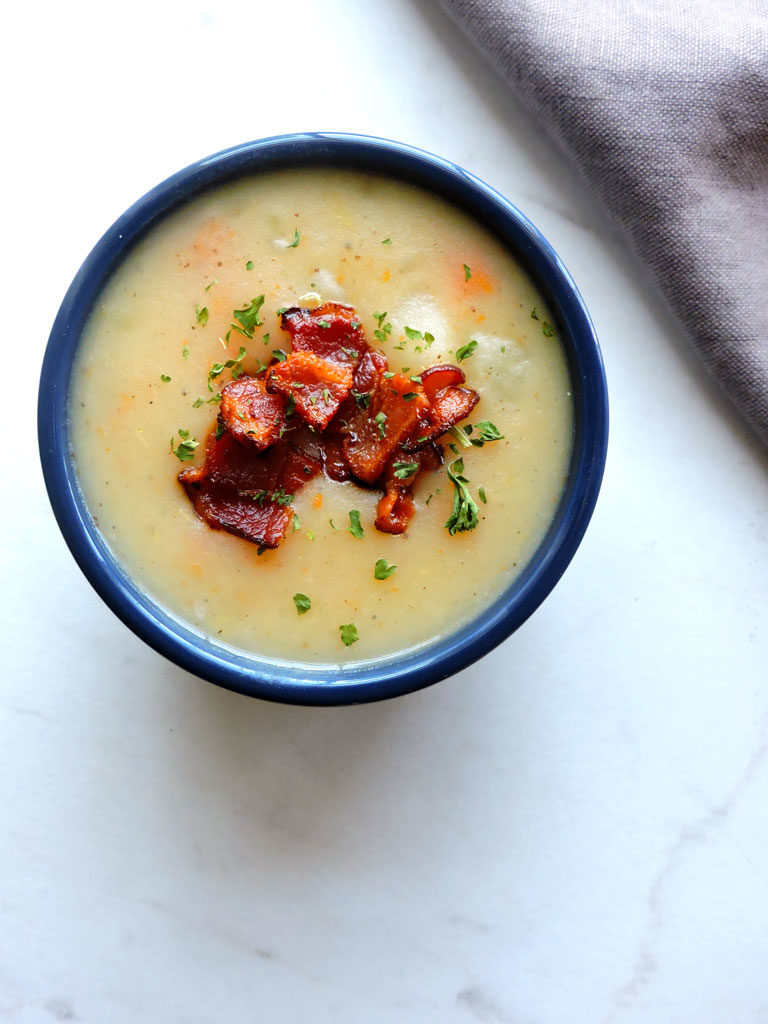 I give you instructions below for the Instant Pot , pressure cooker and stove top. The only real difference in all of these is that on the stove top instead of pressure cooking the potatoes, you'll be bringing them to a low boil and cooking them until fork tender. All the saute instructions are still the same. I decided to ensure that everyone knows that even if you don't have an Instant Pot, you can cook this with a stove top pressure cooker. The Instant Pot is great because it can replace your rice cooker, slow cooker and pressure cooker, but with these individual appliances you can achieve the same result.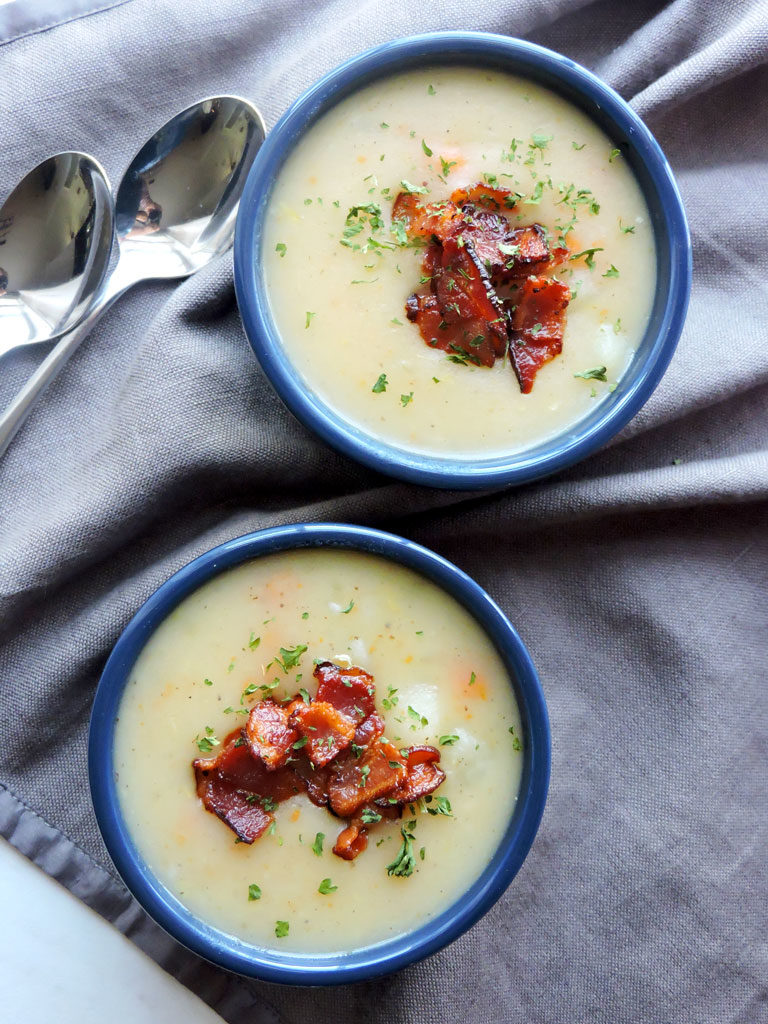 I was reading comments on another blogger's Instant Pot Recipe and this person was in a tirade in the comments telling people the Instant Pot is a name brand and not to be sheep and purchase one. I love mine, but yes there are other brands and the traditional pressure cooker, slow cooker, and rice cooker can do the things the Instant Pot does. However, if you're like me, and you hate clutter, the Instant Pot or a comparable product will serve you well. I've removed 3 appliances for 1. 🙂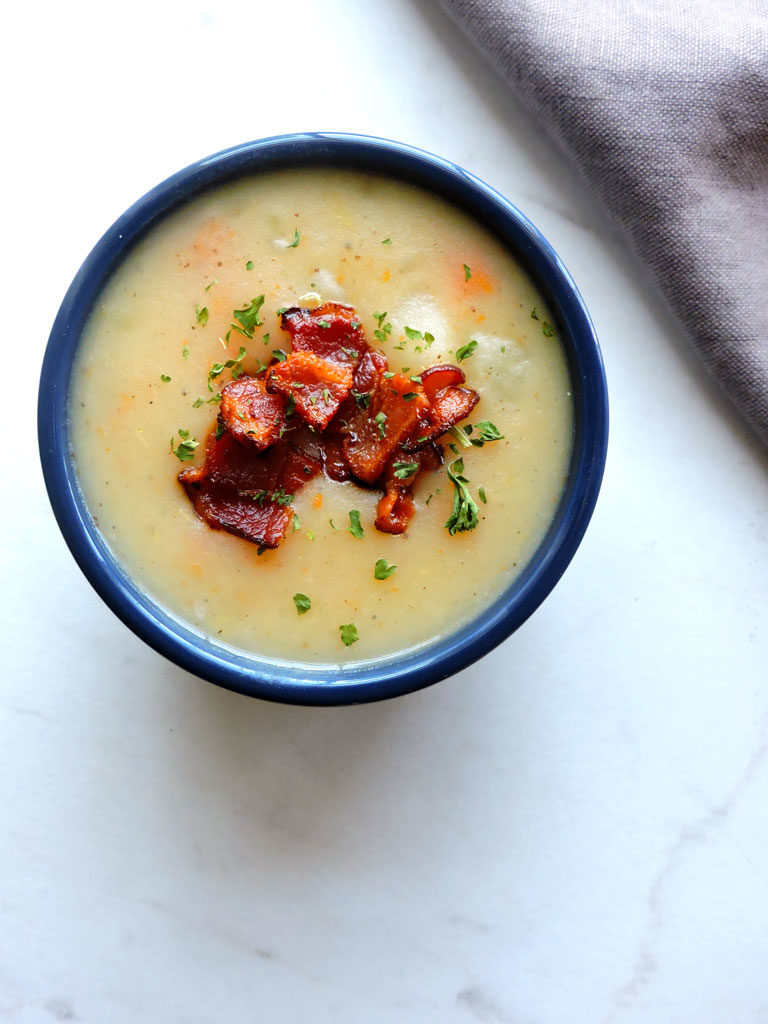 I really hope you make this Lighter Loaded Baked Potato Soup. It's flavorful and it won't set you back on those #fitnessgoals 😉
Pin for Later!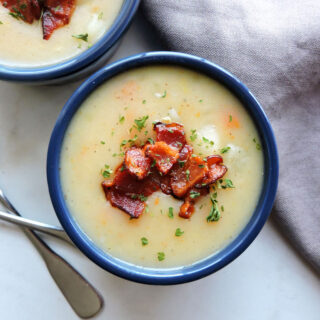 Lighter Loaded Baked Potato Soup
Lighter Loaded Baked Potato Soup has all the flavor of the traditional potato soup you love without heavy cream. This recipe can be made in the Instant Pot or on the stove top.
Ingredients
3

slices

Center Cut Bacon

diced

5

cups

Russett Potatoes

Cut into 1 inch cubes

1/2

cup

Carrot

finely diced

1/2

cup

Celery

finely diced

1

cup

onion

finely diced

4.5

cups

Chicken Stock

low sodium preferred

1

cup

2% milk

Do not use lower fat than 2%.

3

tbsp.

Flour

salt and pepper

to taste
Instructions
INSTANT POT/PRESSURE COOKER INSTRUCTIONS- Turn the Instant Pot to saute and throw the diced bacon in. Cook it until it's crisp. Remove and place it on a paper towel line plate.

Add in the celery, onion and carrot and saute until translucent. Add in the potatoes and a heavy sprinkle of salt and pepper.

Pour in 4.5 cups of chicken stock. Place the lid on the Instant Pot (or pressure cooker) and press manual and set for 7 minutes. The Instant pot takes some time to build pressure. It will then cook for 7 minutes and you'll quick release the steam. Use a towel and stand back as the steam releases.

After you've released the steam, puree about 1/3 of the soup using an immersion blender or just transfer it to a regular blender and pour it back in. Mix together the 1 cup of milk and 3 tbsp. of flour. Whisk well so there are no lumps.

Pour in the flour and milk mixture. Turn the function on the instant pot back to saute (if using a traditional pressure cooker or stove top just cook it on the stove at medium heat) and allow the soup to thicken and the flour to cook out for 2-4 minutes. The soup should coat the back of a spoon. Add more milk or chicken stock if you need to thin it to your liking.

Taste for seasonings. You'll likely need to add more salt and pepper. Serve with chives, bacon, a dollop of sour cream or a little cheese. Load it to your liking.

STOVE TOP- The only difference in cooking on the stove top is the part where you add the stock and cook the potatoes. If you're making this on the stove top you'll need to bring the stock mixture to a low boil and cook until the potatoes are fork tender instead of pressure cooking them.
Notes
The nutrition information is calculated with the bacon as it's used to start the soup. Additional toppings will add additional calories.