If you watch my instastories lately, you know I am on a smoothie kick. Mainly it's a green smoothie with various fruits and don't ever forget that almond butter. Sometimes I want something more substantial. Sometimes I am also out of greens. That's how this Peach Perfect Smoothie Superfood Bowl came to be. I think kids would really enjoy this one. How fun to whirl this up and set out toppings. It's still full of superfoods without having any spinach too. I know some people freak out when something is green. Specifically the little ones.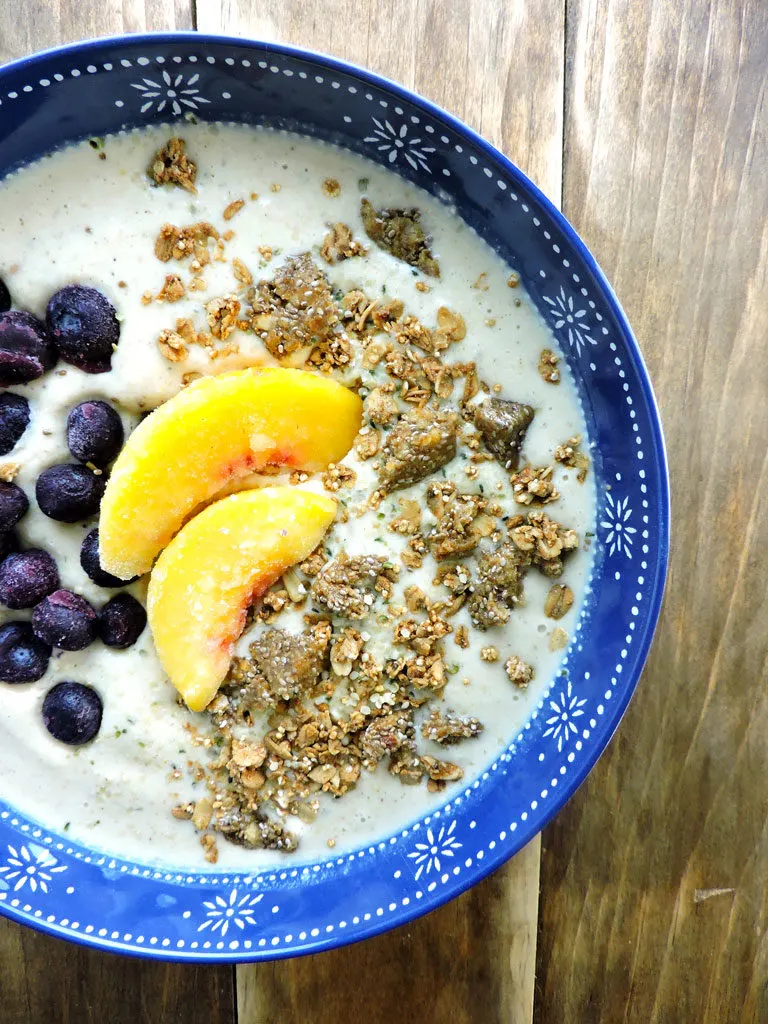 What makes this so substantial are the oats which are soaked in almond milk and the almond butter. This smoothie has a nice hit of protein. Because it's thicker and includes toppings, you'll really feel like you've eaten something. One of the complaints I hear about smoothies as meals is that the act of chewing something makes people feel as if they've eaten something. I get it. Some mornings I feel the need to chew.
Smoothies are a fantastic way to front load your day with tons of nutrition. Hemp seeds, fruits, almond butter, greens, fruits and some yogurt are all nice additions. If you aren't one to sit down to a giant salad or veggies at dinner; smoothies are a good option for you. Get creative with these and include your favorite fruits and veggies. I also crumbled my favorite Vanilla Chia Health Warrior Bar on top. The vanilla played really well with the flavors in this smoothie. You can use my discount code to get 30% off at Healthwarrior.com. Just type in FreshFitKitchen30. Health Warrior bars are made with 100% real food ingredients you can read, so that's definitely why I recommend them.
Pin it for Later! 😉

Save
*This post contains sponsored content and links. All opinions are my own.
Save
Save
Save
Save
Save
Save
Save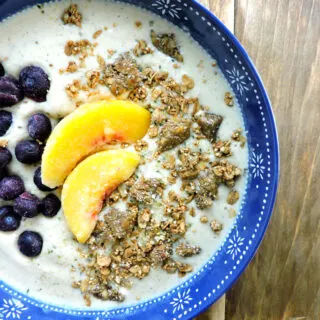 Peach Perfect Smoothie Superfood Bowl
Ingredients
1

cup

Frozen or Fresh Peaches

1

Frozen Banana

1/2

cup

Vanilla Greek Nonfat Yogurt

use coconut or almond milk yogurt if Vegan

1

cup

unsweetened vanilla almond milk

keep it nearby to get your desired consistency

1/2

cup

old fashioned oats

1/4

cup

Hemp Seeds

1/4

cup

Almond Butter
Instructions
Pour the almond milk and oats into a cup and allow them to soak for 10 minutes. This softens the oats so they will be easier on your blender and easier to digest.

Toss the peaches, Greek yogurt, banana, hemp seeds and almond butter into your blender and pulse it start breaking everything up.

Pour in the soaked oats and almond milk and blend. As you blend check for the right consistency. For a smoothie bowl, what you want is a super thick consistency. It should almost be the texture of custard.

Scoop your smoothie mix into a bowl and top with your favorite toppings. I broke up one of my favorite Vanilla Chia Health Warrior Bars for a nice flavor combo and added crunch.
Notes
This recipe is Vegan (if you use a coconut or almond milk yogurt), Vegetarian and Gluten Free 😉