Pupcakes- birthday cake for dogs! I'll just go ahead and confirm. Yes, this is a dog cake recipe. I also made a video for this dog cake recipe. March 31st is a special day around here.
It's the birthday of our most special family member, Stanley. He's our fur baby, best friend, and favorite snuggle partner.
If you love your dog more than most human beings and you want to shower them with a healthy and special birthday treat, this dog cake recipe is for you. I
am a sucker for catchy titles so calling it a Pupcake instead of a cupcake or just a dog cake feels right. Pupcakes- Birthday cake for dogs. I think I might be onto something.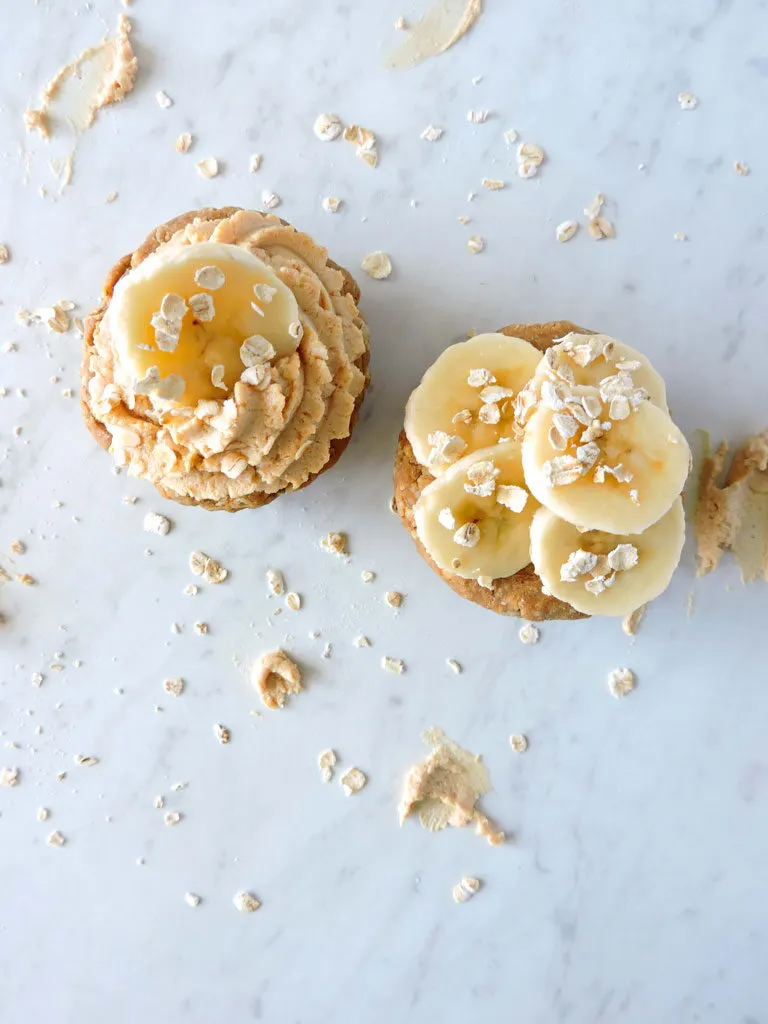 Healthy Dog Cake Recipe Ingredients
I like to make every birthday for Stanley super special. Dog lovers know, you only get so many birthdays with these special friends and every single one of them is equal to 7 human birthdays.
I basically came up with this dog cake by putting together foods I knew he could eat. Oats, peanut butter, bananas and yogurt are all healthy for dogs unless your dog has a special sensitivity.
I know he has no idea it's his birthday and that's okay with me, because I do. We spend the entire weekend celebrating. He got a new collar from the Ellen line at PetSmart. He's looking super cute in his new neck ware.
We make it a point to stay around the house playing fetch and serving up a few extra treats. One of those treats is the Pupcake. You'll see in the video below he gobbles it right up.
Dog Cake Recipe Substitutions
I like to make a yogurt peanut butter icing, but as you'll see in the photos I also sometimes top these with just bananas. You could also make an icing using just a spread of peanut butter.
I like the idea of piping it on so the yogurt helps with that. Pumpkin would also work as a topping! Dogs love pumpkin and it's very good for their digestion.
What kind of flour can you use in a dog birthday cake recipe?
I only recommend whole wheat or white flour. Almonds are known to be very difficult for dogs to digest and other gluten free flours contain ingredients that aren't best for dogs.
My dog follows a grain free diet. How can I make a grain free dog birthday cake?
If you want to make a grain free birthday cake, I'd recommend using a ring mold to layer peanut butter, then banana slices in a circular pattern. You could still pipe on some yogurt peanut butter "frosting." This will give you the look of a birthday cake without any grain.
What kind of yogurt is safe for dogs?
I only recommend non fat plain greek yogurt. Many of the sweeteners used in yogurts aren't safe for dogs. Additionally a higher fat content can be difficult for them to digest. The peanut butter provides a safe amount of fat in the recipe.
I hope you make these Pupcakes- Birthday Cake for Dogs for your best furry friend. If you do snap a photo and tag me on Instagram @freshfitkitchen. I'd love to see your pup enjoying it!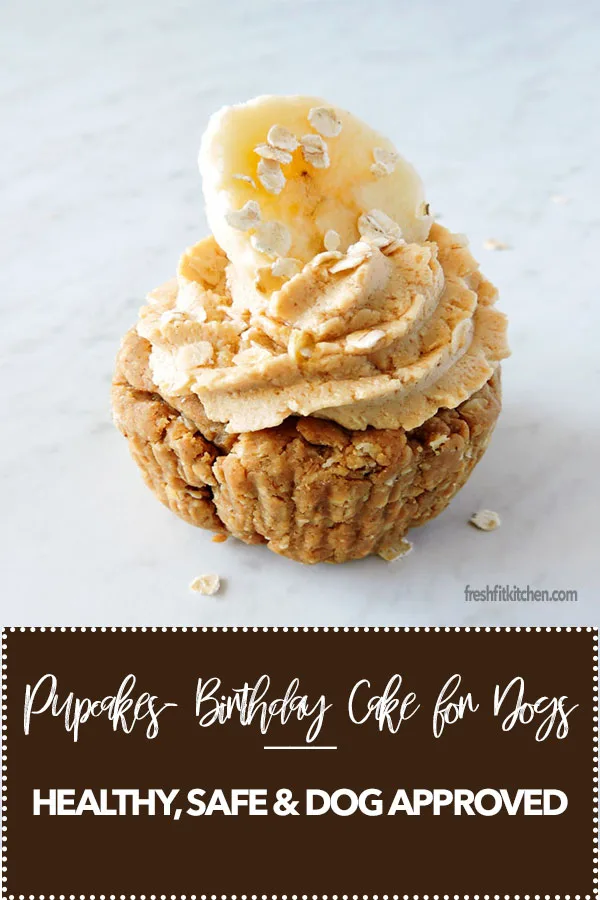 Save
Save
Save
Save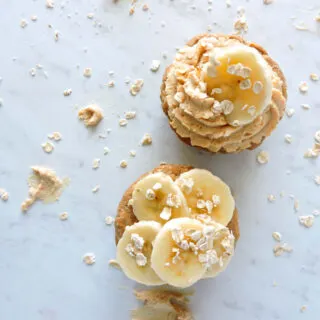 Pupcakes- Dog Cake Recipe
A Pupcake is a dog cake recipe you can safely serve to the furry friend in your life. Made with peanut butter and whole grains, it has few ingredients so it's kind to your dog's tummy.
Ingredients
1/4

cup

Whole Wheat Flour

1/4

cup

Quick Cooking Oats

1/4

cup

Natural Creamy Peanut Butter

Be sure there are no artificial sweeteners. These are not good for your pup.

1/4

cup

Water, to bring the dough together

Banana Slices and Oats for Garnish
Instructions
Preheat Oven to 350 degrees. (SEE RECIPE NOTES FOR OPTIONAL PUPCAKE- (DOG CAKE )ICING ICING RECIPE) A muffin tin is best for this and a stand mixer of you have it. A hand mixer will also work. Grease the inside of 2 of the muffin cups with a little coconut oil or use muffin liners.

In the bowl of a stand mixer beat together the oats, flour, and peanut butter for the cake. To get it to be a smooth dough, add about 1/8-1/4 c. of warm water to bring it together. The cake will basically turn into a biscuit texture.

Push 1/2 the dough into each of the muffin cups. Bake the pupcakes for 15-20 minutes or until completely set and dog biscuit texture. Remove from tins and cool on a wire rack. Using an icing tip in a ziplock or pastry bag pipe the icing on (If using) and/or garnish with more oats and banana slices.
Notes
You can make an easy and delicious icing your pet will love. Simply mix together 2 tbsp. of plain greek yogurt (no artificial sweetener) with 1/4 cup of smooth peanut butter. Put this into a pastry bag fitted with a star tip (you can also use the tip of a ziplock bag) and pipe the icing on. You can also just spread it with a knife 😉