Have you ever gone on some kind of diet that requires you to eliminate things? I am sure we all have. Carbs, gluten, meat, dairy and sugar are some of the top 10. Do you also become consumed with what you can't have? I think it's one of the hardest things about anything classified as a diet. That's why I try to create healthy recipes for the foods you love. One of the foods we love is Caesar salad. That's how this recipe for Mason Jar Salads with Parmesan Crisps came to be.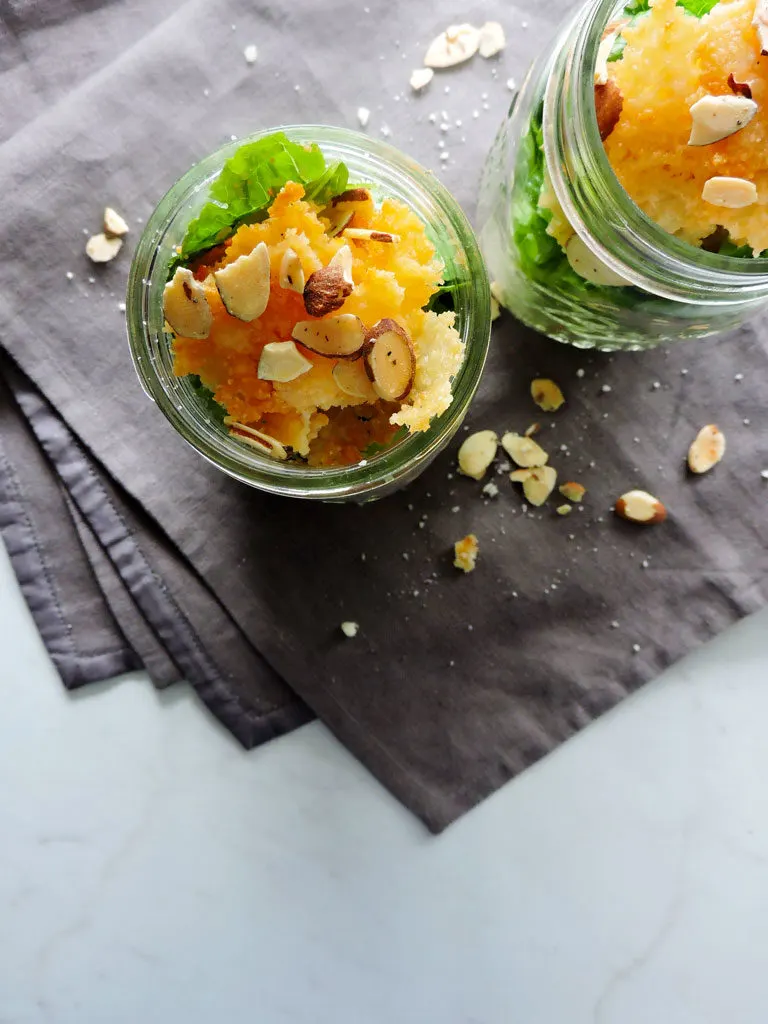 The Secret is in the Healthy Caesar Dressing Recipe…
There are no raw eggs in this healthy Caesar dressing recipe. There aren't any anchovies either so if you're vegetarian or can't stand the raw egg thing, I have you covered. There are no heavy croutons. Instead I used real Parmesan Cheese, put it on a sheet tray and baked it to crisp perfection. I also add crispy almonds. I like these sliced almonds with sea salt and black pepper. You can usually find them where croutons are sold in your grocery store.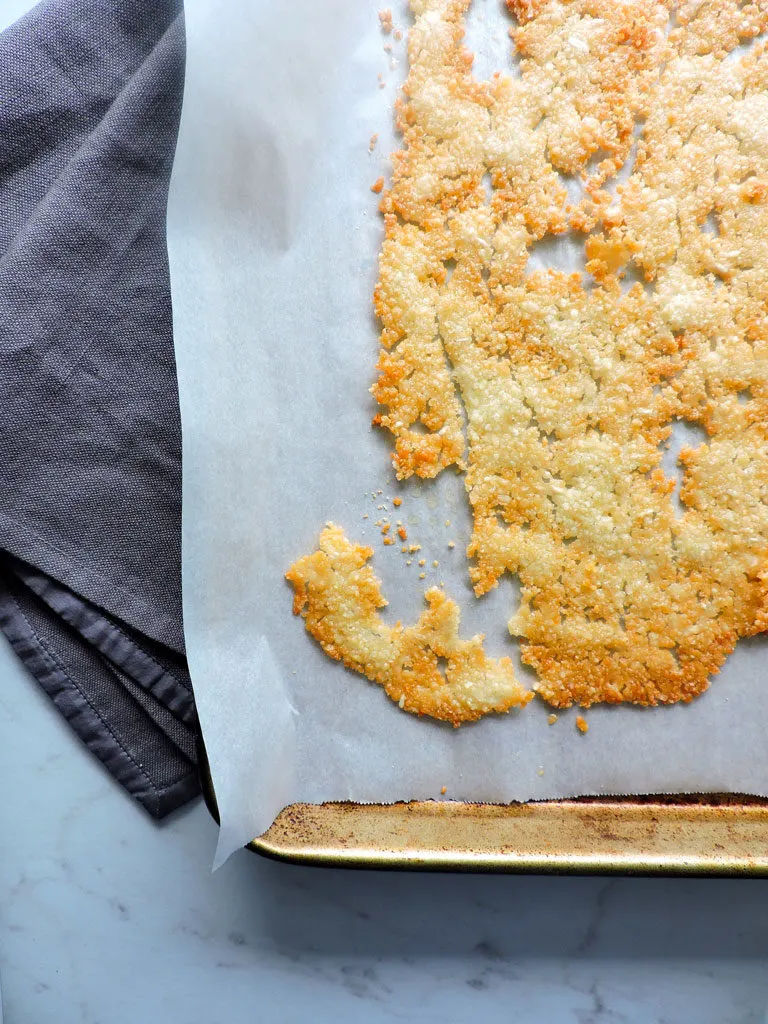 I also use a little help from the store. This is not a sponsored post, but I love these romaine leaves by Organic girl. They make everything so easy. They are well trimmed and perfect for salads or lettuce wraps!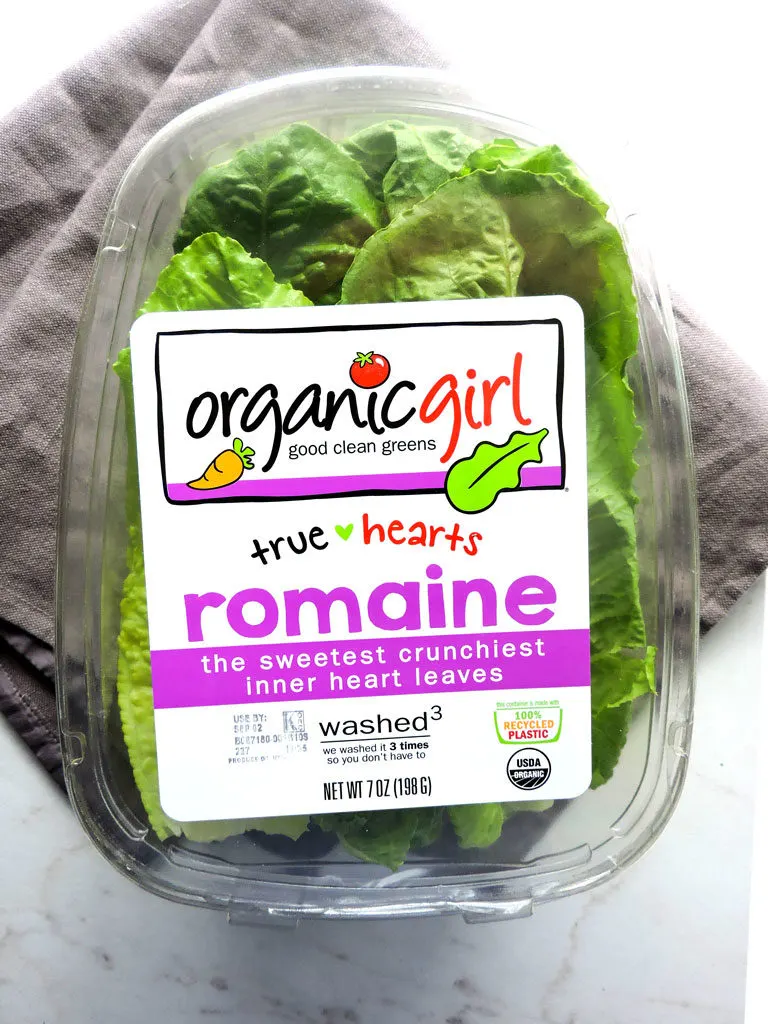 When you build your Mason Jar Caesar Salads with Parmesan Crisps, you want to layer the dressing on bottom, then the romaine and a sprinkle of Parmesan cheese on top. I recommend putting the heartier stems of the romaine at the bottom near the dressing to keep things from getting soggy. You also want to store the crisps and the almonds in a small zip bag separate from the salad. They will become soggy if you don't.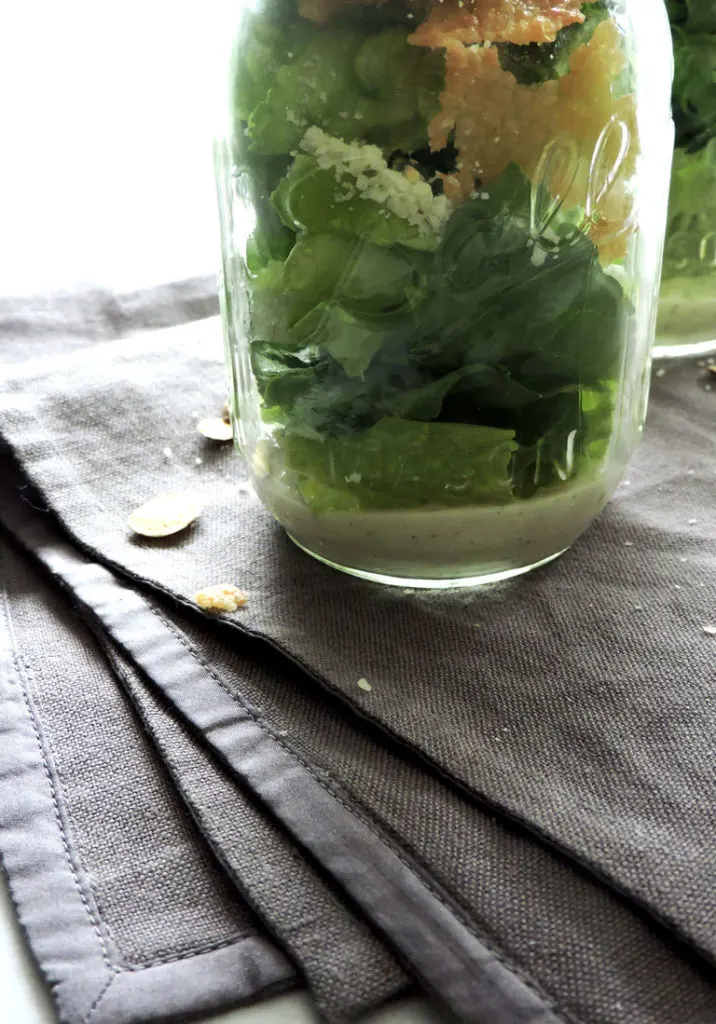 You could definitely add chicken to these for an extra hit of protein. Just grill some chicken breast and store it on top the lettuce. When you're ready to serve, dump it on a plate. The dressing will thicken as it sits so you might need a spoon to scoop it out.
If you make these Mason Jar Caesar Salads with Parmesan Crisps, tag me on Instagram @FreshFitKitchen. I love to see your creations.
PIN FOR LATER!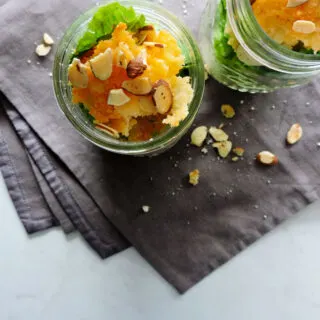 Mason Jar Salads with Parmesan Crisps
Mason Jar Salads with Parmesan Crisps include a homemade healthy Caesar dressing recipe with sliced almonds and homemade Parmesan Crisps.
Ingredients
3

tbsp.

Non-fat Greek Yogurt

1

tsp.

Dijon Mustard

2

tbsp.

Olive Oil Mayonnaise

1/2

tsp.

Worsestershire Sauce

2

tbsp.

Parmesan cheese

grated

1/4

tsp.

Garlic Powder

1/4

tsp.

Onion Salt

pinch of salt

1/2

tsp.

Black Pepper

optional

4

tbsp.

water

to thin dressing to desired consistency

4

cups

Romaine Leaves

1/3

cup

Sliced Almonds

1/3

cup

Parmesan cheese

more for sprinkling
Instructions
Place the yogurt, mayonnaise, Worcestershire, 2 tbsp Parmesan cheese, garlic powder, onion salt, pepper (if using) and a small pinch of salt in a bowl and mix together. Add water 1 tbsp. at a time until your dressing is still creamy, but just pourable.

To make the Parmesan Crisps: Preheat oven to 350 degrees. Sprinkle the 1/3 cup of Parmesan Cheese onto a sheet tray lined with parchment and bake for 10-11 minutes. Watch it. You want to pull it out when it's just golden brown. Allow it to cool then break it into pieces.

Put 2 tbsp of the dressing in the bottom of a mason jar. Add 2 cups of romaine and a sprinkle of Parmesan.

Store the Parmesan crisps and some toasted sliced almonds in a small zip bag and serve them over the salad.
Notes
These salads will keep in the fridge for 2-3 days.