My easy Easy Healthy Pan Fried Chicken Tenders No Breading are an easy recipe your whole family will love. A simple recipe using chicken tenderloins and your favorite seasoning blend. Dinner can be on the table fast and you can prep extra so you have leftover chicken tenders for other recipes.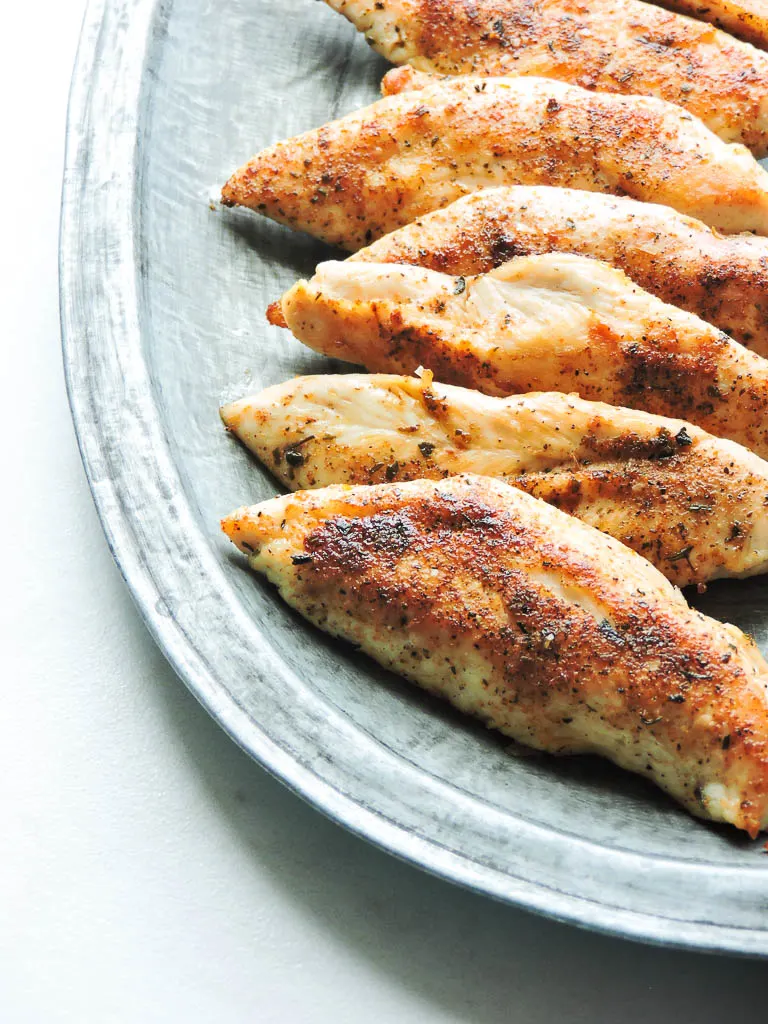 Easy chicken recipes are something we could all use a few more of! I feel like people are always asking me for fresh ideas. This recipe will serve you well on a busy night and serve as core recipe in your rotation.
Easy 7 Minute Chicken Tenders
I like to use chicken tenderloins for this recipe because they cook fast and they are reliably tender. If you can't find those in the grocery store you can definitely use boneless skinless chicken breasts and just cut it into chicken strips.
Raw chicken tenders have a little white part and that is the tendon. It's not fun to bite into. I highly recommend putting your tenders on your cutting board and removing that tendon. I do it with a pair of kitchen shears (scissors). You can also cut it out with your knife.
For best results, I like to cook my chicken tenders in a large skillet, preferably cast iron. They just get that perfect crispy crust when you pan fry them in a little olive oil spray.
For the oven simply lay a piece of parchment paper on a baking sheet. Heat the oven to 400 degrees. Spray the parchment with olive oil spray, lay your chicken on it, then spray the tops of the chicken with olive oil spray. If you don't feel the chicken is getting golden brown enough you can turn the broiler on in the last few minutes. Just make sure the baking tray you are using is broiler safe.
For the Air fryer– just put the tenders in your air fryer basket. Make sure they are in a single layer. You may need to do 2 batches. Cook for 8-11 minutes at 380 degrees.
To make sure my chicken is done, I like to use an instant read meat thermometer to make sure the internal temperature is 165 degrees. You don't want to overcook your chicken and you definitely don't want to undercook it.
Chicken Tender Seasoning Blends
So for chicken seasoning, I can find a ton I like in my local grocery store. This is the simplest way to prepare these. However, if you don't have a premixed one you're into, you can make your own. Here are a few I love. Just use a small bowl to mix them in.
Chili Lime- Mix together 2 tsp. of lime zest, 1 tsp. of chili powder and 1/2 tsp. of kosher salt. Squeeze lime juice over the chicken when finished for extra zest.
Lemon Pepper- Mix together 2 tsp. lemon zest, 1 tsp. course ground black pepper and 1/2. tsp. Kosher salt. Squeeze lemon juice over the tenders when finished.
Garlic Herb Italian Seasoning- Mix together 2 tsp. garlic powder, 1 tsp. paprika, 1/2 tsp. oregano, 1/2 tsp. salt.

Favorite Dipping Sauces for Chicken Tenders
What's a chicken tender without a good dipping sauce? Buffalo, bbq sauce, ranch dressing, honey mustard sauce or even just a little bit of hot sauce and honey are all ways to make these chicken tenders extra tasty.
Get creative and use what you love.
How long can you store cooked chicken in the fridge?
Cooked chicken will be okay in the fridge in an airtight container for 3-4 days. After that I wouldn't recommend consuming. The good news is, you can prepare enough to last you 3-4 days and use this chicken in a variety of recipes. Lettuce wraps, tacos, salads and pasta dishes will be easy to prepare when your protein is already done!
Here are some affiliate links for products I like for making this recipe:
Please note that when you purchase from these links, I earn a small commission. It's just one small way you can support the blog. Thanks!
I really hope you try these healthy, low carb chicken tenders. They will have the kids giving up their chicken nuggets and chicken fingers and you'll feel good about serving this healthy alternative to deep fried "pressed and formed" chicken. Recipes like this keep things super easy.
No egg wash, no bread crumbs and no fuss is required for these chicken tenders. They make the perfect quick dinner or a quick snack! So get creative and make your own spice mixture and add this great option for a high protein meal to your weekly rotation.
I would absolutely love it if you left a star rating and review below. When other readers review recipes it helps us all share information. Let me know in the comments how you made these easy healthy chicken tenders your own. I love hearing about your creations! Until next time 🙂
This post was updated on 5/28/22.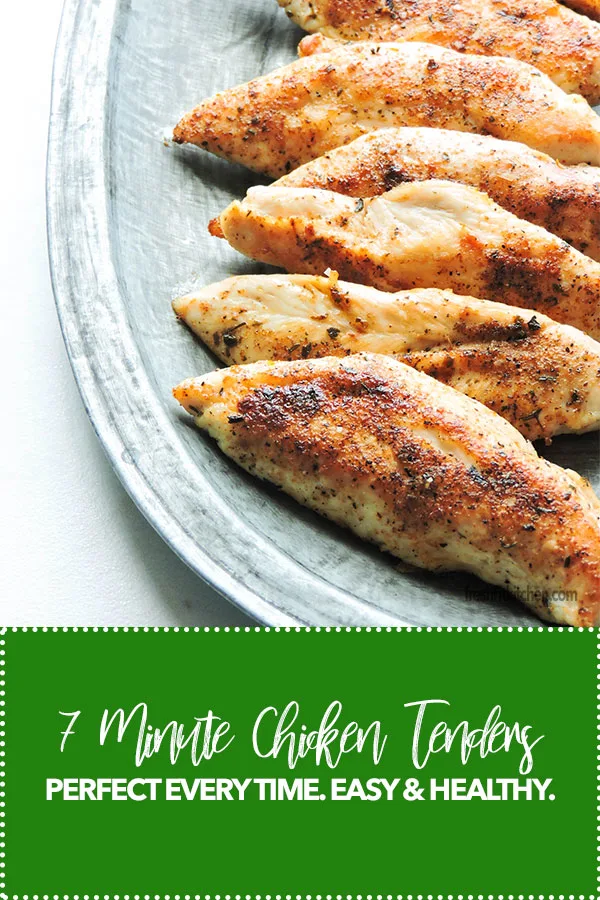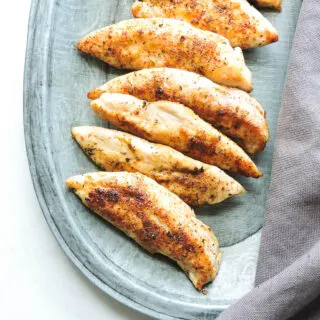 Easy Healthy Pan Fried Chicken Tenders (No Breading)
Easy Healthy Pan Fried Chicken Tenders are the perfect item to meal prep for the week. Use these tasty tenders on salads, along with your favorite vegetables, or on top of a healthy pizza.
Ingredients
2

tbsp.

Olive Oil

12

Chicken Tenders

Be sure to trim. They often have a small piece of cartlidge on the back that is not edible.

1-2

tbsp.

Your Favorite Seasoning

see notes and post for suggestions
Instructions
Drizzle the olive oil in a large non-stick skillet. Preheat the skillet to medium. You want the oil to get shimmery, but do not allow it to smoke.


Trim your chicken and add your favorite seasoning in an even coating on both sides. You'll probably need 1-2 tbsp.


Add the chicken to the pan, but be sure to give it plenty of room. Giving the chicken plenty of room will ensure the brown crust forms from adding the seasonings. You may need to do this in 2 batches. Cook the tenders for about 3.5 minutes per side. I like to check mine with an instant read thermometer. When it reaches 165-170 degrees, I know they are done.

Notes
I like to use What's Gaby Cooking- Gaby's Go to Seasoning. You can get this at Williams Sonoma. I also Like Trader Joes Lemon Pepper , Chili Lime or Flavor God Brand seasonings. You can use your favorite. If you are gluten free, you should ensure the bottle of seasoning says "certified gluten free."
See the body of the post for recipes using spices from your pantry to create your own!
Nutrition
Serving:
3
Tenders
Calories:
160
kcal
Protein:
22
g
Fat:
7
g