Embarking on a healthy journey doesn't mean you have to give up your favorite comfort foods. You just need to get creative with the ingredients. This Healthy Low Fat High Protein Creamy Mac and Cheese recipe requires one pot, no roux to make your cheese sauce and it's healthier mac you'll make again and again.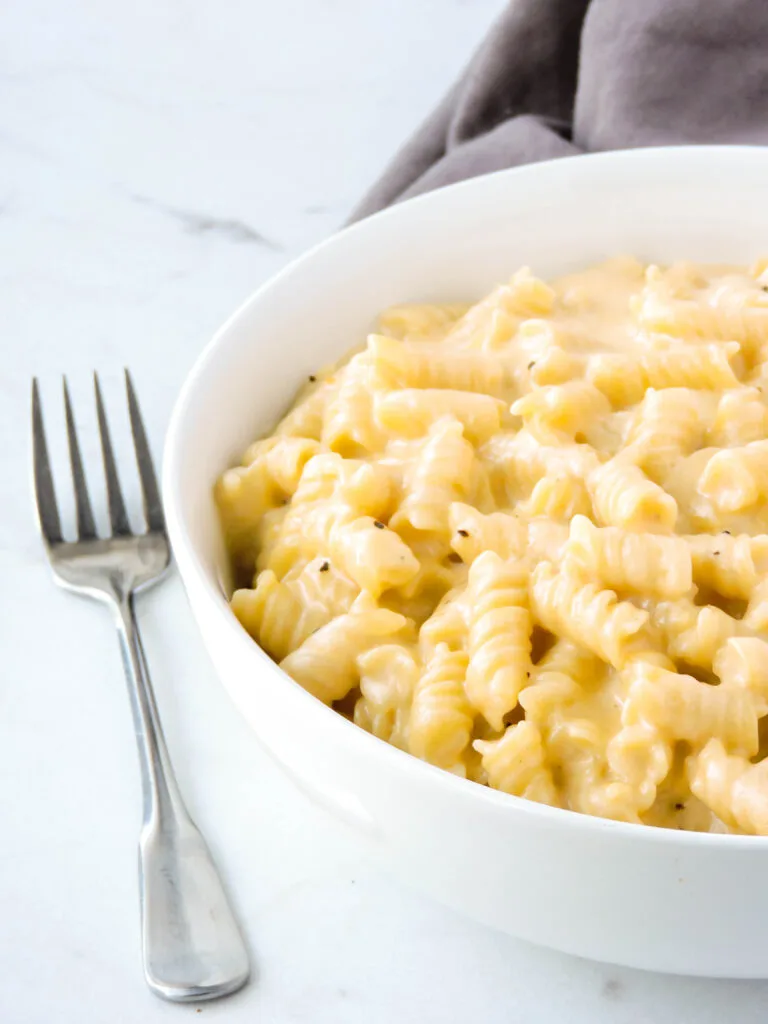 Healthy Low Fat High Protein Creamy Mac and Cheese Tips
What I love most about this recipe is that you don't need strange ingredients like cottage cheese or additional tools like a food processor to blend in some kind of secret ingredient. You just need the cooked pasta (I'm recommending a high protein pasta, cheese, milk, water and some cream cheese for that perfect creamy sauce. You also only need one pan (unless you like a crispy top and choose to bake it).
My biggest tip to up the protein is to use a high protein pasta. The one I love is Barilla Plus. You want a pasta that can stand up to being cooked and this is the one I've had the best luck with. You can go with regular pasta too just know that it won't be as high protein.
Whole Wheat Pasta is also a fine choice, but remember the protein content won't be the same. Whole wheat noodles cook very similar to regular noodles and bonus have extra fiber!
Unlike traditional mac and cheese, the recipe doesn't start with a roux, but it utilizes a method where the pasta cooks in a mixture of water and milk. As the pasta absorbs the liquids, it softens and cooks and then the residual starch and liquid brings your cheese sauce together.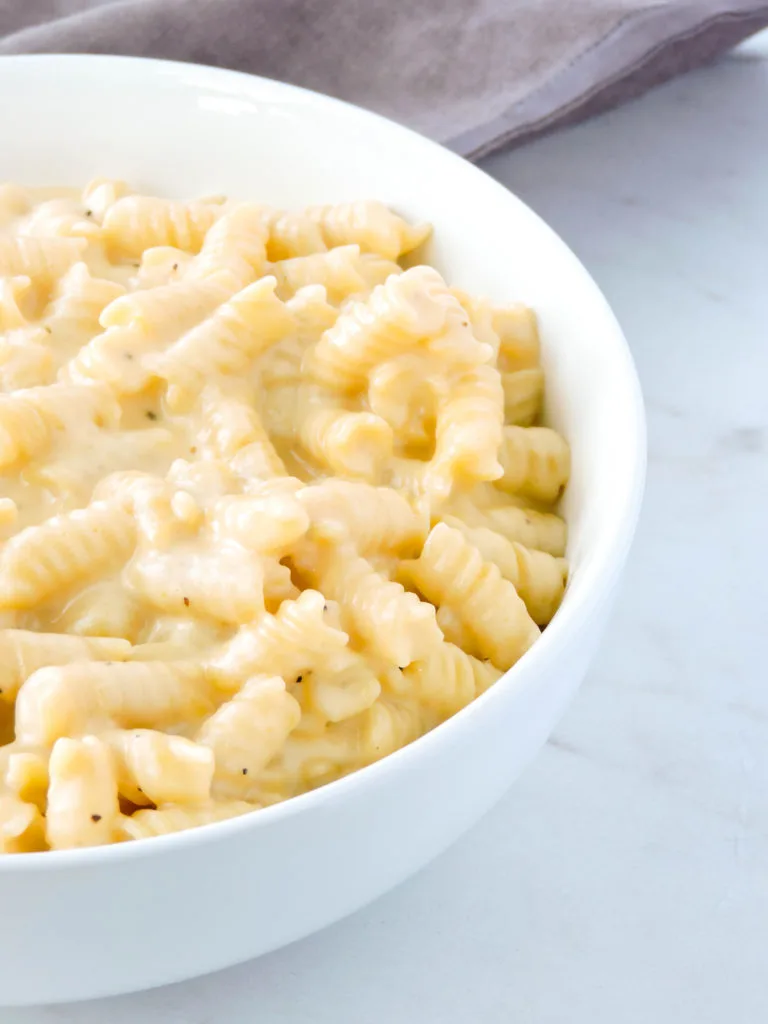 Make sure that you simmer the noodles over medium heat. You don't want things boiling over. I like a mix of cheddar cheese and Monterey Jack, but you can use whatever you like! If you like a sharper flavor, then sharp cheddar would be a good choice too.
Just make sure you choose a good melting cheese like Gryuere, fontina or gouda and do remember that it will change the calorie and fat content of the recipe. This is not the place for parmesan cheese as it will not melt like the others will.
Mac and Cheese Recipe Substitutions
I have not tested this recipe with unsweetened almond milk or any dairy free milk . Seeing how this is a recipe that is cheese based, I just didn't feel the need. There are plenty of vegan mac and cheese recipes out there if that is what you're looking for!
As stated before you can use regular pasta and the high protein pasta that was tested here was Barilla Plus. I don't recommend gluten free pastas unless you have experience with the brand and know it will hold up to the 12 minute cook time.
I do not recommend that you try and sub in skim milk for the 2%. You need the creamier milk so your cheese sauce won't be gritty or have an off texture. Alternatively whole milk will work just fine as its extra fat content would lend well to the sauce. Just keep in mind that you will not have the same nutritional content.
I don't use traditional elbow macaroni here because I find that cuts that are similar to penne and rotini just work better with this method.
DO NOT sub in pre-shredded cheese for freshly grated. Pre-shredded cheese has stabilizers that will change the texture of your cheese sauce!
Can I bake stove top mac and cheese?
This recipe as written is the healthier alternative to that blue box we all grew up with. If you want to bake it though, that's very easy. Just get out a baking dish that is safe under a broiler and spray it with cooking spray. I love using my 10 inch cast iron skillet for this.
Preheat your broiler and pour the mac and cheese into the dish. Top it with panko bread crumbs crackers or simply some extra shredded cheddar and place it under the boiler for 2-3 minutes. Voila- baked mac and cheese.
Storing Leftovers
Your leftovers can be stored in an airtight container for 3-4 days. I don't recommend freezing this recipe as anything with dairy doesn't freeze well.
Tools for This Recipe
You don't need anything too special for this recipe, but if you want to bake it, a cast iron skillet would be great. It's a great presentation and they are perfectly safe under a broiler. This cast iron skillet is affordable and my favorite! Please note that any links I share are affiliate links. This means that I make a small commission when you purchase using my link. It helps me continue to provide you free recipes. You get the same great price .
I am an Amazon Associate affiliate and that is often where I provide links from.
Your Favorite Comfort Food Made Over
​I love making over my favorite comfort foods, but I'll never change them so much that you need to use your imagination to convince yourself it's the traditional recipe. Mac and cheese is the ultimate comfort food and this is low calorie mac and cheese in the sense that it's a fraction of what your traditional recipes would be.
This recipe is one that you can feed your whole family and not worry that your picky eaters (the kids? the husband?) are going to turn their nose up. This is a great way to get everyone on board with healthier choices. Notice I said healthier- not perfect!
If you make this recipe please take a picture and tag me on Instagram @freshfitkitchen. I'd also love for you to rate the recipe below!
Pin for Later!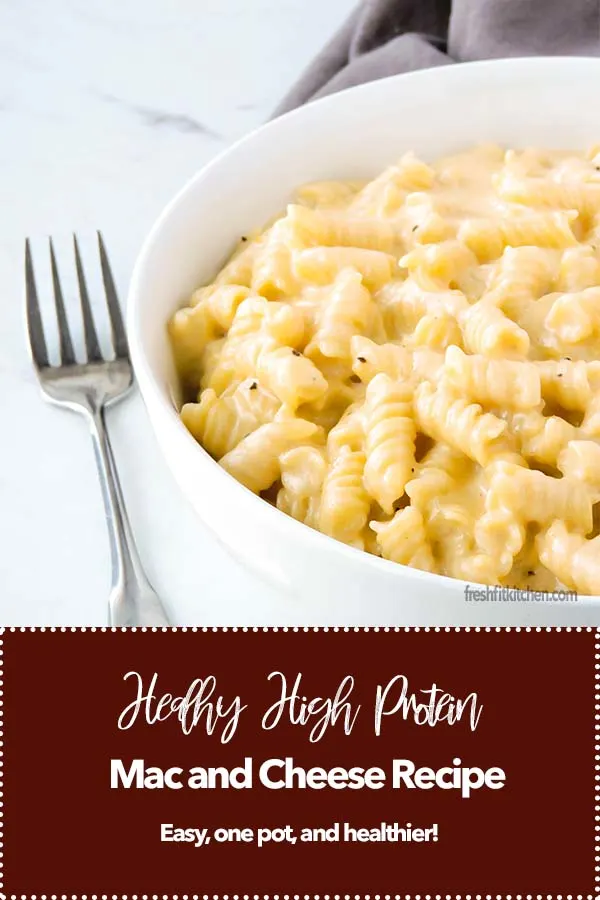 This post was updated on 10/20/23.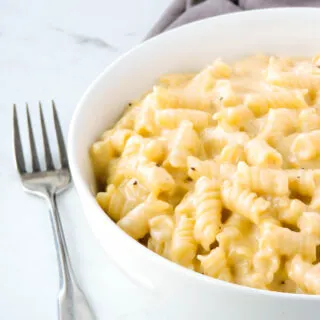 Healthy Low Fat High Protein Creamy Mac and Cheese
A super easy higher protein creamy mac and cheese with a baked option. An easy delicious recipe that doesn't sacrifice the flavor in your favorite comfort food.
Ingredients
12

ounces

Rotini Pasta

I used Barilla Plus for Extra Protein

2

cups

2% Milk

2

cups

water

1.5

tsp.

Salt

1/2

tsp.

Course Ground Black Pepper

6

ounces

Reduced Fat Mild Cheddar

Freshly shredded is best. Preshredded cheese has stabilizers which will effect texture.

4

ounces

Reduced Fat Monterey Jack

Freshly shredded is best. Preshredded cheese has stabilizers which will effect texture.

3

tbsp.

Reduced Fat Cream Cheese
Instructions
Pour 12 ounces of pasta, milk, water, and salt into a sauce pan. Bring to a low simmer. Do not boil. The mixture should be at a slow bubble.

12 ounces Rotini Pasta,

2 cups 2% Milk,

2 cups water,

1.5 tsp. Salt

Allow the mixture to cook for about 10 minutes until the liquid is almost absorbed and the pasta has just a little bite left to it. You don't want it to be over cooked.

Move the pasta off of the heat and stir in the cheeses. Season with more salt and pepper to taste. You'll notice from the pictures I love tons of black pepper in my cheese sauce. Add a little more milk 2 tbsp. at a time if you need to thin it out as this mixture will thicken as it sets.

1/2 tsp. Course Ground Black Pepper,

6 ounces Reduced Fat Mild Cheddar,

3 tbsp. Reduced Fat Cream Cheese,

4 ounces Reduced Fat Monterey Jack
Notes
I highly recommend freshly grated cheese for this recipe. Cheeses that are pre-grated have stabilizers in them that will give the sauce a more gritty texture. It's fine to use them, but don't be surprised if your cheese sauce isn't as smooth.
It's also super important to measure the ingredients for this. The reason this method works is that the pasta soaks in the water/milk mixture. You have to have the right ratios to make this happen.
I found rotini to work the best. Should you use other pasta shapes with varied cooking times know that your results may be effected.
Any combo of cheeses you like is fine, but I recommend that one be a good melting cheese like Gouda or Fontina.
Nutrition
Calories:
379
kcal
Carbohydrates:
39
g
Protein:
22
g
Fat:
12
g
Fiber:
4
g