No matter how hot it is where you are, fall is happening. Nothing says fall like Pumpkin flavored treats. You may not be aware of this, but pumpkin is really a treat for your pup the entire year long. Pumpkin has some amazing benefits for the digestion and overall gut health of your furry friend. When Stanley gets an upset tummy, pumpkin is the perfect mix in for his food. It clears things up and it's so yummy he gobbles it up. With the fall season upon us, these 3 Ingredient Pumpkin Pup Treats are the perfect reward.
I make homemade dog treats for Stanley a lot. I simply replace my typical banana or peanut butter with pumpkin. You can make these easily in the bowl of a stand mixer or just use a hand mixer if you don't have one. They are so quick, easy and affordable.
As you can see from this photo, Stanley is trained to exercise a great deal of restraint when asked. That is unless we are coming through the door. When I get home from work there is no exercise of restraint. He tends to sing, howl, and paw at me mercilessly until I stop everything and give him attention. I have tried all the methods. I've ignored him (that's hard- I love him). I've asked him to wait, sit, and even tried to use the quiet command. Finally I've decided he's just too into me. I am okay with that. I come home to a house that is just as I left it and the icing on the cake is his unwavering love.
When he finally settles, it's nice to give him a little something I know he loves. It's also nice to know that I chose the ingredients. I only want the best for my furry baby and the best part is, it's easy to give him that with a recipe like this.
To celebrate fall, might I suggest you make these easy 3 ingredient pumpkin pup treats? Get ready, because there will be lots of licks and begging for more. Happy Fall Everyone!
PIN FOR LATER and if you make these for your dog tag me on Instagram @freshfitkitchen. Stanley and I would love to know what you think!

Save
Save
Save
Save
Save
Save
Save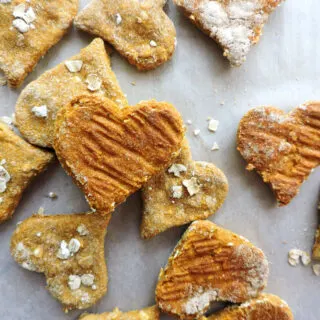 Pumpkin Pup Treats
Pumpkin Pup Treats are the perfect homemade treat for your dog. Packed with pumpkin, whole grains, and only 3 ingredients. Great for digestion.
Ingredients
1/3

cup

pumpkin puree

1

egg

1

cup

Whole Wheat Flour

1/4

cup

rolled oats

for sprinkling on top

1

tbsp.

coconut oil

optional- great for keeping skin and coat healthy
Instructions
Preheat oven to 300 degrees. Mix together the egg, pumpkin puree and coconut oil (if using)

Slowly add the flour until a nice dough forms. Temperature can affect the dough, so just add more flour until it's not sticky. Roll the dough out onto a floured surface. It should be about 1/4 inch thick.

Cut into desired shape. I used a dog bone shaped cookie cutter or a heart for smaller treats.

Sprinkle oats on top (if desired) and press them into the treats so they bake in. Put the treats on a parchment lined sheet pan and bake for 30-40 minutes checking halfway through. You want a nice crunchy biscuit texture.
Notes
These pup treats can be stored in a sealed container for up to 1 week.