Fall means pumpkins, apples, sweaters, boots, fallen leaves and CHILI. I love chili. There are so many variations. I put everything from sweet potatoes, to corn, butternut squash, turkey and now lentils and chickpeas into my chili recipes. Spicy Southwest Lentil Chickpea Chili grew out of dinner necessity. You see, we are preparing for a move. If you're reading this, you've probably moved at some point, and you know the work and stress that comes with. My plan over the next month is for us to eat as much of our pantry and freezer as possible. You might be seeing some pretty creative stuff on the blog.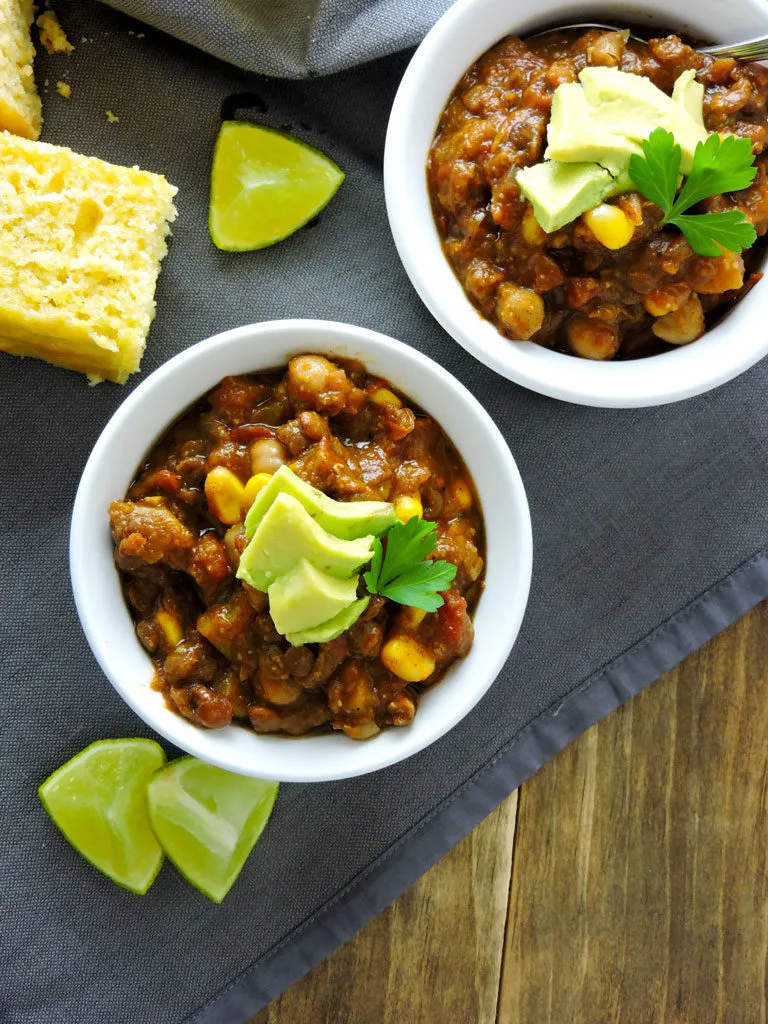 I always have lentils and chickpeas. My husband jokes that we have a crisis if we are low on chickpeas. They are just so versatile. You can roast them for salads. Make hummus. I love them in chili. Chickpeas are definitely one of my favorite legumes. Lentils are also a hit. They are meaty without being meat. This chili has a very hearty and filling flavor and it's Vegan friendly.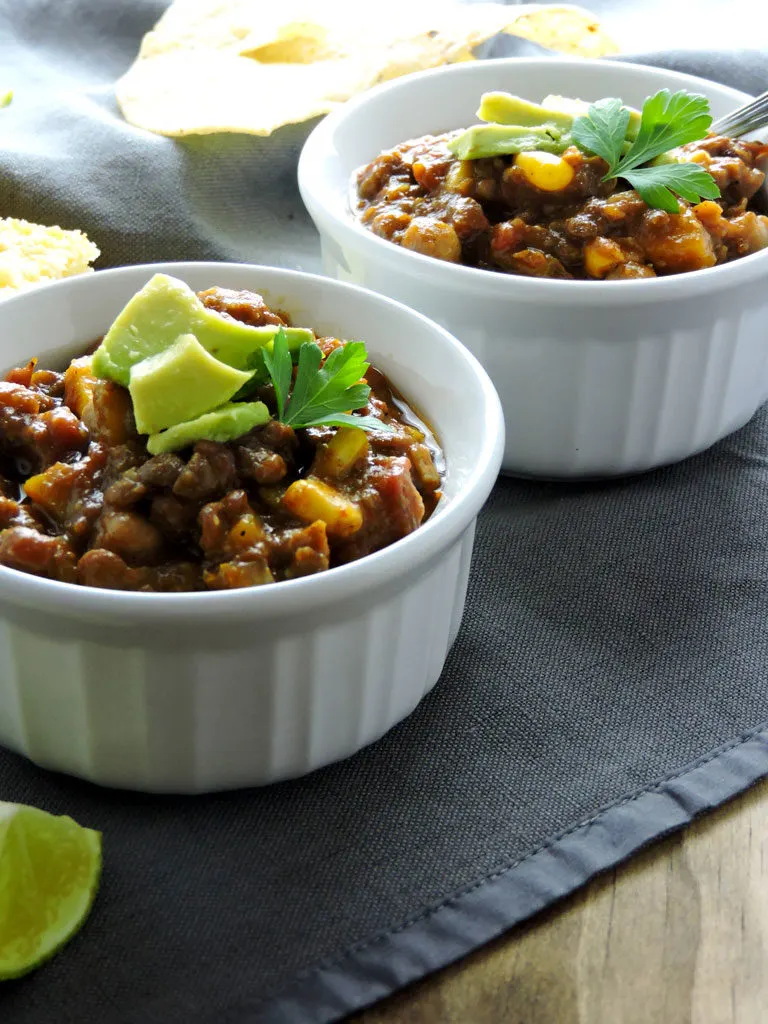 Working a few meatless meals into your week means you can save money. Naturally meat free meals also cause you to get more creative with your vegetables. It's really a win win. Meat free doesn't have to mean not filling. One bowl of this Spicy Southwest Lentil Chickpea Chili and you will forget that you are enjoying a meat free meal. So, let's get going…
Save
Save
Save
Save
Save
Save
Save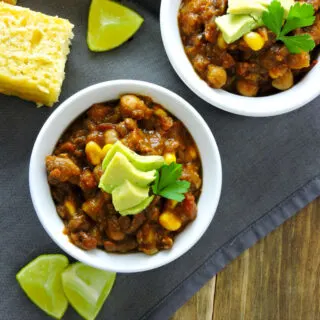 Spicy Southwest Lentil Chickpea Chili
Ingredients
1

15 oz. can

Chickpeas, drained and rinsed

1/2

cup

dry brown lentils, rinsed

1

medium

onion, finely chopped

3

tsp.

garlic, chopped

1/2

jalapeno, finely chopped

2

tbsp.

chili powder

1

tbsp.

cumin

1

15 oz. can

diced tomatoes with chilies

1

tsp.

honey or maple syrup

3

cups

vegetable broth

1

cup

frozen corn

salt and pepper
Instructions
Drain and rinse the chickpeas, set aside. Rinse the lentils and set those aside as well.

Chop the onion, garlic, and jalapeno. Heat a large heavy bottom soup pot on medium heat with a light coating of olive oil.

Add the vegetables and cook until just translucent. Then add the cumin and chili powder and stir it around until it becomes fragrant.

Add the lentils, chickpeas, tomatoes, honey (or maple syrup) , and vegetable broth. Make sure to add salt and pepper to taste.

Bring the entire mixture to a boil then reduce to a low simmer. Simmer the chili with the lid on for 2-3 hours. Make sure you stir it occasionally. About a 1/2 hour before removing from the heat, add in the frozen corn and taste for seasoning. You might want more heat (add chili powder). You may want more salt or pepper. You can also add a pinch more honey or maple syrup to adjust for the acid in the canned tomatoes. Chili is very preferential, so don't be afraid to make adjustments for your tastes.
Notes
Garnish with avocado, cilantro or sour cream.