Let me start by saying I think these little meatloaves are just adorable. I love a small package and my Italian Turkey Veggie Meatloaf recipe means no one will go without their favorite piece. Most of the time meatloaf is one large loaf. This means a fight for the end piece, so you could say this recipe is a peacemaker.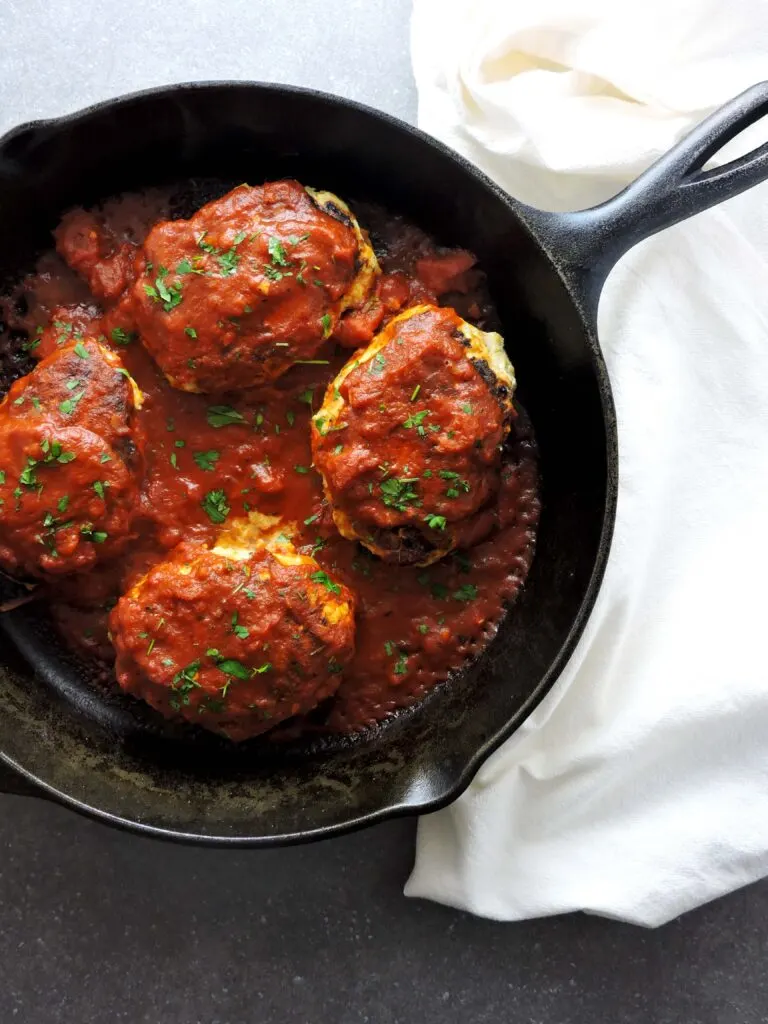 As I use up the end of the summer vegetables (queue sad music), I am finding all kinds of places to hide them. The best part about this Italian Turkey Meatloaf recipe is that you can make a total of 8 meatloaves and freeze 4 for another day. I love cooking this way because it means I can cook once and eat twice. On a busy day, I can throw these into the fridge to thaw, come home, and bake them in the oven with Marinara sauce. You can use a jar of your favorite marinara or you could make some of my Easy Fresh Tomato Basil Marinara and use that.
I really can't say it enough. The cast iron skillet is my best kept kitchen secret. The meatloaf gets brown on the outside before being transferred to the oven to finish baking. I love the technique, because every piece is the same. Perfectly crisp on the outside and tender on the inside. In this recipe, you don't want to squeeze the zucchini. The extra water content means your meatloaf stays tender as it cooks. This is especially important when using ground turkey breast.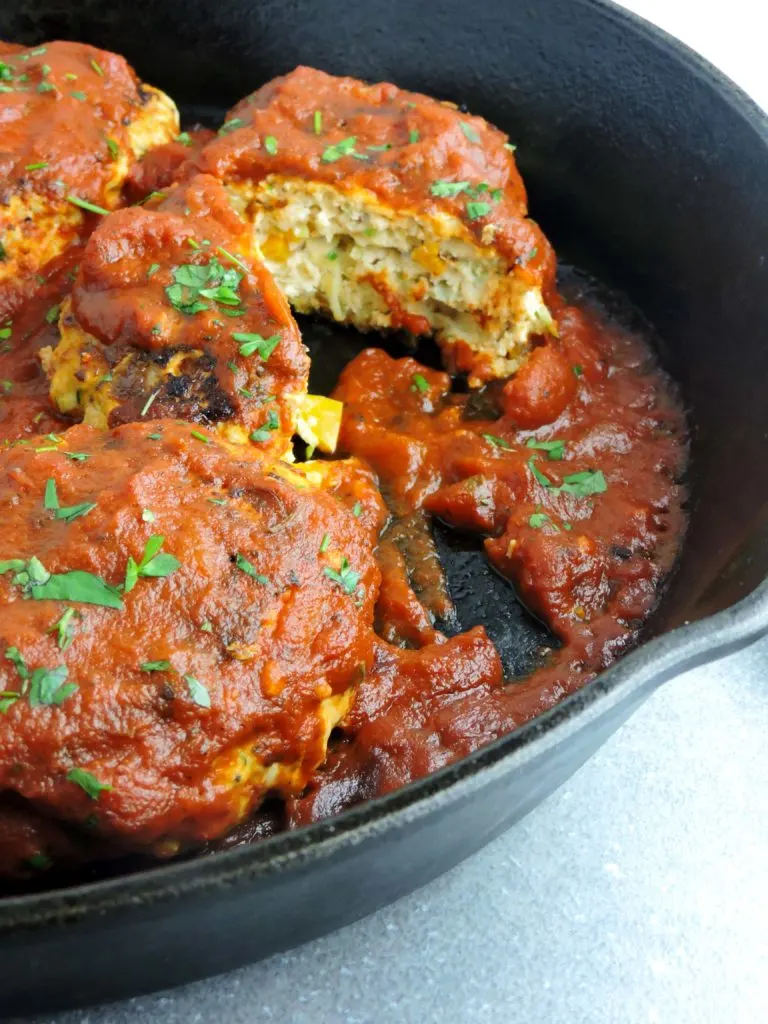 Ground beef could replace the ground turkey in this recipe. If you do that, I recommend a very lean ground beef. I wouldn't use anything more than 15% fat for this. One reason is for the health benefits and the other is, who likes a greasy meatloaf? No thanks. Italian Turkey Veggie Meatloaf is the perfect transition recipe. The fresh vegetables of summer and the warm and comforting reminder that colder days are ahead. I like to serve this with a side of green beans. If you make this on the weekend, you can take the extra time for mashed potatoes too.
Save
Save
Save
Save
Save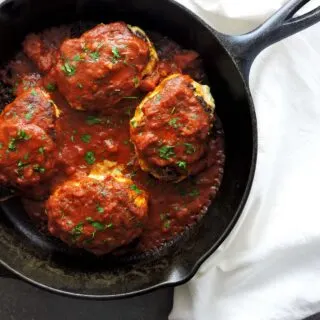 Italian Turkey and Veggie Meatloaf
Ingredients
1/2

cup

onion

1/2

cup

yellow bell pepper

1

cup

zucchini, finely grated

2

lbs.

ground turkey breast

1

cup

whole wheat panko bread crumbs

1/4

cup

Parmesan cheese, grated

2

tbsp.

ketchup

1

tbsp.

Dijon Mustard

2

large

eggs

2

tsp.

Italian Seasoning, dried

1

tbsp.

salt

3

tsp.

pepper

1

cup

Marinara
Instructions
Preheat oven to 375 Degrees. Saute bell pepper and onion in a cast iron pan with 1 tsp. of olive oil. Cook until they are just starting to soften. Grate Zucchini on the small side of a box grater.

Put 2 lbs. of ground turkey breast into a large bowl. Add salt, pepper, Italian season, eggs, ketchup, Dijon, cheese, bread crumbs, zucchini, and the cooked onion and bell pepper.

Mix together with your hands. Try not to over mix. Form the small loaves. This should make 8 loaves.

Heat a large cast iron skillet on the stove top with 3 tsp. of olive oil. You'll want it on medium high heat. Add the meatloaves when the oil starts to shimmer. You should hear a nice sizzle. Brown on both sides, but do not cook through.

Pull the pan off the heat and add the Marinara. Then transfer to the oven for another 7-10 minutes. Check to ensure you do not overcook them. An instant read thermometer is a good tool for this recipe.
Notes
Need gluten free? Omit the bread crumbs for gluten free oats.