Chicken Salad- there are about a million and one ways to make it. My easy basic chicken salad without celery is my favorite way to make it though. This chicken salad recipe is made with simple ingredients. It's a healthy chicken salad recipe that will easy become your go to.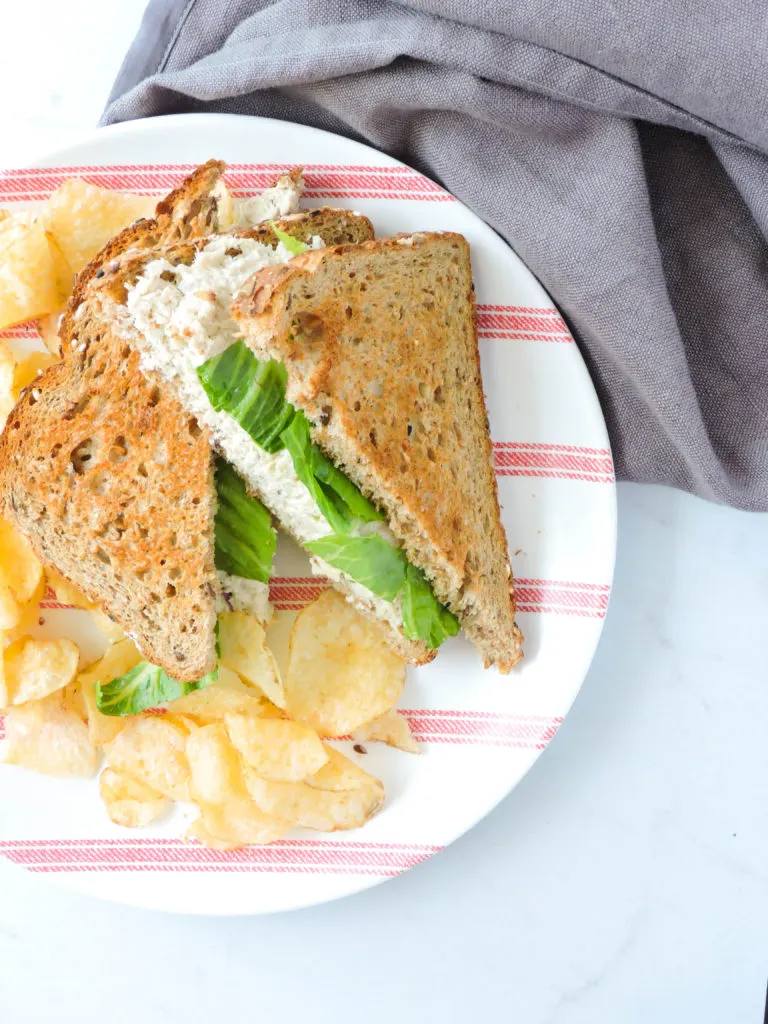 Easy Basic Chicken Salad No Celery-Tips and Tricks and Substitutions
I'll break down for you the substitutions and methods that can be used to make this easy chicken salad recipe. Every recipe should be somewhat adaptable in my book. This is a great recipe to improvise with because it's versatile.
I like to use chicken breasts for my chicken salad because they are lean and healthy, but if you are in a pinch a rotisserie chicken works just fine. Dark meat chicken just wouldn't be very appetizing here.
While I prefer to use red onion, green onions or white onions will work just fine. If you're trying to make this chicken salad even lighter you can replace half the mayo with light sour cream or non fat Greek Yogurt.
I love how the sweet pickle relish plays with the zing of the dijon mustard, but if you prefer , you can replace that with dill pickles or relish for a tangier flavor profile. A little lemon juice is also nice here.
If you want a sweeter application, you could add cut up green apples or seedless grapes to the mix. Some like to add hard boiled eggs, but sorry for me that's verging on egg salad. You do you though!
How to Prepare Chicken for Chicken Salad
There are a lot of opinions here, but I really like to use my instant pot to make the chicken. It's really easy and this is not the situation where you want a bunch of browning. You could also poach the chicken in water on the stove if you don't have an instant pot.
An instant pot is just a pressure cooker, so if you have another kind of pressure cooker, feel free to use that. You just really need to have a tender chicken for this recipe. So, a pressure cooker or poaching produces the best result.
It's also important that whatever cooking method you use, you season the chicken. I got with simply a little salt and black pepper. Fresh Parsley, onion powder and garlic powder would also be a great addition.
Texture is also a concern with chicken salad. I don't like those small pieces or cut up chicken. I like a true deli style chicken salad where the chicken is ground and fluffy. It helps it absorb the ingredients better.
To grind the chicken, I just use my food processor. You could also do more of a shred using a hand or stand mixer. If you don't have those, you can use 2 forks. Grinding it down a bit is my favorite though. Trust me, texture matters here. It just feels like a traditional chicken salad recipe when you grind it a bit.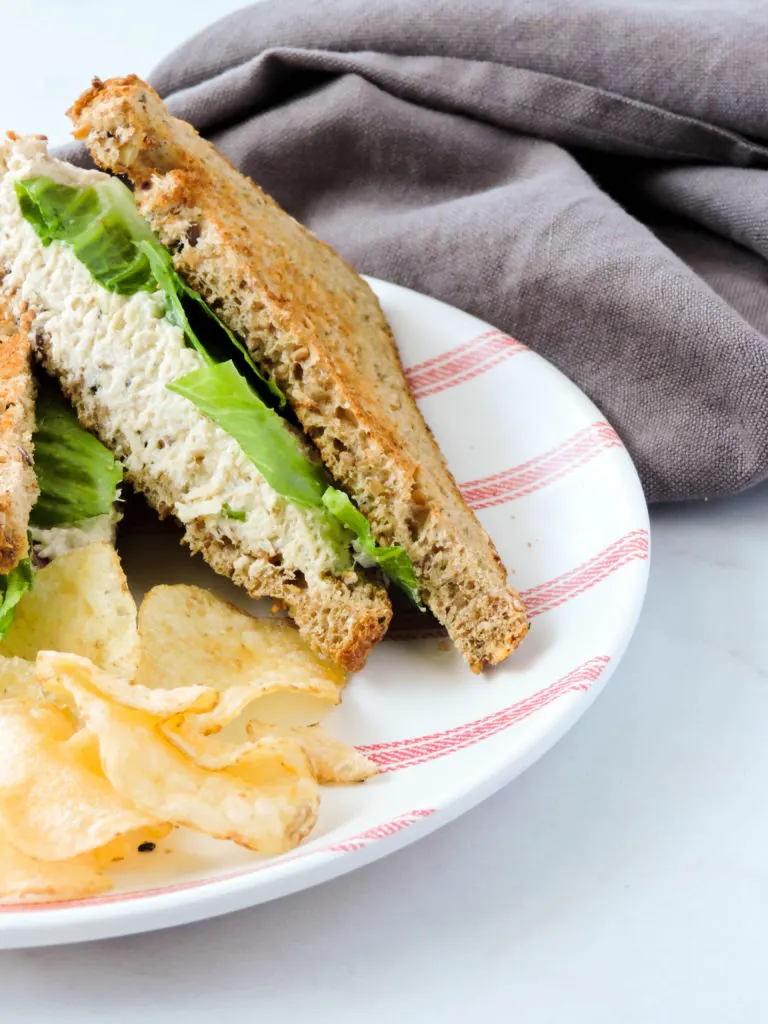 How to Serve Chicken Salad
You can serve your chicken salad over a bed of lettuce, in a wrap or on bread! If you are low carb, lettuce wraps might even be fun . This is also a great recipe for baby showers and wedding showers. Small chicken salad tea sandwiches are always a hit at these kinds of gatherings.
The best chicken salad sandwich is made on a nice grainy bread. I love a whole wheat with plenty of seeds on the crust. A delicious salad is another favorite.
Just make a big green salad with your favorite veggies and pile it over the top of a green salad. It's nostalgia as this is a recipe that was often on the menu at diners back in the day. This is a great way to serve this recipe as a light dinner.
How to Store Leftovers
This recipe is great for meal prep. Simply store any leftover chicken salad in an airtight container for 3-4 days. You may feel the need to add a little bit of extra mayo after it sits in the fridge, but that really depends on how much you like. It will soak in some more dressing.
This chicken salad recipe still has great flavor the next day. It's an awesome high protein lunch. I always use light mayo or a combo of light olive oil mayo and Greek Yogurt so this is my favorite healthy lunch prep.
Chicken Salad- all the ways
I think we can all agree we have different ideas about what makes a great chicken salad sandwich. It can be a classic recipe like this one, a southern chicken salad or savory chicken salad, either way you can make it your own and it often only requires some really basic ingredients.
Cheers to summer! Cold Salads, Cold water and hot days by the pool.
Equipment I love for this recipe- Affiliate Links
A food processor and Instant pot are my two highly recommended pieces of equipment for this recipe. Sure, you can get by without it, but both of these are some of my most loved kitchen tools. They just have so many uses!
A note on affiliate links: This just means I get a small commission when you order these items using these links. It helps support the blog and I really appreciate it!
Love this recipe? Leave a star rating!
I would love it if you'd leave a rating and review below. It helps other readers and it helps support the blog! Every time you leave a comment, star rating or share on your social channels , you are helping support the blog. I can't thank you enough!
Please note that any nutrition info you find in the recipe is for it as written in the recipe card. If you make any changes to the recipe to suit your tastes, I recommend using My Fitness Pal or the Lose It app to calculate the nutrition info. I don't provide nutrition info to cover all scenarios.
All nutrition info is calculated with the brands I used . These should be considered estimates.
This post was last updated on 6/2/22.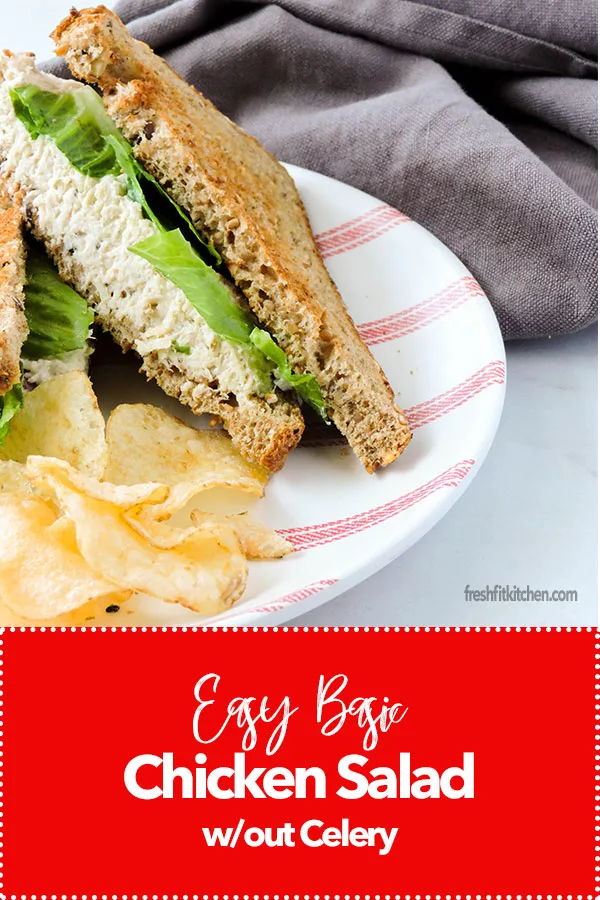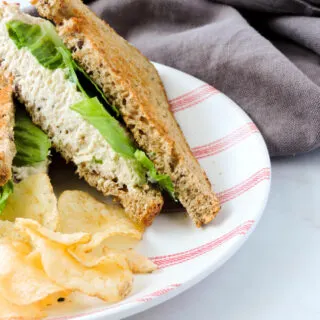 Easy Basic Chicken Salad Recipe without Celery
Easy Basic Chicken Salad Recipe without Celery is a delicious traditional chicken salad recipe without the need for celery.
Ingredients
2

large

Chicken Breasts

1/2

cup

Mayo

I like olive oil or avocado oil mayo.

2

tbsp.

Dijon Mustard

Adjust to your liking- see notes.

1.5

tbsp.

Sweet Pickle Relish

3

tbsp.

Onion

chopped

Salt

to taste

Pepper

to taste
Instructions
Trim your chicken breasts. Cover the outside with salt and pepper. Put them in a Pressure Cooker (Instant Pot is what I use) for 12 minutes on high pressure and allow a 10 minute natural release. You can also skip this step and use rotisseree chicken or any kind of pre-cooked chicken you have on hand.

Put the chicken, onion, and pickle relish in a food processor. Pulse until well incorporated. You don't want to puree the chicken here so just pulse until the chicken is finely ground, but still has shape.

Pour the chicken into a bowl and add the mayo, mustard and a dash of salt and pepper. Stir it together and taste for seasoning. Add more salt and pepper as needed. Serve on a croissant or a few slices of whole grain bread as shown. Store leftover chicken salad in the fridge for 3-4 days.
Notes
PLEASE NOTE: I love mustard and this recipe was written with 2 tbsp. of Dijon. This is a pretty flavorful mustard. If you aren't into mustard or aren't sure about the flavor profile start by adding 1/2 tbsp. of mustard and work from there.
Nutrition
Calories:
174
kcal
Carbohydrates:
4
g
Protein:
8
g
Fat:
12
g