I grew up on crab cakes. From an early age I can remember summers at our house including a big table covered in paper where we would pick Maryland Blue Crabs drenched in Old Bay. If you are from Maryland these Maryland Style Crab Cakes will hit the spot and take you right back to those summers.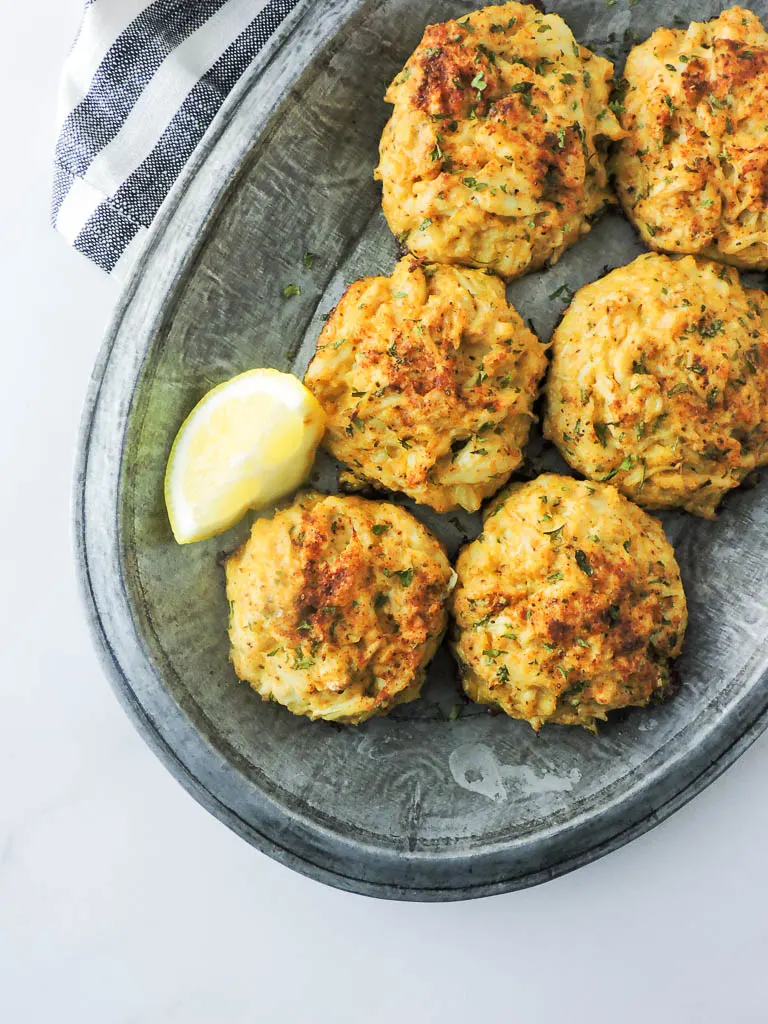 What is in a crab cake?
Any self respecting Marylander will tell you that crab cakes are simple. They absolutely must have Old Bay Seasoning and if they have a bunch of vegetables and bread as filler inside, they are NOT Maryland crab cakes.
Crab cakes let the sweetness of the crab shine through. Plenty of Old Bay seasoning adds spice and after that you just need some mayo, eggs , mustard and minimal bread crumbs to hold it all together. The best advice when making crab cakes? Keep it simple. Don't even try to get fancy here.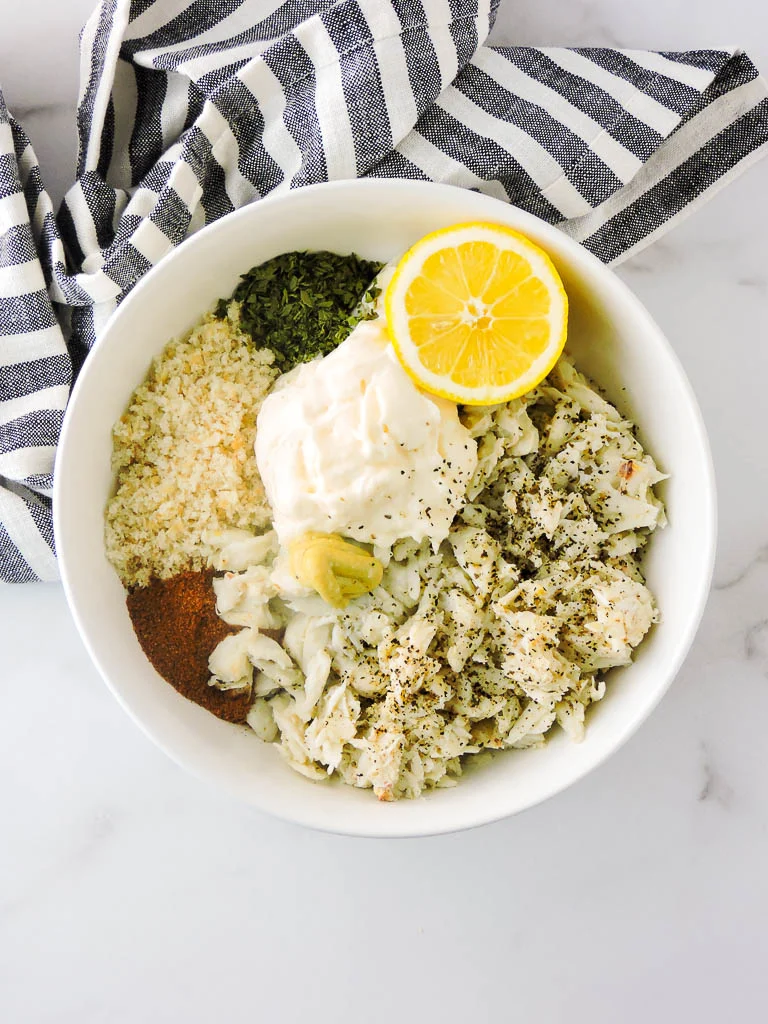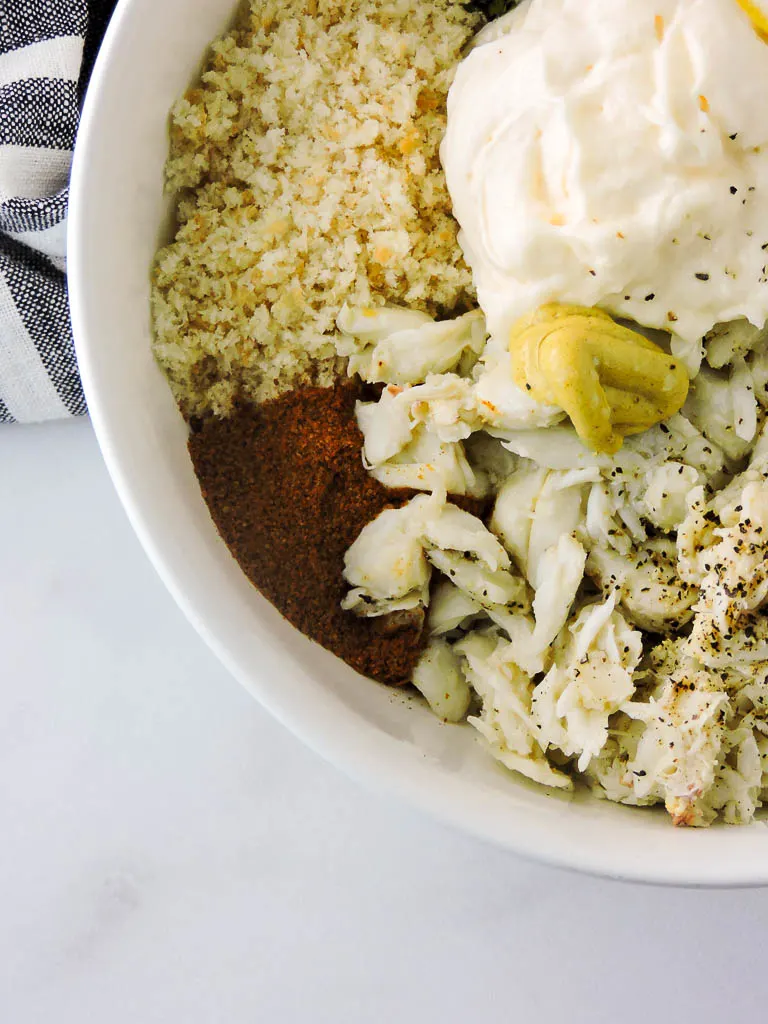 What kind of crab is used in Maryland Style Crab Cakes?
Since the crab is the star of the show you want to use the good stuff. I use lump, jumbo lump or what is commonly referred to as "special." A combo of lump and special works great, but do not use all claw meat. It's cheaper and that will be tempting, but it's a terrible idea. Your cakes won't have good flavor and they won't hold together.
If you want to save some money you could use 1/4 lb of claw meat mixed with lump and special. This will give you texture and won't break the bank.
If you aren't familiar with crab, I'll break it down for you.
Claw Meat: As the name implies, it comes from the claw. To relate it to chicken, the claw is like the leg. The meat is darker and more moist. Claw meat is fine to mix with the others, but using exclusively claw won't yield the texture or flavor you're after.
Jumbo Lump/Lump: These are both from the back fin of the crab. The back fin meat is like the filet mignon. It's large, tender and it's the nicest piece of crab you'll get.
Special: The meat labeled "special" is often just the body meat. It's much like back fin meat, but it's not the larger pieces like lump will be. It's smaller in texture.
Lump will always be the most expensive because the crab only has 2 back fin areas and it takes a lot of those to get a whole pound.
Special follows right behind in price and claw will always be cheapest.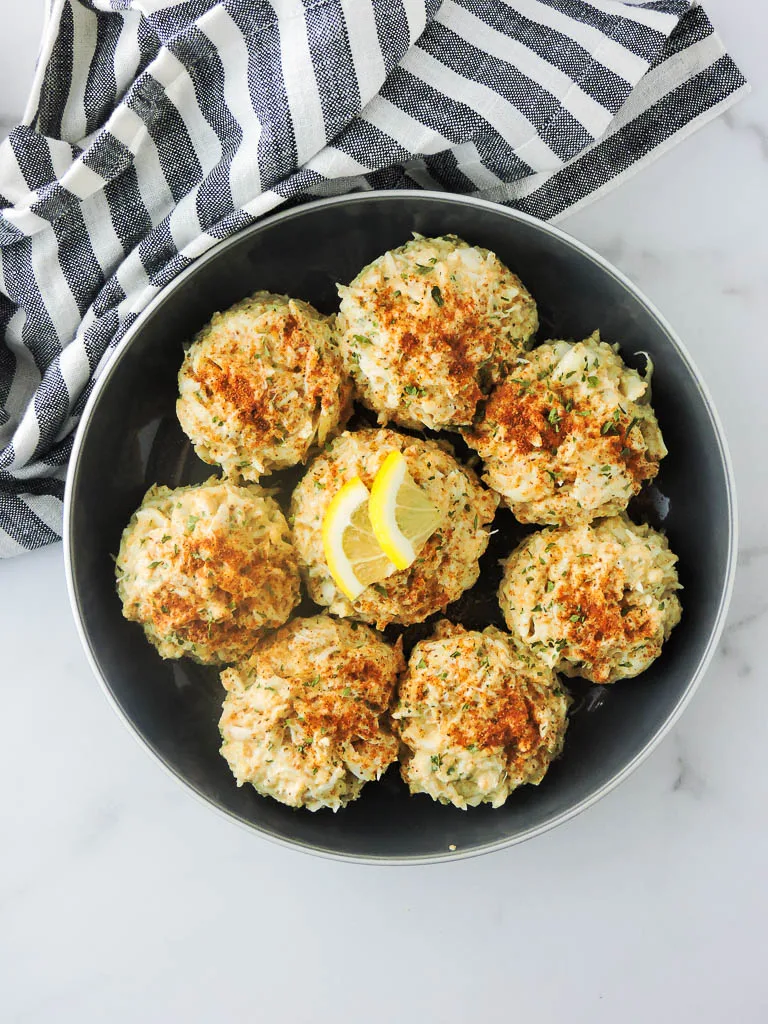 Are crab cakes healthy?
Absolutely! Crab is very low calorie and low in fat. You can definitely sub in reduced fat mayo for full fat if you wish. Overall crab cakes are a really healthy meal.
Do I use canned crab meat or fresh pasteurized crab for Maryland style crab cakes?
Some people will tell you that it's fine to use that canned stuff you find in the same aisle as tuna. I disagree here. It is NOT THE SAME. Most of the crab you'll find in your grocery store is sold at the seafood counter and comes pasteurized. It's usually in a plastic container with one of those pull back lids and has to be kept refrigerated.
The crab is pasteurized to preserve it and keep it fresh longer. If you're lucky enough to get fresh steamed crabs you can pick for the crab meat AND if you're able to pick them without eating it all, you can do that too!
PIN IT FOR LATER! Let me know if you make this crab cake recipe and tag me in your photos on Instagram @freshfitkitchen.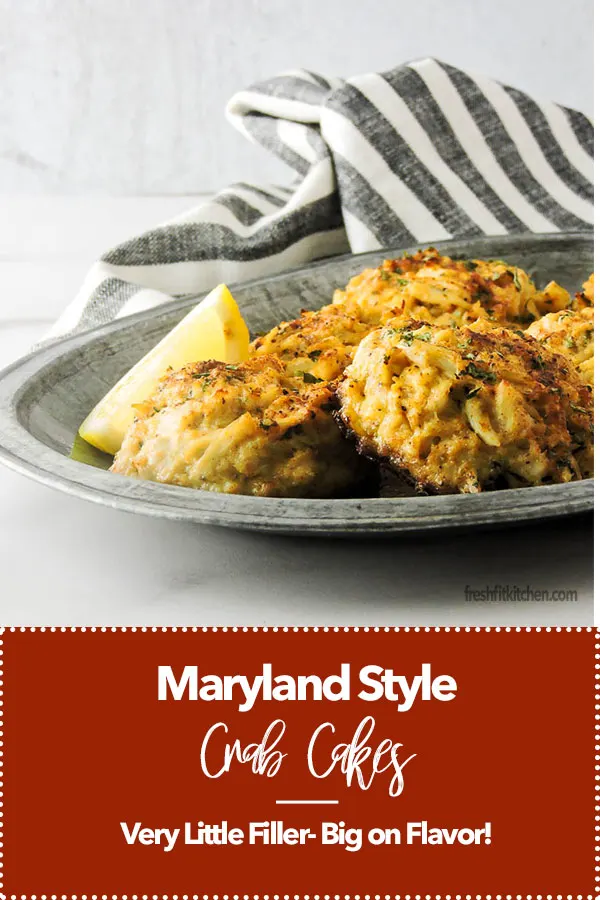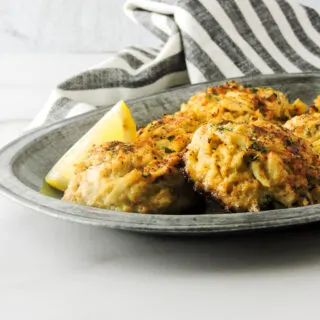 Maryland Style Crab Cakes
A Maryland Style Crab Cakes recipe made with lump crab meat, Old Bay Seasoning, minimal bread crumbs and baked to perfection in a cast iron skillet.
Ingredients
1

lb.

Lump Crab Meat

6

tbsp.

Mayo

1

tsp.

Dijon Mustard

2

pieces

White Bread

Pulsed into Bread crumbs- this is a great use for the heals of the bread.

1/2

tsp.

Black Pepper

3

tsp.

Old Bay Seasoning

2

large

Eggs

2

tsp

Lemon juice

Juice of 1 Lemon

1

tbsp

Parsley
Instructions
Mix together the eggs, mayo, mustard, lemon juice, pepper, Old Bay and bread crumbs.

Add in the crab meat. Slowly fold it in being careful not to break it up too much. Get everything incorporated then cover the mixture with plastic wrap and refrigerate for 2 hours or overnight if you want.

Form the crab into 8 equal patties. Again be careful not to handle it too much so you don't break up the meat.

Preheat oven to 400 degrees. Heat a cast iron skillet over medium heat. Add a coating of oil to just cover the bottom of the skillet. This is a very shallow fry.

Add the crab cakes to the pan and allow them to cook for 5 minutes. Do not flip, but transfer them to the 400 degree oven to finish cooking another 13-14 minutes. The crab cakes are done when they are firm and slightly golden brown