I love waffles. When I sit down to my favorite breakfast spot, it's a constant battle between sweet and savory. I usually talk my husband into sharing so I can have the best of both worlds. These Whole Grain Buttermilk Style waffles are the answer to my waffle cravings. They are that perfect balance between indulgent and virtuous.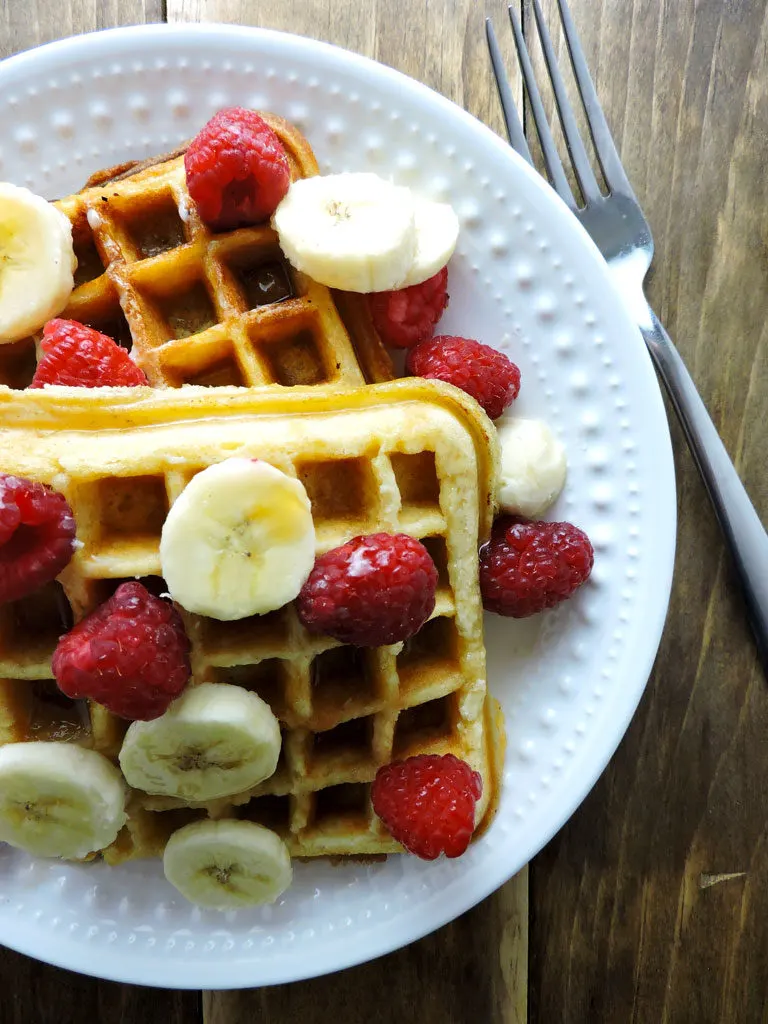 Waffle lovers, I think you've found the right food blog. I already have one waffle recipe on the blog. My Easy Healthful Cinnamon Flax Vanilla Waffles are easy and delish. Whole Grain Buttermilk Style Waffles are the healthier alternative to the traditional diner style waffle. They are crispy on the outside, fluffy on the inside, and perfectly sweet. The secret to their buttermilk like texture and flavor is Kefir. Now you might be saying, "Oh geeze here she goes with the weird ingredients." First off let's discuss how to say Kefir. It's pronounced "keh-FEAR." Second, if you're wondering what it is, it's a fermented milk drink that is packed with probiotics and is virtually lactose free. Think thinner, super healthy, yogurt drink. See? Not so weird.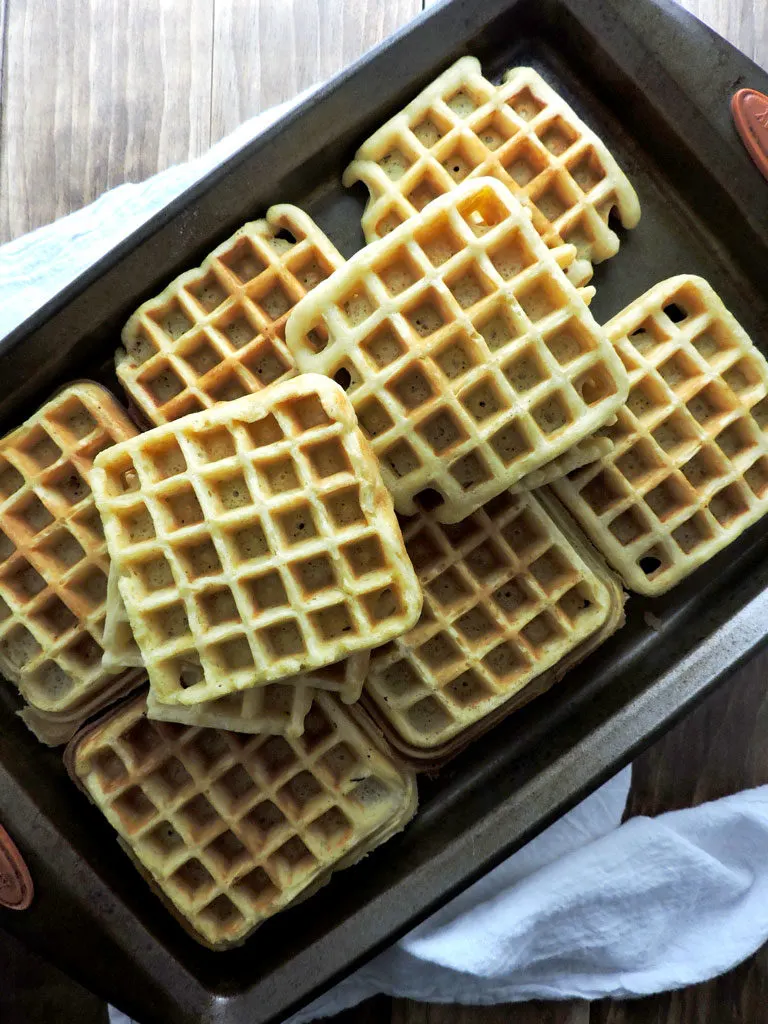 Because Kefir is fermented, it mimics the same properties as buttermilk. In cooking the waffles, you will lose some of that Probiotic benefit, but trust me when I say you'll find all sorts of ways to use this stuff. Smoothies are probably the most notable way, but now you can also make waffles! Kefir is likely right in your grocery store with the milk and you've just been over looking it. If you struggle with balancing your gut, you need some Kefir in your life.
If your family makes a face every time you try and add a healthy ingredient to the mix, these waffles are the perfect place to begin. After they tell you how fantastic they are you can reveal the secret ingredient 😉
Pin it For Later!

Save
Save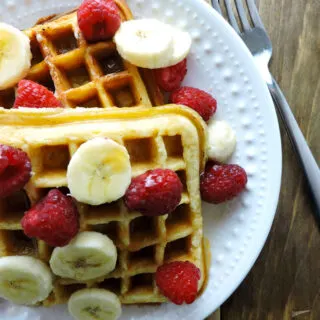 Whole Grain Buttermilk Style Waffles
Ingredients
1

cup

All Purpose Flour

3/4

cup

Whole Wheat Flour

1 1/2

tsp.

Baking Powder

1

tsp.

Baking Soda

1/2

tsp.

salt

3

Large Eggs, separated

1/2

cup

Coconut Oil or Butter melted and cooled

1/3

cup

Sugar

1 3/4

cup

Plain Kefir

1

tsp.

Vanilla extract
Instructions
Mix the flours, baking powder, baking soda, and salt in a medium bowl.

In another bowl mix together the egg yolks, Kefir, butter or coconut oil, sugar and vanilla until smooth.

In the bowl of a stand mixer or with a hand mixer beat the egg whites until stiff peaks form. You want them to just stand up on the end of the whisk when finished.

Add the flour mixture to the egg yolk mixture until incorporated but do not over mix.

Slowly fold the egg whites into the flour mixture. You don't want all of the air to come out. So just use a folding technique to fold the batter over the egg whites until it's all mixed together.

Heat up your waffle iron and get to it. My waffle iron has settings from soft to crispy. I set mine just past the medium setting. This gives me a fluffy inside and crunchy outside.