I love the idea of these sheet pan dinners. We already have Crispy Chicken Spicy Broccoli Sheet Pan Dinner and Honey Barbecue Dijon Chicken Sheet Pan Dinner. They are so yummy, easy and versatile. It's convenient to have a bag of frozen fish in the freezer. I love shopping for seafood at Costco because they carry responsible sea food options. I don't mind a frozen fish because if properly prepared, it can be absolutely delicious. If you're afraid to cook fish, Lemon Garlic Tilapia Sheet Pan Dinner is a great place to begin.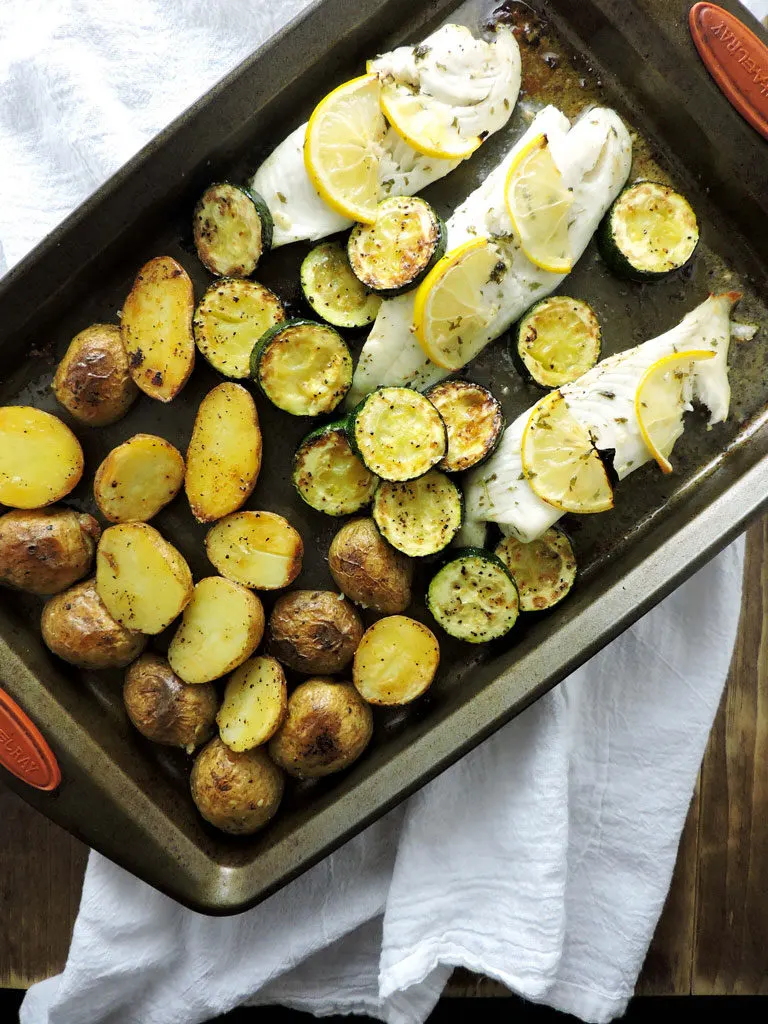 My only issue with this sheet pan dinner craze is timing. By that I mean you simply cannot cook your fish as long as your potatoes. Your fish will be dust while your potatoes perfectly cooked. This is not a good situation. I solved this problem by baking the potatoes for 15 minutes on their own and then adding the other ingredients. This still a super simple dinner, but everything is perfectly cooked.
The lemon slices on top really infuse fresh flavor into the fish. I actually eat them after they've been cooked right along with my fish. I love lemon everything, so the tartness is pleasant to me. You might not do that, and it's okay;) The lemons will still provide plenty of flavor.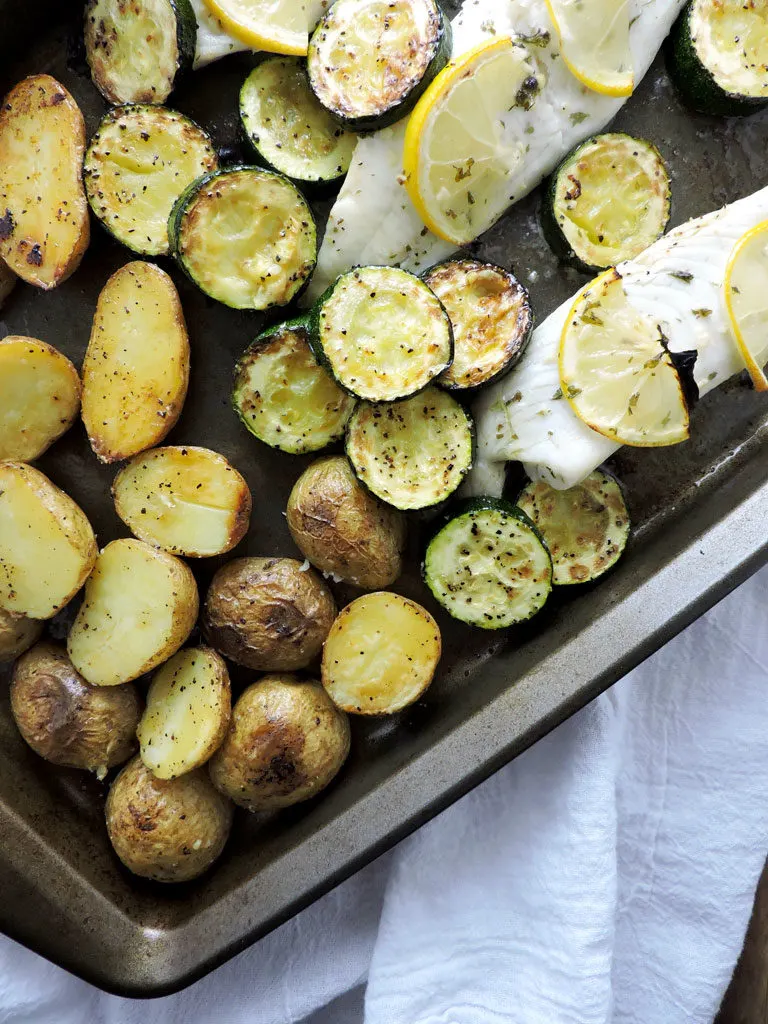 I slice the zucchini about 1/2 inch thick. I hate mushy zucchini, so if you're like me, don't go too thin. With the examples I have here on the blog you can easily swap out the ingredients you love to make your own sheet pan dinner creation. Just be mindful of cooking times. Potatoes take a bit longer, so don't try and cook everything at the same time. You might have to use a more progressive cooking approach like I did here.
If you make this please tag me on Instagram @freshfitkitchen. I'd love to see your creations!
PIN for LATER!

Save
Lemon Garlic Tilapia Sheet Pan Dinner
Ingredients
1

tbsp.

Butter

1

tsp.

garlic, minced

2

tsp.

Dried Parsley

12

oz.

Tilapia Filets

8

small

Baby Yukon Gold Potatoes, halved

1

medium

Zucchini, cut in rounds

salt and pepper

6

Thin Lemon Slices
Instructions
Preheat the oven to 425 degrees.

Toss the potato halves with salt, pepper and olive oil. Place them on the baking sheet skin side up and bake on their own for 15 minutes.

While the potatoes are baking, prepare the fish and zucchini. Toss the zucchini with salt, pepper and olive oil and set aside.

Remove the fish from package and be sure to dry any excess moisture with a paper towel. Set aside.

Take the tablespoon of butter, garlic and parsley and melt together in the microwave for about 30 seconds.

When the potatoes are finished their first 15 minutes of baking, scoot them aside and lay down the fish fillets. If you have enough room put your zucchini on there too. Everything needs to make contact with the pan. If you can't get everything on one pan, just use a 2nd sheet.

Brush the zucchini with the garlic butter mixture and season with salt and pepper. Slice some lemon and lay it on top.

Bake for 15 minutes or until the fish begins to easy flake away.

Squeeze with extra lemon before serving.