When it comes to healthy eating, French Onion Soup isn't usually a dish you think of. That heavy cheese and bread layer always puts it in the category of indulgent. This Slow Cooker Healthy French Onion Soup is not only easy, but the addition of bone broth and the lighter application of cheese and bread make it a perfectly healthy meal.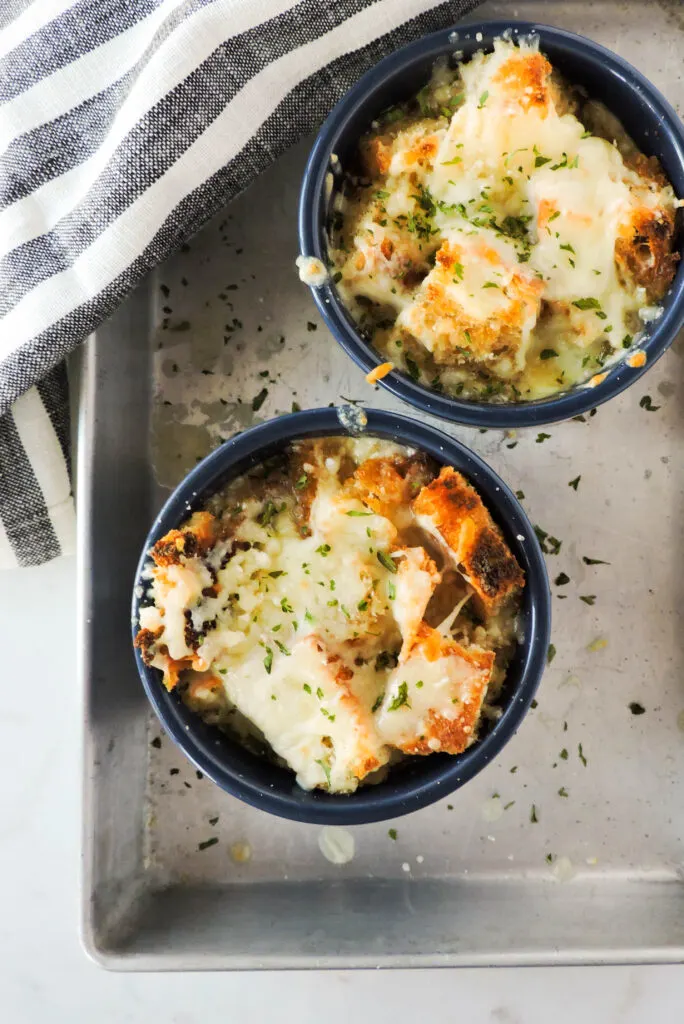 How to Make French Onion Soup in the Slow Cooker
The most labor intensive part of french onion soup is letting the onions caramelize. The slow cooker does this perfectly. All you need to do is throw them in there with a little butter and let them go. The results are magical and you don't risk the burning that can happen on the stove top. You don't need to add in any liquid for the onions to caramelize. They will release their natural juices during the slow cooking process.
I love my slow cooker. This is the one I have if you're looking to upgrade yours. I like the digital timer and the fact that after the cooking time lapses it turns to warm. This is especially important if you'll be allowing your onions to caramelize while you aren't home.

Most of the time if you order French Onion soup in a restaurant it comes with a big giant cheese toast on top. I made this healthier and more manageable by cutting up whole grain baguette, toasting it into croutons then adding the cheese. I used about 1/4 cup of cheese per bowl of soup and we felt that was plenty. Instead of traditional beef broth, I also used beef bone broth. Making french onion soup with hone broth or any soup for that matter is a great way to bump up the nutrition.
Super rich, healthy and satisfying I think Slow Cooker Healthy French Onion Soup will end up in your weekly rotation. If you make this recipe please tag me in your photo on Instagram. You can find me @freshfitkitchen.
PIN IT FOR LATER!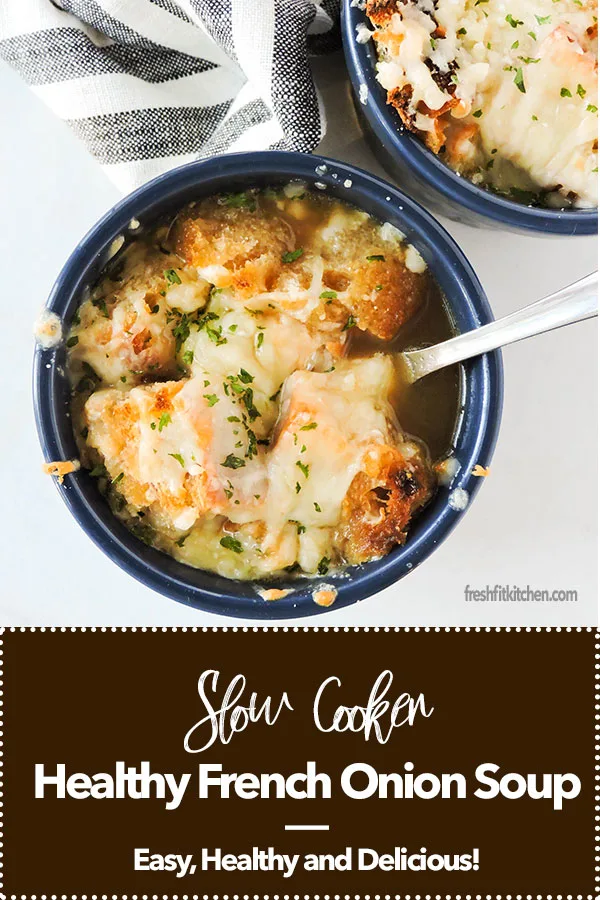 Save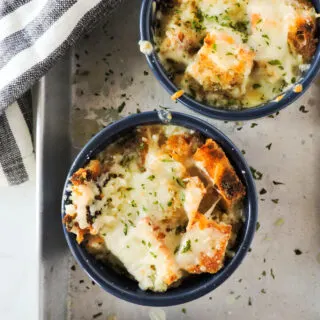 Slow Cooker Healthy French Onion Soup
Ingredients
4

cups

Onions, thinly sliced

about 6 onions or 2lbs total.

3

sprigs

Thyme

2

tsp.

Black Pepper

2

tbsp.

Butter

5

cups

Beef Bone Broth

You can use regular beef broth too.

1/4

cup

Dry White Wine, optional

salt, to taste

2

cups

Whole Grain Baguette

Cut into cubes and toasted

1.5

cups

Cheese

Gruyere, swiss or mozzarella
Instructions
Place the onions, thyme, pepper and butter in a 6 quart slow cooker. Turn the setting to low and let them go for 7-8 hours. The onions will become carmelized.

When the onions are soft and carmelized, remove the thyme sprigs. Add in the beef broth and wine. Turn the slow cooker to high for another 2 hours.

Just before the soup is done, taste for salt. Add as desired.

Make croutons for soup. Simply cut a whole grain baguette or your favorite bread into cubes and place under the broiler for a few minutes. Watch it because bread burns easily.

Make sure you put your soup into a ramekin or bowl that can go into the oven. Top each soup with some croutons and a 1/4 cup of cheese and place it back under the broiler. Let the cheese melt and get bubbly. Enjoy!