I'll admit that for me to try a healthy hack it has to be a good one. If you follow me on Instagram you know I went on a tear because I am tired of people trying to make everything with cauliflower. I drew the line with cauliflower "cinnamon rolls" aka cauliflower gnocchi rolled in cinnamon sugar. The 2 Ingredient dough hack though- it's a good one! I've made several items from it. Garlic Herb and Cheese Bread Sticks, Pizza Roll Ups, Barbecue Chicken Pizza and now Healthy Easy Pumpkin Spice Bagels!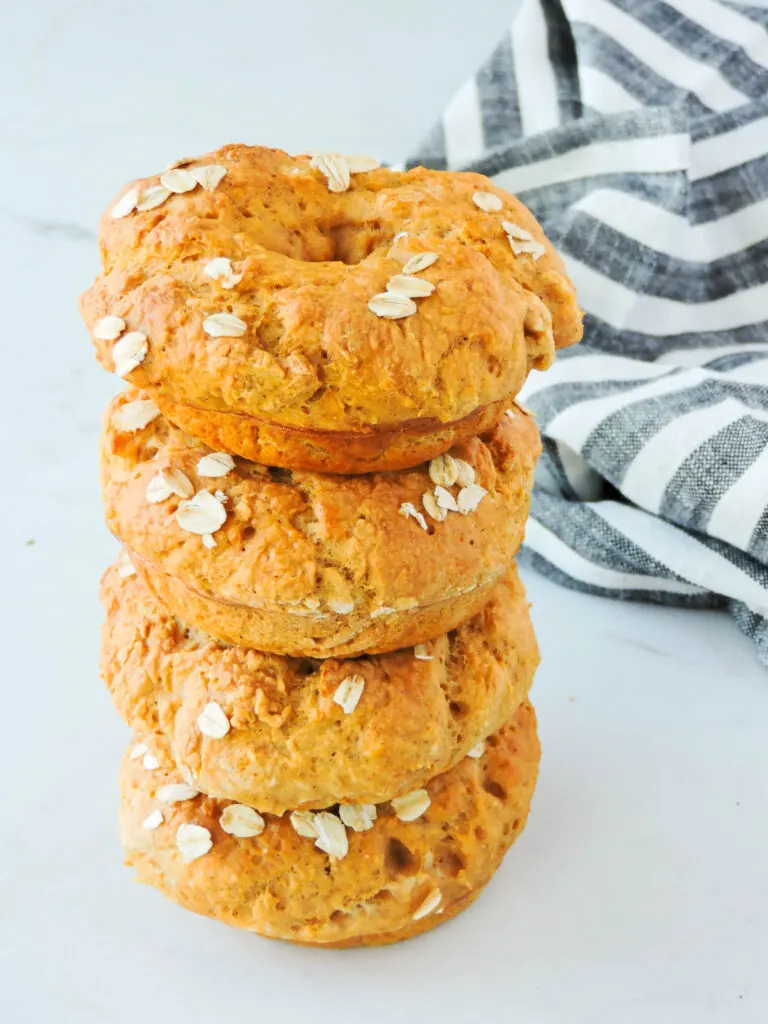 How do you make 2 Ingredient dough?
You simply mix together nonfat Greek yogurt and self rising flour! The result is a chewy, light, slightly tangy (think sourdough flavor) dough that's perfect for all kinds of applications. Most recipes will use a 1:1 ratio of flour to yogurt. For this recipe, because we wanted to infuse the pumpkin, we had to adjust the ratios a bit. The result was a perfectly chewy bagel.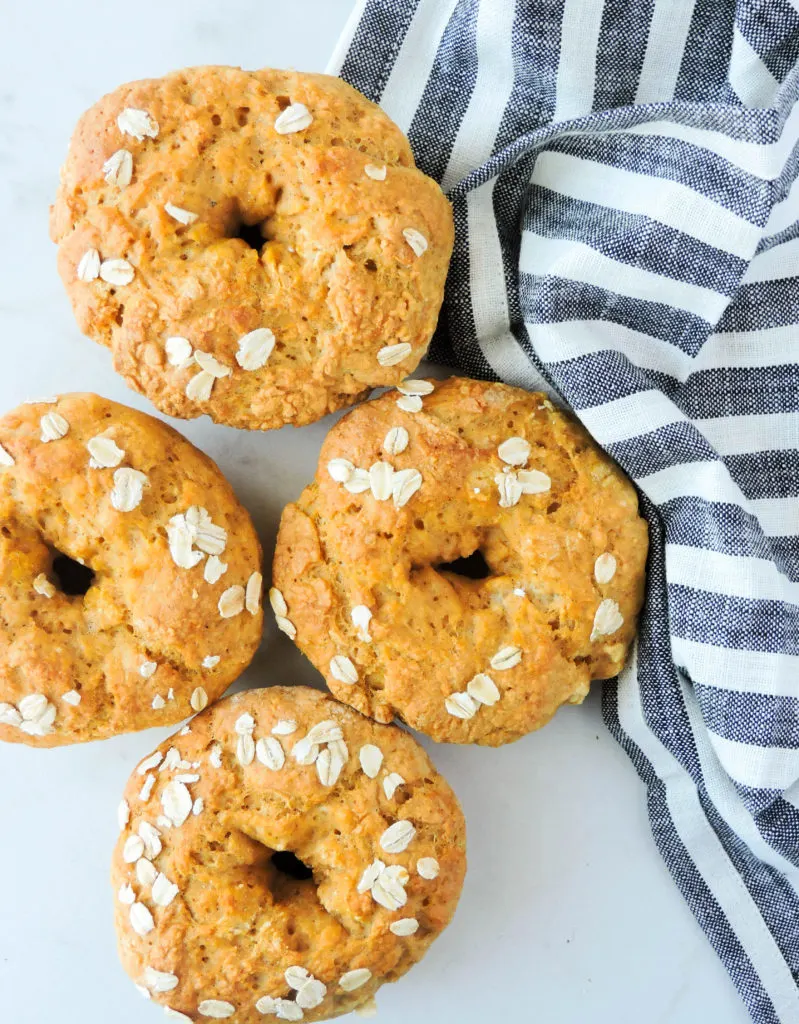 Healthy Easy Pumpkin Spice Bagels
Instead of using pumpkin pie spice, I used a mix of cinnamon and nutmeg. This worked perfectly for me, but feel free to replace that with 1 1/4 tsp. of your favorite pumpkin pie spice. I just like to give you an alternative that you'll usually have in your pantry. Personally I don't like buying pumpkin pie spice every year only to have to replace it the following year. You don't use a lot of it and you can get that profile easily from spices already in your pantry.
I also found it easy to use a donut pan for these! You can bake them on a sheet tray, but donut pans are useful for more than donuts and they keep these in shape really well. You can get 2 for less than $15 on Amazon. Link below for your convenience!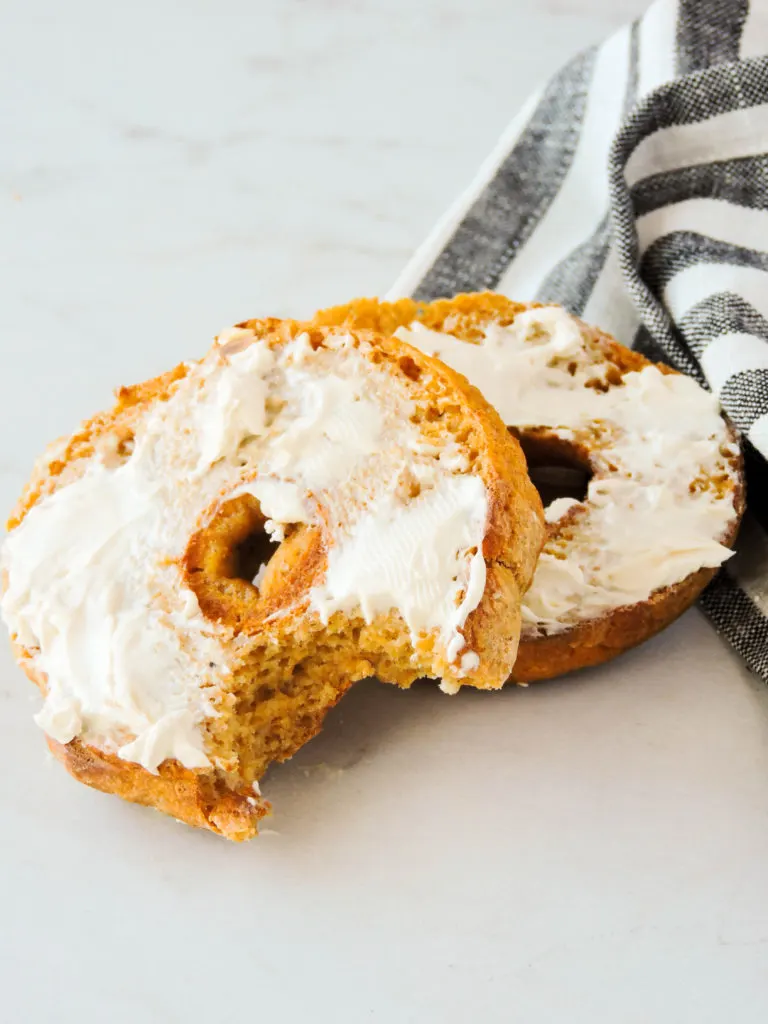 These bagels toast up perfectly, but be sure to follow the instructions and let them cool before cutting. They are super soft when they come out of the oven and they won't cut well if you don't wait. You can also freeze these bagels with no issues. Make a big batch and keep them on hand in the freezer! You won't be sorry 😉
Bagels with 2 Ingredient Dough are super easy, fun, and healthy. I really hope you try them! Tag me on Instagram @freshfitkitchen if you do and please comment below and tell me how they turned out!
PIN FOR LATER!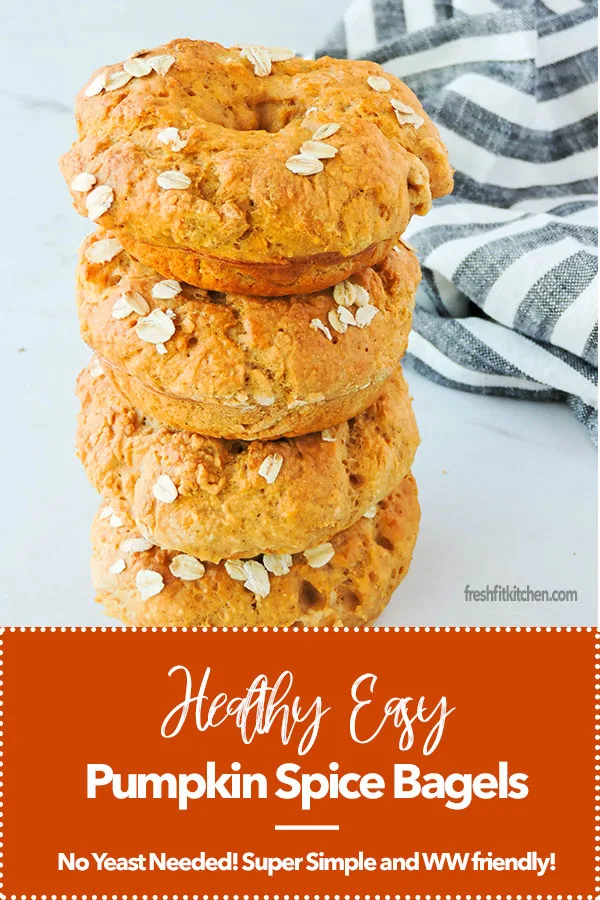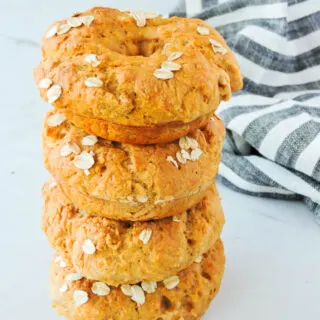 Healthy Easy Pumpkin Spice Bagels
These healthy easy pumpkin spice bagels use the 2 Ingredient dough made with Greek Yogurt and self rising flour. Replace a little of the yogurt with pumpkin, add some spice and you're all set!
Ingredients
1 & 1/4

cup

Self Rising Flour

3/4

cup

Nonfat Greek Yogurt

1/4

cup

Pumpkin

1

tsp.

Cinnamon

1/4

tsp.

Nutmeg

2

tbsp.

Maple Syrup

1

Egg White

1

tbsp.

Oats
Instructions
In the bowl of a stand mixer or with a hand mixer beat the pumpkin, yogurt, flour, cinnamon, nutmeg and maple syrup together until a dough forms. It will look a little strange at first, but keep going.

Flour your hands and remove the dough from the mixing bowl. This dough is rather sticky so be sure to keep your hands well floured.

Knead the dough for 6-7 turns and pat it out into a circle. Cut the circle into 4 equal sections. Roll each section into a ball and poke a hole through the center.

I like to use a donut pan for this because it's easy to just put the dough in there and have a hole made. You can also use a parchment lined baking sheet if you do not have a donut pan. Brush the tops with the egg white prior to baking and sprinkle with oats to garnish.

Bake at 375 for 25 minutes. Allow these to cool at least 20 minutes before slicing and toasting.
Notes
I used Kirkland Greek Yogurt from Costco for this recipe. Some yogurt has more moisture than others. Be sure to mix your yogurt well. If the dough feels super wet or gloppy add a tablespoon of flour at a time. The dough should come together easily into a ball, but it will be sticky. Flour your hands well prior to handling it.
You can freeze these bagels. Just put them in a zip bag once they are completely cooled and freeze up to three months. Thaw on the counter prior to toasting.
To make your own self rising flour:

For each cup of flour, whisk together with 1 1/2 teaspoons of baking powder and 1/4 teaspoon of salt. Make sure to whisk all of these ingredients together well so that the baking powder and salt are both evenly distributed within the flour.