People ask me all the time about the air fryer and whether it's worth it. They'll say "Well doesn't convection oven do the same thing." Yes and no. It also depends on the air fryer you get. This post is not sponsored, but I've owned a couple of air fryers and the Ninja Air Fryer blows them all out of the water. This is The BEST Air Fryer Chicken Breast and I promise you it makes air fryer ownership entirely worth it!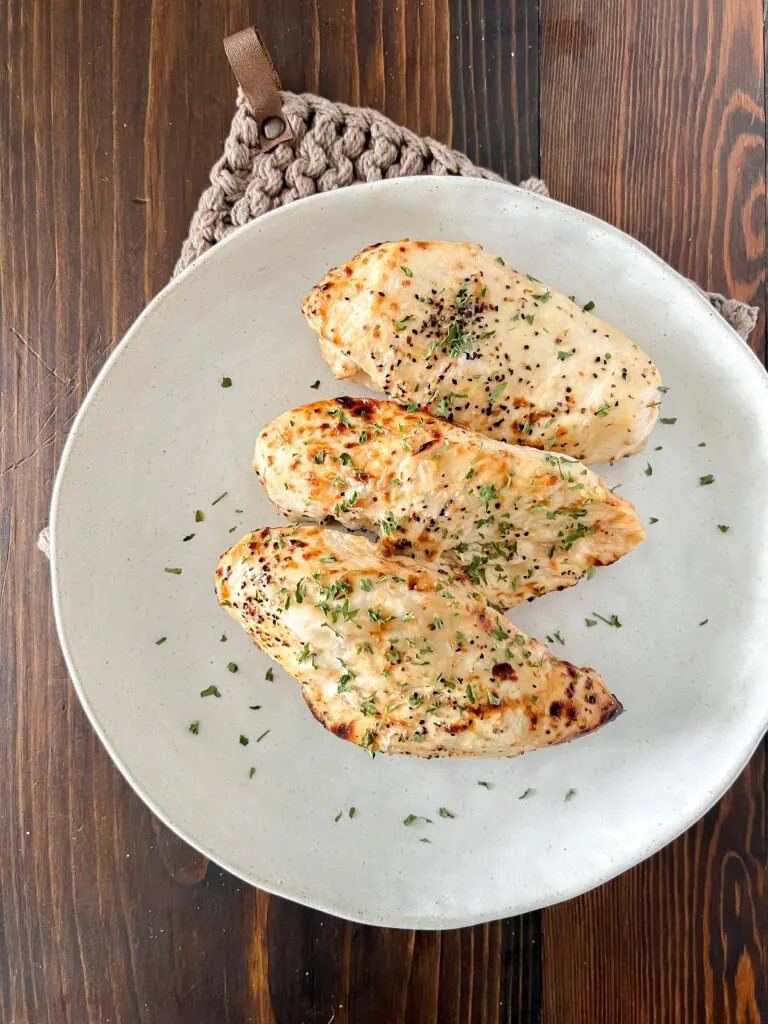 Tips for this Recipe
Cooking time is huge with air fryers because it's so easy to dry out boneless skinless chicken breasts. Air fryer recipes should always be considered with a grain of salt, because sometimes you don't know the brand of air fryer it was tested with. This recipe is with the Ninja Air Fryer. Everything from brand of air fryer to thickness of the chicken breasts will determine your success.
You also want to be sure your chicken is a single layer in your air fryer basket. This may require you to work in batches. Cooking chicken breast should always be done with a meat thermometer. Dry chicken breast is the biggest complaint when it comes to cooking this protein.
I also have to strongly recommend marinating your chicken. I marinated this chicken in a very simple Italian Dressing. You could make your own, but this is easy so I just used bottled. An alternative is to just add garlic powder, black pepper and kosher salt and air fryer with a spritz of oil (I use avocado oil for air frying). I prefer the marinade though because it keeps the chicken tender and juicy.
The best way to ensure your chicken is golden brown is to dry it off with paper towels prior to putting it in the air fryer basket.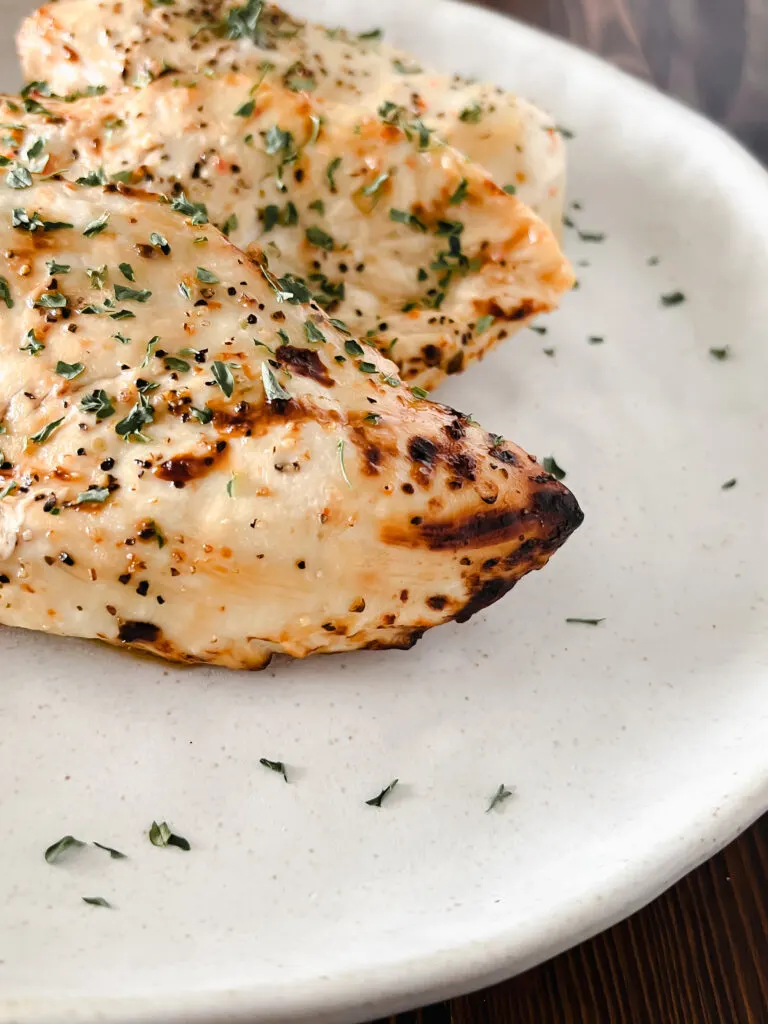 How to season Air Fryer Chicken Breast
I like to use a simple marinade, but if you need alternatives or ideas, here are some that I love depending how you'll use your chicken breast.
On top of salads: Marinate in Italian Dressing for 3-5 hours or overnight. Don't go too long or it can cook your chicken.
Meal Prep: Keep it simple with garlic, onion powder, kosher salt and pepper.
Tacos: Chili powder, Cumin, Salt and pepper are perfect for a Mexican vibe.
Serving Over Pasta: Go with the salt, pepper and garlic or a marinade that compliments your dish. Italian dressing works great too!
All of these are great ideas for low carb meal prep especially. Since that style of eating relies so heavily on lean protein, having some back pocket easy recipes is key!
At the end of the day a marinade is always sure to yield a juicy chicken breast. When I air fry, I always use avocado oil or vegetable oil because they have a high smoke point. This is not hte place for olive oil other low temp oils.
I'd also caution you using cooking spray because they have chemicals in them that can actually damage your air fryer basket non stick coating.
How Long to Cook Chicken Breast in the Air Fryer
Total cook time for these chicken breasts took 17 minutes. at 400 degrees F. Like I said thickness and the temperature of chicken breasts when you put them in the air fryer determines cook time. I do not recommend ever trying to cook frozen chicken breasts.
An instant-read thermometer is your friend here. You want 165 for the internal temperature of the chicken. I've found that the perfect balance is not too thin and always pound the chicken breasts to an even thickness. My chicken breasts were around 6-7 oz chicken breasts.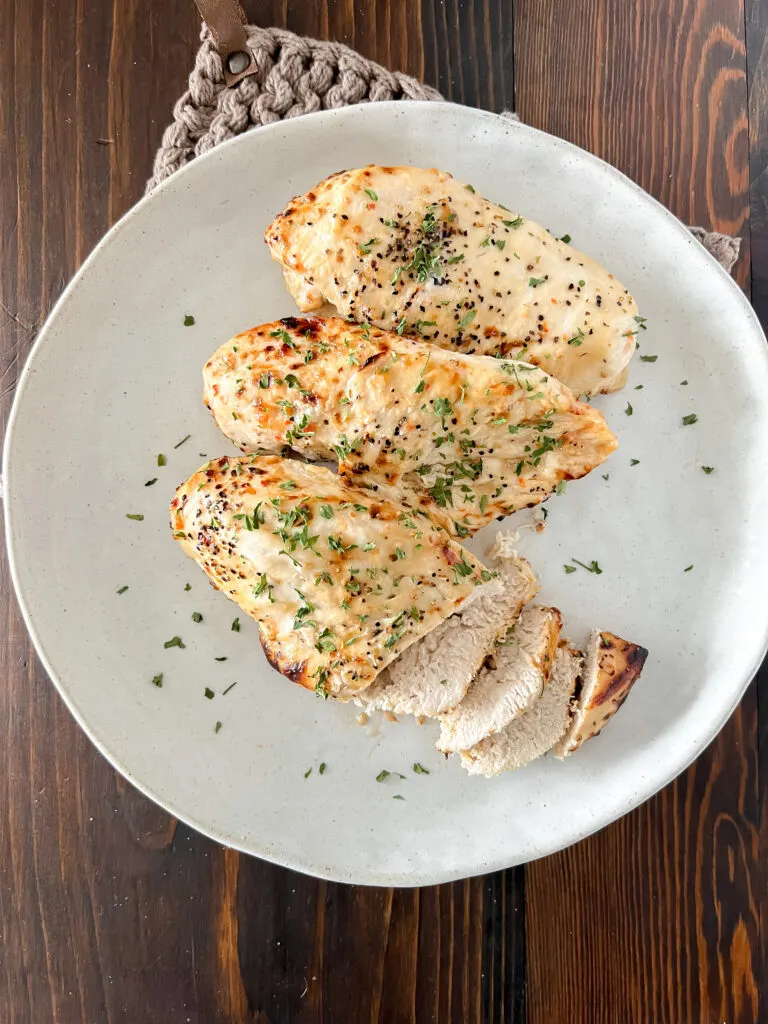 Is an Air Fryer Really Better than an Oven?
In my opinion, yes it is. The hot air can really circulate around your food. It's a great way to cook a quick meal because you don't need to wait for the oven to heat up. The strong air circulation cooks food evenly and quickly making it the perfect kitchen appliance for easy dinners the whole family will love.
Every time I talk to someone after they get an air fryer they tell me they don't know how they lived without it or that they use it every single day. I'll link you to the Ninja Air Fryer Oven I have below. Please know these are affiliate links. This just means I get a small commission when you buy the product. It helps keep the blog going and I truly appreciate it!
I've owned other brands of air fryers and truly they do not compare.
Leave a rating and Review!
If you loved this recipe please leave a rating and review. I really appreciate it!
Pin for Later!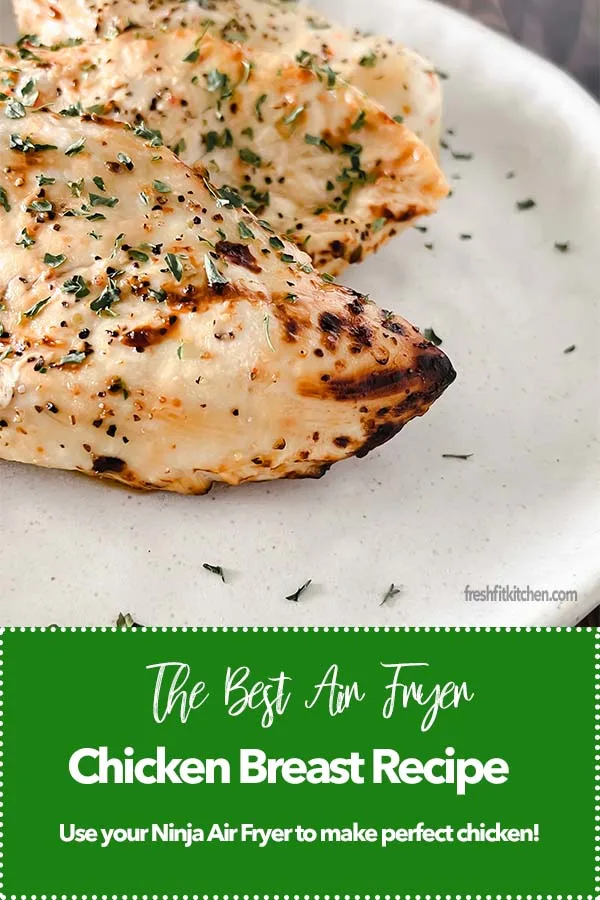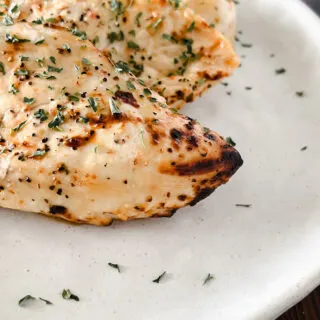 The Best Air Fryer Chicken Breast (Ninja Air Fryer)
This super easy and flavorful chicken breast is perfect for meal prep or just to enjoy on a plate with your favorite veggies. Make it in your air fryer in minutes and enjoy!
Equipment
Air Fryer

I love my Ninja Air Fryer
Ingredients
1/2

cup

Italian Dressing

Or Marinade of your Choice

12

ounces

Chicken Breasts

About 3 large breasts.
Instructions
Make sure you pound your chicken to an even thickness and place in a ziplock bag or airtight container.

12 ounces Chicken Breasts

Add Italian Dressing or marinade of choice and allow to marinate for 3-5 hours. You can leave it overnight, but be careful not to marinate for longer.

Remove chicken from marinade and dry off with paper towels. Spray your air fryer basket with a little oil. Add Chicken Breast to basket in a single layer.

Air fry at 400 degrees for 14-17 minutes. This will depend greatly on the thickness of your chicken breast so I strongly encourage you to check them with an instant read thermometer.
Notes
Please note that nutrition is approximate for 6 ounces of chicken. What marinade or seasonings you use can have effect on this.
Nutrition
Calories:
215
kcal
Carbohydrates:
6
g
Protein:
35
g
Fat:
7
g
Looking for other chicken recipes like this? Try my Easy Pan Fried Chicken Tenders without breading.