As I browse the granola bar section at the store, I just cannot help but marvel at how much these companies think of themselves. Six sometimes upwards of seven dollars for what is effectively oats and nuts. If you purchase your own ingredients, you can make a great tasting granola bar that's all your own. These chocolate covered fruit nut granola bars mimic my favorite bar. In fact, I got it so close with this recipe, it's hard to consider paying those prices again.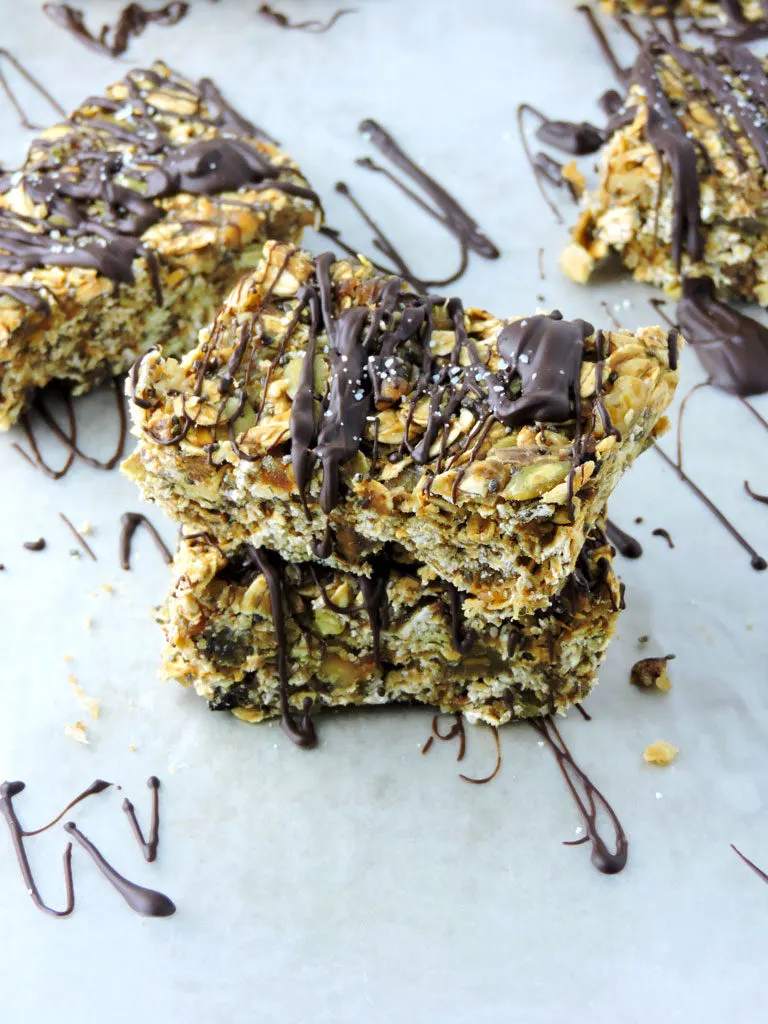 Looking at these, they almost look like a candy bar. I can also attest, that just a half of one reduces my chocolate cravings and leaves me satisfied. The best thing about these chocolate covered fruit nut granola bars is that you get to select the ingredients. If you're gluten free, all you need to do is purchase gluten free oats. Gluten free granola or energy bars can be even more expensive than the regular ones, so if you're gluten free , this recipe is a must.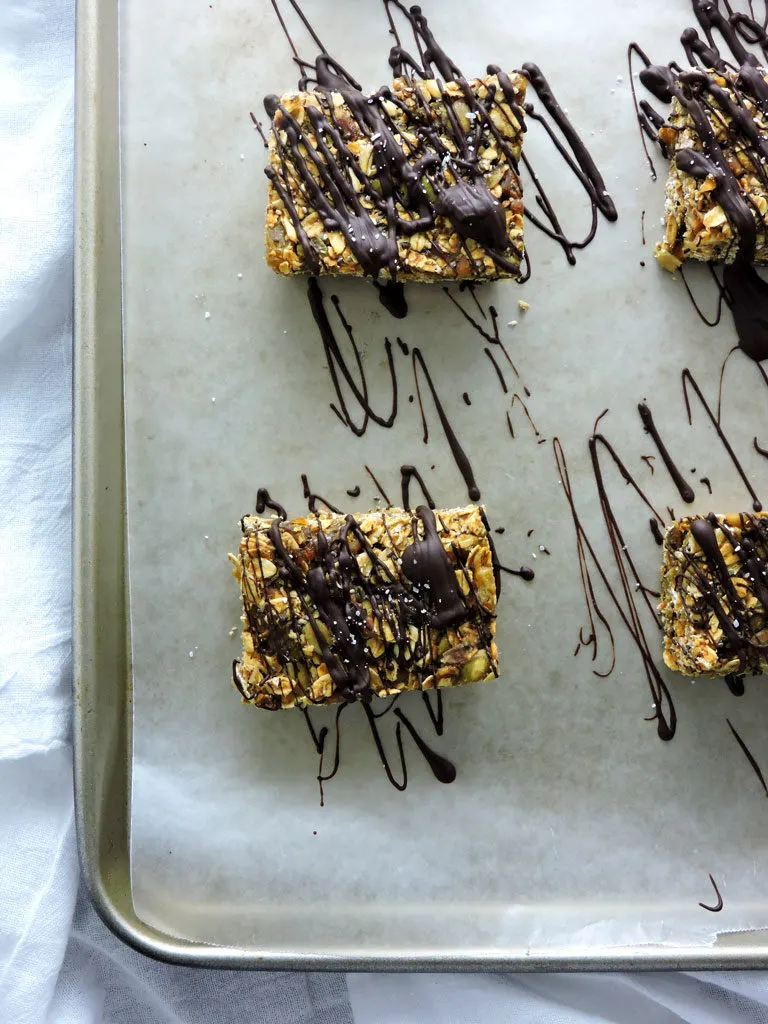 Get creative with these and switch the ingredients out. Perhaps use a different dried fruit or pecans instead of almonds. Whatever makes you happy.
If you make these, please comment below and let me know how it went. You can also tag me on instagram @freshfitkitchen and I'll regram my favorites!
Enjoy! 😉
Save
Save
Save
Save
Save
Save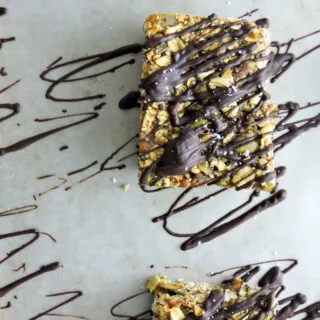 Chocolate Covered Fruit Nut Granola Bars
Ingredients
1

cup

Pitted Dates

1/2

cup

Natural Peanut Butter

1.5

cups

Rolled Old Fashioned Oats

1/2

cup

Sunflower Seeds

1/2

cup

Almonds

1/4

cup

Chia Seeds

1/3

cup

Golden Raisins or Dried Cranberries

Melted Dark Chocolate, for drizzling
Instructions
Boil about 2 cups of water. Remove the water from the heat and add the cup of pitted dates. You'll soak these until they are softened.

In the mean time, preheat the oven to 350 degrees. Put the Oats, sunflower seeds, and nuts on a baking sheet. Toast for 10-12 minutes or until slightly golden.

In the bowl of a food processor, add the softened dates, peanut butter (or almond butter), and mix together until well combined.

In a large bowl mix together the date mixture and the oats, nuts, sunflower seeds, chia seeds, and cranberries or raisins.

Press the mixture into an 8x8 pan lined with parchment paper. Leave the bars overnight in the fridge to set up.

The next day melt your chocolate in the microwave on high at 30 second intervals, stirring between each one. When the chocolate is melted, remove the bars from the pan and cut into 10 equal squares.

Place the cut up bars on a sheet pan lined with wax paper or parchment paper. Using a spoon drizzle the chocolate over top each bar. Add sea salt if desired.
Notes
These will keep in your fridge in an air tight container for up to 2 weeks.