It's that time again! Is it me or is 2017 flying by faster than we can soak it up? I feel like only yesterday I was opening Christmas presents. This week is all about comfort food. It doesn't matter how healthy you're trying to be, comfort food is where it's at. So in the Fresh Fit Meal Plan Guide week 3, I am offering you blueberry yogurt muffins to begin your day and soups to warm you through when you've been running around in the cold.
Breakfast
For breakfast this week make a batch of these Blueberry Yogurt Mini muffins. You can bag these up for on the go meals. Add a little extra protein with some hard boiled eggs on the side. They are so light and tasty you can eat quite a few of them.
Snacks
I always recommend having some hummus, veggies, and whole wheat crackers around. These are staple items you can make a quick snack of. When those sweet tooth cravings hit, I recommend these Chocolate Covered Fruit Nut Bars. Don't spend the money on expensive energy bars. These bars are only sweetened with dates and you can control the ingredients you add. This is a real win-win.
Fresh Fit Meal Plan Guide Week 3- Dinners
If you've been trying to be more planned, you're probably noticing that your evenings are running a whole lot smoother. Knowing what you're going to eat and having some of it all prepped and ready to go means you get to enjoy more o f your evening. You're not rushing through the store with everyone else at 5PM on a Wednesday night trying to decide what to make. This week I am making that a little bit easier . The chili recipe is easily made in the slow cooker meaning you get to come home and simply eat.
Monday: Spicy Southwest Lentil Chickpea Chili – While this recipe has directions for the stove top, you can easily make it in the slow cooker. Just dump everything in and go. It will take about 6-8 hours on low.
Tuesday: Citrus Spicy Chicken Tenders– One tip here is to make the chicken tenders on Sunday and refrigerate them. The breading will stick very nicely. On Tuesday night all you need to do is heat up a bag of your favorite frozen veggies, perhaps a some easy rice or a baked potato and you're all set.
Wednesday: Protein Packed Cheeseburger Casserole– A family favorite in our house. All of the great flavors of a cheeseburger in one healthy dish. This is another great make ahead meal. It reheats beautifully.
Thursday: Kale and Apple Walnut Salad with Grilled Chicken- Wanna make this one a super simple meal? Stop at the store and grab a rotisserie chicken.
Friday: Go ahead and order that pizza if you want. My tip is to always go thin crust, ask for light cheese and pile on the veggies. It's been a long week and you deserve the night off, just don't totally blow it.
It's Always Good to Have a Back up Plan…
So, here's the deal. You're not always going to feel like cooking even the simplest of recipes. Life will get busy, and you will want to throw in the towel some days and eat the entire pint of ice cream and call it dinner. I completely get it. Here are some pantry staples I keep around for those nights when it just isn't happening:
Boxes of Annie's Homegrown Organic Macaroni and Cheese (particularly the shells and white cheddar)- So this is not exactly clean eats, but it's not death in a box either. I can make this with a bag of frozen broccoli and carrots and be perfectly content.
Organic bagged salad mixes– These are awesome when paired with a rotisserie chicken. They take no time at all to prepare. Some even come with the dressing. Just watch the nutrition labels and purchase ones that are low in sugar and additives.
Amy's Organic Canned Soups– These are lower in sodium than most and very delicious. Just heat it up and serve with a grilled cheese if you feel you have it in you 😉
Whole Wheat Tortillas and Pizza Sauce: I love Muir Glen brand pizza sauce. You can add some cheese, veggies, and sauce to a whole wheat tortilla and have pizza in minutes. Another great trick is to make a "pizza quesadilla." Just load up the tortilla like you would for a quesadilla and cook in a non-stick pan. Very yummy and even kid friendly.
Beans– I always have black beans on hand. There's a joke in our house that we are in a dire food situation without black beans. These are great in chili, but they also make an awesome taco. Just heat up some black beans, onion, garlic, and a little taco seasoning on the stove. Pile the beans onto a corn tortilla and add your favorite toppings. You really can't go wrong.
There you have it! The Fresh Fit Meal Plan Guide Week 3! Make sure to tag me on instagram @freshfitkitchen if you make these and I'll regram my favorites!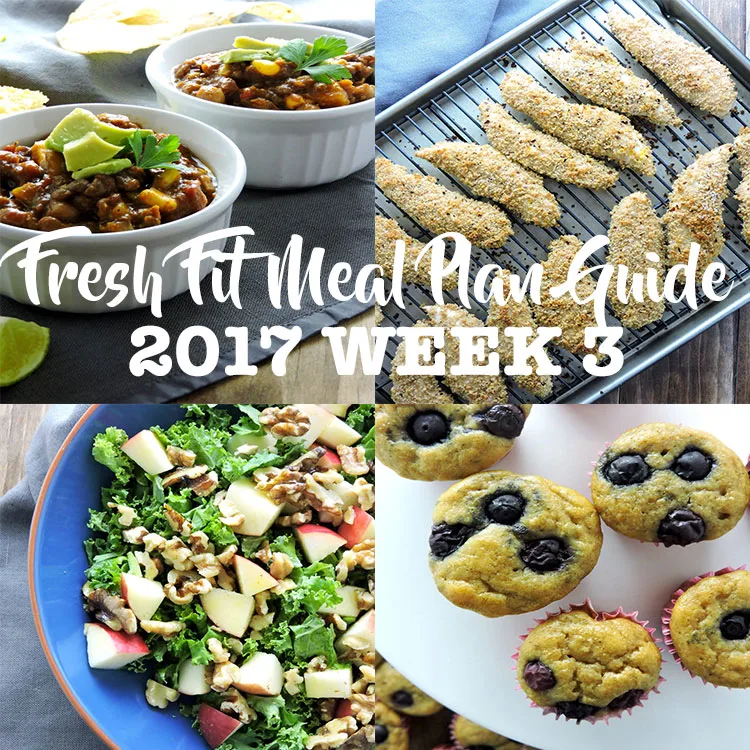 Save
Save