Air Fryer Chicken Recipes for a keto or low carb diet are easy with a few ingredient swaps. One night I went to make some easy crispy chicken cutlets and I didn't have any breadcrumbs.
What I did have was almond flour and Parmesan cheese. What resulted was air fryer chicken breasts that are perfect for your keto diet or any gluten free low carb diet.
Almond Flour Air Fried chicken is going to be in your rotation whether you are practicing one of these diet plans or not. It's just a good Air Fryer Chicken recipe the whole family will love.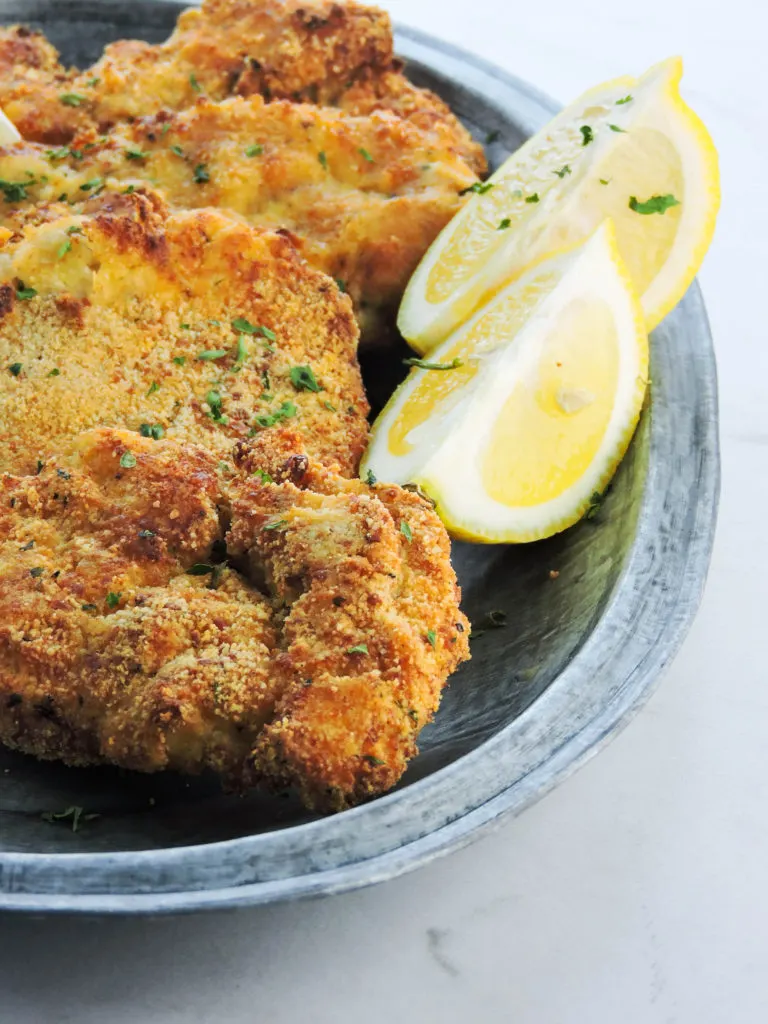 The Best Way to Prepare Air Fryer Chicken Recipes (Keto)
Anytime I'm cooking chicken or any kind of meat, I used a meat thermometer. Simply following a cooking time, especially when dealing with air fryer recipes, can lead to overcooked protein. You want to make sure that internal temperature is at least 165 degrees and not over 170. Once you go past 170 you are in dry chicken breast territory.
You are not using flour here as we keep this keto friendly and gluten free. Almond flour doesn't have a lot flavor so an easy spice mixture makes this super yummy. Garlic powder, onion powder, paprika, salt and black pepper are all you need. A touch of cayenne pepper is nice if you like the kick.
A squeeze of lemon juice when you are done air frying is a nice touch!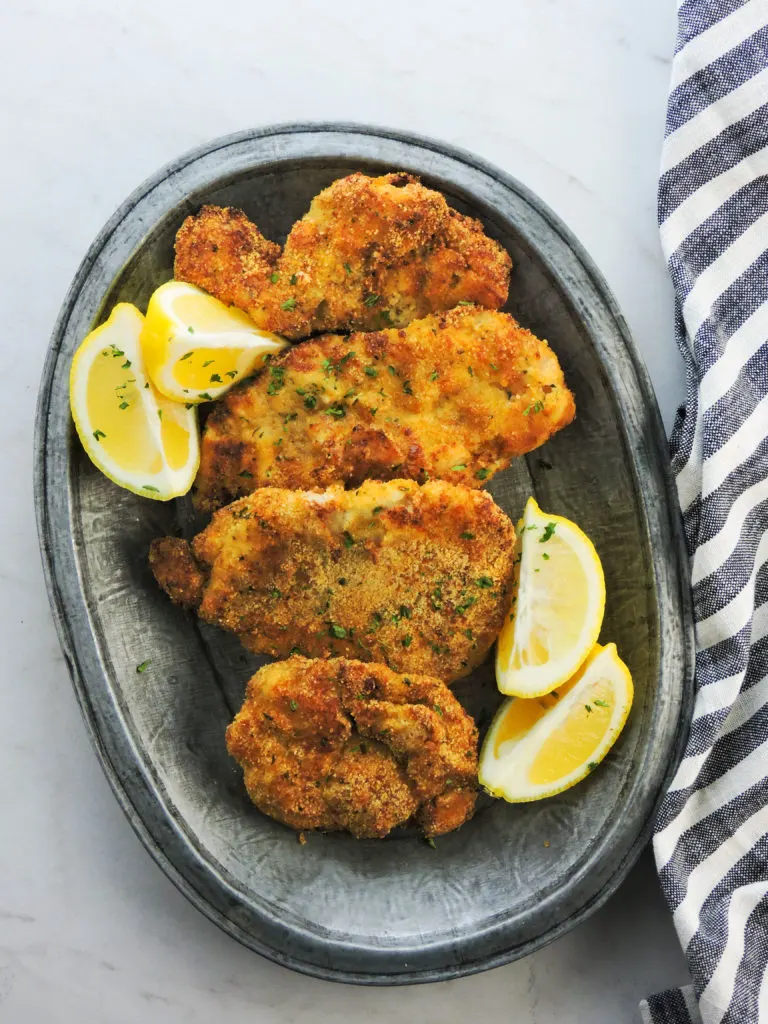 Trust me by following this recipe you'll have that crispy skin feel even on your low-carb diet. You need to have an egg wash to have your coating stick. My favorite oil to use is a light olive oil which is fine for cooking under 400 degrees.
It's not absolutely necessary that you have an oil with a high smoke point here. Olive oil has so many benefits that I like to use it whenever I can. Avocado oil is another great choice.
You want to be sure that you spray your air fryer basket with oil to prevent sticking. I'll link you to my favorite olive oil sprayer in the affiliate link section. I use it all the time and never need to buy those sprays with all kinds of additives that ruin your cookware.
Can you use the oven instead of air frying?
Yes, you can! If your oven has a convection setting, this will get you closest to the air fryer results. You can also follow the cooking time for the air fryer.
If you are using a regular oven, you'll need to account that an air fryer cooks about 30% faster. So, this recipe will take more like 18-20 minutes instead of 12. You really need to start checking it around 15 minutes with your meat thermometer. Thickness of your chicken breast is another factor to consider.
Another great tip is to use a baking tray with a rack over top. The more you allow air to circulate around you food, the crispier it will be!
People often ask me if an air fryer is worth it, and I say yes absolutely. While Convection is the same concept, it's definitely different when that hot air is swirling around a smaller space. I've tested it myself and air fryer just edges out the oven for me.
Do I have to use breasts? What about another piece of chicken?
Yes, you could use chicken legs or chicken thighs. Bone in chicken will take longer so you'll definitely increase the cooking time on that. Just use your meat thermometer and don't be afraid to check often.
There is so much flavor in chicken pieces versus breasts and you can get a lot of crips with little oil. No need to use that deep fryer for fried chicken.
As with any recipe, you want to make sure your chicken is in a single layer and has plenty of room so it will crisp up. This is the rule of thumb especially with breaded chicken recipes. If you crowd your basket, you won't get crispy breading.
Another great idea is to use tenders and make keto crispy chicken tenders.
Affiliate Links
I love this olive oil sprayer.
This is my go to Air Fryer Oven. I love that it does other things besides Air Frying.
Please note that these are affiliate links and your purchase via these links helps support my blog. Same price, same product, just gives me a small commission so I can keep providing you free content. Thank you for your support!
Storing Leftover Air Fryer Chicken
This recipe is great for meal prep because you can use it as a main dish and serve it with a side of green beans or you can repurpose it into Chicken Parmesan. Just add tomato sauce and mozzarella cheese!
If you want to prepare ahead of time, just store it in an airtight container or freezer bag.
When ready to reheat- crisp it up in your air fryer at 350 degrees for 5-7 minutes.
I hope this becomes an easy way for your to enjoy a take on traditional fried chicken. A healthier option is always a welcome thing in our house! Sure, sometimes you want the real deal, but it never hurts to have alternatives.
Leave a Comment and Star Rating
Comments and star ratings help our readers when they go to make a recipe. If you made this recipe for your family and loved it, I'd love to know! If you used other methods that worked, share that too!
Sharing is caring and it really helps the blog thrive when you comment and share this recipe. Thank you so much for being here!
Please pin this recipe for later!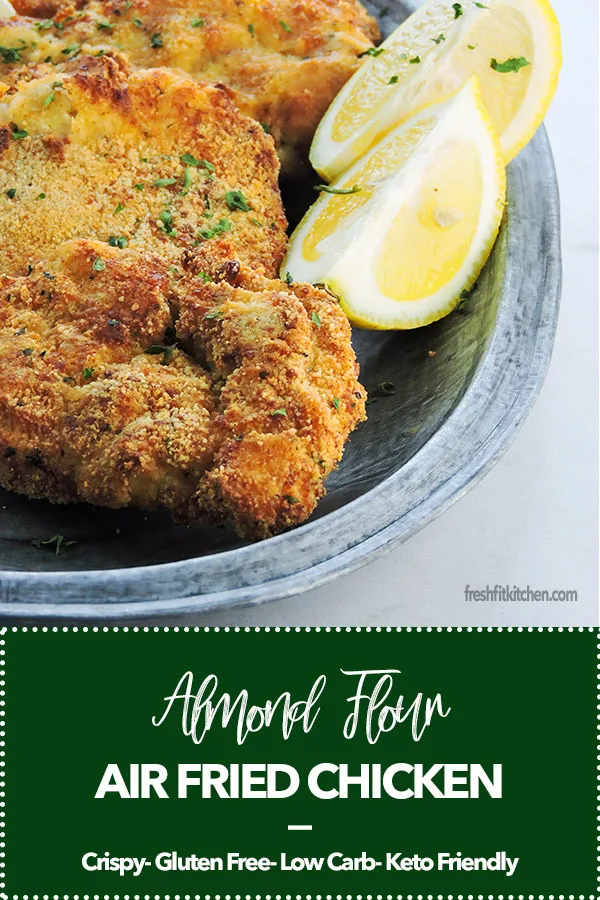 This post was last updated on 6/13/22.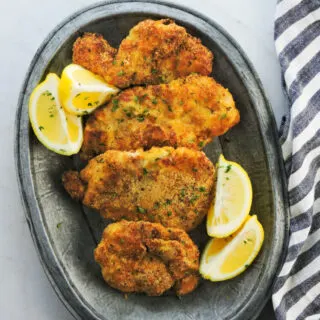 Almond Flour Air Fried Chicken
Almond Flour Air Fried Chicken is an easy low carb, gluten free and keto friendly crispy chicken recipe.
Ingredients
4

Chicken Breasts

About 4 ounces each and pounded to an even thickness. About 1/3 inch is thickness is best.

1

cup

Almond Flour

1/2

cup

Parmesan Cheese

1

tsp.

Garlic Powder

1

tsp.

Onion Powder

1

tsp.

Paprika

2

tsp.

salt

1

tsp.

pepper

1

egg

beaten
Instructions
Trim and pound the chicken breasts. A thickness of 1/3 of an inch is best.

Salt and pepper the outside of the chicken and set aside.

Mix the egg up in a dish. Be sure it's one your chicken will fit into as you'll be dipping the chicken in the egg first.

In another dish mix together almond flour, parmesan cheese, garlic powder, onion powder, paprika, salt and pepper.

Dredge the chicken in the egg and then the almond flour mixture.

Preheat your air fryer to 390 degrees. Just allow it to run for 2-3 minutes.

Spray the air fryer basket with cooking spray. Add the chicken, then spray the tops of the chicken with cooking spray as well.

Air fry for 10-12 minutes or until the chicken reaches an internal temperature of 165 degrees. Flip it halfway through cooking. I like to use an instant read thermometer to check my chicken. It's easy to overcook it when air frying.
Notes
You could make this in the oven too. I'd recommend baking it at 400 degrees and turning it halfway through cooking. I did not test it this way, but I imagine it would take about 20 minutes as the air fryer cooks about 30% faster than the oven. If you have it, I'd recommend cooking the chicken on a wire rack fitted over a sheet pan. This will allow air to circulate around the chicken. Watch the chicken carefully. Since I didn't test it this way and ovens vary- I can't guarantee 20 minutes won't over cook it.
Nutrition
Calories:
248
kcal
Carbohydrates:
5
g
Protein:
33
g
Fat:
11.3
g