No, you haven't fallen into a black hole where this blog is now Vegan. Remember, we eat everything here- even tofu. Especially delicious crispy tofu that mimics the flavors in your favorite fish taco. You know.. minus the fish. Crispy Tofu Street Tacos with Spicy Chili sauce are sure to become a hit. Tofu naysayers gather around. Prepare for amazement.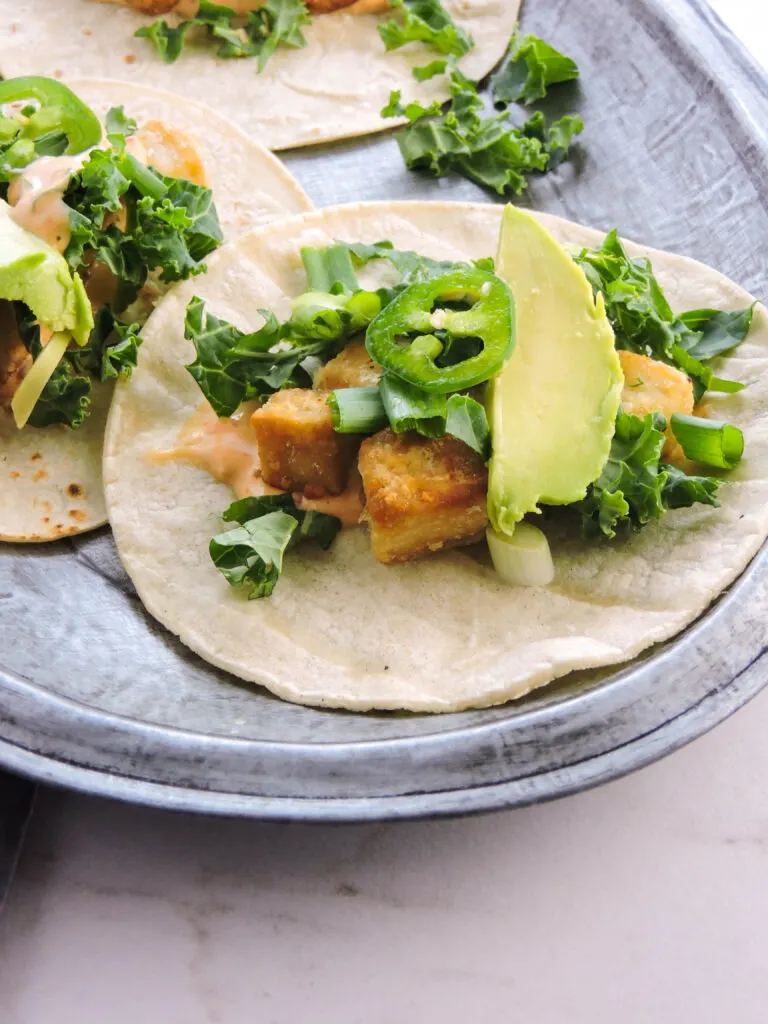 You can't argue with the benefits of a plant based diet. Plants are kind to the body and kind to the planet. Adding more of them will only benefit you in the long run. You know by now I don't advocate for labels. I do advocate for eating a little bit of everything in moderation. That especially applies to the meat category because bottom line it's one of the more expensive items for our wallets and for the planet. I encourage you to choose even one day a week to go meat free. Let veggies be the main event. They don't get nearly enough love.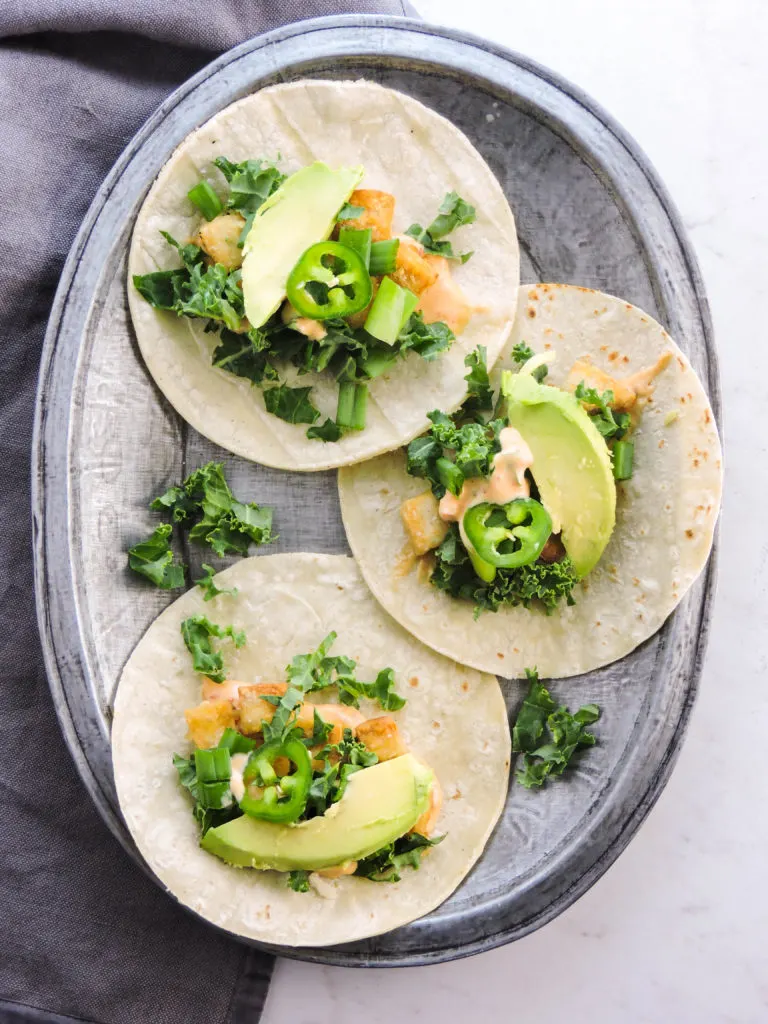 I am a fish taco lover. If I head to a taco joint and there's a fish taco, I'm in. These Crispy Tofu Street Tacos with Spicy Chile Sauce mimic that citrus spicy flavor that often comes with a fish taco. Just, you know, minus the fish. My husband and I agreed that if I could somehow get the tofu to flake like fish, people could be fooled.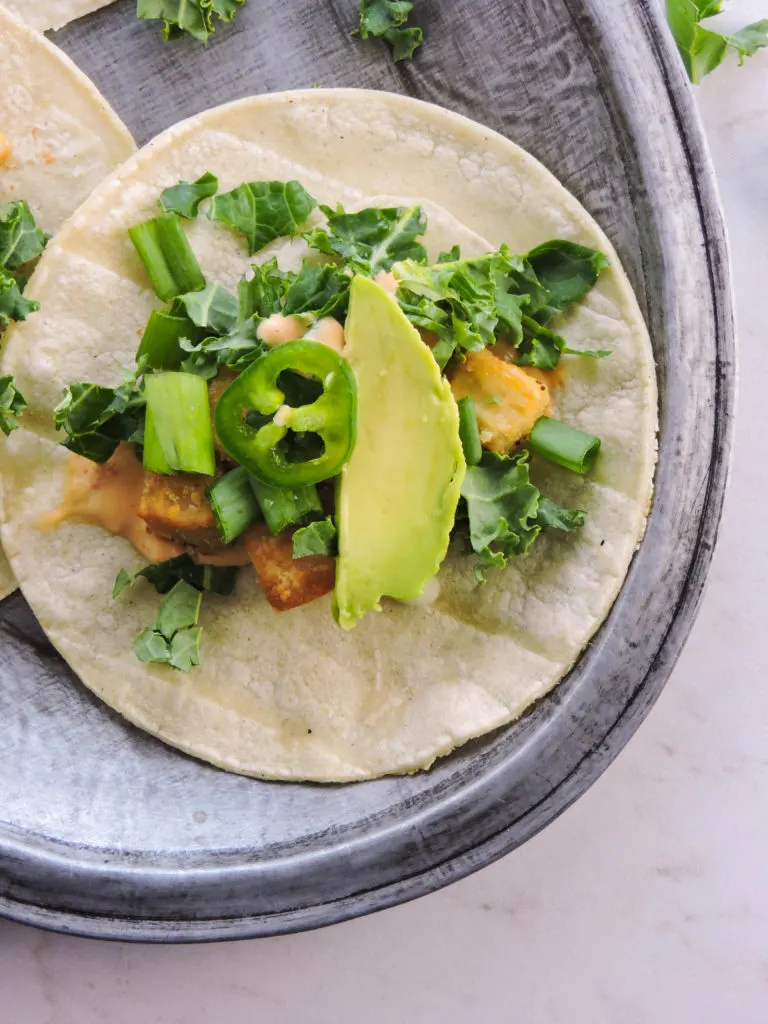 Give Tofu a Chance
When people tell me that tofu tastes like nothing, I ask them, "what does chicken taste like?" As in when was the last time you took chicken from the fridge, flopped it in a pan with no seasoning and ate it. So far no one has answered yes. Tofu is full of protein, it's quite cost effective, and it takes on the flavor of whatever you put on it. I hesitate to say "just like chicken," but you get where I am going here.
I will be adding these tacos to our regular rotation. If you've been waiting for the right time to try tofu, this may be the recipe that sells you.
If you make these Crispy Tofu Street Tacos with Chili Sauce tag me on Instagram @freshfitkitchen. You can also comment below. I'd love to hear your thoughts.
Pin it!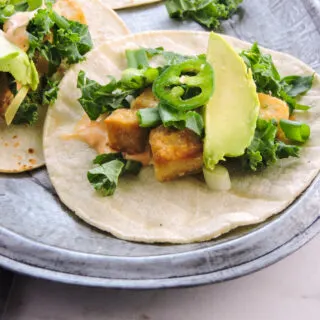 Crispy Tofu Street Tacos with Spicy Chili Sauce
Crispy Tofu Street Tacos are like a crispy fish taco without the fish. Seasoned with fresh lime, jalapeno and a spicy chili sauce. Vegan and Gluten Free.
Ingredients
16

ounces

Extra Firm Tofu

Pressed and Cubed

1/4

cup

Liquid Aminos

or Reduced Sodium Soy Sauce

1/4

cup

Lime Juice

plus extra for garnish

1/3

cup

Vegan Mayonnaise

I like Just Mayo Brand.

1/8

cup

Chili Paste

also known as sambal oelek

1/4

cup

corn starch

1

cup

Shredded Cabbage

1

cup

Avocado Slices

1

Jalapeno

Sliced very thin

8

Corn Tortillas

1/2

cup

Scallions

sliced, for garnish
Instructions
For the Tofu: Remove the tofu from the package and place it on a towel lined paper plate. Put more paper towels on top and then weigh it down with a heavy skillet. The goal is to press as much water as possible from the tofu. Allow it to sit there for 10-15 minutes.

While the tofu is pressing, mix together the vegan mayonnaise and chili paste. Shred up your cabbage and slice some jalapeno (if using). Set it aside.

Cut the tofu into small 1 inch cubes. Put it into a bowl with the Liquid Aminos (or soy sauce) and the lime juice. Toss it around so it evenly coats it.

Drizzle enough avocado or canola oil into the bottom of a cast iron pan to evenly coat it. Heat it up over medium high heat until the oil shimmers.

Take the tofu and add it to a gallon size zip top bag. Be sure not to add the liquids from the marinade. Use a slotted spoon to help with this.

Pour the corn starch over the tofu, close the bag and shake to coat. You don't want to crowd the pan. Add half the tofu to the pan and cook until golden brown. Don't stir it a bunch. Just allow it to brown on one side then flip it.

When the tofu is browned on all sides, move it to a paper towel lined plate. Sprinkle it with a little salt and a squeeze of lime juice.

To heat the corn tortillas: Heat up a dry skillet and blister them on each side. It will take a few seconds per tortilla. If you have a gas stove, it's super yummy over an open flame.

To build the taco, take your tortilla and add a smear of the chili sauce, then the tofu, cabbage, avocado and a few thin slices of jalapeno if you like it nice and spicy.
Notes
You shouldn't have any trouble finding the chili paste. I live in a rather rural area and can find chili paste/sambal oelek in the grocery store where they keep the Asian foods. It's usually near the soy sauce. You can sub in Sriracha, but don't use an entire 1/8 cup. Put in a teaspoon and then adjust the heat to your liking.