I love a crispy taco shell, but the ones you purchase at the store are always so fragile. I recently figured out how to make Easy Airfryer Crispy Taco Shells. These Easy Crispy Taco Shells are going to be at my Taco Night for years to come.
Easy Air fryer Crispy Taco Shells (Oven or Air Fryer)
I love hard taco shells especially for those traditional tacos you often make on Taco Tuesday. I think the best way to make these crispy tacos is in the air fryer. The type of air fryer that works best here is an air fryer oven. I have the Ninja Foodi Air Fryer Oven. I'll link it for you below.
You can make these hard shells in the oven by hanging the tortillas over your oven racks in the same manner you do with the air fryer. Just spray them with cooking spray. Simply bake on 400 degrees for 7-9 minutes. Watch them so they do not burn.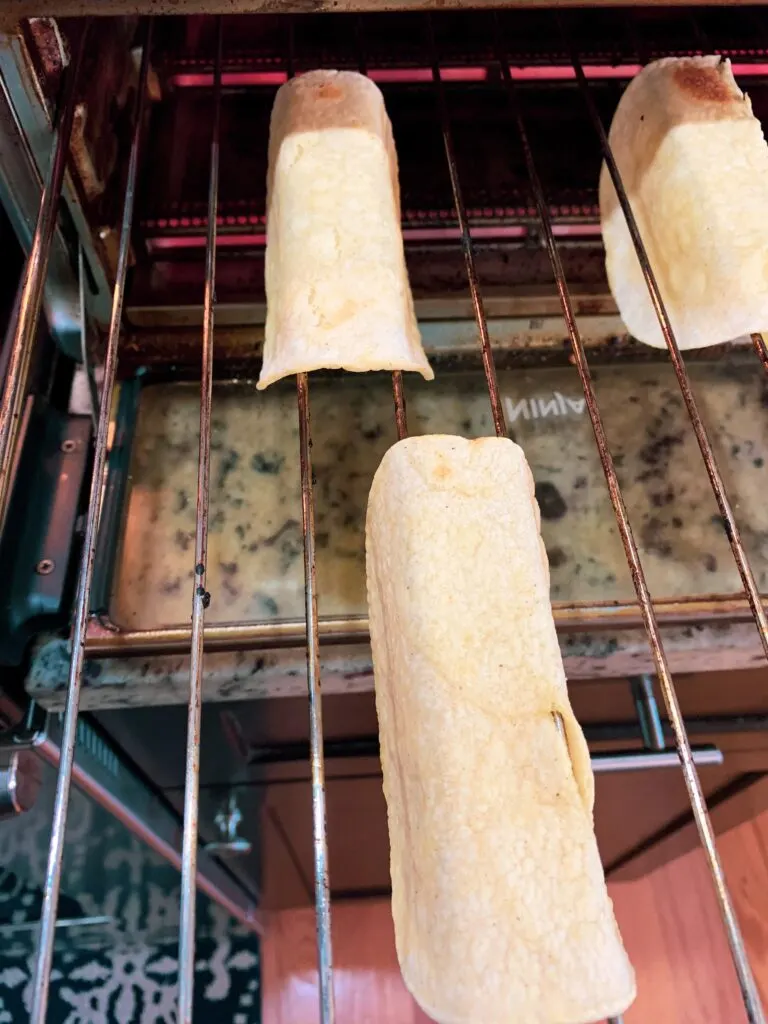 I prefer using corn tortillas for my crispy taco shells, but you can certainly use flour tortillas if those are your favorite. Who doesn't love a crispy tortilla of any variety?
Crispy Tacos- Many Ways
If you don't want to just make the shells, you can fill your taco with your meat of choice and bake until crispy on a baking sheet. I will often make tacos with just a simple taco seasoning and ground beef. Lay your tortilla flat on a baking tray. I like to use nonstick aluminum foil sprayed with nonstick cooking spray.
If you are using corn tortillas here it's much easier to avoid breaking if you are working with warm tortillas. Simply cover them with a damp paper towel and heat in the microwave for 30 seconds.
Fill the taco with your taco meat mixture and a little cheese and fold the other side over. Spray the tops with cooking spray and bake at 375 degrees for 7-10 minutes or until crisp.
When they are done you can easily fill them with your favorite toppings. Sour cream, salsa, avocado or hot sauce are all good ideas!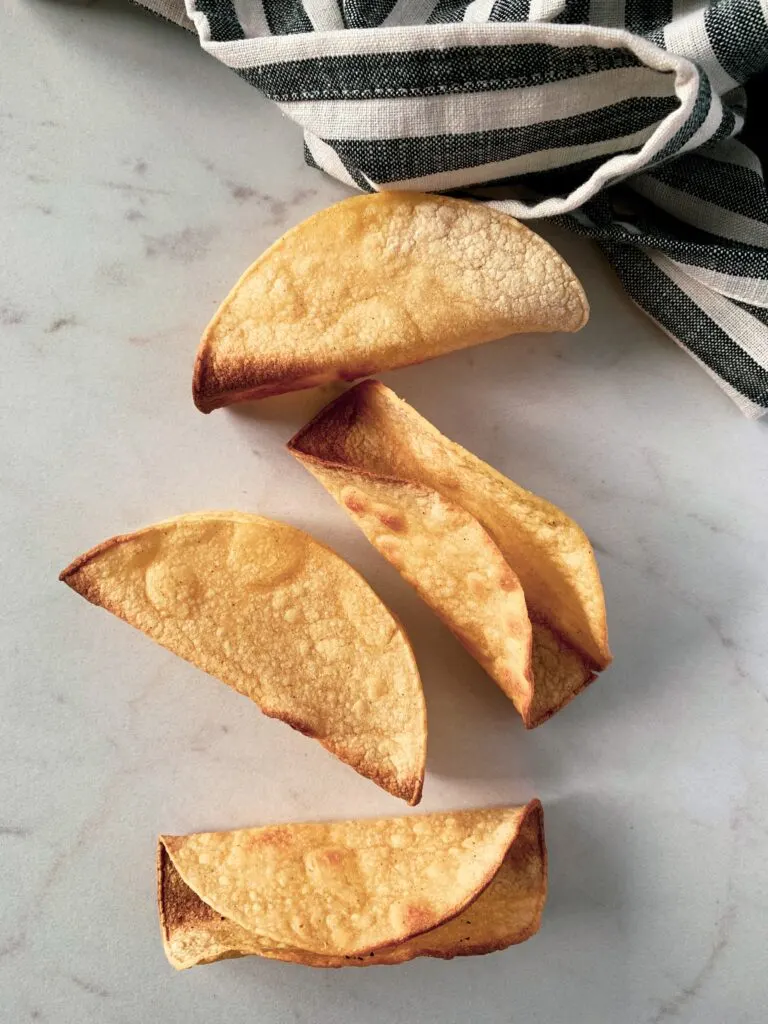 You can do this same application if you have an air fryer oven and just make air fryer tacos! Just fill them up, fold them over and air fry at 350 for 5-7 minutes or until golden brown.
Tostadas are also a favorite around here. Tostadas are just made with flat tortillas. It really gives you more surface area for taco goodness. All you need to do there is spray your shells cooking spray and air fry for 4-6 minutes at 400 degrees.
Lastly, who doesn't love homemade tortilla chips? Well it's super easy now that you know this method! Just cut your tortillas into chip shapes!
My Favorite Tool for Air Fryer Tacos
Although you can make these in the oven, the air fryer oven is superior and quicker. Trust me a new Ninja Air Fryer will become the workhorse of your kitchen!
Especially if you have little ones! Please note this is an affiliate link. All that means is that I get a small commission when you purchase from it. Thank you for your support!
Storing Leftover Taco Shells
You can store leftover shells in an airtight container for 3-4 days. To reheat just place them in the oven or air fryer and heat at 350 until hot. Watch them, you don't want to burn them.
If you made the tacos with the meat and cheese inside, simply wrap those in foil and store in the fridge until ready to reheat. You'll find you can bring back that crispy taste with just a few minutes of reheating.
Oven Baked Tacos- Healthy Alternative
These taco shells are made with less oil, less mess and they make for an easy recipe your entire family will love. Restaurant style tacos are made easier and with fewer calories at home!
I hope you'll make these easy tacos for your family. Tacos are always a definitive yes! If you do please leave a review and star rating below. This is a great way to support the blog and give other readers tips and tricks! I hope you enjoy this fun twist on taco night!
It is my pleasure to provide tasty meal ideas for your family. It's the reason I started Fresh Fit Kitchen. I wanted healthy eating to be family friendly. We all have a spouse and / or children who want their favorite foods to still be on the table.
Healthy doesn't have to mean kale salads, nuts and seeds for dinner. You can include taco night and healthy can be tasty and satisfying as well!
Thanks again for stopping by! It's my absolute pleasure to have you here!
This post was last updated 6/1/22.
Pin this recipe for Later!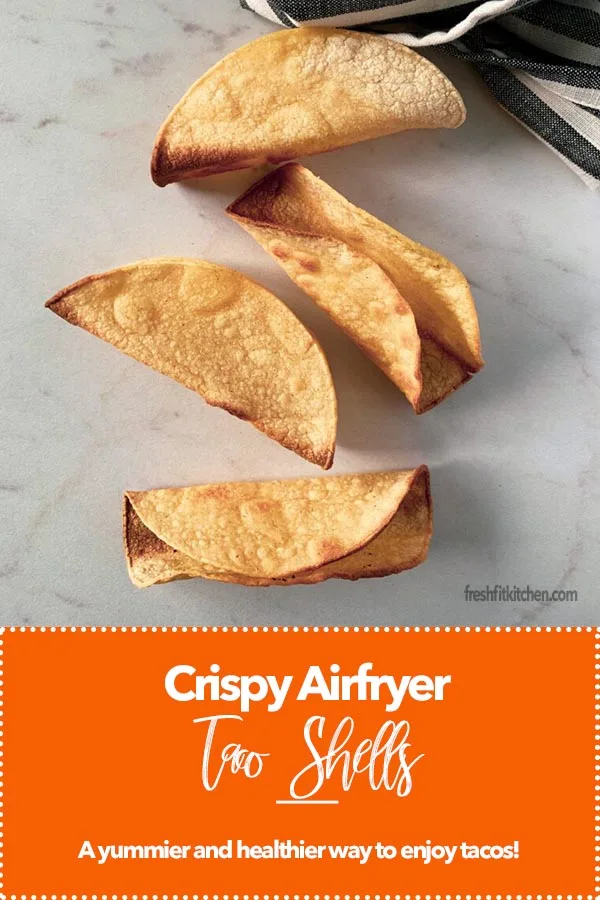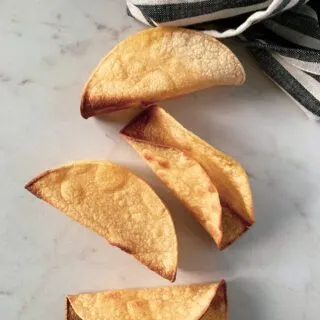 Easy Airfryer Crispy Taco Shells
A super easy recipe to make easy, healthy and delicious taco shells right in your airfryer.
Ingredients
4

Corn Tortillas

Cooking Spray

To spray the top and bottom of each shell.
Instructions
Spray the top and bottom of each corn tortilla shell.

Hang the taco shells over 2 of the grates in your oven rack . This will create a place for your fillings and secure the shells.

Set oven to 400 degrees and airfry for 4-5 minutes. Just watch the taco shells and remove them when they are slightly golden and crisp. Fill with your favorite fillings and enjoy.

See post for more ideas on how to prepare and use these taco shells and to get the instructions for oven baking!
Nutrition
Serving:
2
shells
Calories:
100
kcal
Carbohydrates:
19
g
Protein:
2
g
Fat:
1
g