Zucchini crust pizza? I know! Hear me out here. This Low-Carb Zucchini Pizza Crust recipe is in its very own category when it comes to pizza. Your gardens are likely overflowing with zucchini and instead of the usual muffins and breads, why not make it into a savory treat?
If you don't like the strong flavor of a cauliflower pizza crust read on- because you are going to love this zucchini pizza dough.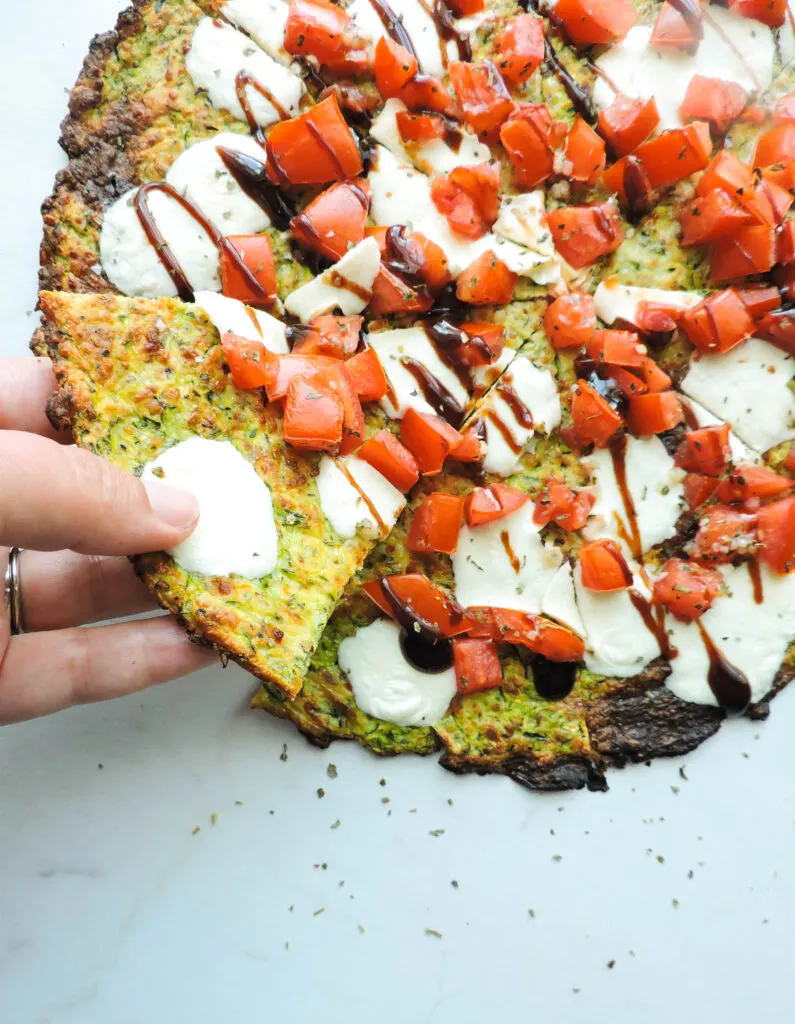 Zucchini Pizza Crust Tips
The first step is to grate the zucchini on a side of a box grater. The next step is getting all of that excess water out of the shredded zucchini. Your crust will not brown or be stable if you don't.
You'll lay some paper towels, large piece of cheesecloth or a clean tea towel inside of a strainer. Put your zucchini mixture in there and add a little salt. This will help draw out the excess moisture. Let it sit for a half hour.
If you are prepping this for later, then put the strainer over a large bowl and transfer the grated zucchini to the refrigerator. This is going to help as much liquid as possible get out of the zucchini. You can easily expect to squeeze out up to 1/2 a cup of excess liquid.
I use a box grater to do this part, but a food processor is another perfect way to grate zucchini if you have the grater attachment.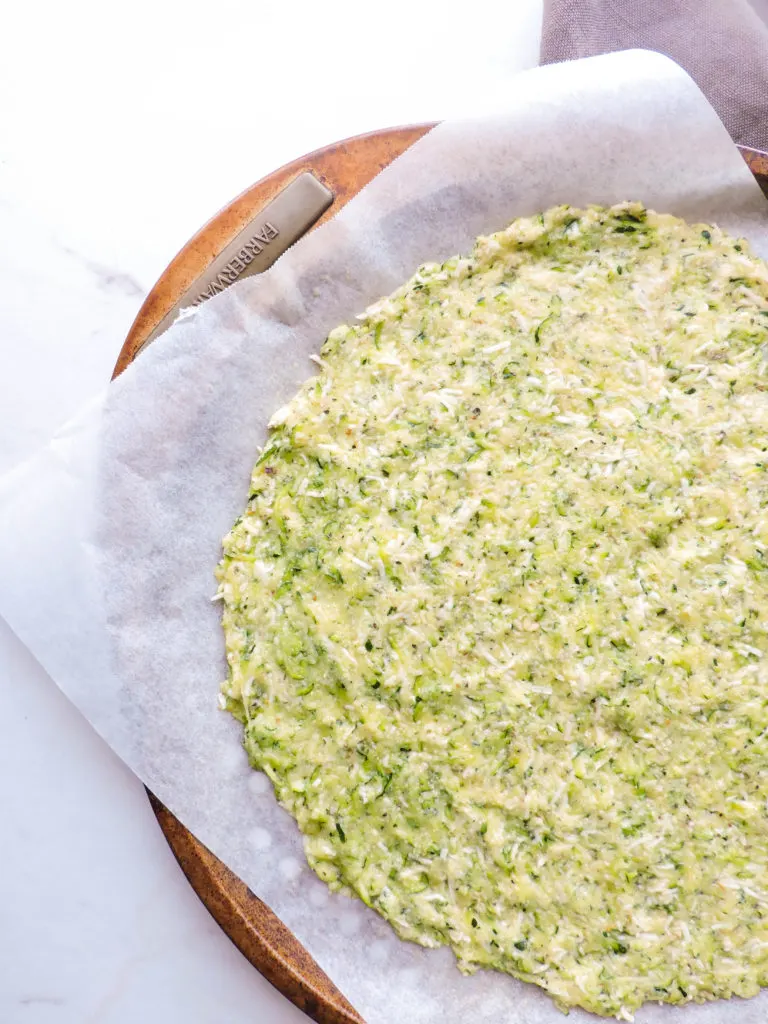 Zucchini Pizza Crust Substitutions
This recipe uses almond flour. I have not tried it with all purpose flour. The idea here is for the crust to be low carb. You can certainly experiment with other flours, but just know they've not been tested this way.
I do not recommend coconut flour because it will just make your pizza crust thick and well, it will taste like coconut. That just seems weird to me.
Parmesan cheese would be a nice addition to the mozzarella cheese. I don't have it in the recipe, but I have tried it and it's delicious. I used garlic powder, oregano and basil to flavor the crust, but you can feel free to add your favorite seasonings. To keep it easier, you could also just use Italian seasoning. Red Pepper flakes would surely add some kick.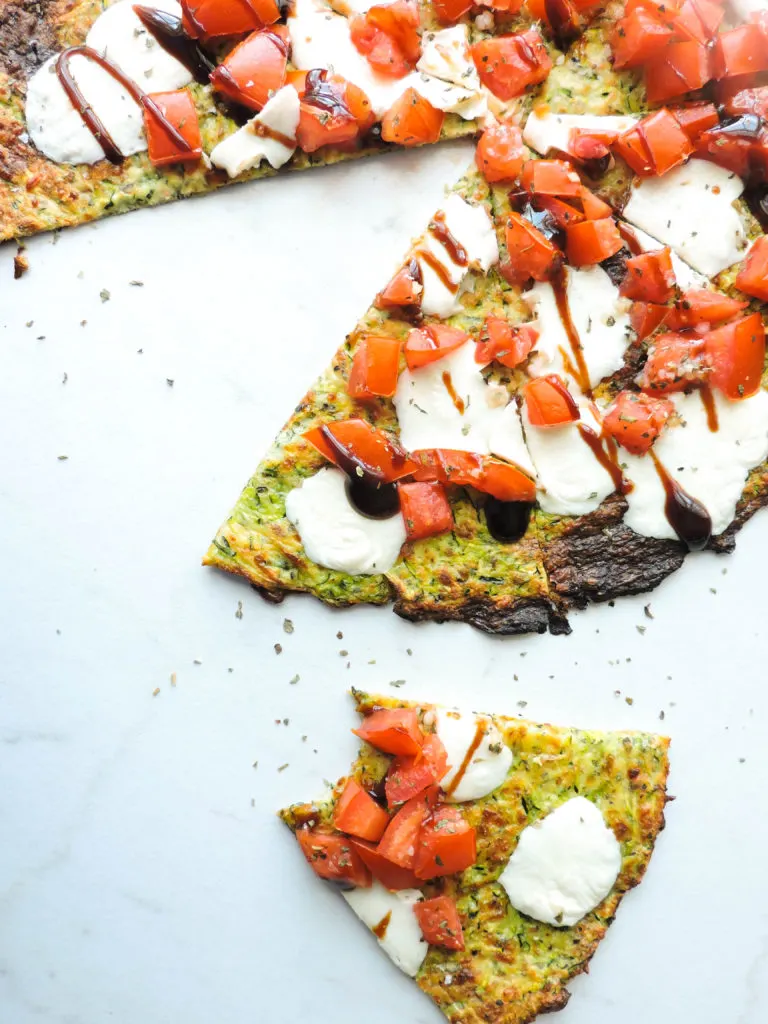 I went Caprese style with this recipe, but feel free to add your favorite toppings. One word of caution is in using pizza sauce or tomato sauce. I'd go light on it or do sauce dollops on top of the cheese. You just don't want to add way too much moisture here.
How do you get the crispy crust?
One of the keys to this recipe is the process by which you make the pizza crust crispy. I use a pizza pan with holes in it because it allows the air to circulate around the zucchini crust mixture. For me, this yields the best results
Another great way to do this is a baking sheet with olive oil. Put the baking sheet in the oven while it preheats. Place a piece of parchment paper onto the baking sheet and coat with olive oil. It might take a little longer this way, but it will still work!
Another great idea and one I intend to try next time is a heated pizza stone. Pizza stones get nice and hot and if they are properly maintained, nothing sticks. This would give you a great crust!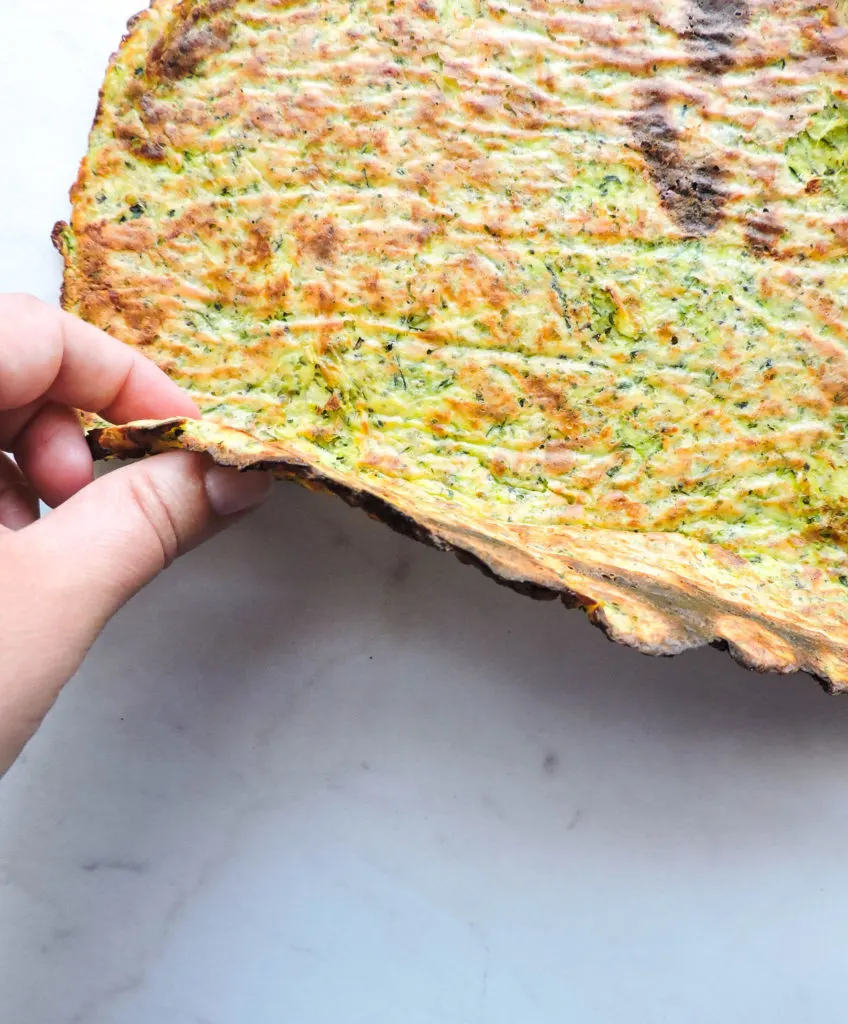 Affiliate Links- Items I love to use for his recipe
If you purchase from the links below, it really helps out the blog! I get a small commission on your purchase using these links.
I really hope you enjoy this easy zucchini pizza crust recipe!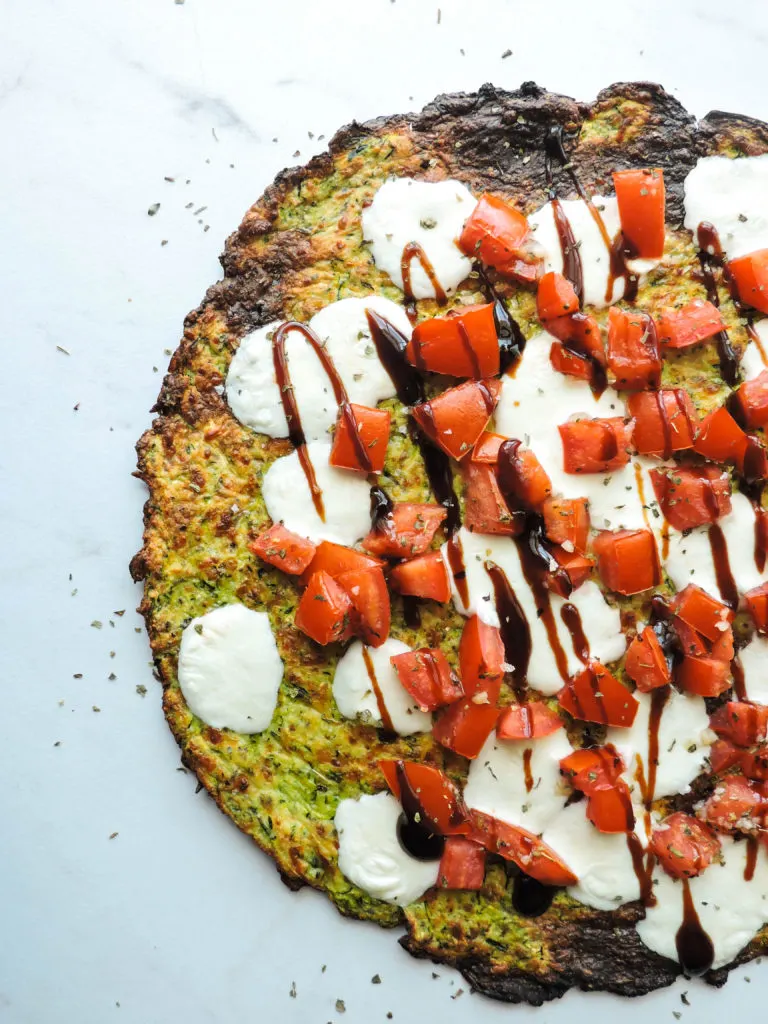 Leave a Star Rating and Review
If you made this recipe and enjoyed it, please leave a rating and review below. When you rate a recipe, it helps other readers when they make it.
PIN IT FOR LATER! and tag me on instagram @freshfitkitchen if you make it!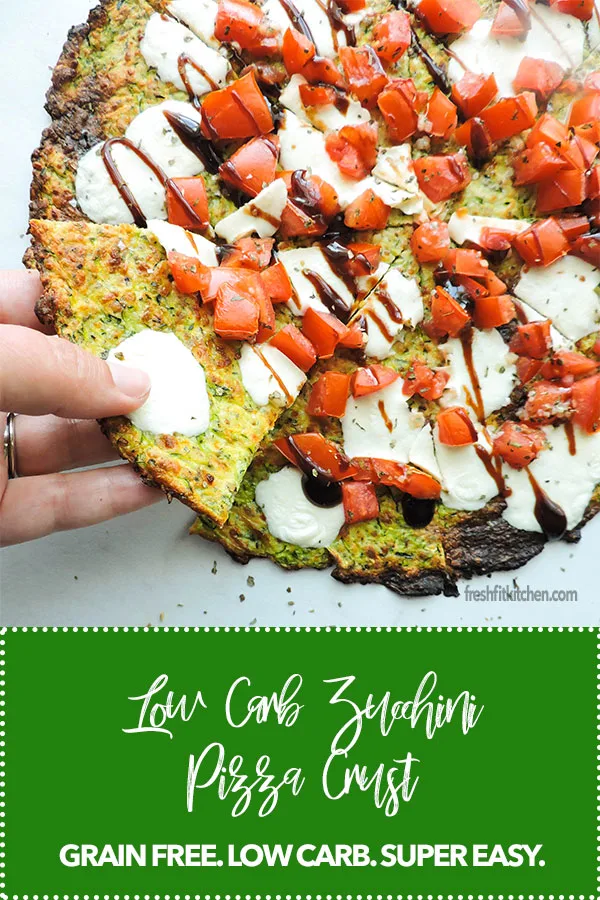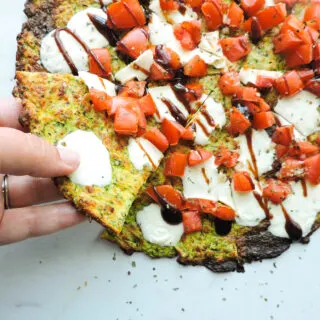 Low Carb Zucchini Pizza Crust Recipe
This Low Carb Zucchini Pizza crust recipe will be a hit whether you eat carbs or not. A flavorful low carb pizza crust recipe that makes the perfect base for your favorite pizza toppings.

Ingredients
1

Medium

Zucchini

Finely Grated-about 1.5 cups

1/3

cup

Part Skim Shredded Mozzarella Cheese

1/3

cup

Almond Flour

1

large

Egg

1

tsp.

Dried Basil

1

tsp.

Dried Oregano

1

tsp.

Garlic Powder

salt

1/2

tsp.

pepper

2

Roma Tomatoes

Seeded and Chopped

1/3

cup

Mozzarella Cheese

I used fresh mozzarella. You can use whatever you have.

Balsamic Glaze

For Drizzling- find in the grocery store near the dressings and vinegars.
Instructions
Grate the zucchini on the fine side of a box grater. It's important that you finely grate it. Set a paper towel over a strainer and place the zucchini in the paper towel. Sprinkle it evenly with kosher salt. Put the strainer with the zucchini in it over a bowl so it can drain.


On top of the zucchini- set something heavy. I used 2 cans of beans to weigh it down. Let it sit for at least a 1/2 hour. An hour would be best.


After you've let the zucchini drain, using the paper towel, wring some of the water out. You'll get about 1/2 cup of water between the drain time and wringing it out.


Put the zucchini in a large bowl with the egg, almond flour, part skim mozzarella, oregano, basil, garlic powder and pepper. Mix it together until it holds together nicely. If you feel it is needed, you can add another tablespoon or so of almond flour.


Line a pizza pan (the kind with holes) with parchment. Spray it with cooking spray. While the crust mixture will be loose, you should be able to easily pick it up and place it on the parchment. Press it out into a pizza shape. The circle will be 11-12 inches wide.


Preheat the oven to 450 degrees. When preheated, place the pizza crust in the oven and bake for 20 minutes. Check it and if it's not easily picked up off the edge, give it another 5 minutes. This crust will be pliable, but sturdy enough to pick up the edges without breaking.


When the crust is done baking, add the mozzarella and tomatoes. Sprinkle the tomatoes with extra dried basil and oregano as well as a pinch of salt.


Bake the pizza for 5 minutes more or until the cheese is melted. Drizzle with balsamic glaze and serve.

Notes
Nutrition information is calculated using My Fitness Pal. Please note this is a low carb and not low calorie pizza crust recipe. Almonds and cheese will make this a higher fat and calorie pizza crust. Since toppings used can vary according to your tastes, please note that the calories only include the crust for this recipe. Calories are for 1/2 of a 12 inch pie.
Nutrition
Calories:
235
kcal
Carbohydrates:
11
g
Protein:
14
g
Fat:
15
g
This post was last updated 8/23/22.