This is Not Your Mama's Green Bean Casserole. I can promise you that you will be just as happy though! Fresh Green beans, crispy onions- it's everything you'd expect at Thanksgiving Dinner. Easy Green Bean Casserole without soup is so easy and delicious you'll probably never turn back.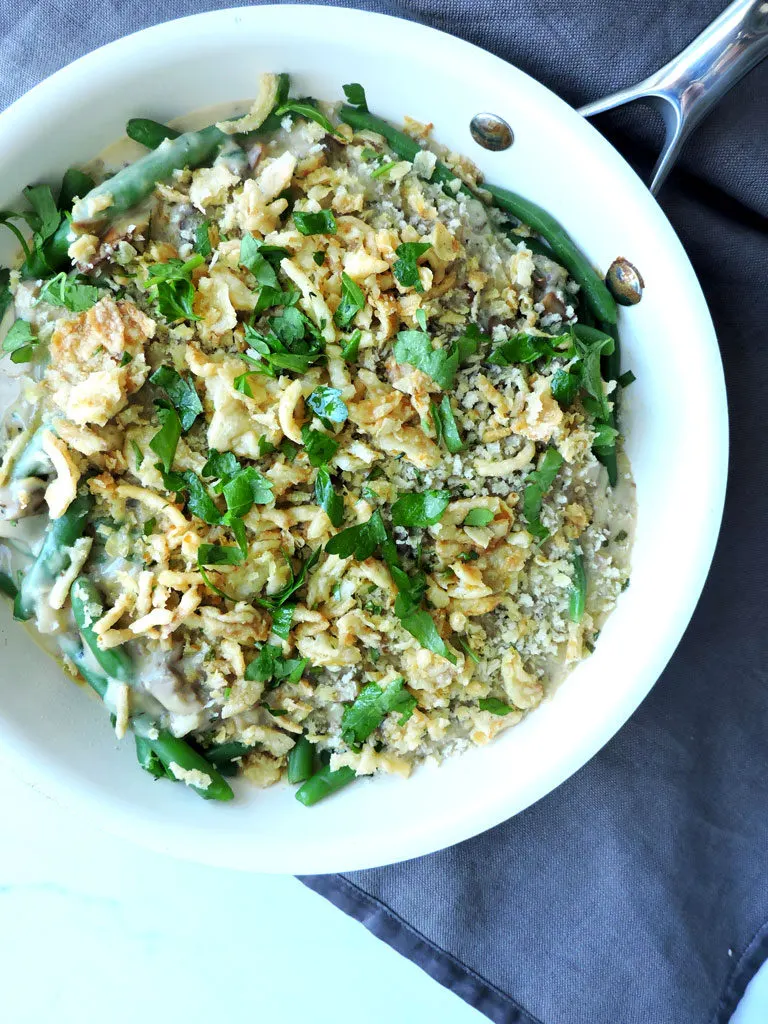 Easy Green Bean Casserole Without Soup Tips
All the cream soup does is serve as a creamy mushroom sauce so why not make a really good mushroom sauce and elevate this homey dish? That's exactly what we do in this recipe. We aren't going to take a thing away from that classic green bean casserole.
I like to use a large skillet that can be transferred to the oven for this, but if you need to, you can make the green bean mixture on the stove top then transfer it to a casserole dish.
This is such an easy recipe, but the most challenging part of it is thickening the sauce. Make sure you have the skillet over medium heat. Allow your butter to dissolve with the flour mixture. No one wants to eat raw flour.
You will then add your liquids and stir. Keep the heat under it. When it coats the back of a spoon and dragging your finger down the back of it makes a space that doesn't immediately close up- you've done it. You just made homemade cream of mushroom soup.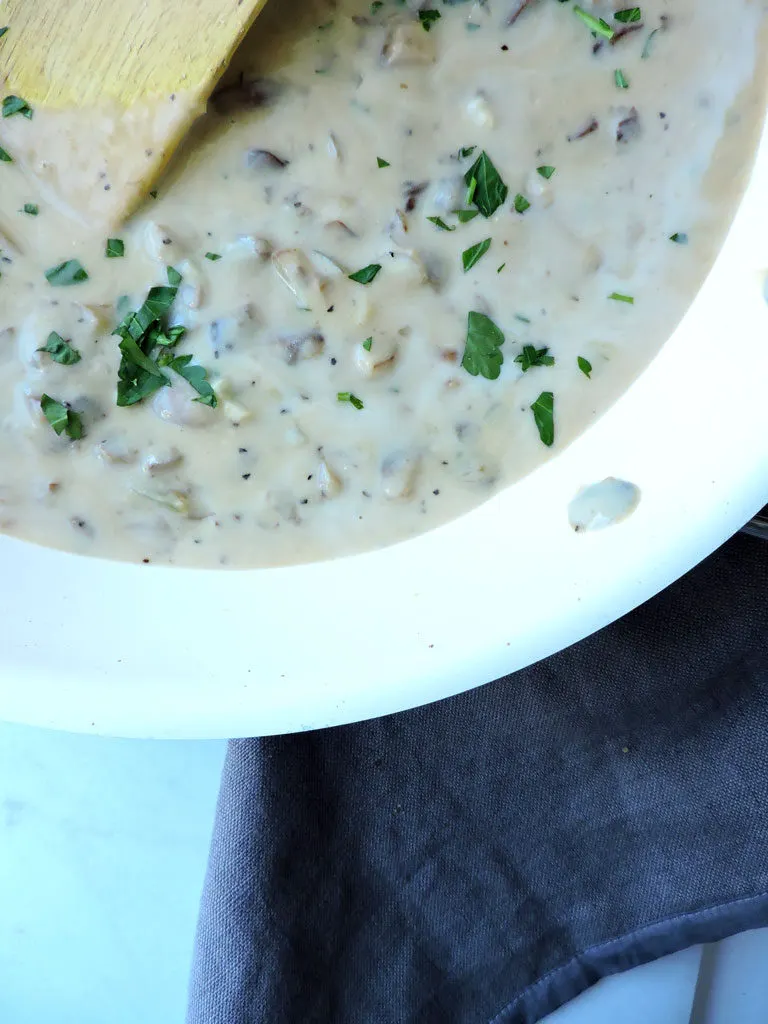 Just like the original recipe you'll need that crunchy topping. I still use those classic crispy fried onions. Feel free to make your own, but I'm a firm believer that you need to keep at least one key element in a make over recipe. Those crispy fried onions are delicious after all. Feel free to snack on those remaining french fried onions 😉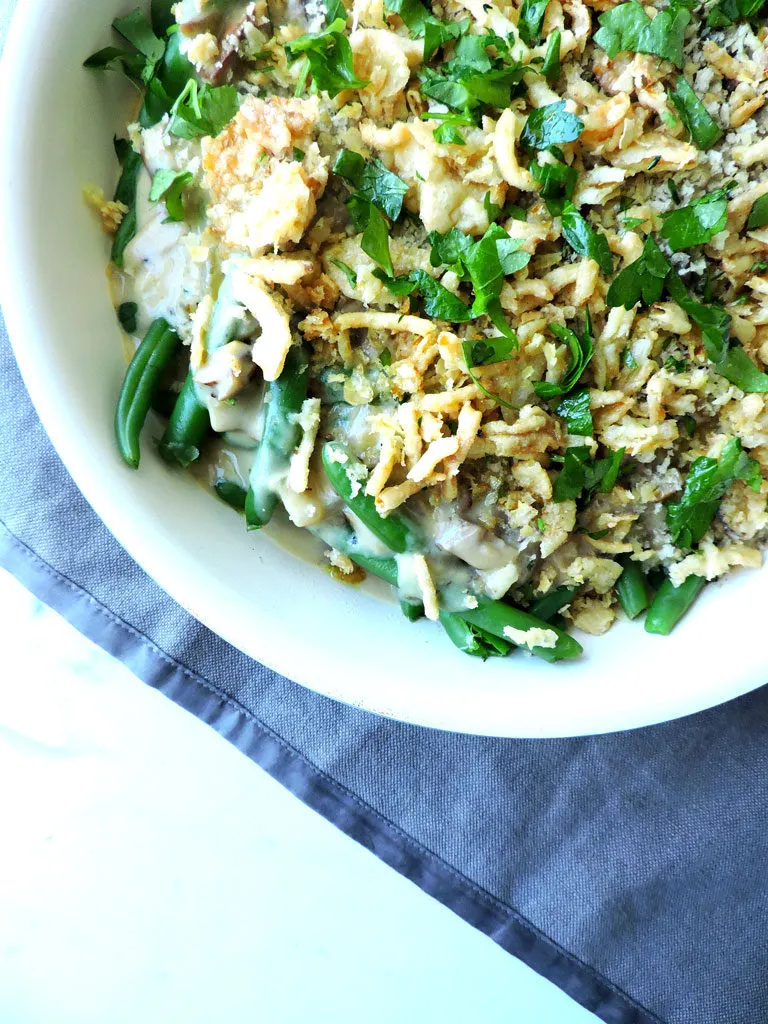 Green Bean Casserole Substitutions
I use nonfat Greek yogurt in this recipe, but you could sub in sour cream. It would work just fine! Parmesan cheese is recommended, but if you don't have it, you could leave it out! I think it adds great flavor though. I can't recommend replacing it here. Cheddar Cheese or other types of cheeses would just over power the sauce.
This recipe requires all purpose flour to thicken it. I can't recommend a gluten free option here. If you regularly make gluten free sauces and make this, please leave your tips in the comments below!
Fresh mushrooms are a key for me, but in a pinch, you could use canned that have been drained and rinsed. Cremini mushrooms are a favorite for me and they really add good flavor. Shiitake mushrooms are also a great choice.
If you are looking for more richness, you could sub in heavy cream for the milk in this recipe. It is Thanksgiving after all! I can't recommend almond milk here, but it would just interfere with the flavor and not lend creaminess.
Storing Leftover Green Bean Casserole
This prepared casserole is perfect to make ahead. It reheats beautifully in the oven and with Thanksgiving being so busy, you need a make ahead option. It's truly the best casserole for saving time the day of!
Make it it to the point of baking and then cover with plastic wrap and put it in the fridge. The day of simply let it come to room temperature and move on to the baking step. Your leftovers will store perfectly in an airtight container for 3-4 days.
If you feel like it's gotten too thick, just drizzle in a little chicken broth prior to reheating.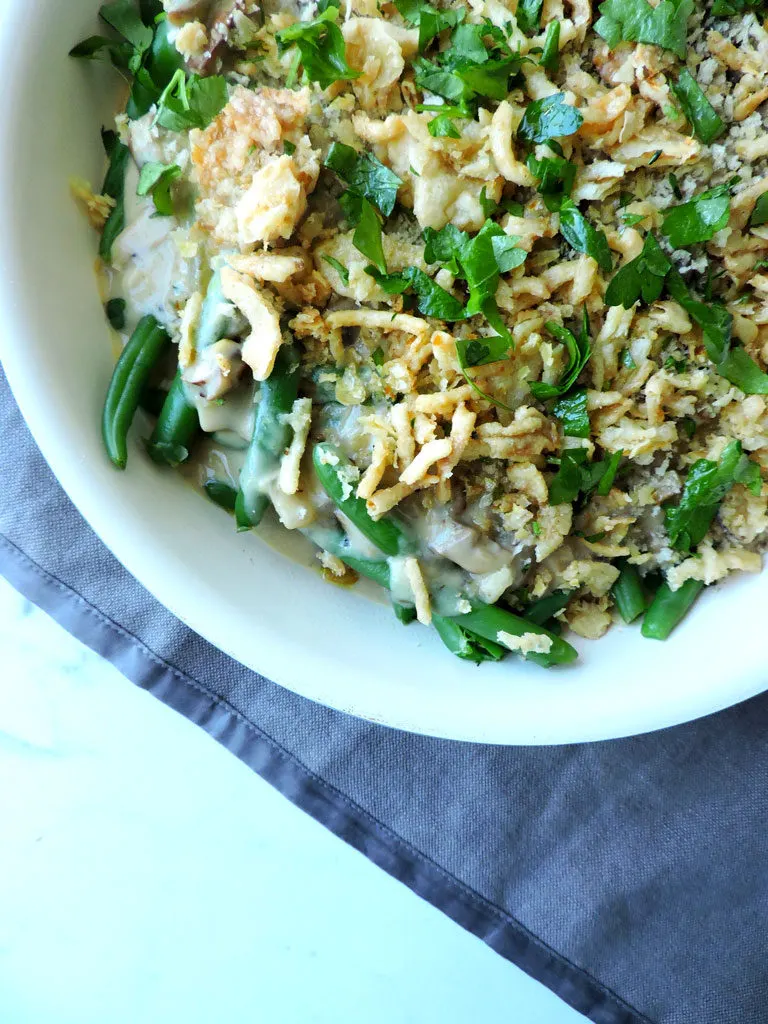 Affiliate Links
Here are the items I'd recommend for this recipe.
For an excellent stove to oven option , I recommend a cast iron skillet. This one is large and affordable.
Thank you for purchasing through my affiliate links. These links give you the same great price, but pay me a small commission. It's how I continue to bring you free recipe content!
Healthier Green Bean Casserole You'll Want on your Thanksgiving Table
This homemade green bean casserole has all the elements of a traditional green bean casserole. I hate recipes that try to sell a completely different version as "just as good." This truly is just as good as the classic recipe with the tender green beans, onion topping, but more fresh ingredients!
It's truly a great addition to your holiday meal and you'll be super excited to reheat those leftovers the next day.
Leave a Rating and Review
Please leave a rating and review. It really helps readers with tips, tricks and substitutions. It also helps others find my recipe on Google, so it's a win win for both of us. Thank you for being here . Wishing you the best holiday!
If you make this tag me on Instagram @FreshFitKitchen. I'd love to hear how it turned out and make sure you PIN IT!

This post was updated on October 27th, 2022.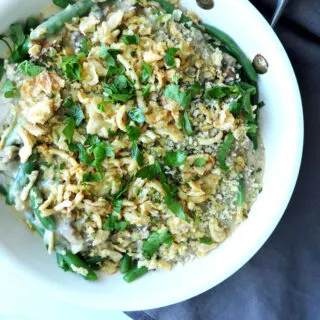 Not Your Mama's Green Bean Casserole
Not Your Mama's Green Bean Casserole is an easy and healthy recipe for green bean casserole that contains no canned cream of mushroom soup.
Ingredients
4

cups

Fresh Cut Green Beans

16

ounces

Mushrooms

chopped

1/2

cup

onion

chopped

2

large

Garlic Cloves

minced

1.5

cups

2% milk

warmed

3

tbsp.

Butter

3

tbsp.

All Purpose Flour

1/4

cup

Parmesan cheese

1/4

cup

Nonfat Greek Yogurt

1/2

cup

Fried Onions

store bought, example would be French's brand

1/2

cup

Panko Bread Crumbs
Instructions
Wash and cut the fresh green beans. Boil them for 5 minutes, strain and set aside.

Pour 2 tbsp. of olive oil in a skillet and over medium high heat and saute the mushrooms. Allow them to cook until they begin to get golden then add in the chopped onion and garlic. Cook another 3-5 minutes until the onion is translucent.

Add the 3 tbsp. of butter to the pan. When it's almost melted, stir in the flour. Cook the flour and butter mixture for 30 seconds.

Gradually pour in the warmed milk as you stir. The mixture will thicken. If it becomes too thick add more milk . The mixture should coat the back of a spoon.

Remove the pan from the heat and add in the Parmesan cheese, Greek Yogurt, salt and pepper to taste. Toss in the green beans and turn them in the sauce.

Top the mixture with the fried onions and panko bread crumbs. Bake at 400 degrees for 20 minutes until the top is golden and bubbly.
Notes
Make it Gluten Free: I noticed they do sell french fried onions in the store gluten free. You could omit the bread crumbs or use a gluten free version.
Nutrition
Calories:
222
kcal
Carbohydrates:
19
g
Protein:
10
g
Fat:
10
g