I know we are all used to seeing that classic sweet potato with mini marshmallows on the Thanksgiving dinner table, but once you have sweet potato casserole with crunchy topping, you won't turn back. My Crumble Topped Sweet Potato Casserole has a fluffy sweet potato mixture combined with a sweet, salty and crunchy topping.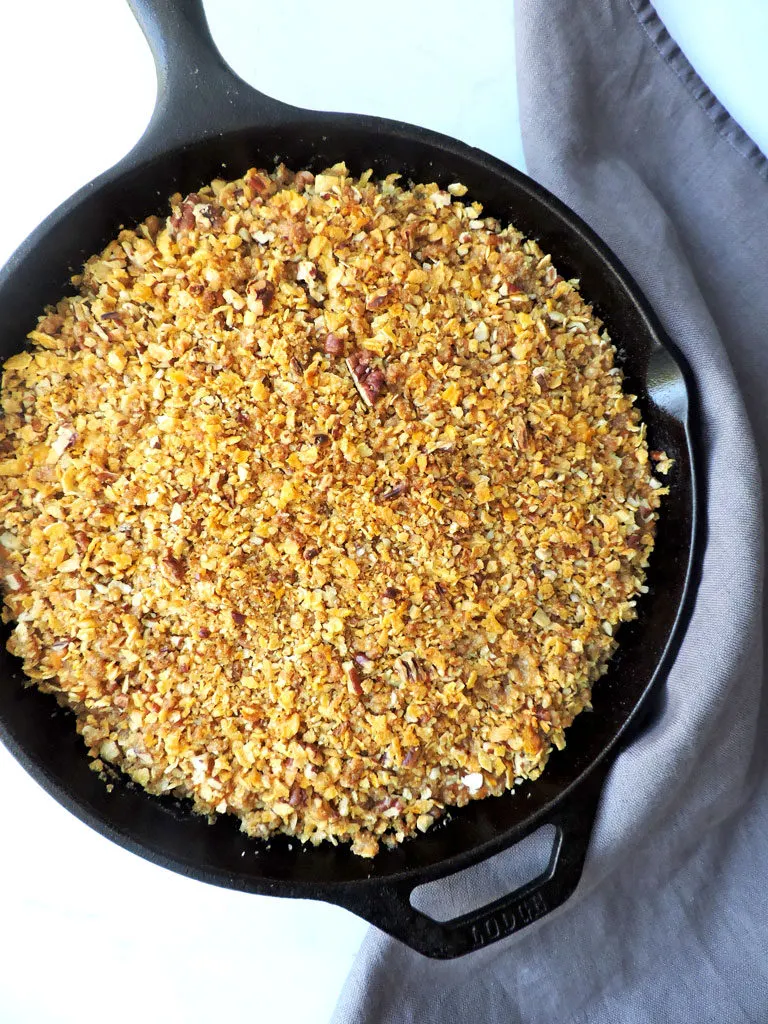 Crumble Topped Sweet Potato Casserole Tips
You want to bake the sweet potatoes. This just creates a fluffier texture for your casserole. You need them fork tender. We are talking super soft sweet potatoes here.
You'll let those cool so you can handle them and put them in a large bowl and use a potato masher to mash them smooth. I really like to whip them in my stand mixer, but if you don't have one, this will be fine. A hand mixer works too!
The maple syrup adds a touch of sweetness, but not too much. While it's a pricier ingredient, I highly recommend it. Make sure it's pure maple syrup and not your morning pancake syrup.
The crunchy pecan crumble has an unexpected ingredient, corn flakes! The corn flakes get extra crispy in the oven and they create that sweet and salty crumble texture you're after. The butter is essential here to facilitate flavor and that crunchy texture. The food processor makes quick work of the crumble, but if you don't have one, just put the pecans and corn flakes in a zip top bag to crush them. Beat them with a rolling pin or mallet. Get those aggressions out before family arrives 😉
If you use the zip top bag method, simply add the butter in by cutting into small pieces and sprinkle it over the top of the casserole. It will be just as tasty and golden brown! This delicious sweet potato casserole is hard to mess up!
I like to bake this in a cast iron skillet, but your favorite casserole dish will work too!
One of the best part about this sweet potato casserole is that it's just as delicious at room temperature. Ovens and space is always challenging at the Thanksgiving table so recipes like this are the best.
Another bonus – this recipe is perfect when assembled ahead of time. Just get it ready to go in the oven, but refrigerate and bake it fresh the next day.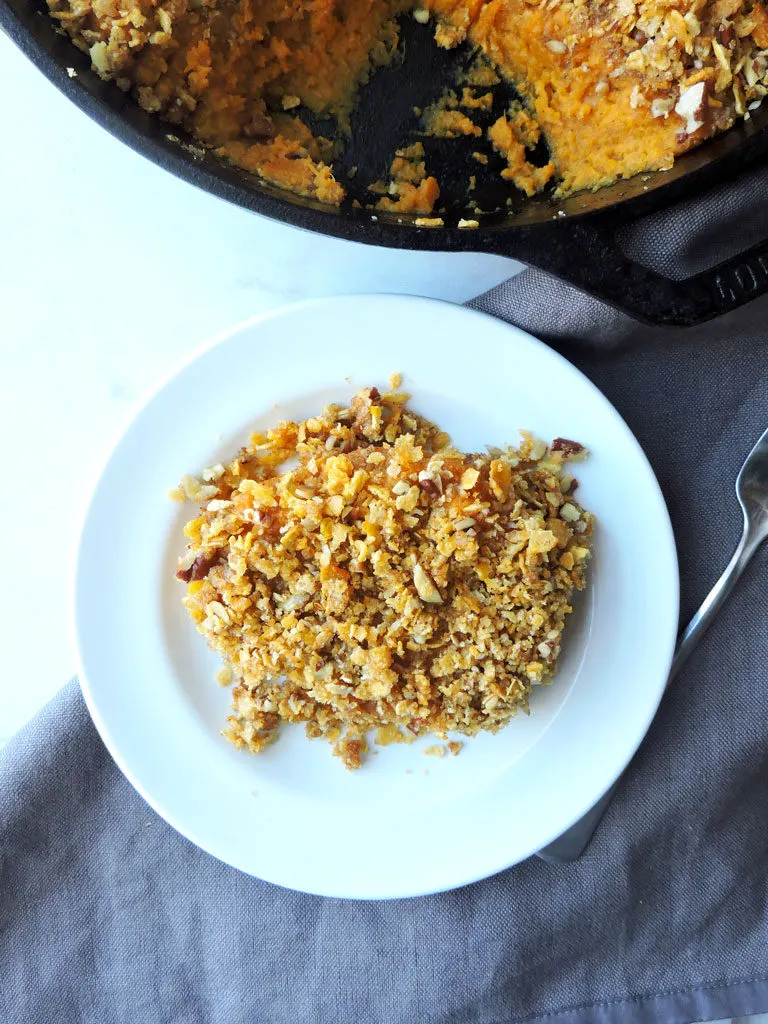 Sweet Potato Casserole Substitutions
First off fresh sweet potatoes or real yams are a non negotiable. The flavor and texture of canned ones just will not do here.
There are few subs for this easy sweet potato casserole, but I've put together a few so this can be allergy friendly. Nuts are sometimes an issue, so if you can't do those, just use all corn flakes in the pecan topping. I already recommend almond milk for the dairy, so again if nuts are a thing, just use any milk you can handle.
Inevitably someone will ask me about cutting sugar etc. Listen, it's Thanksgiving. I wrote this recipe to be far healthier than the family favorite, but I still wanted it to be the best sweet potato casserole recipe it can be. Good food requires some fat and sugar. Make these kinds of substitutions at your own peril.
But also ask yourself what is a "healthy lifestyle" if it can't include one day of indulgence with your family. In fact, if you have some from leftover from other recipes, don't buy another kind of milk, just use that heavy cream.
Thanksgiving day was meant to be enjoyed so enjoy.
Storing Leftovers
Assuming you have any? Simply store your leftovers in an airtight container and reheat in the microwave or oven. They will keep for 3-4 days as any other leftovers like this will. The best part? Those corn flakes really keep it crunchy so it still has great flavor!
Mashed Sweet potatoes, crumb topping…. I just don't see leftovers being an issue here.
Affiliate Links
Here are the items I find helpful when making this recipe. These are affiliate links, so know that when you use them , you help support the blog because I make a small commission. Your support means everything to me.
Leave a rating and Review
I am confident this will become one of your favorite sweet potato recipes. It's on our holiday table every year along with green bean casserole (I have a good recipe for that too) , cranberry sauce and mashed potatoes. I hope it brightens your holiday meal!
Thanksgiving is a one of those special meals so I'm honored if you bring this simple recipe to your table. Please leave a star rating and review it really helps others find tips and tricks and it brings more people to the blog.
Pin it for Later!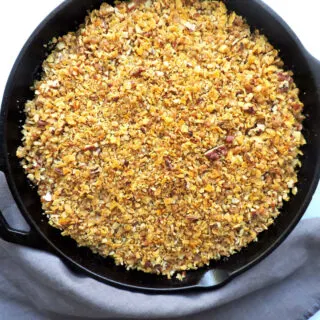 Crumble Topped Sweet Potato Casserole
Crumble Topped Sweet Potato Casserole is a healthy recipe for sweet potato casserole with a sweet and crunchy crumble topping.
Ingredients
1.5

cups

Corn Flakes Cereal

1/3

cup

Pecans

4

tbsp.

Butter

Cold, diced into small cubes

4

tbsp.

brown sugar

divided- half for topping and half for filling

1/2

tsp.

salt

divided- half for topping and half for filling

4

large

Sweet Potatoes

Baked or Microwaved

1

large

egg

1

large

Egg White

1

tsp.

cinnamon

1/4

cup

Maple Syrup

1/4

cup

unsweetened vanilla almond milk
Instructions
Preheat oven to 400 degrees. You can bake or microwave your sweet potatoes. I find that this casserole is fluffier if I bake them, but the difference is minimal. Do whatever works for you time wise.

In the bowl of a food processor pour in the corn flakes, pecans, butter, 2 tbsp. of brown sugar and 1/4 tsp. of salt. Whirl it up until it forms a nice crumble texture. The butter will evenly distribute throughout.

Set the crumble aside and prepare to mix the filling. You can do this in a stand mixer or with a hand mixer.

Make sure the sweet potatoes are cooled. Scoop out the flesh of the sweet potatoes and then add the egg, egg white, cinnamon, brown sugar, maple syrup, 1/4 tsp. salt and 1/4 cup of vanilla almond milk. Beat on medium high speed with a whisk attachment until fluffy.

Butter a 10 inch cast iron skillet or an 8x8 baking dish. Pour the filling in, then spread the crumble topping over it. Bake for 25-30 minutes or until the top is golden and everything is warmed through.
Notes
Make it Gluten Free: Make sure your corn flakes are certified gluten free and this is a gluten free crumble topped sweet potato casserole you can enjoy.

Nutrition
Calories:
147
kcal
Carbohydrates:
29
g
Protein:
3
g
Fat:
3
g