Pasta sauce isn't just for pasta, but it can be full of added sugar. If you are going into the new year wanting to cut sugar, this low carb roasted tomato blender marinara will make quick work of this versatile pantry staple.
Throw it on a chicken breast or zucchini noodles-this low carb marinara sauce will serve all your keto recipe needs as well. Call it low carb pasta sauce or keto pasta sauce, either way, the carbs and sugars are only from the actual tomatoes.
Roasted Tomato Blender Marinara- Tips
My first tip is to use fresh tomatoes. Specifically Roma or Plum tomatoes. They have a nice flesh to juice ratio and they will actually roast. If you have some cherry tomatoes, throw those in too. The roasting brings out the natural sugar in the tomatoes and negates the need to add sugar.
Good olive oil is a must here because it adds to the very few ingredients in this pasta sauce. You want a good robust olive olive oil for this recipe. Red pepper flakes are something I love in my pasta sauce. The amount called for here is equal to a medium heat. If you really don't like heat, you can leave those out.
Probably the best part about this recipe is that it's full of simple ingredients and as they should be, tomatoes are the main ingredient. You don't need tomato paste and all these different products. It's a great recipe for simple cooking.
The recipe calls for dried oregano and dried basil These can be replaced with Italian seasoning to taste, fresh basil, or any fresh herbs you like.
If you like parmesan in your pasta sauce, feel free to add some parmesan cheese when you heat it up. I just wouldn't add it if you plan on prepping and storing it.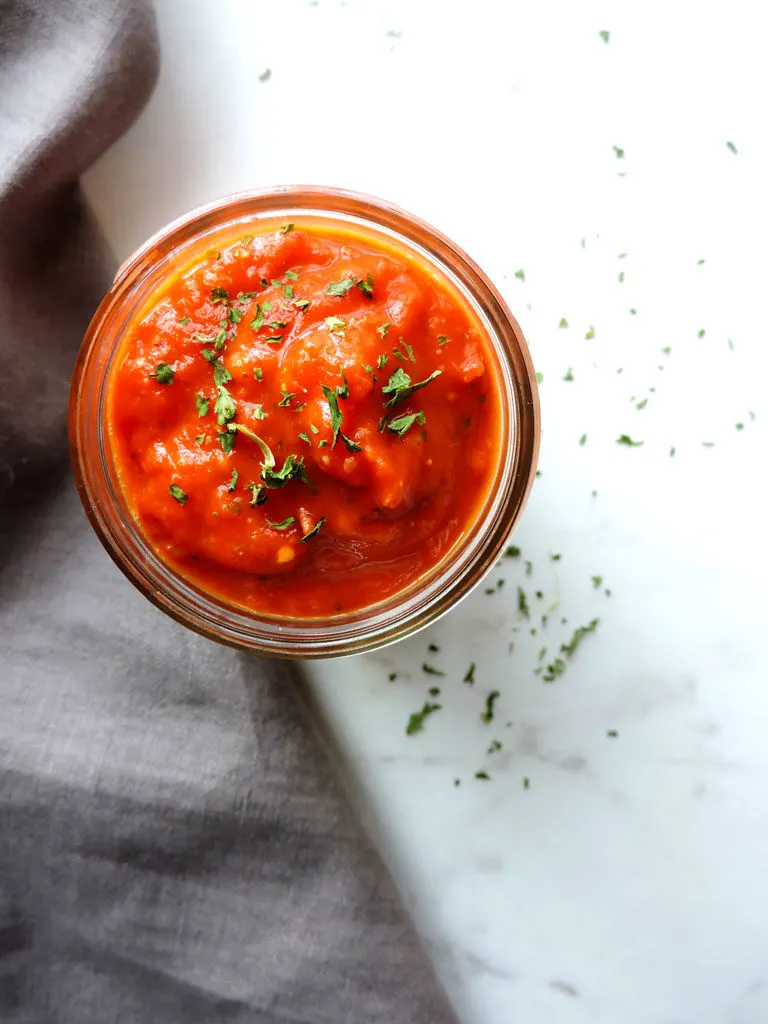 Substitutions in Blender Marinara
There really aren't any subs I can recommend here. This pasta sauce is gluten free, dairy free, low carb and keto friendly. I just can't imagine what you'd need to take out.
If you don't want to use it or don't have fresh garlic, feel free to sub in garlic powder. If you like a more chunky sauce, don't blend it as much, but honestly I think this is best smooth.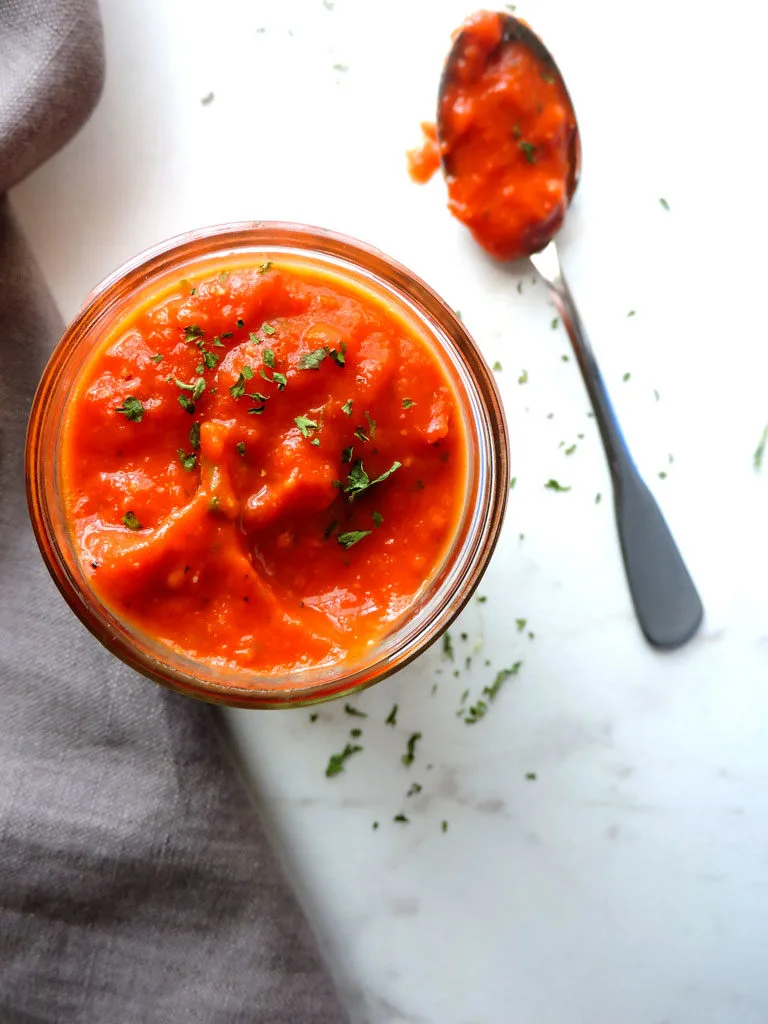 Ways to serve this Low Carb Pasta Sauce Recipe
While I don't subscribe to any one diet plan, I know others do and if you are on a keto diet, low-carb diet, vegan diet, or Whole30 this January, this is going to be a great way to top your favorite proteins, veggies and low-carb pasta.
This is the best sauce I've ever made from scratch and here are some ideas to use it!
Serve with pepper and Italian Sausage
Use it as a dipping sauce for my Almond Flour Air Fried Chicken
Add ground beef and make a meat sauce
Serve over shirataki noodles (for low carb or keto)- Traditional Pasta if not
Use it for low carb lasagna with zucchini noodles
Hopefully these ideas are helpful and inspire your recipes!
Affiliate Links
Here are items I strongly recommend you have when you make this recipe.
When you purchase from these affiliate links, it helps support the blog. I truly appreciate it!
Food Processor by Ninja-my favorite
Leave a Comment and Star Rating
I hope this super easy low-carb spaghetti sauce gives you the confidence you need to make your own sauce. It's one of my favorite ways to make it and it really simplifies the process. If you make it, please leave a rating below and let us know how it went for you. Thanks for stopping by!
Pin for Later! Make sure you tag me @freshfitkitchen on Instagram if you make it!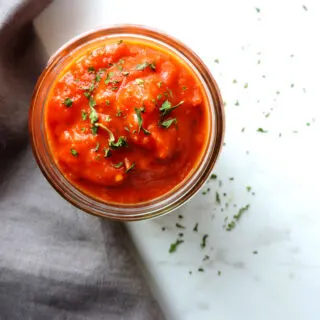 Roasted Tomato Blender Marinara
Roasted Tomato Blender Marinara takes fresh garden plum tomatoes and turns them into a thick and sweet marinara you can put on pizza, pasta and more. This recipe freezes beautifully.
Ingredients
24

Plum Tomatoes

quartered

2

tbsp.

garlic

minced

4

tbsp.

olive oil

1/2

tsp.

Dried Oregano

1

tsp.

Dried Basil

1/2

tsp.

Crushed Red Pepper

optional

salt

to taste

Black Pepper

to taste

water

for thinning sauce to your preference
Instructions
Preheat oven to 350 Degrees. Cut tomatoes and garlic then toss with olive oil onto a parchment lined sheet pan. Make sure tomatoes are in a single layer. If not, use 2 pans. Do not salt the tomatoes at this stage.

Roast the tomatoes for 20 minutes , toss and roast 20 more. Remove from oven and allow to cool for 5 minutes.

Add the mixture to a blender with the oregano, basil, and crushed red pepper if using. Blend it all up and add some salt. You'll want to add salt and pepper to your personal tastes. Keep some water nearby to thin the sauce to your desired consistency.
Notes
I find the tomatoes to sweeten so much from roasting that I don't need any sugar or honey to cut the acidity. If you do, add a little in the blending stage. This recipe is easily doubled or tripled depending on your tomato count.
This recipe was last update 1/2/2023.