Raise your hand if you love Thanksgiving for the leftovers. If you raised your hand, we are on the same wave length. While I enjoy the main event, it's the leftovers that get me. We're not talking turkey sandwiches though. Nope, today it's all about these Sweet Potato Waffles with Blueberry Orange Infused Syrup. I know. It's a mouthful.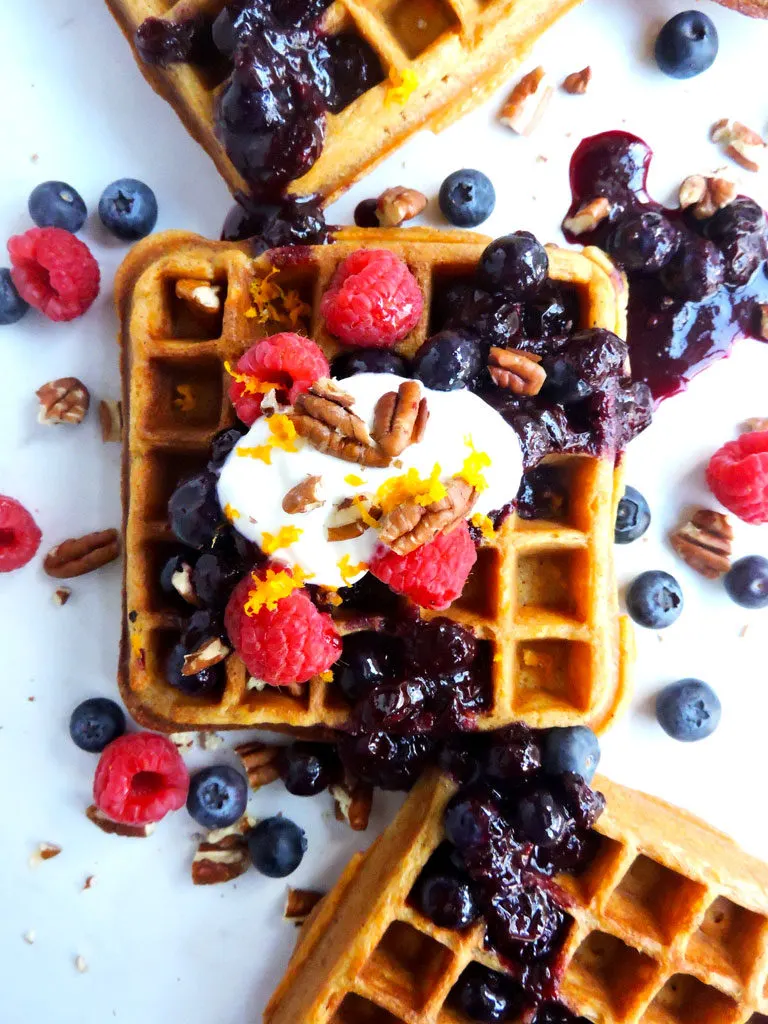 Day after Thanksgiving brunch is a thing and I am so happy about it. I mean you need a little time between the meal the day before and breakfast so brunching just makes sense. Your brunch guests will be wowed when they realize that yesterday's sweet potatoes became today's gorgeous waffles. While I added pumpkin pie spice to the batter, if your sweet potatoes are already seasoned with cinnamon and spices you can leave that out. It really just depends on what you have left over.
I garnish these with toasted pecans. This is not necessary, but if you made pecan pie and you have leftover pecans; its a real treat. Texture is everything after all. I enjoy a little crunch when eating something soft like a waffle. You may also garnish with whipped cream or vanilla Greek yogurt. The choice is yours.
I know this recipe is a bit more involved than my recipes usually are, but trust me its worth it. If ever there was a time to put on some music and take your time with a recipe, its the holiday season right? I really hope you make these Sweet Potato Waffles with Blueberry Orange Infused Syrup. I think you'll be impressed with what you can do and I know your guests will surely go back for seconds 😉 We did.
If you make these tag me on Instagram @FreshFitKitchen. I love to see what you're cooking and feature it in my feed.
PIN FOR LATER!

Save
Save
Save
Save
Save
Save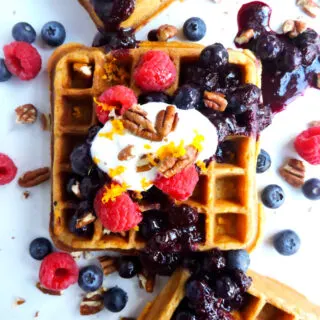 Sweet Potato Waffles with Blueberry Orange Infused Syrup
Sweet Potato Waffles with Blueberry Orange Infused Syrup make a beautiful brunch option from your Thanksgiving Leftovers. Save those sweet potatoes and be amazed.
Ingredients
1

cup

All Purpose Flour

3/4

cup

Whole Wheat Flour

1.5

tsp.

Baking Powder

1

tsp.

Baking Soda

1.5

tsp.

Pumpkin Pie Spice

1/2

tsp.

salt

3

Large

eggs

separated

1/3

cup

Sugar

1

cup

Sweet Potato

Mashed

1/4

cup

Butter

melted and cooled

1/4

cup

coconut oil

melted and cooled

1 3/4

cups

Buttermilk

1

tsp.

vanilla

1

pint

blueberries

1/2

cup

Maple Syrup

Zest of One Orange

Juice of 2 Oranges
Instructions
In a medium sized bowl mix together the flours, baking powder, baking soda, pumpkin pie spice and salt. Set Aside.

Separate the eggs into two small bowls. Pour the egg whites into the bowl of a stand mixer (you can use a bowl and a hand mixer if that's what you have) and whip on high speed until they form stiff peaks. Stiff peaks are when you take the whisk out of the egg white and it stand on the end without falling. Do not over mix.

In another large bowl mix together the egg, sugar, sweet potato, butter, coconut oil, buttermilk and vanilla.

Begin adding the dry ingredients in 3 separate batches. You want them mixed in, but not over mixed.

Gently fold the egg whites into the batter in 3 separate additions. Just add a little and turn the batter over from the bottom. You don't want to stir or you'll deflate the egg whites and your waffles won't be as fluffy.

Heat up your waffle iron. Every waffle iron is different. I have the Food Network Brand Waffle Iron. It has settings from soft to crispy. I set it about midway so my waffles come out crispy on the outside and soft on the inside. You can do a test waffle with yours to see what works best for you.

To make the syrup: Pour the blueberries and maple syrup into a sauce pan over medium heat.

Zest the rind off of one of your oranges. Cut both oranges in half and then add the juice. Cook the blueberries for about 10 minutes over medium heat until they burst and become thick and syrupy.

Drizzle each waffle with syrup, blueberries, raspberries, Greek Yogurt (or Whipped Cream) and toasted Pecans.
Notes
Almond butter would also be great on these. If you don't have buttermilk, you can mix 2 cups of milk with 2 tbsp. of lemon juice. Let it sit for 5 minutes before using. You'll need 1 and 3/4 cups for this recipe.