I think it's a bit weird that we tend to reserve soups for winter. The vegetables are never better than they are at the height of summer. If you fire up that hot grill, why not make a fresh tasting soup with the bounty from the garden? This Chicken Noodle Soup with Zucchini and Corn is perfect for a rainy summer night.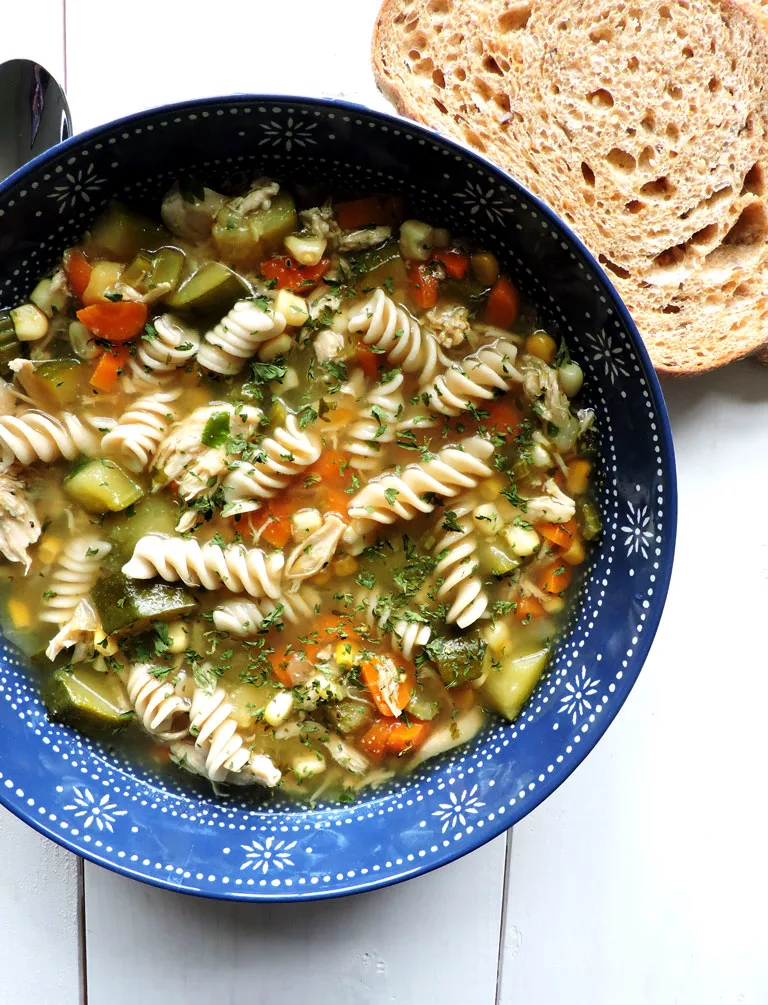 I do not live a gluten free lifestyle, but I happen to like quinoa based pastas. The flavor really compliments the sweet vegetables in this dish. You could also use a whole wheat short cut pasta. Because white pasta is sweeter, I am not sure I'd recommend it. The earthy flavor of a whole grain or quinoa based pasta just pairs nicely with the sweetness of zucchini and corn.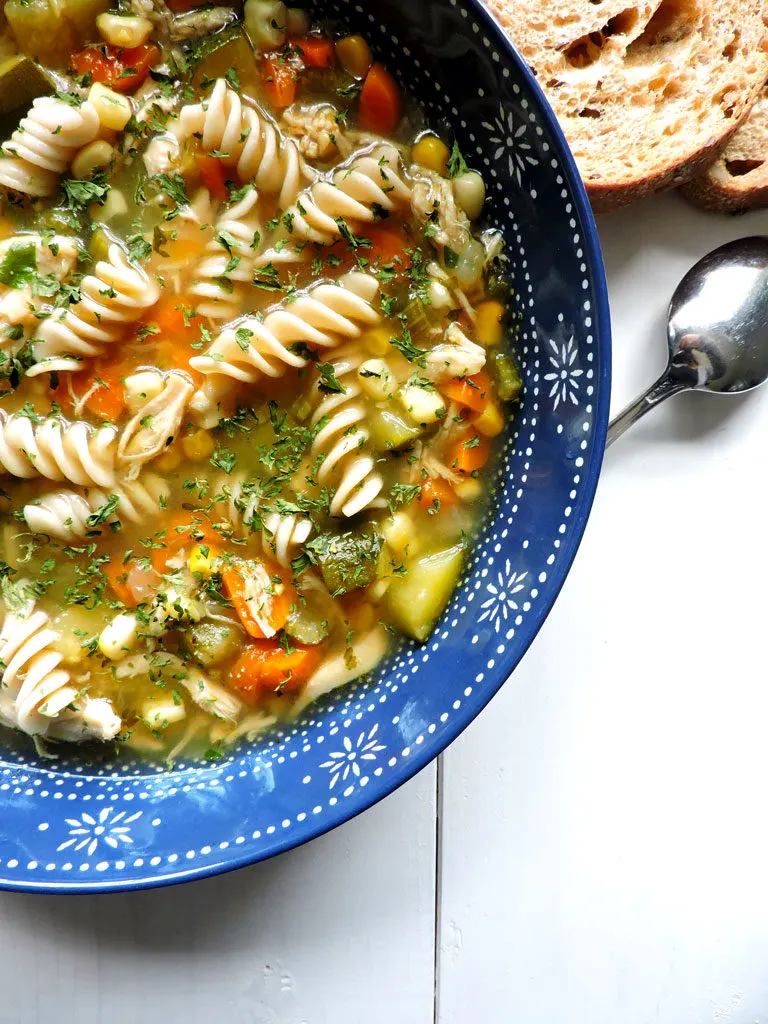 Balance of flavor is probably the biggest lesson in cooking. You may notice that even your favorite cookie recipe calls for a pinch of salt. That is because of the balance required to make a recipe really pop. When you cook with sweet vegetables like zucchini and corn, you want to consider that when you go to pair other things with them. This is why a white pasta isn't the best choice here. It's sweet on sweet on sweet. You get the picture. Next time you're cooking something without recipe consider how the flavors play together. Tomato sauces, which are full of acid, often benefit from a pinch of sugar or honey. On the other hand, garden fresh tomatoes pair beautifully with fresh mozzarella, sweet basil and a heavy hit of tart balsamic vinegar.
If you make this Chicken Noodle Soup with Zucchini and Corn tag me on Instagram @FreshFitKitchen. I really enjoy seeing how you make my recipes work for you. I also love hearing what you thought so leave a comment below.
Pin for Later!

Save
Save
Save
Save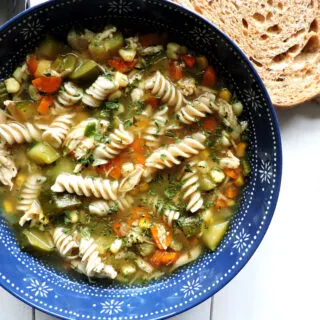 Chicken Noodle Soup with Zucchini and Corn
Chicken Noodle Soup with Zucchini and Corn is a hearty gluten free chicken noodle soup recipe. Packed with summer vegetables and flavor.
Ingredients
5

cups

Chicken Stock

2

cups

Chicken Breast

This is about 2 medium sized breasts.

1

medium

Zucchini

cubed

2

large

Carrots

chopped

2

stalks

Celery

chopped

1/2

cup

onion

finely chopped

1

cup

Corn

Frozen or fresh off the cob

1/2

cup

Fresh Parsley

chopped

salt and pepper

to taste

2

cups

Gluten Free Rotini

or other short cut pasta
Instructions
In a large soup pot saute the vegetables in 2 tsp. of olive oil. You just want them translucent and slightly soft.

When the vegetables are softened, remove them from the pan and set aside. Pour the 5 cups of chicken stock into the pan and heat to a gentle simmer. Add in the chicken breast. The chicken will cook about 10 minutes before you move it and shred with 2 forks.

After the chicken is shredded, add the vegetables and chicken back to the pot and simmer on low for 30 minutes until everything is tender. Salt and pepper your broth to taste. Garnish the soup with the half cup of fresh parsley.

Boil your pasta according to package directions. I like to use a brown rice quinoa blend gluten free pasta for this recipe. Make sure when you are using gluten free pasta to rinse it with cold water after cooking.

It is very important to keep the soup and the pasta separate. When ready to serve ladle in 1/2 cup of pasta and then ladle 1 1/2 cups of soup over top of it.
Notes
I happen to like the way the quinoa blend pasta tastes with the vegetables and zucchini. You can use regular pasta if you're not doing a gluten free lifestyle. I do recommend whole wheat pasta versus white if you do not use the gluten free quinoa blend pasta.