Chicken Milanese, if you haven't tried it yet, now is the time. Chicken Milanese is one of my favorite meals and now Caprese Style Chicken Milanese is definitely one of my favorite meals. Peppery Arugula, sweet tomatoes, soft mozzarella, the brine of Kalamatta olives, and warm crispy chicken cutlets come together perfectly in this flavor explosion.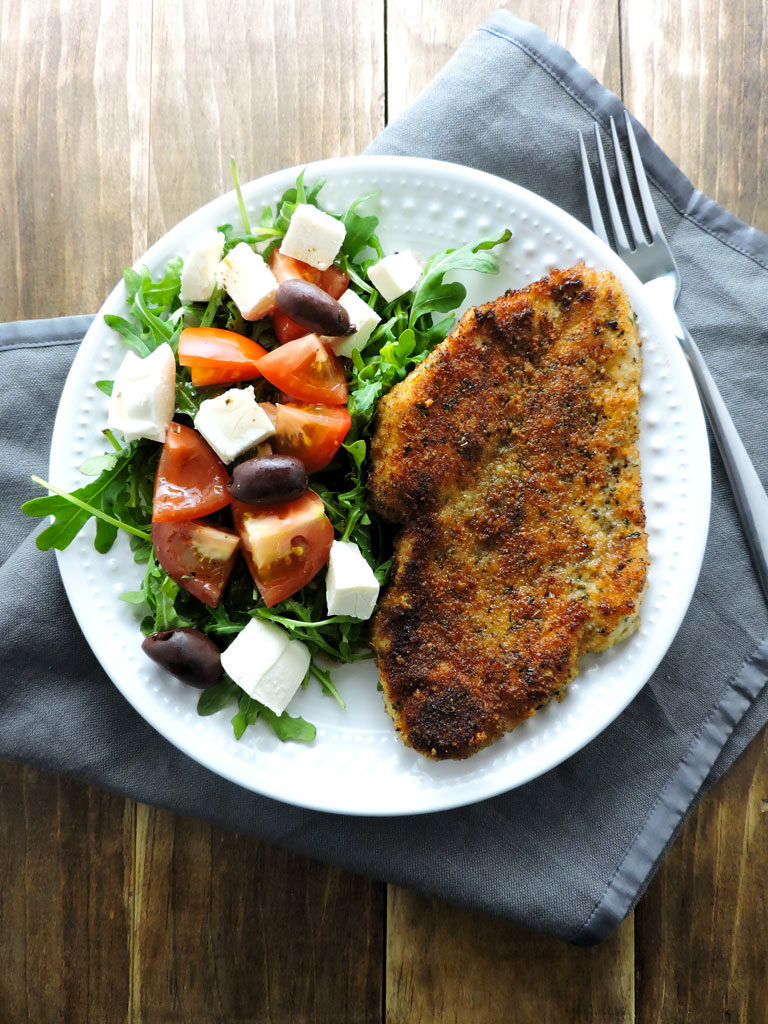 We are starting to see the first signs of spring around here. Mid February brought temperatures in the 60's. We even grilled on the deck on evening. If you follow me on Instagram, you know I cannot resist sharing those sizzling noises with you. It's such a great reminder that Spring is right around the corner. Just a few more weeks and this will be the norm. This Caprese Style Chicken Milanese is a nice twist on the traditional dish. Normally this dish is made with crispy chicken cutlets and a super simple salad of greens and shaved Parmesan.
My twist is tossing together the makings of a Caprese salad against a back drop of perfectly crispy tender chicken. The vinegar based dressing adds a nice punch. If you're just getting into the kitchen and you want to make a dish to impress your friends, I highly recommend this recipe. Just the simple act of inviting them over for Chicken Milanese (add in Giada style inflection) will have them excited to sit at your dinner table. When the picky ones realize that the chicken is just delicious crispy chicken, you'll have a winner winner chicken dinner. Sorry, I couldn't resist that. What can I say, I was up late last night and Diners Drives Ins and Dives might have been on the TV on repeat.
I always recommend frying the chicken in as little oil as possible to coat the pan. You'll end up with crispy, but not oil soaked chicken. The secret is also to place it on a pan lined with a wire rack and then into a 200 degree oven while you prep everything. The warm oven ensures that you won't have soggy cutlets.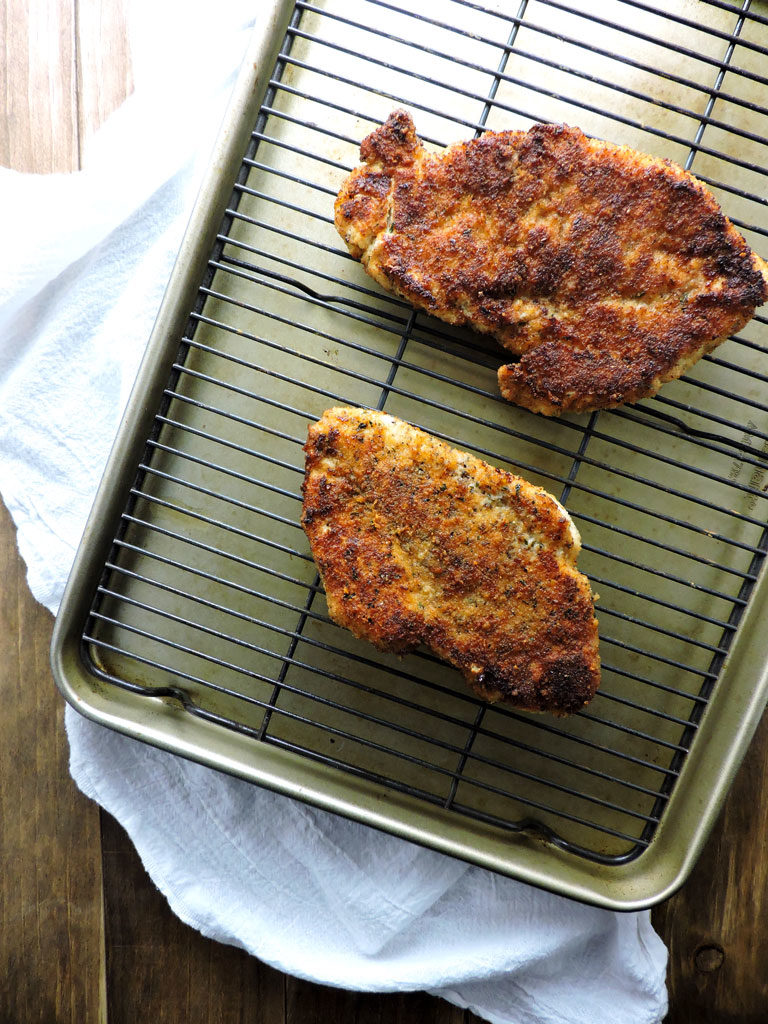 So, now that you know the tips and tricks, make this why don't you? Maybe save this recipe for the end of summer too when the tomatoes are extra sweet. Oh sweet summer, we patiently await you. Well.. actually rather impatiently around here.
Pin It for Later—>
Save
Save
Save
Save
Save
Save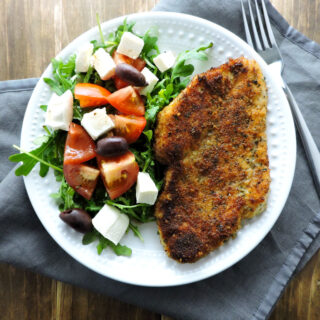 Caprese Style Chicken Milanese
Ingredients
12

ounces

Chicken Breast, 4 cutlets total

1

cup

Seasoned Italian Breadcrumbs

1/3

cup

Parmesan cheese, grated

1

large

Egg , beaten with milk

5

cups

Baby Arugula

2

cups

Chopped Tomato

1/4

cup

Kalamatta Olives, optional

1/2

cup

Fresh Mozzarella, cubed

4

tbsp.

Balsamic Vinegar

2

tbsp.

olive oil

1/2

tsp.

garlic, minced

1/2

tsp.

dried italian seasoning
Instructions
Pound the chicken cutlets into a quarter inch thickness. I do this between two pieces of plastic wrap with a meat mallet. You can also use your rolling pin.

When the chicken breasts are pounded out, season them with salt and pepper. Make a breading station with the beaten egg and then on a plate or shallow dish mix together the breadcrumbs and grated Parmesan cheese.

Heat a thin layer of olive oil over medium heat until it ripples slightly I recommend a cast iron skillet for this job. Don't use too much oil. This is a very shallow fry.

Dredge the chicken in the egg, then the breadcrumbs, and place into the preheated skillet. Make sure the oil is rippling and super hot before adding the chicken. You want a nice sizzle.

When the chicken breasts are brown on both sides, transfer them a baking sheet with a wire rack over top of it and put them in a 200 degree oven.

To assemble the salad: In a mason jar mix together the balsamic, olive oil, garlic, italian seasoning and a pinch of salt and pepper. Shake it up and you're all done there.

In a large bowl toss together the arugula, tomato, mozzarella cubes, olives (if using) and a small amount of dressing. You don't want the salad over dressed. Serve the salad along side the chicken cutlets.