Easy Chicken Milanese with Salad is the easy dinner you need when the temperature rises and the produce is perfect! This classic Italian dish gives you crispy chicken cutlets with a delicious salad featuring fresh arugula salad and ripe tomatoes. Let me give you all the tips and tricks for this perfect chicken Milanese.
Ingredients for Easy Chicken Milanese with Salad
Now you might say what is the difference between a breaded chicken cutlet and Chicken Milanese. Well, that's pretty easy- The term Milanese comes from Milan, Italy, and was originally a dish made with veal, pounded into a thin layer then breaded and fried. So, this is the same method, but we are using chicken.
You will need thin chicken cutlets, olive oil, panko bread crumbs, egg wash (just egg and water), and parmesan cheese. I would also recommend that you before you get started, you preheat an oven to about 170 degrees so that you can keep your cutlets warm as you work through them. Just toss them on a baking sheet.
You can purchase boneless skinless chicken breast and make them into thin cutlets. Simply butterfly them open then pound them out thin with a meat mallet. If you're lucky you'll find thin chicken cutlets at the store and then you can skip this step. Just make sure they are pounded evenly and thin is key! You are only going to cook these cutlets in a little olive oil and for about 2-3 minutes per side.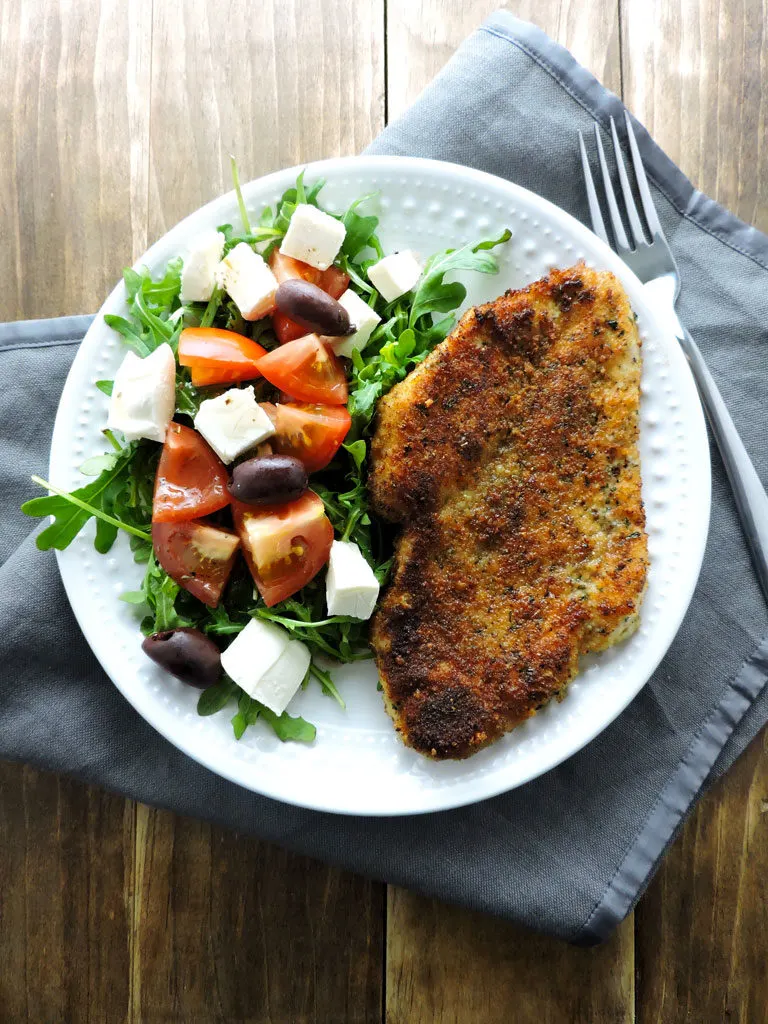 Tips for Golden Brown Chicken Milanese
Browning success depends on how well you dredge your chicken and your control of the heat and space. Your dredging station should include first your egg mixture which is just egg whisked together with a splash of water and then your breadcrumb mixture. Make sure you really press those bread crumbs into the chicken and let it sit for a minute before frying.
You want to use a large skillet. Put just enough oil to cover the bottom. This is a shallow fry. Set the skillet over medium heat. Make sure that you give those cutlets plenty of room to cook. When you crowd food, it will just steam instead of brown. This is why you need that baking sheet and your oven on low heat. You want to make 1-2 at a time and don't rush it.
When you get that golden crust, a nice touch is to squeeze some lemon juice over them and some flake salt. It really brings out the flavors and makes things fresh and bright.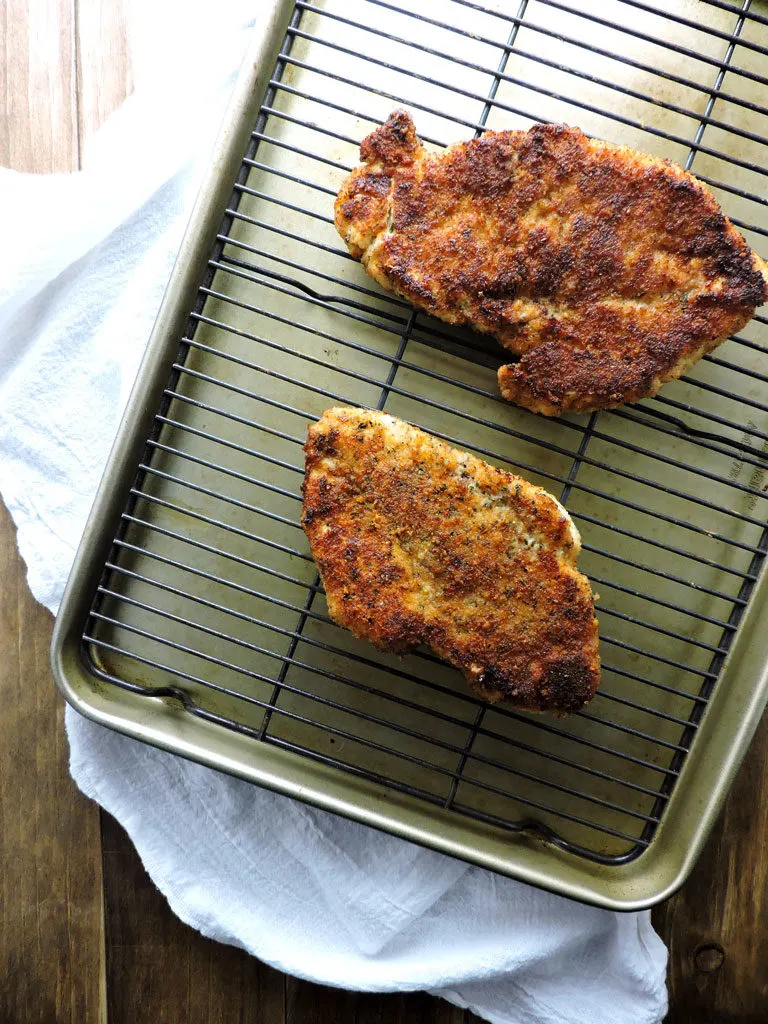 Salad for over Chicken Milanese
I like to keep the salad portion of this super simple. It consists of arugula, fresh mozzarella, olives and an easy balsamic vinaigrette salad dressing. I also like to use tomatoes. You can use anything from simple cherry tomato to a nice cocktail tomato. I like to serve my salad alongside or right on top of the chicken.
The salad can be anything you like really. Sometimes I'll keep it super simple and it will just be arugula, shaved parm, lemon and olive oil. It doesn't have to be elaborate, but it really lightens and brightens the crispy fried chicken.
You truly don't need any other side dishes. This chicken milanese recipe is absolutely perfect in its own right.
Storing Leftovers
If you have leftovers, I recommend storing them in a piece of foil or an airtight container. I love to reheat this in my air fryer, but if you don't have one, the oven will work great to crisp it right back up again! A wire rack fitted over a baking sheet is perfect for this because it will allow the air to circulate around the chicken.
Leave a rating and Review
If you make this recipe please leave a rating and review below. It really helps other readers when they make the recipe and it helps people find it here on the blog!
Kitchen tools I used for this recipe
Please note that these are affiliate links. Affiliate links are links that pay me a small commission when you purchase from them. You get the same great price, but I make a small commission which helps me to keep providing you free recipes. Thanks for your support!
I really hope you guys make this one and when you do leave a review and tag me on Instagram @freshfitkitchen.
If you like this recipe…
Honey Mustard Steak House Chicken Salad
Pin It for Later—>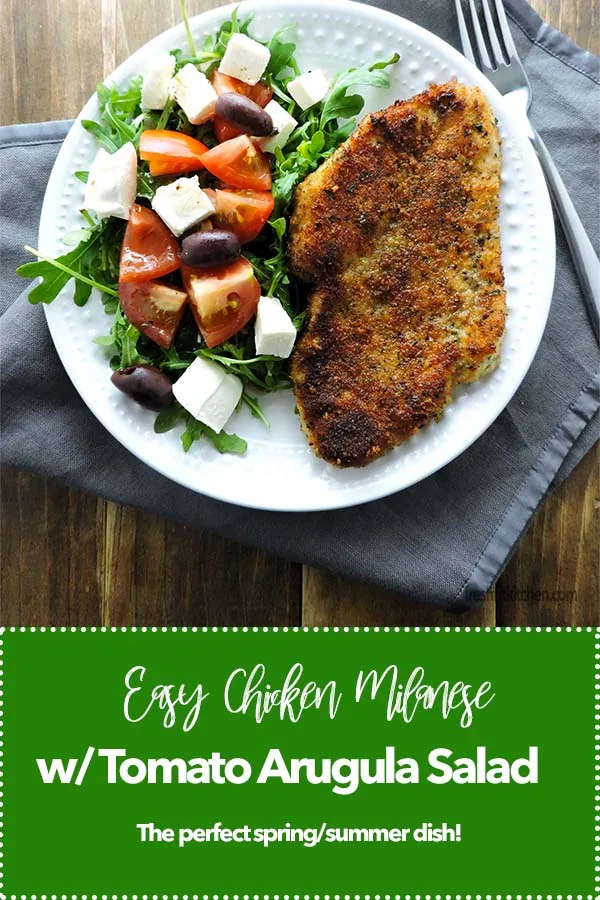 Sa
Save
Save
Save
Save
Save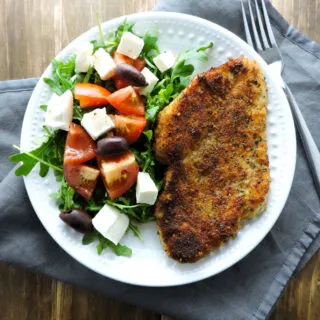 Caprese Style Chicken Milanese
Ingredients
12

ounces

Chicken Breast, 4 cutlets total

1

cup

Seasoned Italian Breadcrumbs

1/3

cup

Parmesan cheese, grated

1

large

Egg , beaten with milk

5

cups

Baby Arugula

2

cups

Chopped Tomato

1/4

cup

Kalamatta Olives, optional

1/2

cup

Fresh Mozzarella, cubed

4

tbsp.

Balsamic Vinegar

2

tbsp.

olive oil

1/2

tsp.

garlic, minced

1/2

tsp.

dried italian seasoning
Instructions
Pound the chicken cutlets into a quarter inch thickness. I do this between two pieces of plastic wrap with a meat mallet. You can also use your rolling pin.

When the chicken breasts are pounded out, season them with salt and pepper. Make a breading station with the beaten egg and then on a plate or shallow dish mix together the breadcrumbs and grated Parmesan cheese.

Heat a thin layer of olive oil over medium heat until it ripples slightly I recommend a cast iron skillet for this job. Don't use too much oil. This is a very shallow fry.

Dredge the chicken in the egg, then the breadcrumbs, and place into the preheated skillet. Make sure the oil is rippling and super hot before adding the chicken. You want a nice sizzle.

When the chicken breasts are brown on both sides, transfer them a baking sheet with a wire rack over top of it and put them in a 200 degree oven.

To assemble the salad: In a mason jar mix together the balsamic, olive oil, garlic, italian seasoning and a pinch of salt and pepper. Shake it up and you're all done there.

In a large bowl toss together the arugula, tomato, mozzarella cubes, olives (if using) and a small amount of dressing. You don't want the salad over dressed. Serve the salad along side the chicken cutlets.