Those of you who follow my blog and social media closely know that my Mom passed away at the end of January. The entire month of January was spent in the hospital with her praying for her healing and then eventually letting her go. The healing process for my family has been difficult, but as I attempt to rejoin the land of living, the best way to reconnect is with comfort food. I asked readers to send me their favorite comfort food recipes and this Chocolate Oatmeal Cake is the first in the series.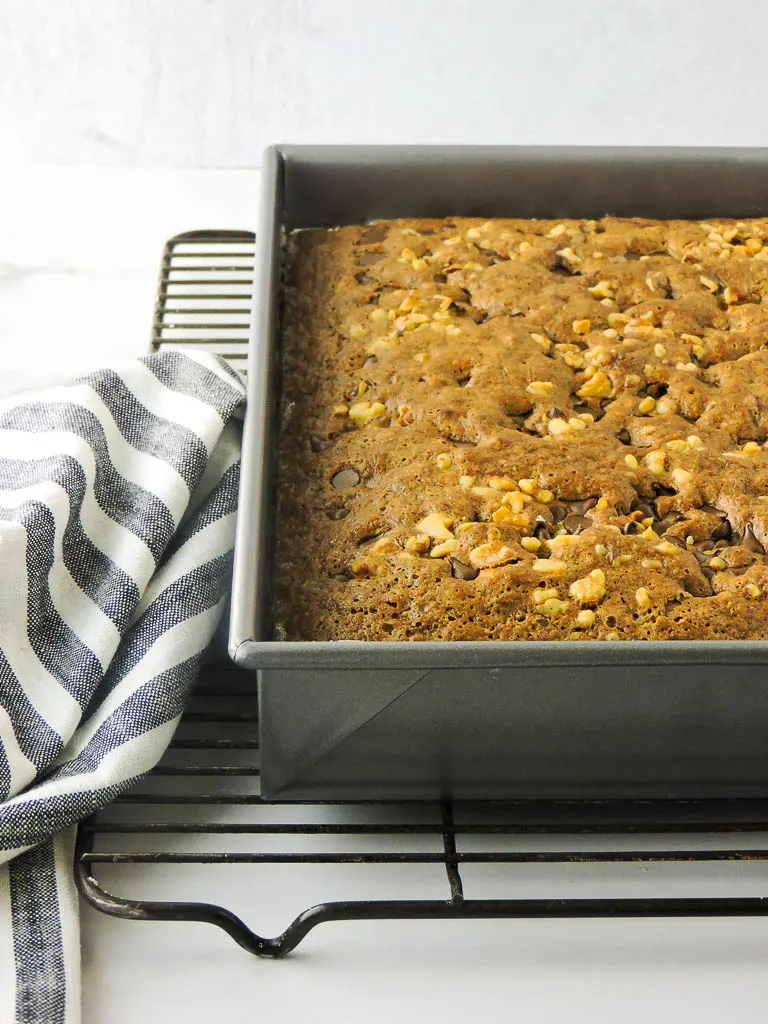 Chocolate Oatmeal Cake-Food Heals and Food Has a Story
The first reader to reach out sent me this recipe from her late mother's cook book. The cookbook is full of recipes from military wives. They put this cookbook together and sold it and her mom cooked out of it and made notes in it. She said this cake is always a hit when she makes it.
I can see why. It's basically like a brownie, cake and a chocolate chip cookie had a baby. Yes, it's that good. She shared with me the story of losing her mother. Being so raw in my own journey with grief, it felt like a giant hug to get into the kitchen and make this cake.
I've realized through collecting these recipes that food is a big connection when it comes to the ones we love. As soon as people heard about my loss, food was the first thing offered. It made me take inventory of the things I'd always remember from our family kitchen. My Dad's gravy on Christmas morning, my Mom's cream puffs- the smells, the tastes and the flavors are connections back to the years that have flown by.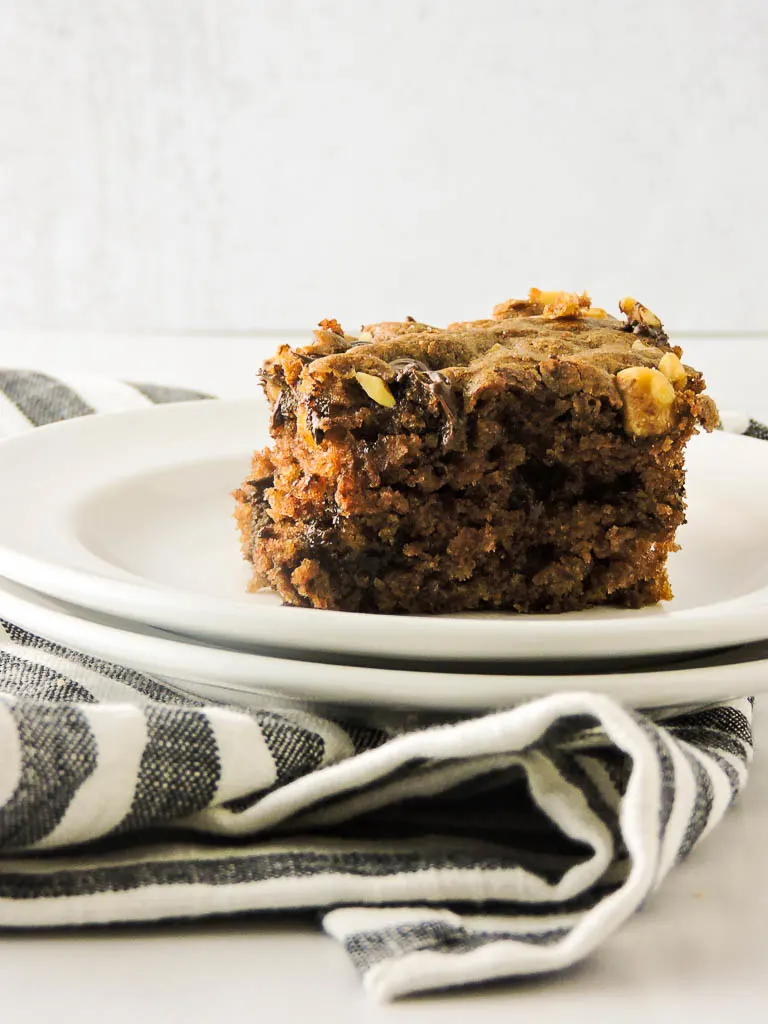 I hope that if you're lucky enough to have your parents or grandparents still alive that you take inventory of these recipes and ask them to write them down in their own words. I assure you it's an exercise you'll be so glad you did later.
The best cake with no icing
You'll notice this cake has no icing and the recipe even notes that it's not necessary. Both my Dad and my husband love a cake without icing. My husband loved this cake and he was dying for me to finish the photos so he could dig in. If you have a family member who loves cake without icing, this is the recipe for you.
PIN FOR LATER! If you make this recipe please leave a comment below. I'd love to hear how it went! Take a photo and tag me on Instagram @freshfitkitchen.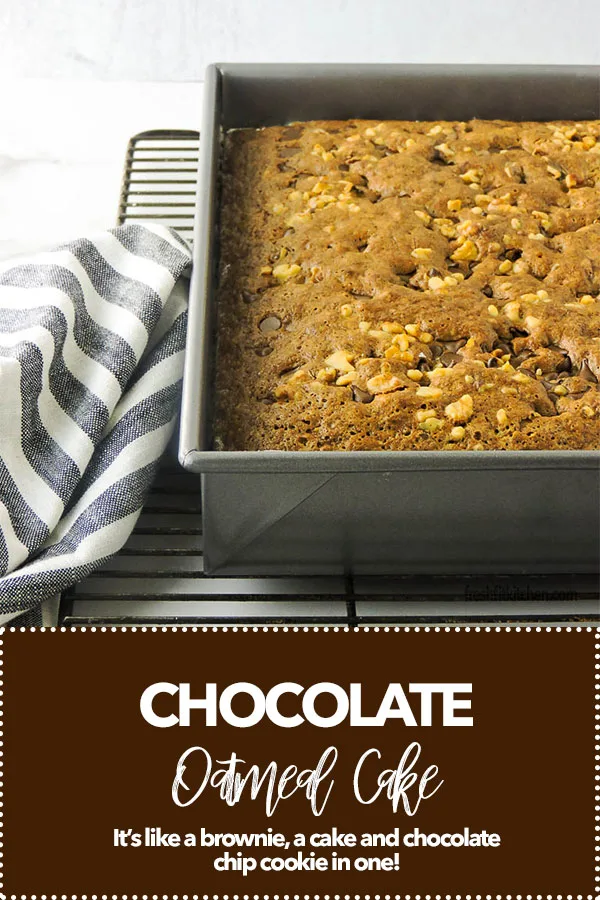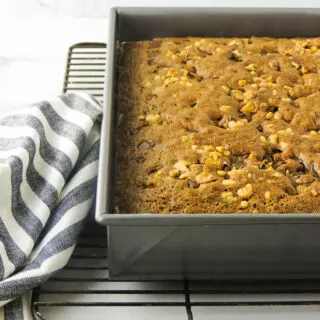 Chocolate Oatmeal Cake
Chocolate Oatmeal Cake is a delicious cake recipe without icing. Imagine a brownie, cake and a chocolate chip cookie in one and you have the best way to describe this delicious treat.
Ingredients
1 & 3/4

cup

Boiling Water

1

cup

Quick Cook Oats

One minute kind recommended.

1

cup

Brown Sugar

1

cup

White Sugar

8

tbsp.

Salted Butter

softened to room temperature

2

large

eggs

1 & 3/4

cup

Flour

1

tsp.

Baking Soda

1

tbsp.

Cocoa Powder

12

ounces

Chocolate Chips

3/4

Walnuts

Chopped
Instructions
Preheat oven to 350 degrees.

In a medium bowl- pour boiling water over oatmeal and allow to stand for 10 minutes

Cream together the butter, brown sugar and white sugar using a stand or hand mixer.

Add in eggs and beat until just combined. Add in the oatmeal mixture.

Add in the flour, baking soda and cocoa until just combined. Do not over mix the flour.

Add in half the chocolate chips and half the walnuts. Stir the batter one last time to distibute them throughout.

Flour and butter a 9x13 inch pan.

Pour in the batter and top it with the remaining nuts and chocolate chips.

Bake for 35-40 minutes or until a toothpick inserted in the center comes out clean. Prepare to be amazed on the texture and flavor.
Notes
NOTE: The original recipe uses margarine. I had butter on hand and it worked great in the recipe. I also used salted butter so I omitted the salt in the original recipe.
Nutrition
Calories:
444
kcal
Carbohydrates:
65
g
Protein:
6
g
Fat:
19
g