And so we continue the series on comfort food. If you missed the Chocolate Oatmeal Cake make sure you go check it out. This week's recipe is the comfort food of my child hood. A giant breakfast on Christmas morning is my Dad's specialty and gravy is the star of the show. Sausage or chipped beef (watch for that in an upcoming post), Easy Creamy Homemade Sausage Gravy is one of the first dishes I learned to cook.
It is my pleasure to share this recipe with you, and I hope you'll make it for your family.
Gravy 101- Easy Creamy Homemade Sausage Gravy
As simple as the ingredient list is, gravy scares a lot of people. Lumps or a lack of proper thickening are the most common mistakes. I'm going to take you through the step by step and my hope is that you'll have a fool proof gravy recipe that comes out every single time.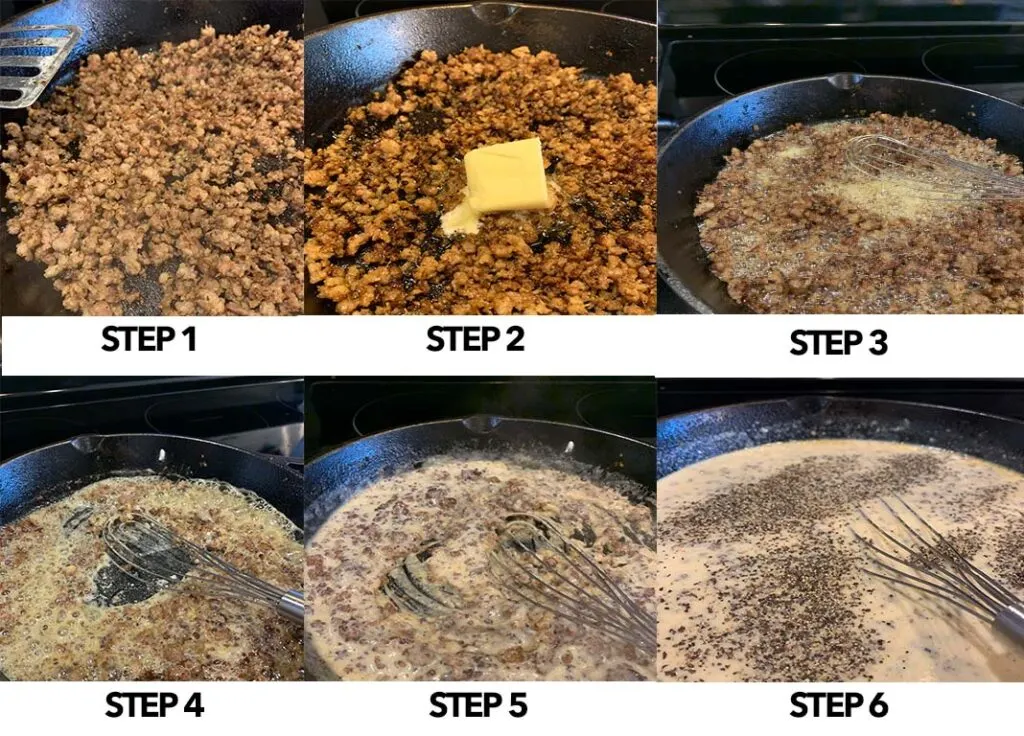 Step 1: You want to make sure your sausage is browned and the fat is completely rendered out. The fat is going to help make your roux. The roux is a thickening vehicle for the gravy. If you don't cook all the fat out, your roux won't be right.
Step 2: The key to roux is equal parts flour and fat. Using the sausage I recommend in the recipe, you'll get approximately 2 tbsp. of rendered fat. This means you need to add an additional 2 tbsp. of butter to get 4 tbsp. of fat total. You'll then add your 4 tablespoons of flour to this once melted (see step 3-4)
Step 3: The butter is now melted properly and ready to be mixed with the flour. You want it to be completely melted and kinda foamy like you see in the photo.
Step 4: First cup of milk has been added. Things will thicken quickly. The trick with doing it like this versus just dumping all at once is that you build the thickening of the roux. If you throw it in all at once the heat won't work to stretch the roux to its ultimate thickness.
Step 5: Now you'll add the 2nd cup of milk in and whisk it well. You'll then gradually add in the last 1/2 cup of milk. At this point the gravy should coat the back of a spoon. When you pull your finger across the back of the spoon it should stay spread apart like the photo below. This means you're at the perfect thickness.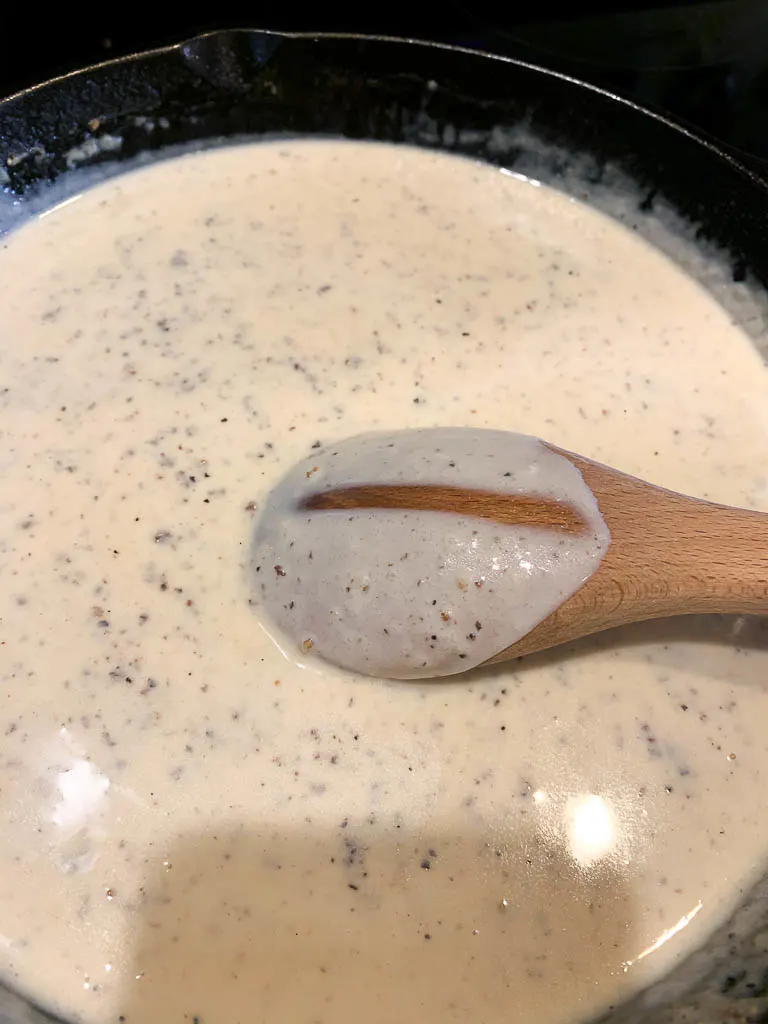 Step 6: A TON of PEPPER. My secret to really good gravy is a lot of pepper. I put an entire 1.5 tsp. in the gravy and I still garnish a little extra on top. Feel free to work up to this amount if you're sensitive to pepper.
Bonus Step 7: This step isn't necessary, but if you want to really bump up the creamy factor and make this special replace the last 1/2 cup of milk with heavy cream. The heavy cream gives a luxurious texture.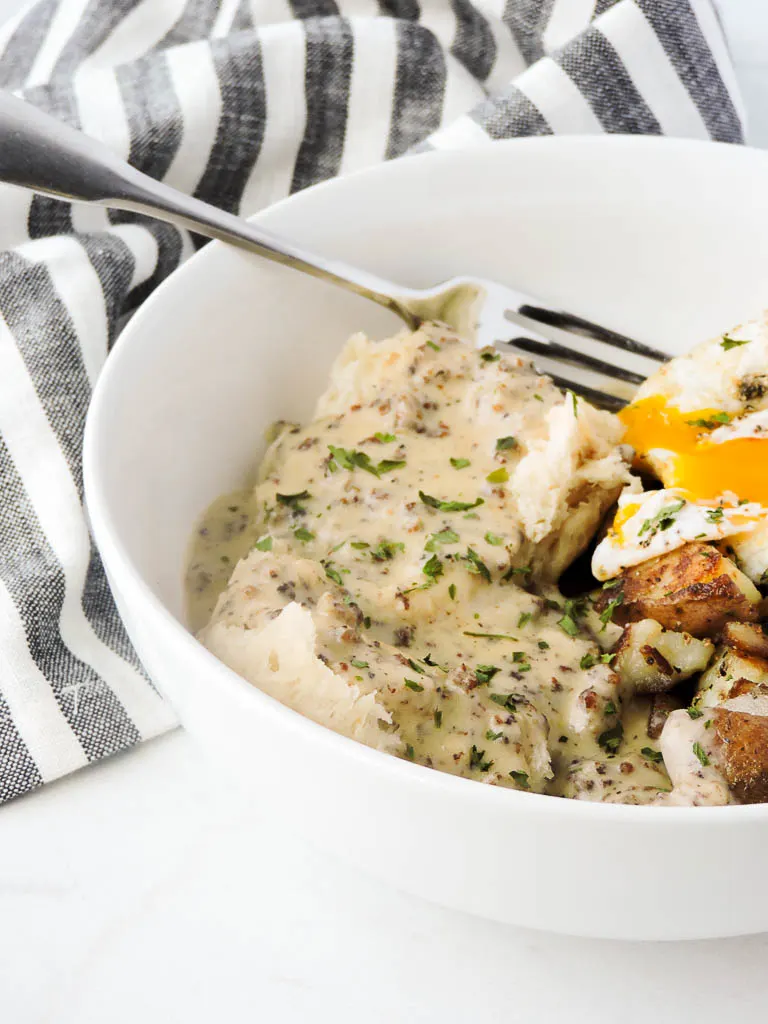 That's it! If you follow these easy step by step instructions you'll have perfect homemade sausage gravy every single time. Friends will ask you for the recipe. So, if you have been afraid of gravy, don't shy away anymore. Get a feel for this recipe and you can apply the principles to any gravy you would make!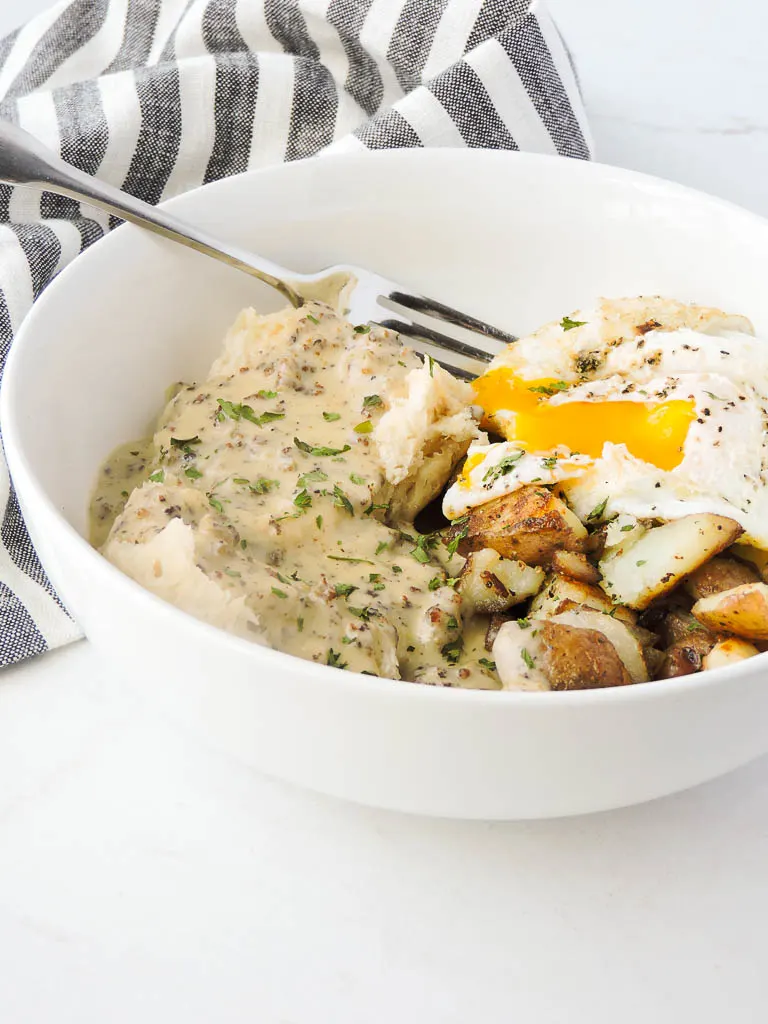 Make this recipe? Leave a Comment!
Did you make this recipe? Leave me a comment below. I'd love to hear what you thought of it and how it went for you. I also want to know if you take your gravy over biscuits, toast, pancakes, or breakfast potatoes. I enjoy it any way I can get it. It's truly the food of my child hood.
PIN FOR LATER!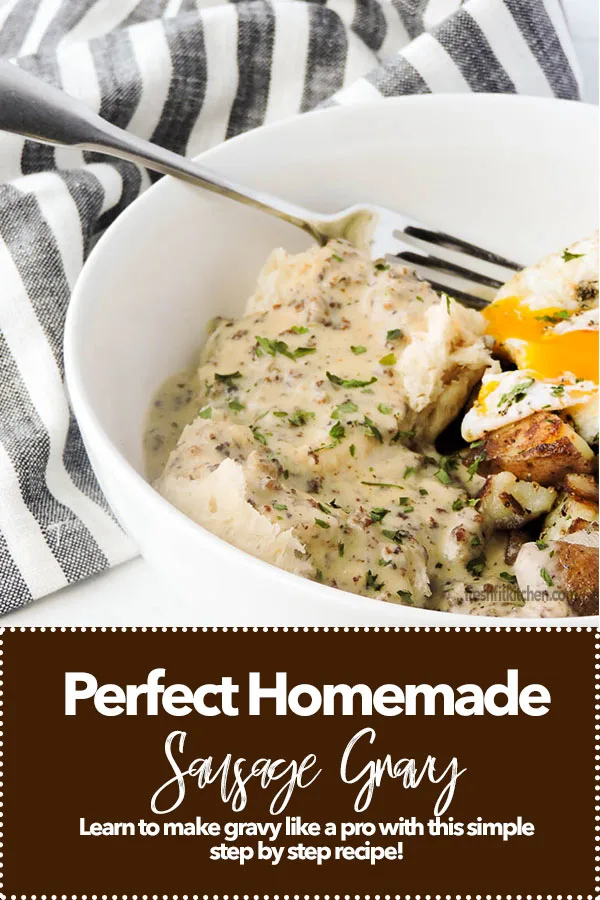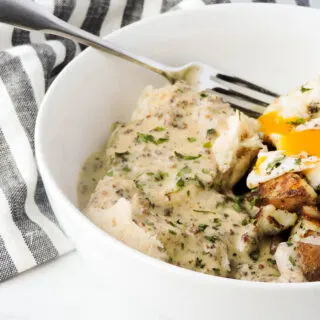 Easy Creamy Homemade Sausage Gravy
Easy Creamy Homemade Sausage Gravy is a step by step recipe for perfect sausage gravy every time. Delicious served over toast, pancakes, biscuits or breakfast potatoes.
Ingredients
1/2

lb.

Ground Sausage

I always use Jimmy Dean Original Breakfast sausage in the roll.

2

tbsp.

Butter

4

tbsp.

All Purpose Flour

2.5

cups

Milk

Option to replace 1/2 cup of the milk with heavy cream. Use whole or 2% milk. Any less fat and the gravy won't be creamy.

1.5

tsp.

Black Pepper

Course Ground
Instructions
Brown Sausage until all fat is rendered. This will take about 10 minutes at medium high heat.

Add in the butter and allow it to melt completely. It should be completely melted and foamy.

To the butter and sausage add the 4 tbsp. of flour. Stir to cook out flour about 1 minute.

When the flour is mixed evenly with the butter (it will look pasty, see photos) add in 1 cup of milk. Mixture will thicken quickly. This is a good time to cut your heat back a bit. I usually reduce it to low.

As soon as it's super thick add in the 2nd cup of milk.

Stir really well and add remaining 1/2 cup of milk (optional replace the last 1/2 cup of milk with heavy cream). Add in the 1.5 tsp. of black pepper and stir. If you're sensitive to pepper, add it to your tastes.
Nutrition
Calories:
226
kcal
Carbohydrates:
7
g
Protein:
10
g
Fat:
16
g