I know there is much debate on whether one should get cranberry sauce from the can or make their own. I'll eat the stuff from the can, but boy do I love to make my own. First, there's the fact that it makes the entire house smell like the holidays. Second, you have this amazing sauce that has so many great uses. Cranberry Sauce with Apple Cider is now my go-to recipe.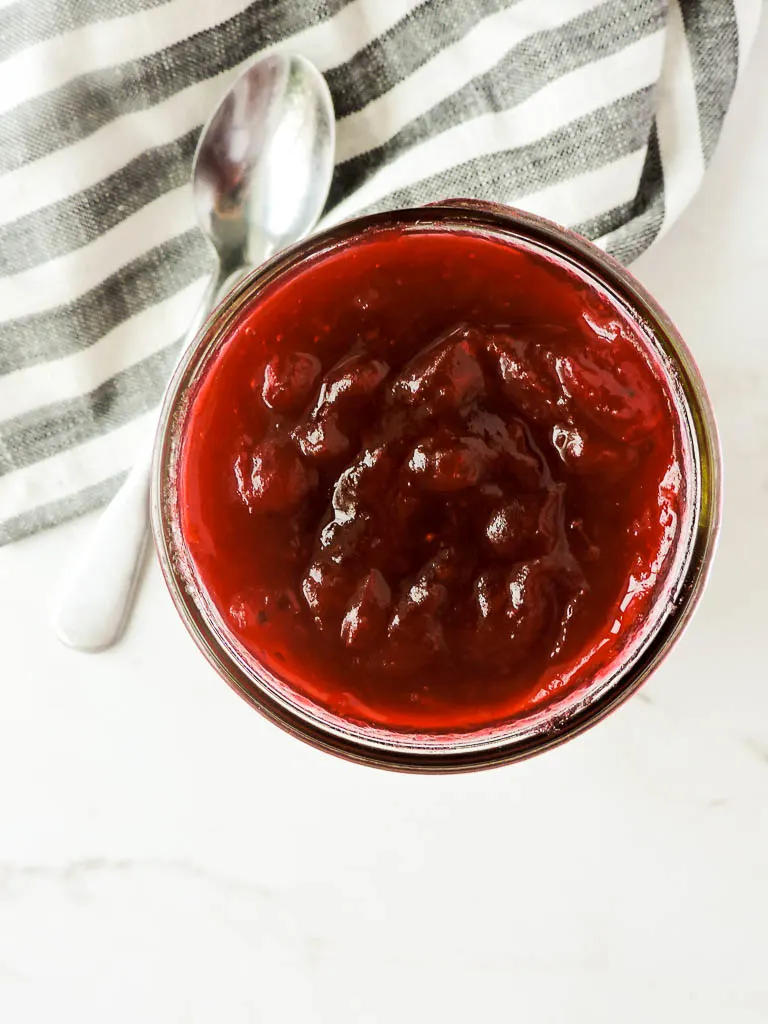 Cranberry Sauce with Apple Cider
Normally I'd add fresh orange juice to cranberry sauce, but this year I realized I didn't have enough oranges on hand for that. I do not go to the grocery store the day before Thanksgiving, so Apple Cider it is! Apples and Cranberries are the PERFECT marriage .
I can't believe I didn't think about this before. This recipe is just 4 ingredients. It sets up perfectly- it's basically the consistency of jam. Cranberries have a ton of natural pectin in them which means you don't need to add pectin or gelatin to get them to gel up.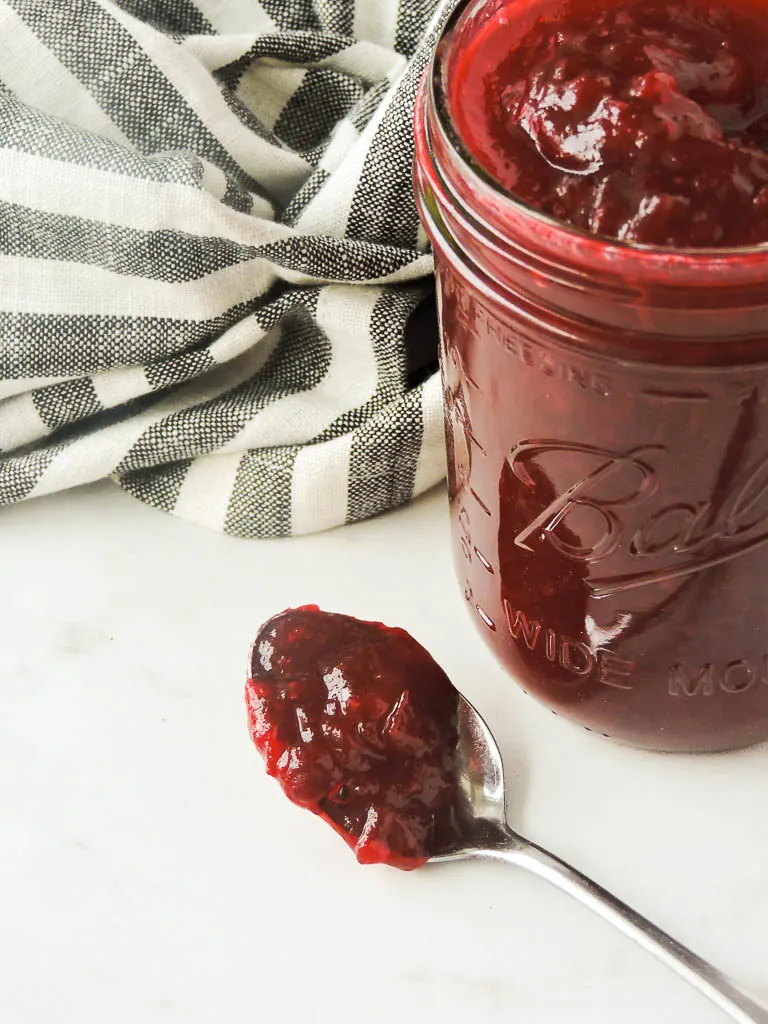 What do you do with Cranberry Sauce?
Cranberry sauce ends up on basically every Thanksgiving table, but do we know what to do with it? Cranberry sauce is basically a way to cut the richness in the meal. It pairs perfectly with buttery roast turkey and gravy because it cuts the rich flavor.
Cranberries have the tartness level of lemons. Lemons are often used to balance flavor. Salt, fat, acid and heat are the main components to any recipe and you need a balance. Think of cranberry sauce as the acid in the rich Thanksgiving meal.
Your perfect bite is a bit of turkey and gravy with cranberry sauce. Just trust!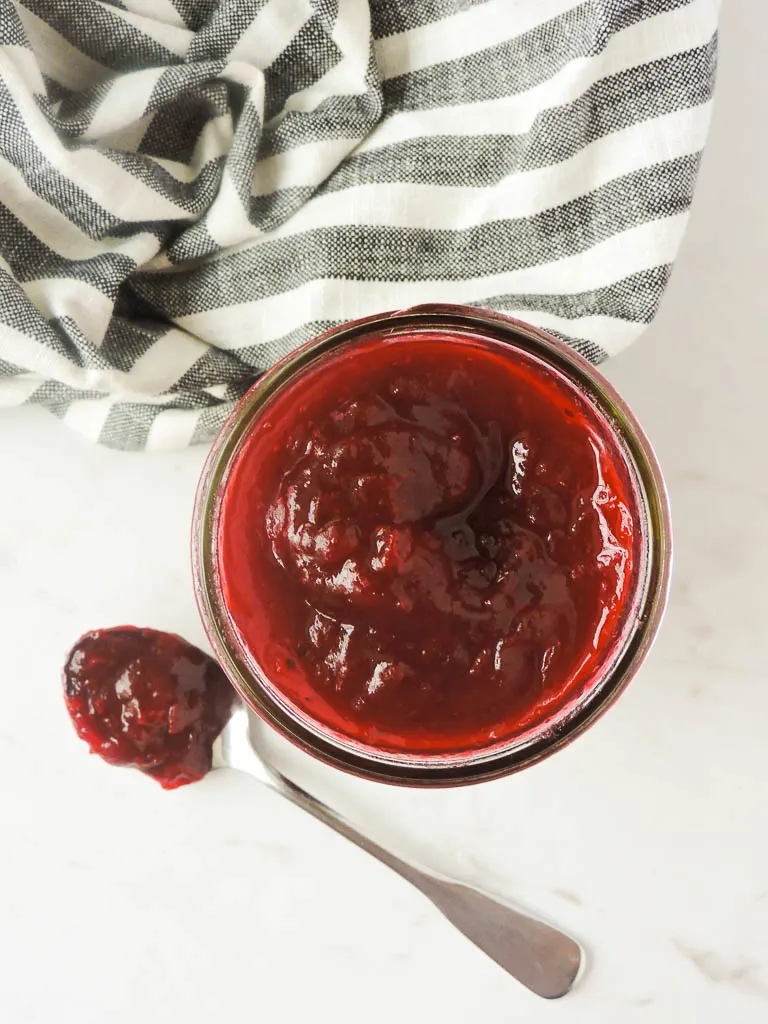 What do I do with leftover cranberry sauce?
There are a ton of uses for this leftover cranberry sauce. The most obvious is to use it on turkey slider sandwiches. I love Kim's Cravings Turkey Slider Sandwich recipe.
This Cranberry sauce with Apple Cider can be warmed up and served over vanilla ice cream with granola as a delicious dessert. You could also stir some into vanilla yogurt and serve it with breakfast.
Mix cranberry sauce with cream cheese and some sugar and whip up an easy day after Thanksgiving danish for breakfast. I like this recipe for a cranberry and cream cheese danish by the Vanilla Bean Blog. Just use the cranberry sauce for the filling instead of making that part as written.
Serve the cranberry sauce over french toast or waffles with butter. Better yet whip some of the sauce into softened butter for a compound butter for breakfast!
So there you have it- how to enjoy it the day of and what to do with the leftovers. For once you'll be happy you have leftover cranberry sauce after the big meal!
Pin this one!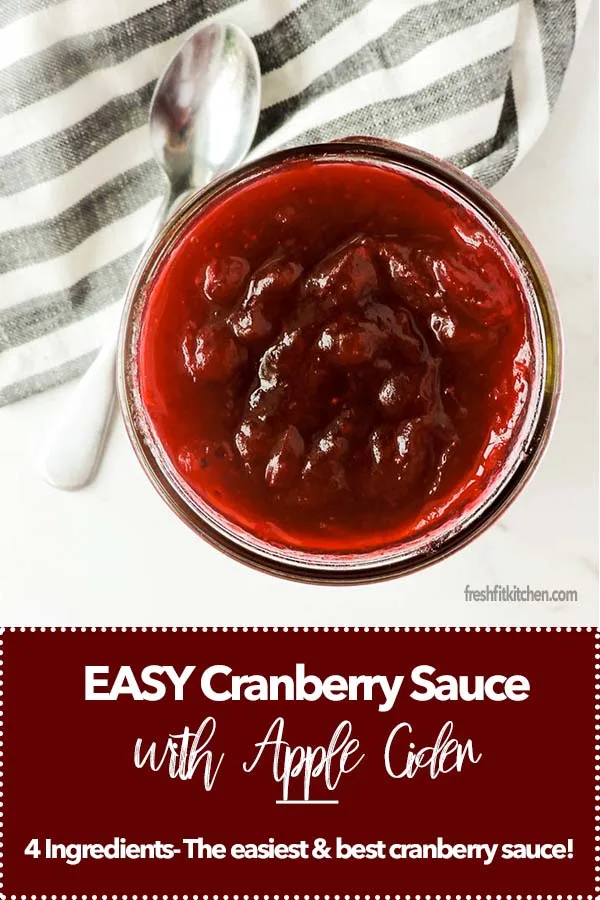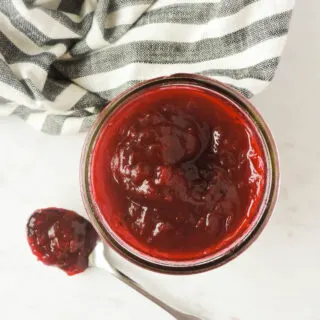 Cranberry Sauce with Apple Cider
Easy 4 Ingredient Cranberry Sauce with Apple Cider is the perfect addition to your holiday table. An easy, sweet and delicious cranberry sauce recipe your whole family will love.
Ingredients
10

ounces

Whole Fresh Cranberries

2/3

cup

Sugar

1

cup

Apple Cider

1

tbsp.

Orange Zest

Zest of one orange.
Instructions
Add cranberries, sugar, apple cider and zest to a medium sauce pan.

Bring mixture to a boil. Reduce to simmer.

Simmer for 15 minutes until cooked down and smooth. Make sure to stir occasionally. Take off of the heat and spoon into a 16 ounce mason jar. Allow to cool before refrigerating.
Nutrition
Calories:
64
kcal
Carbohydrates:
16
g
Sugar:
14
g