After trying just about every brand of chicken tenders on the market, I've decided it's far better to make them at home. My healthy crispy chicken tenders are easy delicious chicken tenders made with simple ingredients. Your kids will love them and the best part is, you can prepare them ahead of time and put them in an airtight container in the freezer.
It's a go to easy recipe you'll make over and over.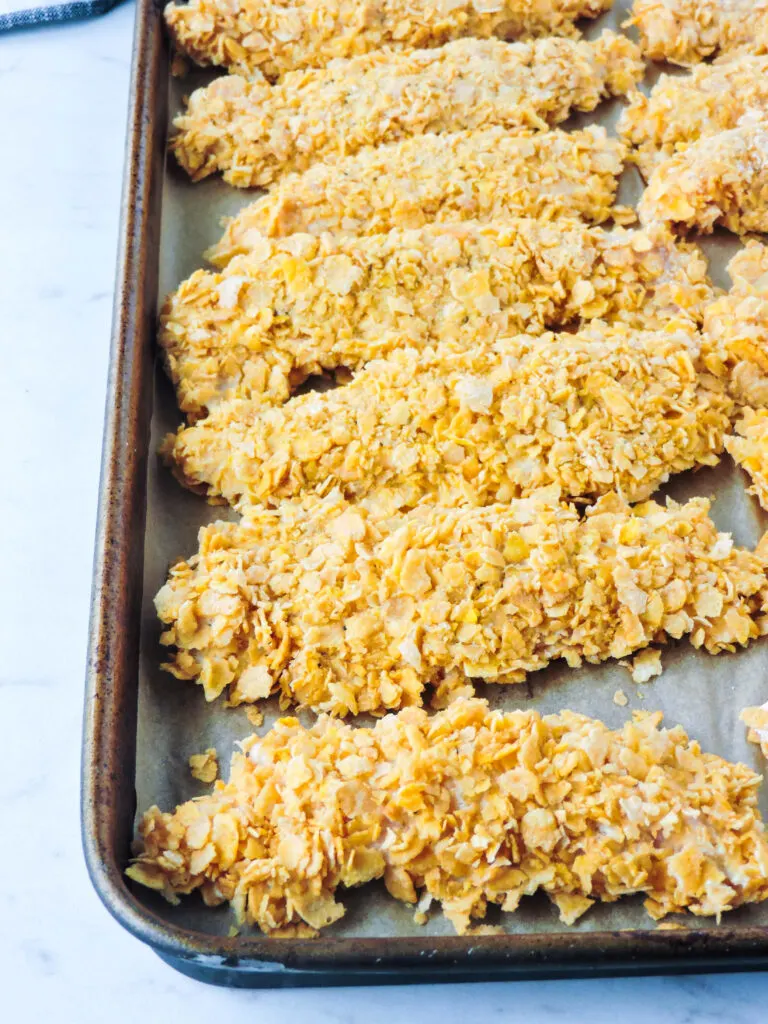 Healthy Crispy Chicken Tenders Substitutions and Tips
So, I use chicken tenders for this recipe. You can also use chicken breasts and just cut them into strips. As with any chicken, make sure you trim it well. If you use chicken tenders, be sure to remove that white piece from the raw chicken tenders that is often left on by your grocery store. It is not chewable and your family will not enjoy trying to get through that. I cringe just discussing it, but it's an important note!
I use Greek Yogurt, water and lemon juice to make a buttermilk style mixture. This is because I always have these ingredients on hand. If you have low fat buttermilk, you can use that too.
I like to season my Greek Yogurt mixture with Dijon Mustard, but you can definitely season yours to your liking. Garlic powder, onion powder, cayenne pepper and paprika are all good seasonings to use. Use the blend that you like best.
For the crispiness, I like to use ground corn flakes. These give that big crunch you love from deep frying, but without the calories. If you don't have corn flakes, you can use panko breadcrumbs, regular breadcrumbs or even gluten free bread crumbs.
If you wanted a more Italian nod, you could use Italian seasoning and add Parmesan cheese to the bread crumb mixture.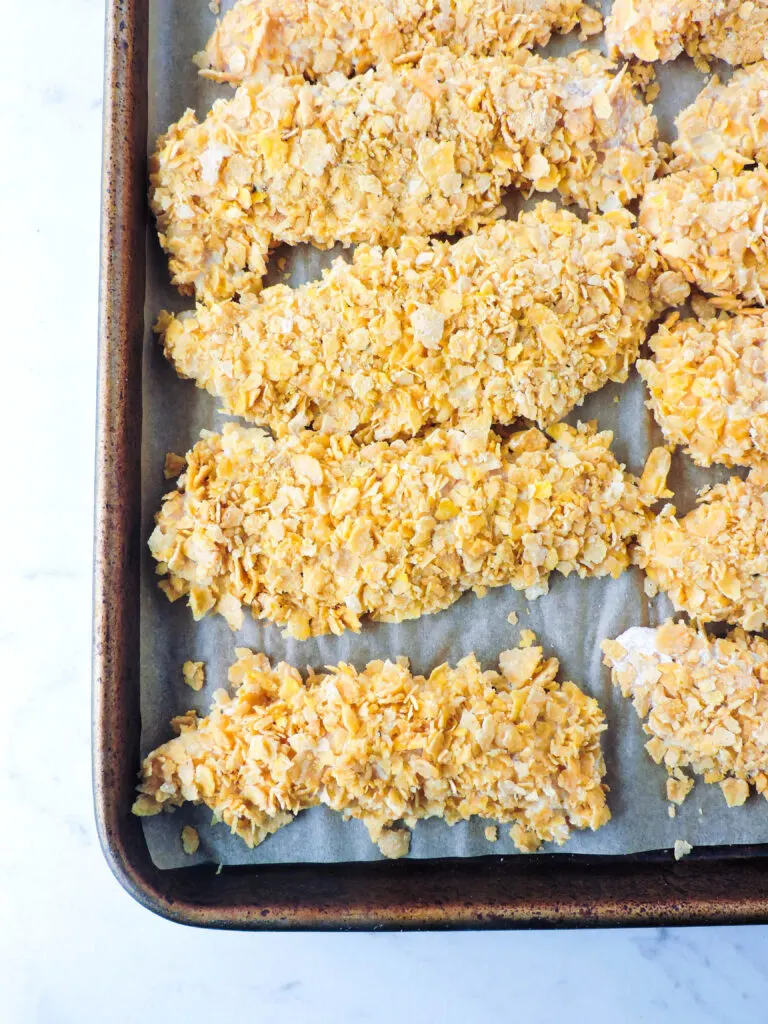 How to Set up a Breading Station
You'll want to set yourself to make a big batch of these. To make sure your crunchy coating goes on well and sticks, you'll want to set up a good breading station.
First you'll prep your chicken so it's ready to be dredged. Set up one shallow dish with flour, salt and black pepper. In a small bowl that you can fit your chicken pieces in, mix up the Greek Yogurt, lemon juice and water. In a second shallow dish put your ground up corn flakes, salt and black pepper. It's extremely important to season at every stage.
How to Cook Crispy Chicken Tenders
It's important to put your tenders in a single layer for cooking. If you are following the air frying instructions be sure to do things in batches if your air fryer doesn't hold everything.
If you don't have an air fryer, then a hot oven will serve you just fine. Lay a piece of parchment paper or nonstick aluminum foil on a large baking sheet.
Spray a little olive oil spray on the foil or parchment, lay your tenders down, then spray the tops of them. This method will make sure everything is crispy perfection.
Chicken Tender Dips
You know you want to dip chicken tenders into something delicious. These homemade chicken tenders are delicious with honey mustard, bbq sauce or whatever your favorite dipping sauce is.
Affiliate Links
These affiliate links are to products I'd use for this recipe. Buying from them supports the blog and I really appreciate it when you do that!
I do love an air fryer for this one. This Ninja Foodie Air Fryer is both an air fryer and a toaster oven!
If you are using the oven method, you'll want a good baking sheet. These are my favorite!
Pin it for Later!
I really hope you make these Crispy Freezer Friendly Chicken Tenders! I think they'll be a family favorite!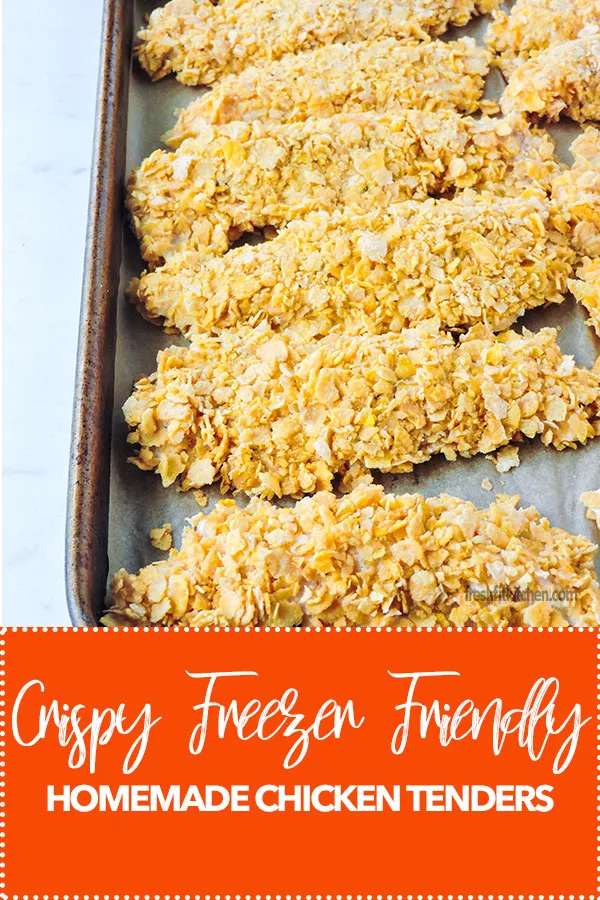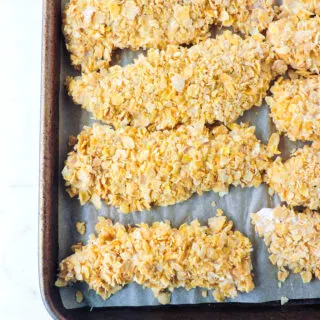 Crispy Freezer Friendly Chicken Tenders
Crispy Freezer Friendly Chicken Tenders are a delicious and easy way to meal prep for your family. You can make a big batch of these and freeze them then cook them up any night of the week!

Ingredients
1

cup

Non Fat Greek Yogurt

3

tbsp.

Lemon Juice

Juice of 1 lemon

1

tbsp.

Dijon Mustard

1/4

cup

Water

1.5

cups

Flour

4

cups

Corn Flakes Cereal

crushed

salt and pepper

24

Chicken Tenders
Instructions
Set up your breading station. First mix together the flour with a generous sprinkle of salt and pepper. Just hit the top of the flour pile with an even coating.


Next mix together the yogurt, mustard, lemon juice and water. It should be a nice thick consistency similar to buttermilk.


Last put your cornflakes into the food processor. Pulse until you have course crumbs. Don't pulverize them to death or your tenders won't be super crispy. Pour the corn flakes out onto a plate and also hit those with a generous sprinkle of salt and pepper.


Set up a parchment lined baking sheet at the end of your breading station. This is where you will put your tenders when you're finished breading them.


Make sure that your prepare the tenders by cutting out the little white piece on the back. The tender is connected to the breast by this small piece of cartlidge. I know it sounds disgusting, but part of the reason you can get funky pieces of non-chewable chicken when you order out is a lack of trimming properly. This cannot be chewed. Make sure that if your grocery store didn't cut it out, that you do or it's very unpleasant.


Once your chicken is all set, season it with an even coating of salt and pepper.


Dredge it first in the flour mix, then the yogurt and the corn flake mix. Complete that process with all 24 chicken tenders


When you're all finished set the sheet pan of tenders into the freezer for 2-4 hours to freeze them. Transfer to zip top bags or sealed containers and keep in the freezer until you're ready to use them.

Cooking Your Chicken Tenders OVEN INSTRUCTIONS FROM FROZEN
Preheat oven to 400 degrees
Remove your desired amount of tenders to a parchment lined baking sheet. Spray the tops with cooking spray.


Bake for 20-25 minutes or until an instant read thermometer reaches 165 degrees. Keep in mind you need to monitor your internal temperature of the chicken to ensure safe cooking. Thickness of your tenders will affect cooking time.

COOKING YOUR CHICKEN TENDERS: AIRFRYER FROM FROZEN
Preheat your airfryer for 3 minutes at 390 degrees. Spray the basket with non-stick spray.


Add the chicken tenders in a single layer. Cook at 390 for 12-14 minutes. Check them around the 10 minute mark. For best results use an instant read thermometer to ensure the tenders reach 165 degrees internally.

Cooking Time: FROM FRESH
In the air fryer at 390 degrees your chicken tenders will take 8-10 minutes if they are not frozen. In the oven they will take 13-16 minutes. As always check with an instant read thermometer.

Notes
You can make these into nugget shapes too! Each tender will yield about 3 nuggets. Use the same process and cooking guidelines.
This post was last updated on 8/6/22.