When we think of grilling we normally think of steaks, burgers and hot dogs, but fajitas are the perfect thing to make on the grill. These Quick and Easy Grilled Chicken Fajitas are healthy and they come together super quickly. Made entirely on the grill, I think you'll find yourself using this one over and over during the grilling season.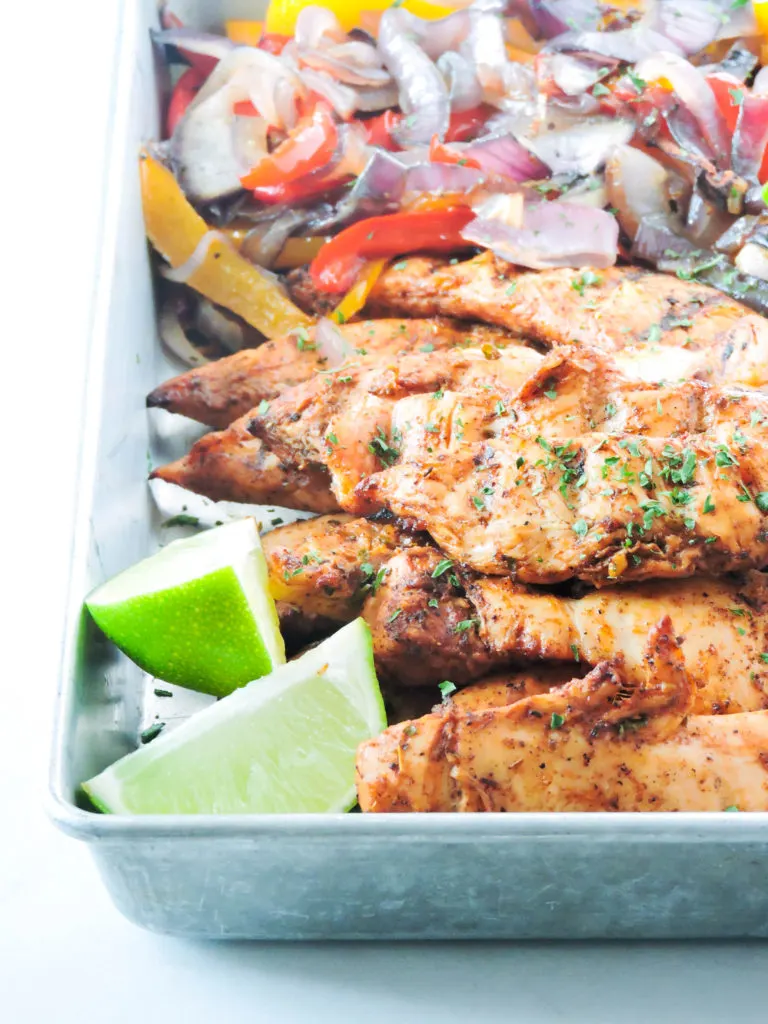 How do you Make Grilled Chicken Fajitas
Normally fajitas are made on a cast iron skillet or seared on a griddle. For this chicken fajita recipe, you'll season your chicken and put it right on the grill grates over medium or medium heat. when it's cooked through, you'll take it off the grill and let it rest then slice it.
For the vegetables, you'll simply place those in a skillet or in a grill basket right on the grill! I make these on my Traeger Wood Pellet Grill. You can make them on the gas grill too! I give you instructions below for both!
The grill is so awesome for this recipe, because it gives you the crispy charred edges on your vegetables, chicken and your flour tortillas. You literally make the entire meal on the grill!

Grilled Chicken Fajitas Substitutions and Tips
For the chicken, I like to keep it light with boneless skinless chicken breasts. If they are cooked to proper temperature they will not be dry. Seared chicken over a medium-high heat that is left to rest properly is always delicious. It's all in how accurately you cook it. I recommend a meat thermometer.
Chicken thighs are fine, but you'll want to remember those do have more fat. You definitely don't risk drying them out as easily as you do chicken breasts. I know a lot of people enjoy these in their chicken recipes.
Another secret is to rest your chicken and then do thin slices. To rest your chicken just put it under aluminum foil and allow it to rest for at least 10 minutes. Thin slices are easier to eat and they ensure the chicken is nice and tender.
For the vegetables you can use green bell peppers, red, yellow, or orange peppers or really any color you like. The same goes for onion. I used red onion here, but yellow onion is also delicious. Whatever you have on hand will work.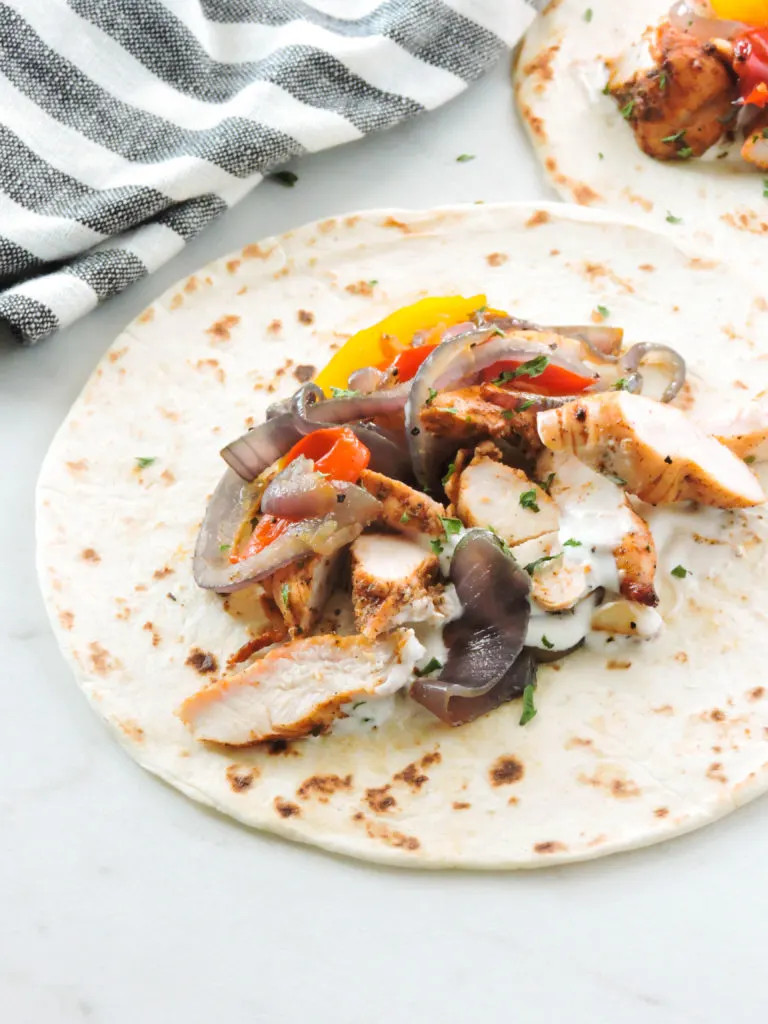 I use flour tortillas for fajitas, but corn tortillas work well too!
I also like to serve slices of lime along side. Lime juice is such a nice fresh addition to your fajitas.
The chicken fajita seasoning I use is a simple marinade. You'll just mix the seasonings together with avocado oil and lime juice and allow your chicken to marinate for a bit before it hits the hot grill. Chili powder and cumin are key and add a nice kick of spice.
Please also note that this same marinade works for steak fajitas!
The Best Chicken Fajitas Have all the Toppings
So, now that you have those warm tortillas and perfectly cooked chicken and veggies, it's time to serve them. I personally love some sour cream, sliced avocado and a squeeze of lime.
If you are feeling fancy, some lime zest is also a way to really maximize on the lime flavor. Pico de gallo is a great addition and I happen to have a recipe for it right here on the blog!
Whatever your favorite fajita toppings, dress these up and enjoy!
Affiliate Links
Here are some items in the kitchen that I find essential for this recipe. I've also linked you to the Traeger Grill I have, because I love it. Please note that these are affiliate links which means purchasing from them provides me a small commission. I appreciate you supporting the blog in this way!
Grill Basket for Grilling Vegetables
Please Leave a Star Review and Comment
I'd love to hear how this recipe went for you! Please leave me a star rating and review. It's so nice when readers share about the recipes they make. I'm happy to bring you this delicious restaurant favorite! Amazing recipes don't need a ton of ingredients or even fancy ones, you just need a solid method and tried and true flavors.
Pin this Recipe
I create an image that is at the bottom of each recipe where you can pin it for later! Please pin it and share with your friends on Pinterest. It's a great way to share and store recipes for future use.
Thanks again for stopping by and and enjoy!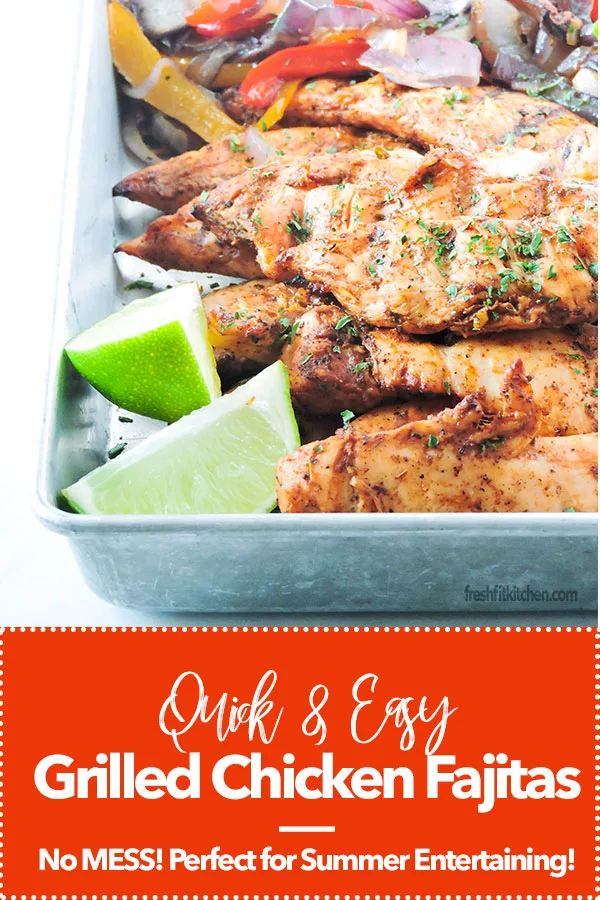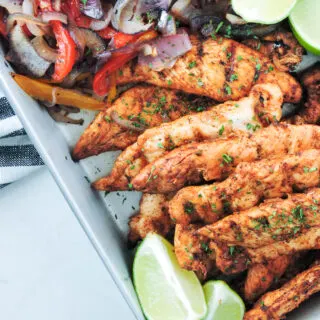 Quick and Easy Grilled Chicken Fajitas
Quick and Easy Grilled Chicken Fajitas are the easiest, yummiest no mess fajita recipe. Packed with flavor and done completely on the grill, they are perfect for entertaining.
Ingredients
1.5

lb.

Chicken Tenders

1

tbsp.

Traeger Grills Fin and Feather Seasoning

You can also use 1 tsp. of garlic powder, onion powder and paprika.

1

tsp.

Cumin

1

tsp.

Chili Powder

1/4

cup

Lime Juice

Juice of about 4 limes

1/3

cup

Avocado Oil

2

Bell Peppers

Sliced-I like using red and yellow.

1

large

Onion

Sliced- I use purple onion.
Instructions
Traeger Grill (or other wood pellet grill) Instructions
Mix together the seasonings, avocado oil and lime juice.

Trim the chicken tenders and place them in a zip top bag. Pour the marinade over top. Refrigerate for 2 hours. You can do as little as 30 minutes if you're pressed for time.

Cut up your vegetables and put them in a separate bag or container.

When the chicken is marinated preheat your Traeger Grill to 450 degrees. Place a cast iron skillet directly on the grates to get hot. When the grill is preheated, drizzle a little avocado oil into the cast iron pan and add the vegetables. Sprinkle with salt and pepper to season.

Add the chicken to the grill along side the vegetables.

Shut the lid and allow to cook for 15 minutes (or until internal temp reaches 165 degrees) stirring the vegetables and flipping the chicken halfway through. Allow the chicken to rest for 10 minutes before serving under a foil tent. Slice and pile onto warm flour tortillas with your favorite fajita toppings.
Indoor Grill Pan/Skillet Instructions
Preheat grill pan or skillet over medium high heat.

Salt and pepper the vegetables. Add some avocado oil to the pan and add the veggies. Stir fry until the edges are charred and they soften. Move them over to a plate and add the chicken.

Cook chicken 4 minutes per side until internal temp is 165 degrees. Tent with foil for 10 minutes prior to slicing and serving.
Notes
Please note that the nutrition info doesn't include the tortillas you'll use. There are too many varying brands, so adjust for what you'll be using.
Nutrition
Calories:
278
kcal
Carbohydrates:
6
g
Protein:
37
g
Fat:
13
g
This recipe last updated on 8/8/22.