I love to entertain. It's been a while since we've had the space to entertain more than a few friends at one time and let me tell you, I am loving our new space. I still cook rather healthfully for my friends. They joke that I always find a way to work kale into the meal, but this post is not about food. This post is about easy elegant affordable outdoor dinner parties. I recently threw one for my husband's birthday and it came off so beautifully, I thought I should share some of my tips with you. Everything is linked below so you can throw your own easy elegant outdoor dinner parties this summer. I borrowed a lot of these things from my sister too, so before you buy, think about raiding someone's closets 😉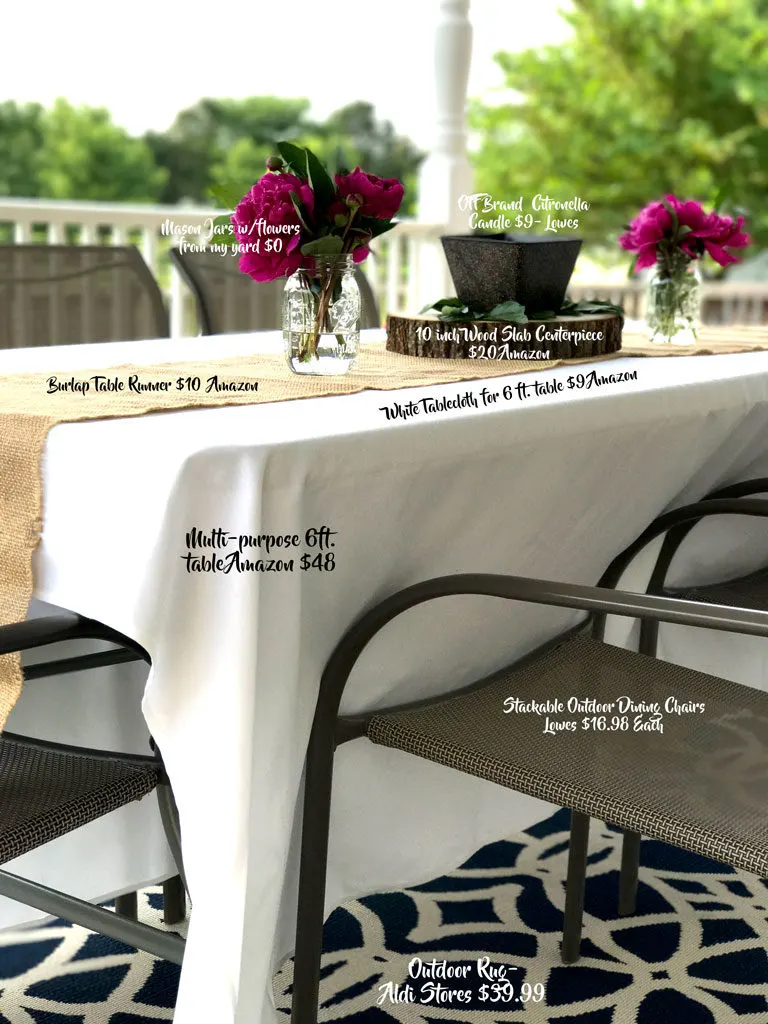 Burlap Table Runner: Ling's moment 14×72 Inch Natural Burlap Jute Fringe Table Runner for Rustic Primitive Country Wedding and Engagement Party Farmhouse Decoration Spring Bridal Baby Shower Decor
Wood Slab Center Piece: Koyal Wholesale Reversible Wood Slab Thick Tree Slice with Bark Floral Centerpiece, 9 To 10-Inch
White Table Cloth for 6 ft. Table: FantasyDeco Rectangular Polyester Fabric Tablecloth, White, 60×102-inch
6 ft. Multipurpose Table: Giantex 6′ Folding Table Portable Plastic Indoor Outdoor Picnic Party Dining Camp Tables
Outdoor Dining Chairs- Lowe's Stores (price and availability in your area can vary.)
Flowers: I was lucky enough to have Peonies growing in our front yard. I just put them in mason jars I already had. For flowers you want to go low so people can see each other. I am no florist. If you're nervous about arranging, go with one color and just make sure they are all the same height. You can find bouquets at your grocery store super cheap. Bring them home and put them into a mason jar or even pretty glasses will work.
Rug– I found the rug at Aldi. If you don't have an Aldi in your area, it's a discount private label grocery store. They also sell some home goods and this was $39. Shop the clearance racks and garage sales. Even if it's an indoor rug you find on the cheap just use it on your patio for the evening then bring it inside. As long as there isn't rain, it would work. Get creative on this one. You might not even need a rug in your space, but my patio needed some oomph!
The easiest look to create on the cheap is a rustic chic feel. Think barn wood, candles, flowers, twinkle lights, soft linen fabrics where wrinkles add character, and mason jars. The imperfection of this look makes it really easy to create. The messier the better. You can't really go wrong. You'll want to keep the color palette simple. Choose one bold color against neutrals and don't worry about being too matchy. Just coordinate.
If you're going to be having the event into the evening, lighting is something to consider. I went with a citronella candle in the middle of the table because mosquitoes can be an issue. It had a nice container too, so it didn't scream citronella candle. You can purchase outdoor lights, but instead I'd recommend re-purposing those Christmas lights. We all have strands of white lights around. I liked them swagged like this to bring the eye down and they look less Christmas like.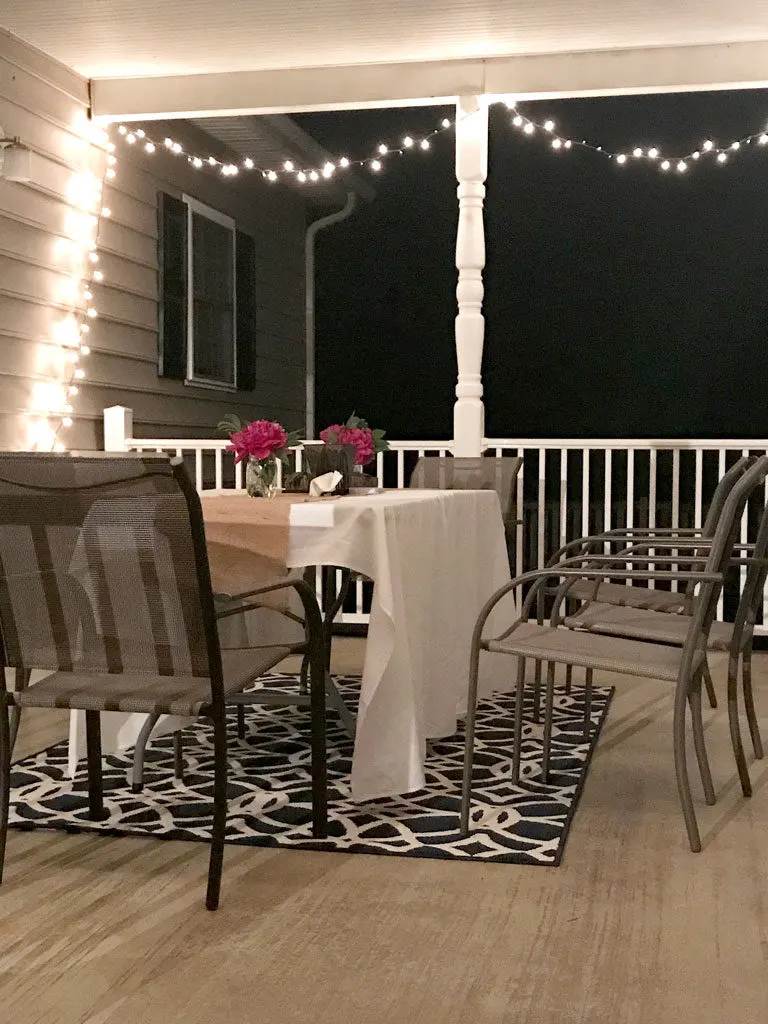 So that's it. As you can see most of this stuff can be ordered on Amazon. Literally you can plan the event from your computer and wait for the boxes to come. I am a Prime member for liiiifffeeeee. Like I said, don't hesitate to borrow some things from your friends and family too. Getting creative, re-purposing what you have, and keeping it simple will help you to great a beautiful easy elegant affordable outdoor dinner party.
Pin for Later 😉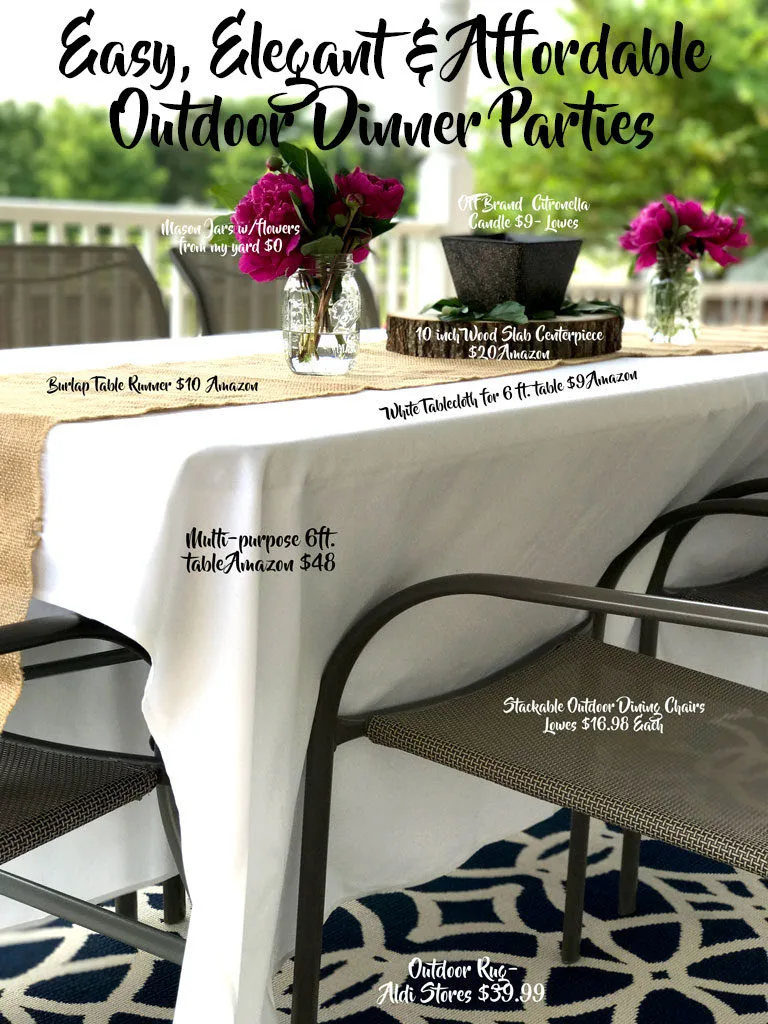 This post contains affiliate links. This just means that using the link provided here to purchase benefits freshfitkitchen.com. Thank you for stopping by.
Save
Save
Save
Save
Save
Save
Save
Save
Save