Fresh Fit Meal Plan Guide Week 20 is dedicated to planning ahead. Imagine coming home to make dinner and knowing all you need to do is basically reheat, assemble and serve. It's entirely possible when you prep your vegetables and sauces in advance. These ingredients can be used to create multiple meals you can have on the table in minutes. Sound good?
Fresh Fit Meal Plan Guide Week 21- Breakfast
Strawberries are in season right now and I can't think of a better way to enjoy them than on top of waffles with some almond butter. I always use Naturally More brand almond butter and peanut butter and I'll link them for you at the end so you can order on Amazon.
These Easy Gluten Free Waffles are from the blog Cookie and Kate. She also features them in her new cookbook, Love Real Food, which I highly recommend. They are gluten free as long as you use gluten free oats. Make a double batch and individually wrap each waffle in foil. Cut up some fruit and place into baggies for the week. When you're ready to serve, heat the waffle up in the toaster, spread on some almond butter and add your favorite fruit. Kids would love this. Put some toppings out and have a morning waffle "pizza" party.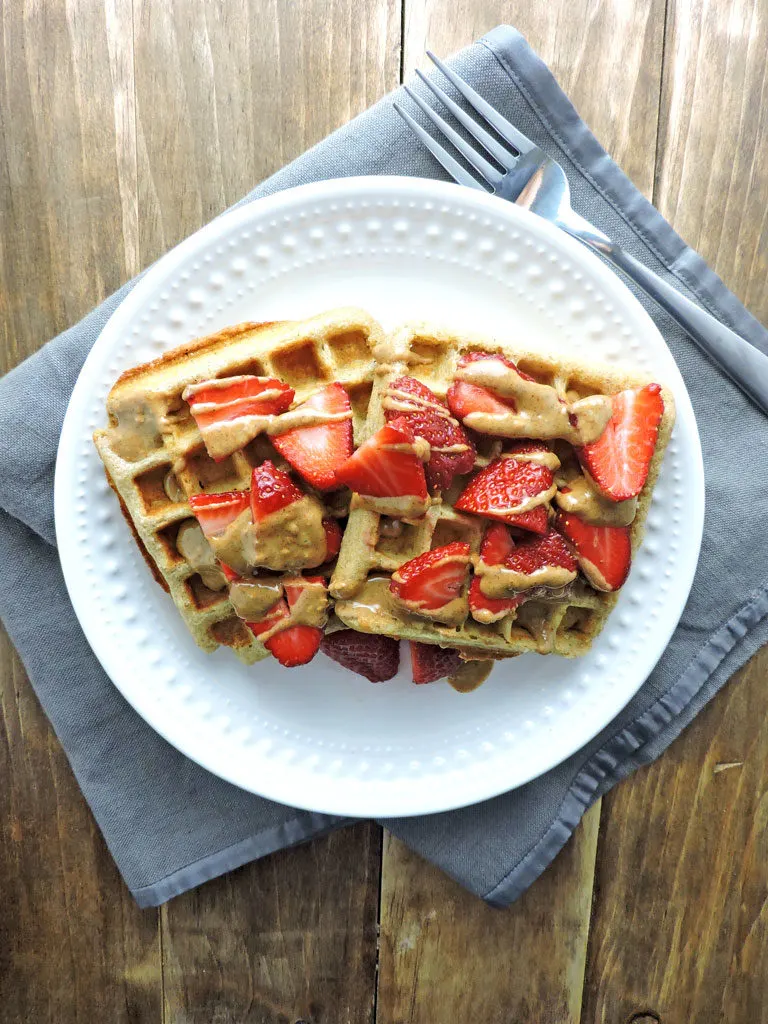 Fresh Fit Meal Plan Guide Week 21- DINNERTIME
I am changing things up a bit with this week's meal plan guide. I'll go through what I prepped and then I am going to list out your options for serving it. This will give you options for dinner that are definitely easier than the drive through. If you have to, you're able to toss everything in a container and go out the door to that ball game
1. Easy Perfect Baked Chicken Breast
This is my go-to method for preparing chicken breast. Many times baked chicken comes out rubbery and tasteless. By brining for a brief moment, pounding it to an even thickness, and roasting it at high heat, you achieve juicy, tender and flavorful chicken.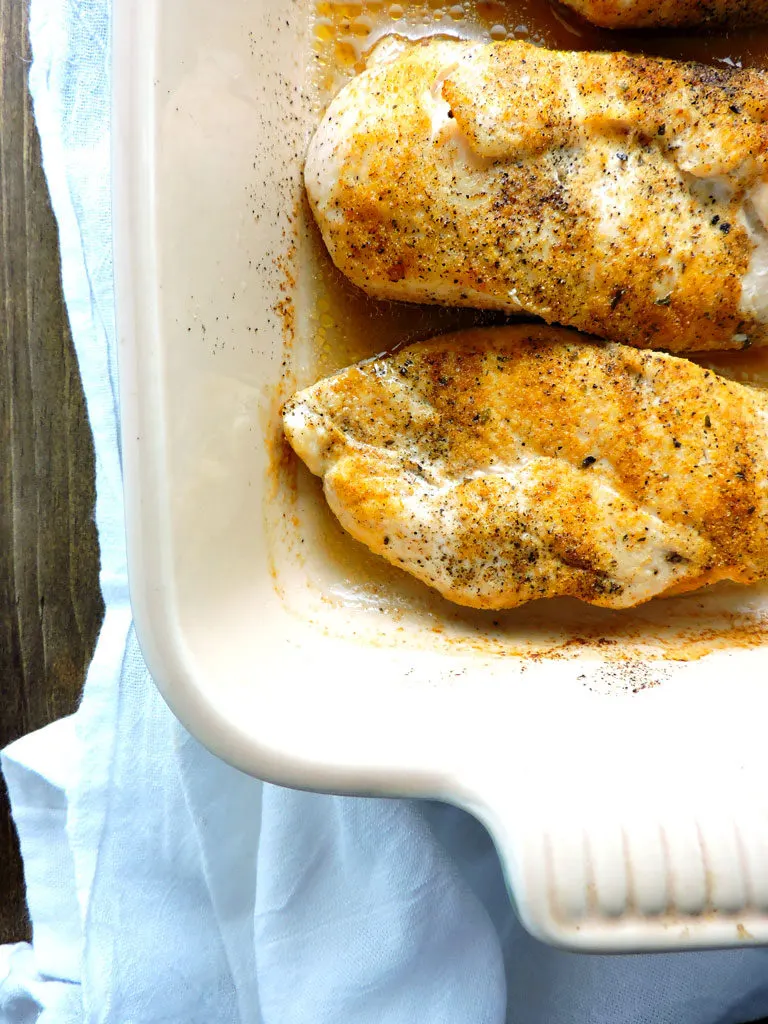 Step 1: Preheat oven to 450 degrees. Remove the chicken from the package and trim if needed.
Step 2: Lay down a sheet of plastic wrap, then the chicken, then another sheet of plastic wrap. Pound the chicken to an even thickness.
Step 3: Fill a large bowl with warm water and add 2 tbsp of kosher salt. Add the chicken to the bowl. Let it sit for 15 minutes. It's super important that you do not purchase chicken already treated with a salt solution. Make sure to read the package. I don't recommend this anyway. This quick brine on your own is much better and healthier.
Step 4– Rinse the chicken off after taking it from the brine. Dry it off with paper towels.
Step 5– Season the outside with your favorite seasoning or just salt and pepper. I like to use Flavor God Everything Seasoning. Drizzle the outside with avocado oil or coconut oil and bake at 450 degrees for 15-20 minutes or until a thermometer reads 165 degrees.
It's very important to allow the chicken to rest at room temp for 15-20 minutes so the juices can redistribute.
2. Kale, Quinoa and Veggies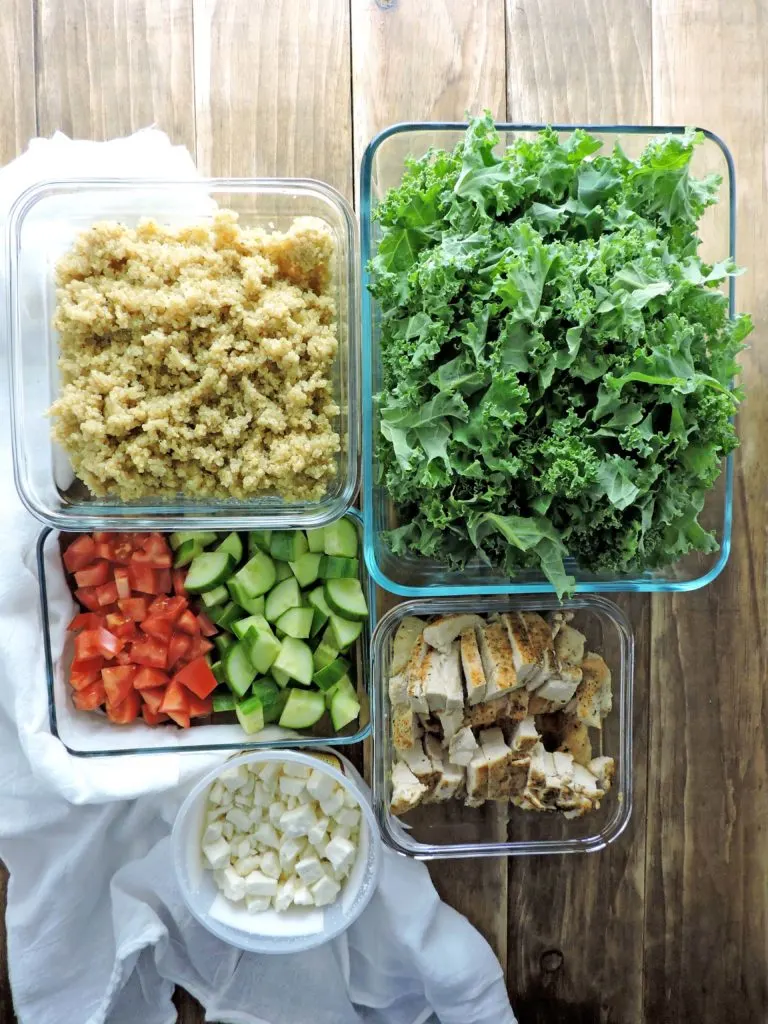 Kale: Kale is the best make ahead salad green. It holds up in the fridge the entire week. I bring it home from the store, strip it off the stalks, wash, dry, and chop it up. Store the dried off kale in a glass container for up to a week.
Quinoa: I use this method from Cookie and Kate for prepping the quinoa. Like she says in her post, the package directions have often failed me. This method worked perfectly.
Veggies: I chopped cucumber and tomato for this week. Read on to see how I recommend you assemble these.
I also recommend preparing this simple olive oil dressing. 1/4 cup red wine vinegar, 1/4 cup olive oil, 3 tsp. Dijon Mustard, 1 tsp honey, salt and pepper to taste. Shake it up and store in the fridge.
I also keep Feta cheese on hand. It lends big flavor to salads.
3. Tofu Stir Fry Meal Kit
I am making a tofu stir fry this week so I prepared my vegetables and purchased already cubed tofu for the recipe. I also put together the peanut sauce . All I need to do now is come home and cook everything. No chopping required.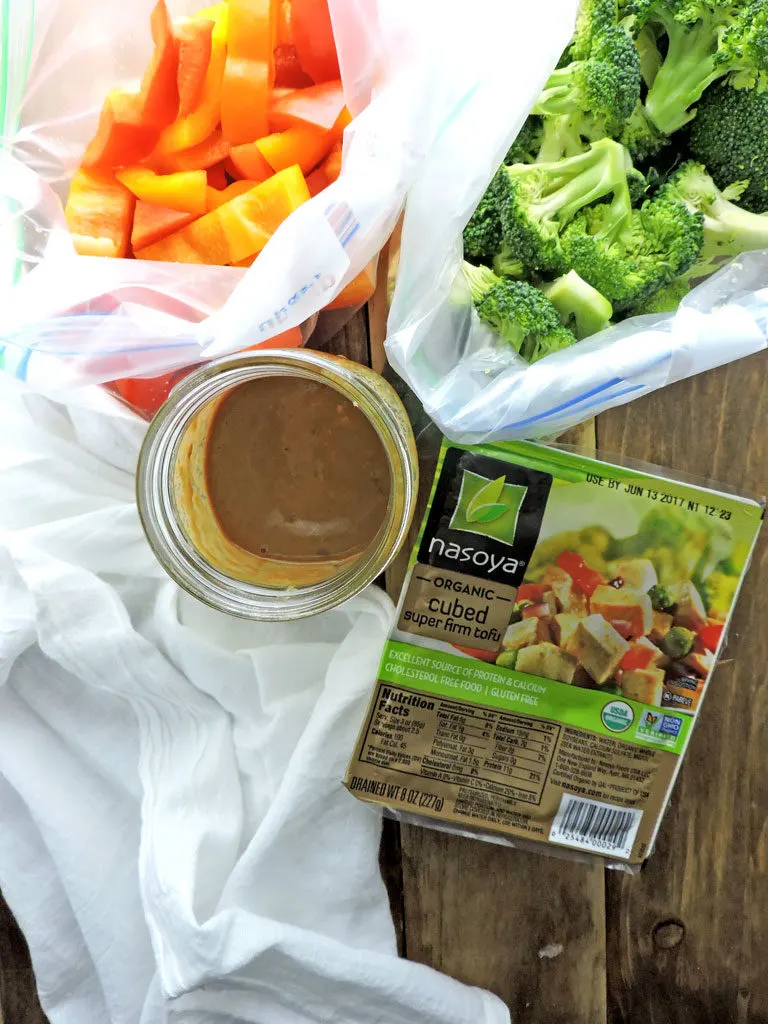 Here you'll find tofu, peppers and broccoli. Use whatever vegetables you like.
You can find the sauce recipe on Cookie and Kate as well, it's called peanut dipping sauce.
The night you wish to cook this:
Drain and press all of the liquid from the tofu. Toss it into a big zip lock bag with 2-3 tablespoons of corn starch.
Heat oil in a big cast iron or non stick pan until shimmering. Put the tofu in a single layer and flip it when you see the edges start to brown.
When the tofu is crispy, you're ready to stir fry your veggies. You can find my recipe for crispy tofu by going to my recipe on the blog for Crispy Tofu Superfood Fried Rice. Make sure to drizzle it all with the peanut sauce because it's delicious. You can serve it with some of the quinoa you prepared.
Snacking
It's really important to work some good snacks into any meal plan. You know you'll get that sweet tooth and if you don't plan for it , you'll eat candy bars. Here are some of my favorites: Health Warrior Bars, raw nuts and dates mixed together, dark chocolate covered almonds, and fruit with nut butter.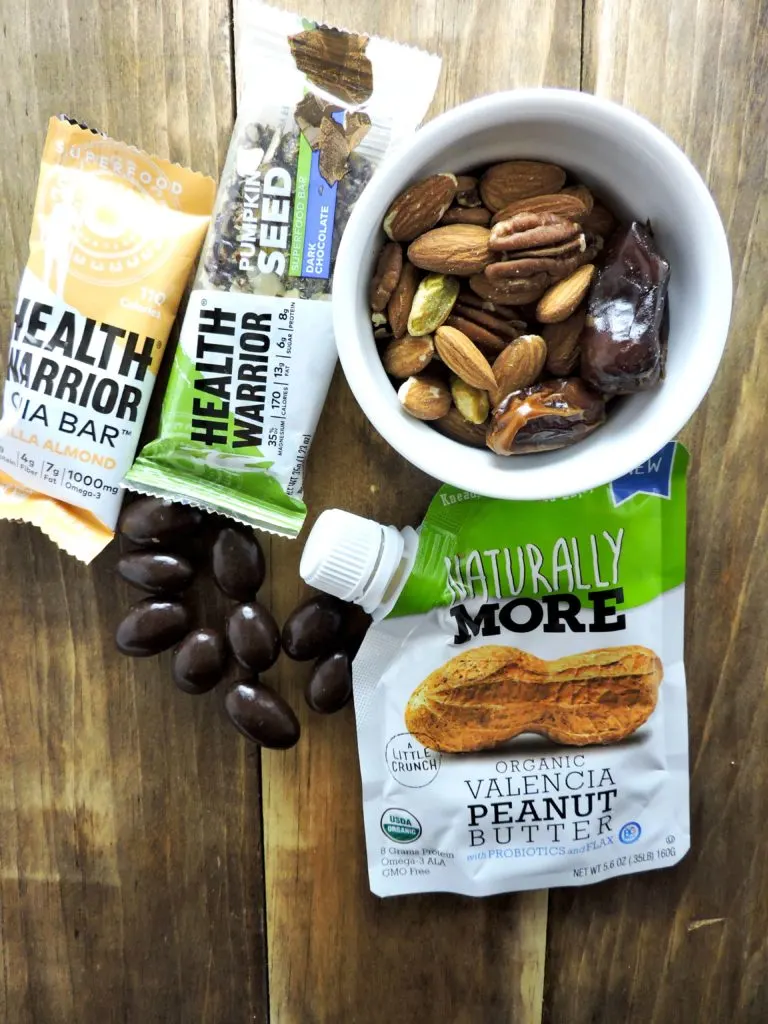 You can save 30% with my coupon code for Health Warrior. Just type in FreshFitKitchen30 at checkout.
Here's the link to Naturally more almond butter and peanut butter. I promise you cannot go wrong my friends!
Meal Ideas for Your Prepped Foods This Week:
Chicken and Kale Quesadillas- Take your baked chicken breast, kale, and your favorite cheese (I like Monterey Jack for this one) and arrange it inside of one side of a large whole grain tortilla. Heat up a skillet and spray it with non stick spray or a little olive oil. Fold the tortilla over and cook on each side until golden and the cheese is melted. Serve with salsa, avocado or sour cream.
Baked Chicken with Crispy Kale and Quinoa- Heat up about one tablespoon of olive in a skillet until shimmering. Add some kale and cook it until crispy. Season with salt, pepper, and a little crushed red pepper if you like some heat. Reheat the quinoa in the microwave, and reheat the baked chicken you prepped in the same skillet as the kale. Easy right?
Kale, Chicken and Quinoa Greek Salad Bowls: Toss your kale with some of the salad dressing you prepared then add chicken, feta, olives, cucumbers, tomato, quinoa and almonds for crunch if you'd like. You can warm up the chicken and quinoa or serve it cold.
Chicken with Parmesan Butter Noodles and Broccoli: Cook your favorite whole grain spaghetti, linguini, or other long pasta according to package directions. In the last few minutes of cooking (maybe 2-3) throw in the broccoli. Drain everything. Reheat your chicken. Toss the pasta and broccoli with Parmesan cheese, black pepper, and butter or olive oil.
Pizza Night– Purchase your favorite refrigerated pizza crust or use crusty whole grain french bread for french bread pizzas. You'll also want to get a good organic jarred marinara. Use any left over vegetables or chicken from the week to make yummy pizzas.
Pin for Later!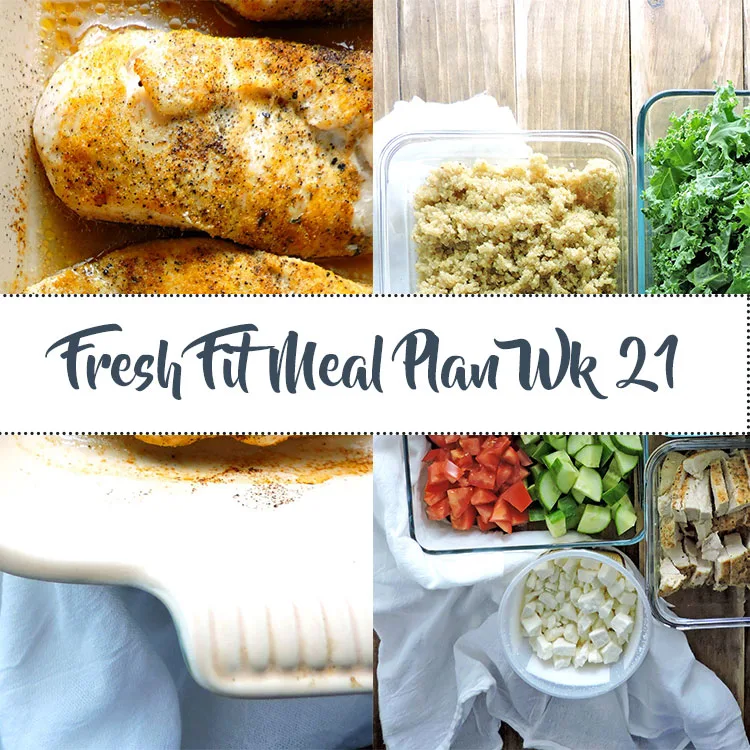 Save
Save
Save
Save
Save
Save
Save