I finally did it. Today I feel like I conquered the mount Everest of baking. Gluten free baking is complicated. The flour options are unlimited and the margin for error is evident. These Gluten Free Blueberry Muffins are a winner in my gluten free baking book.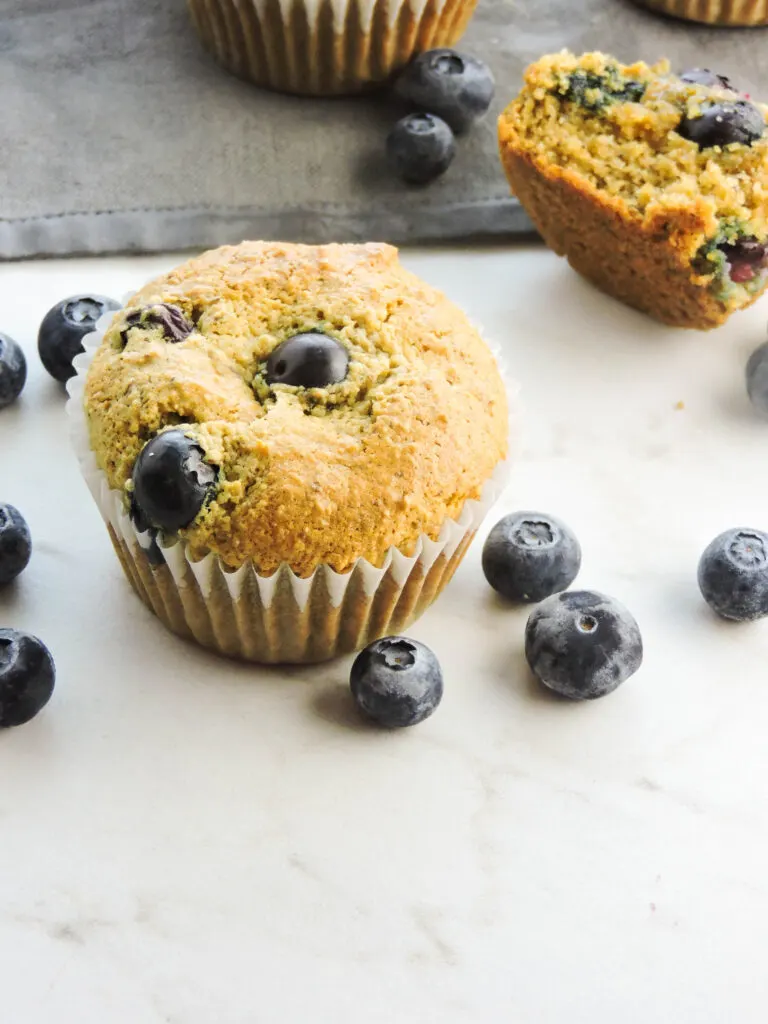 I think the best gluten free baking flours are oat flour and almond flour. Coconut flour is like a sponge. You need to use so many eggs that the result is dense and spongey. I understand that some people have issues with oats. I recommend you purchase certified gluten free oats if you are celiac or severely gluten intolerant. I make my own oat flour by grinding up rolled oats. It's cheaper and it's very easy. Just put them in your food processor and run it until it resembles flour.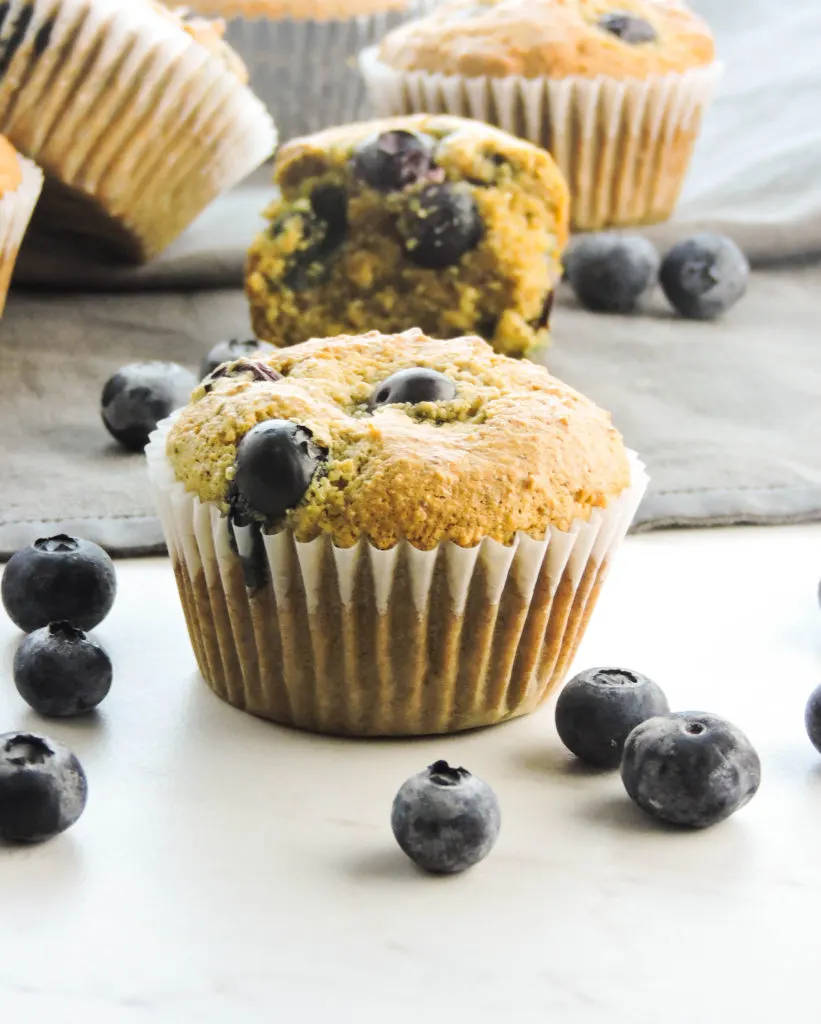 Why Gluten Free Muffins?
You'll start seeing some more gluten free goodness on the blog in the coming weeks and that's because I am embarking on the 1st phase of a low FODMAP diet. I haven't discussed my IBS too much on the blog yet. I intend to change that, because I think there are a lot of people suffering. It's a hard thing to discuss digestive issues. The thing is, I really want this blog to be a place where we can learn from each other. This is what's going on with me and whatever I learn; I want to pass on to you.
I always say I hate diets. The truth is I do. The fact is though when you have something like IBS, there are foods that just can't be a part of your life. Ice cream is death for me. For years I attempted to enjoy it. I'd eat just a little or stick with vanilla versus chocolate. After a particularly difficult episode with ice cream, I had to throw in the towel.
Check out the link to the low FODMAP diet to learn more and know that I'll share more as I learn more. If you are suffering from IBS or a bowel disorder, I recommend you check out the book "The Everything Guide to the Low Fodmap Diet.

I am reading it now and as I go through things, I'll be posting more FODMAP friendly recipes here. If it helps me, I'll share more.
Back to These Delicious Muffins
These Gluten Free Blueberry Muffins are one of those recipes that even gluten eaters will love. Just consider it a delicious muffin recipe that so happens to be gluten free. I mean that's the thing with taking something out of your diet. You have to focus on the food you are enjoying versus the food you're not currently eating. Sometimes the gift of feeling better is far beyond the desire to enjoy a certain food.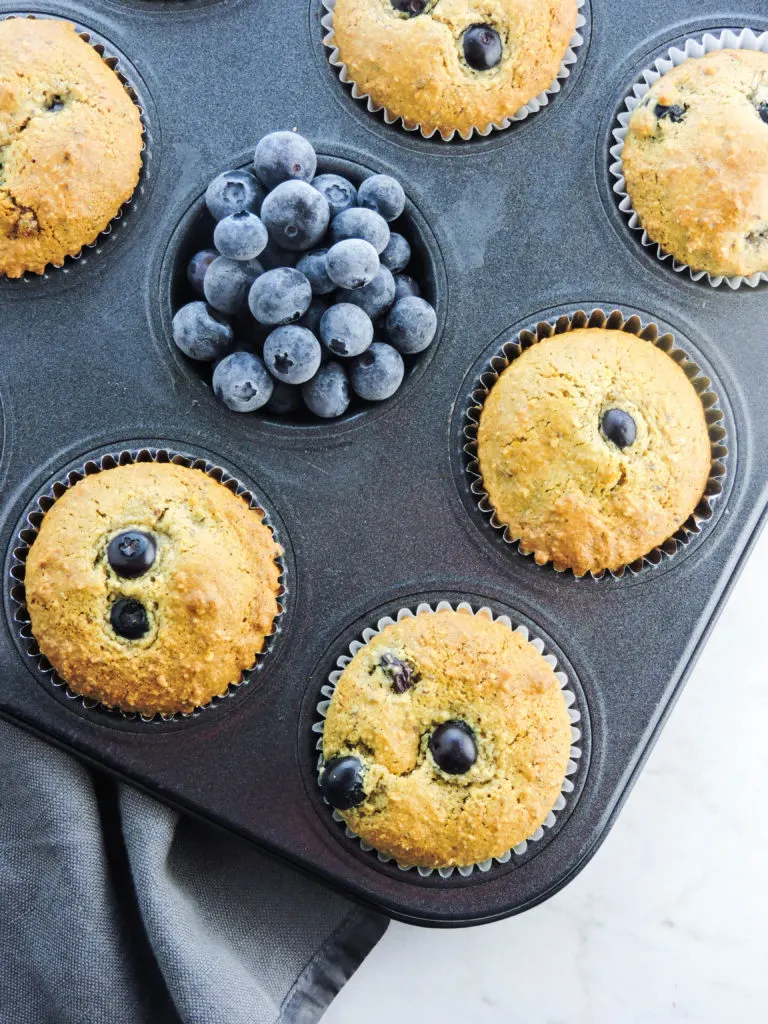 If you make these Gluten Free Blueberry Muffins, tag me on Instagram @ Freshfitkitchen. I love to see what you're making!
Pin it!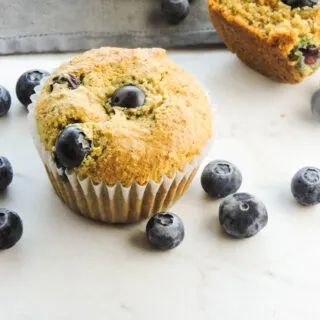 Gluten Free Blueberry Muffins
Gluten Free Blueberry Muffins are a dairy free whole grain blueberry muffin recipe. Super easy, healthy and delicious.
Ingredients
2

large

eggs

1/4

cup

Canola or Grapeseed Oil

1/2

cup

Light Brown Sugar

1/4

cup

Almond Milk

1

tsp.

Vanilla extract

1/8

cup

Ground Flaxseed

1

tsp.

cinnamon

1.5

tsp.

Baking Soda

1/2

tsp.

salt

1

cup

Oat Flour

You can grind regular rolled oats in a food processor to make oat flour. Be sure they are certified gluten free if you have Celiac or Gluten Intolerance.

1 -1/4

cup

Almond Flour

Make sure it's flour and not meal. Meal is courser.

1/2

cup

blueberries

Set aside a few to place on top the batter.
Instructions
In a large bowl whisk together the eggs, oil, brown sugar and almond milk.

Add in the vanilla extract, ground flax seed, cinnamon, baking soda and salt. Stir it together.

Add the flours in 1/4 cup a time. Fold in the blueberries. Set aside 2 blueberries per muffin to place on top the batter. This just makes them look nice. It's not required.

Bake at 350 degrees for 17-19 minutes or until a toothpick comes out clean. Keep in mind these are gluten free so they will not spring back the way gluten containing muffins will. Make sure you test with a cake tester or toothpick.
Notes
I've only tried this recipe with oat and almond flour. I think a 1:1 flour would work fine, but I am not sure if the ratios would be the same. I do not recommend coconut flour for this recipe because it soaks up a lot of liquid.