One of the scariest things about going gluten free is the prospect of giving up crispy food. In hearing that you may need to embark on a gluten free diet, you suddenly crave everything gluten laden. These crispy gluten free chicken tenders are the answer to that crispy food craving. The ingredients are common pantry items. They are also freezable. Bonus!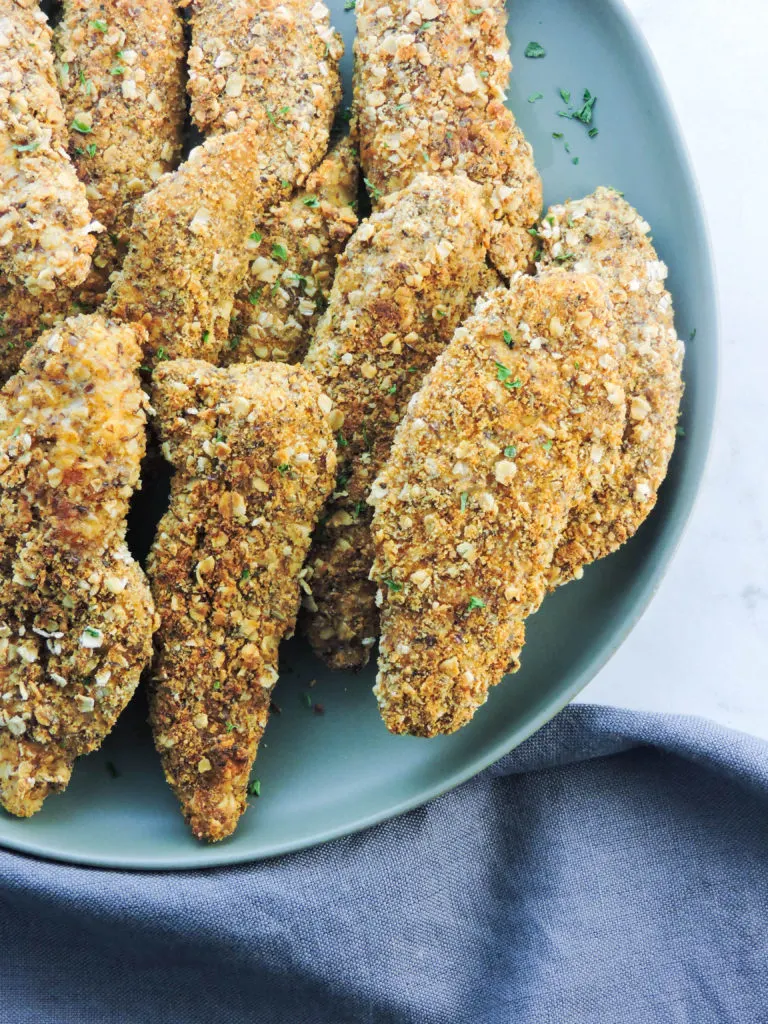 What about a dipping sauce?
I like to mix maple syrup and Dijon mustard together for a guaranteed gluten free dipping sauce. I use a ratio of 1 tbsp. of mustard to 1/2 tbsp. of maple syrup. You can do what works for you. Just taste it and serve when you feel the sauce is right for your taste buds. It's really that simple.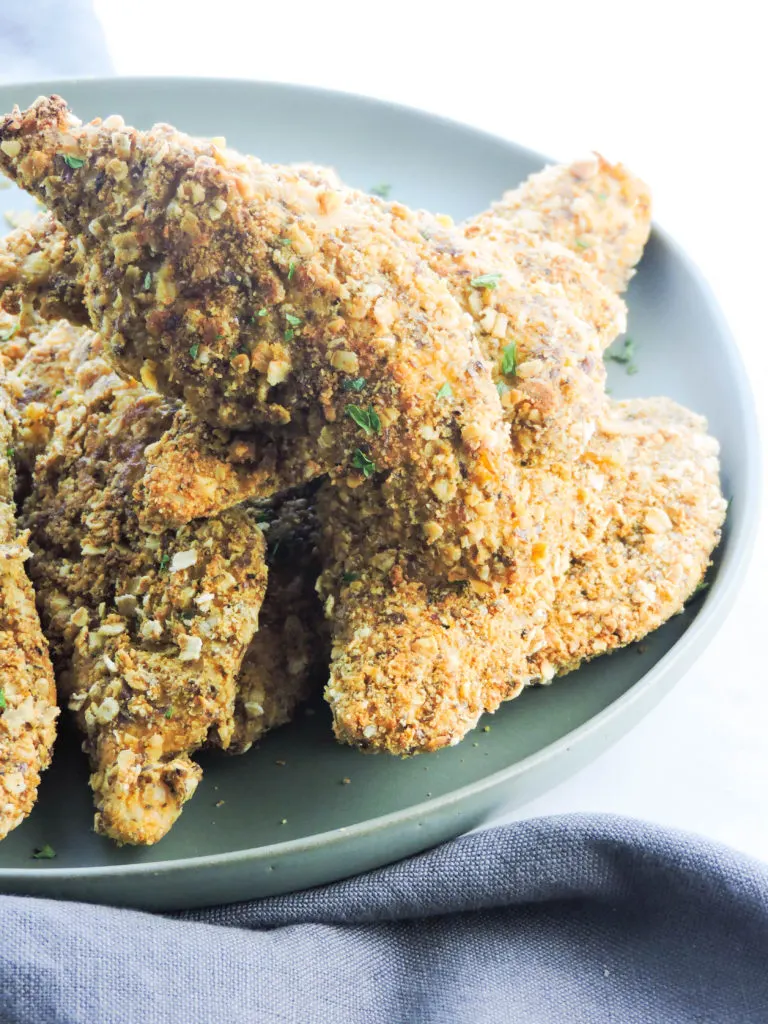 I am currently doing a Low FODMAP diet for my IBS. The challenge phase includes a gluten free diet. I really have opened up to a whole new world of cooking. The options for gluten free eating are endless and it's been fun to learn new things and be creative in the kitchen. As always if you make this recipe and you have Celiac disease or severe gluten intolerance be sure the oats are certified gluten free.
If you make this recipe tag me on Instagram @Freshfitkitchen. I would love to hear how these worked out for you and your family.
Pin for Later!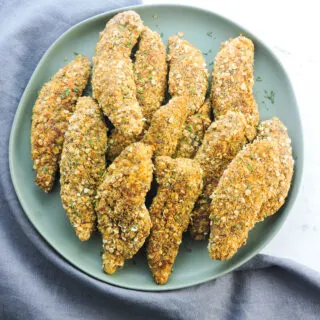 Crispy Gluten Free Chicken Tenders
Crispy Gluten Free Chicken Tenders you can make ahead and then freeze. Take a few minutes to prep these and have fresh crispy chicken any night of the week!
Ingredients
24

Chicken Tenders

1

cup

Almond Meal

1/2

cup

Flax Seed Meal

This is usually sold with the flours in the grocery store. It's labeled Ground Flax or Flax Seed Meal. If you don't have any you can use more oats or more Almond Meal.

1

cup

Gluten Free Quick Oats

Buy the quick kind not the Old Fashioned.

1

tbsp.

Paprika

1/2

tbsp.

Course Ground Black Pepper

1

tbsp.

Kosher Salt

2

Large

eggs

Whisk together with 1 tbsp. of water.
Instructions
Prepare your chicken tenders by being sure the tendon is cut out of each one. Often grocery stores leave part of the tendon attached where this tender is attached to the breast. It's not pleasant to bite into so make sure your chicken is well trimmed.

In a shallow bowl mix up the eggs and water.

On a large plate mix together the almond meal, flax meal, oats, paprika, pepper and salt.

Roll the tenders in the egg and then the almond meal mixture. Press the mixture into the tenders then transfer to a wax paper lined baking sheet.

When all the tenders are coated, slide the sheet pan into the freezer for 1-2 hours. Cover the pan with some plastic wrap. After the tenders are fully frozen, transfer to a zip top bag until ready to use. If you're going to use them within 1-2 days, you can also store them in the refrigerator.

For best results, I recommend thawing these in the fridge during the day and then baking at 425 degrees for 17-19 minutes. Flip them halfway through. Do not over cook or chicken will dry out.

You can cook them from frozen. They will probably take more like 25-30 minutes from frozen. Just watch them. Always flip halfway through.
Notes
Ovens vary so please note that these are approximate cooking times. I always recommend a meat thermometer for cooking chicken. The chicken should be 165 degrees internally when it's finished. You can also cut one to check things out.