Cookies for Breakfast? Yes indeed my friends. These healthy gluten free blueberry oat breakfast cookies are like delicious hand held oatmeal and a cookie in one. If you watch my Insta-tories (watch them they are riveting! Promise :)) you know I've got an oats obsession. My favorite combo is steel cut oats with blueberries, cinnamon, a drizzle of Naturally More almond butter , and a sprinkle of Purely Elizabeth Granola. I will link you to these delicious treats so you can see how amazing they are.
(NOTE: MAKE SURE YOU READ TO THE END OF THIS POST! I HAVE A LITTLE SURPRISE FOR YOU!)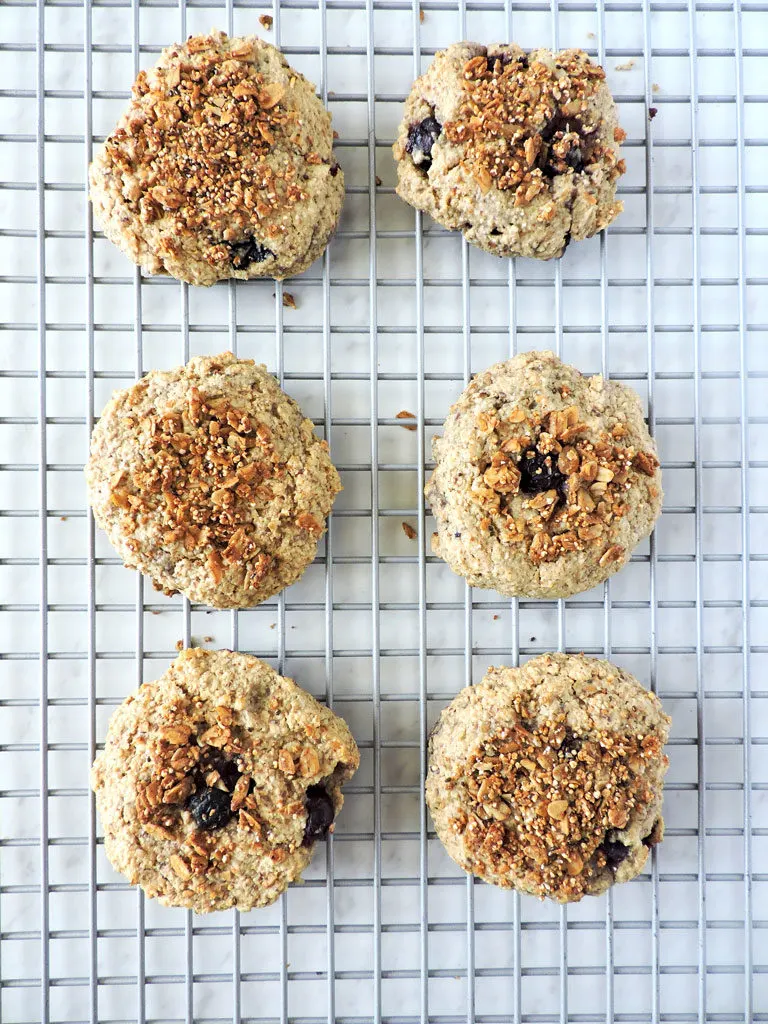 Back to cookies for breakfast because that's why you're here. These cookies are chewy, a little sweet, and have the burst of fresh blueberries. They are gluten free (if you use gluten free oats) and vegan. My husband is the ultimate taste tester and he gave these two thumbs up. They aren't just "good for being Vegan and Gluten Free." They are actually yummy cookies he's excited to take to work this week. Trust me when I say that he does not just eat things because they are healthy. He puts taste above all else.
So, what are you waiting for? These Gluten Free Blueberry Oat Breakfast cookies have fewer than 10 ingredients and you only need one bowl, a spoon and your oven to make them. You can do this and you're going to love the result.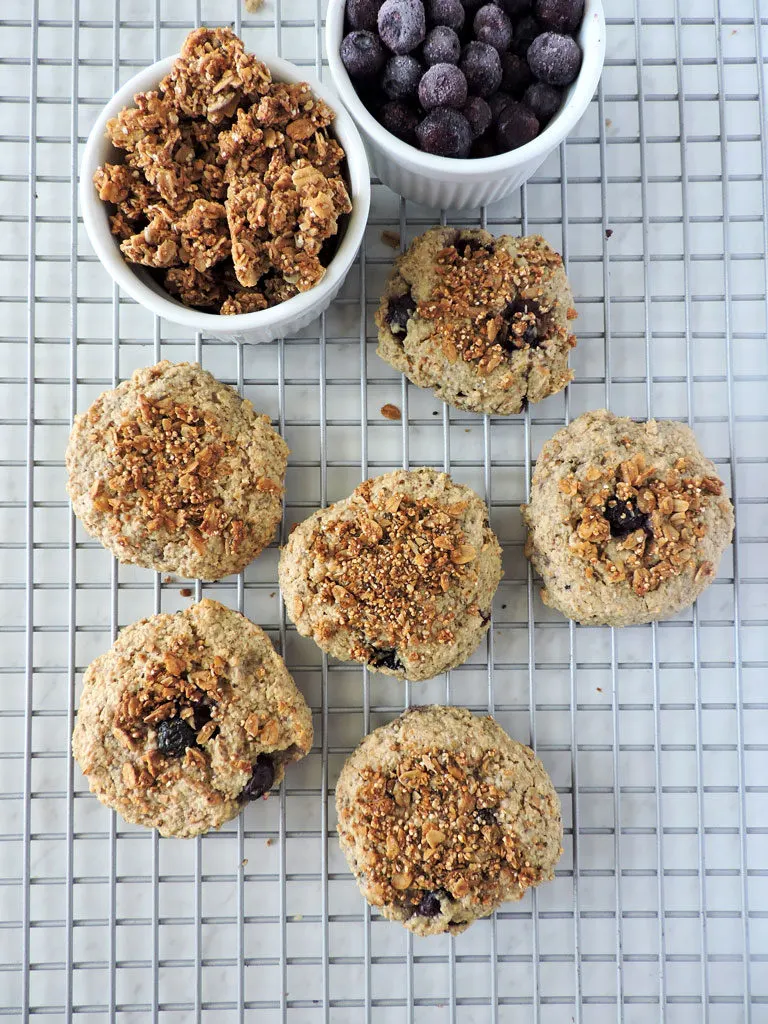 I have something else you might love as well… a GIVEAWAY!
You might notice that in my insta-stories I've been singing the praises of Health Warrior. I was asked recently to participate in their Brand Ambassador program. I only align with brands that take my same healthy whole food approach and Health Warrior falls into that category. Their bars are the perfect treat when you need a little snack and you don't have time to make something.
Every product they've sent me has been full of real whole food and there's nothing on the label I can't pronounce. I think sharing is caring so… I am giving 2 of my readers a chance to sample their Vanilla Almond and Pumpkin Seed Bars. They are both super yummy and 2 lucky winners will be chosen. I'll send you a sample of each. Click below to enter!
Even if you don't win the giveaway, you can have my discount code. Just go to HealthWarrior.com and use the code FreshFitKitchen30 for 30% off!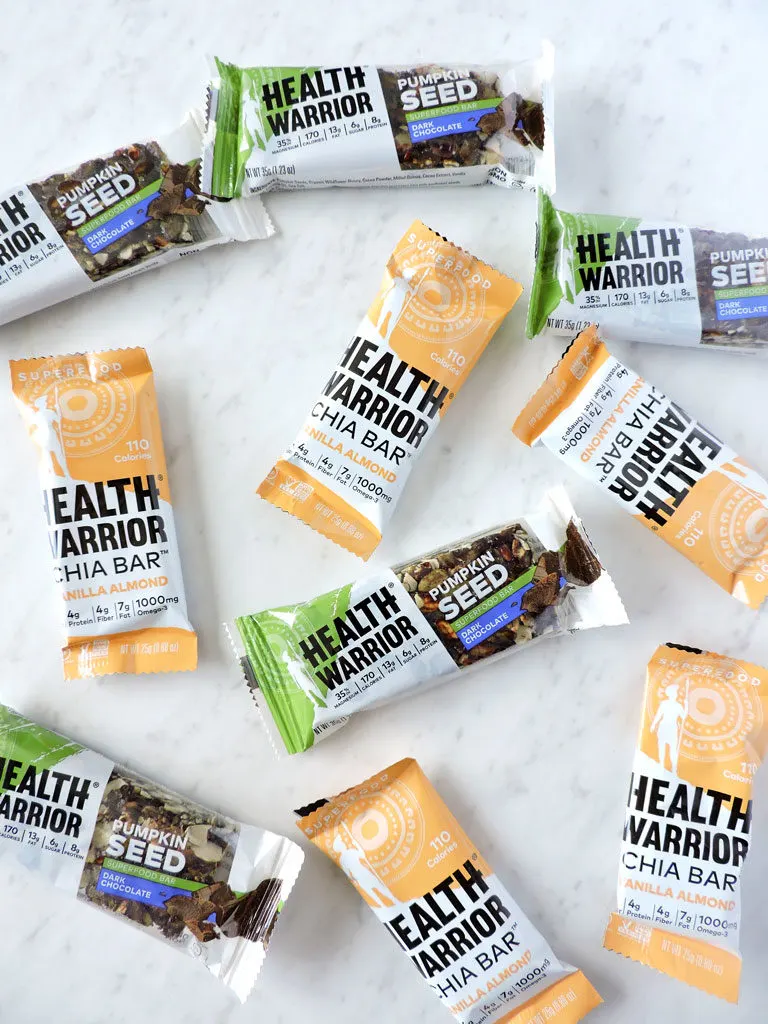 Good Luck Everyone!
If you make these cookies, please tag me on Instagram at FreshFitKitchen.com
Pin it for Later:

In this recipe I used:


Save
Save
Save
Save
Save
Save
Save
Save
Save
Save
Save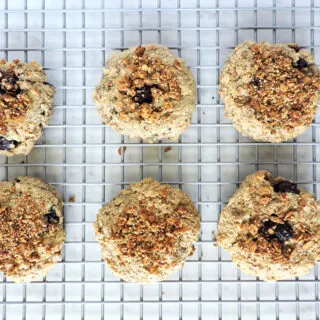 Gluten Free Blueberry Oat Breakfast Cookies
Ingredients
3

tbsp.

warm water

1

tbsp.

Ground Flax

1

Ripe Banana, mashed

1/3

cup

Almond Butter

I used Naturally More Roasted Almond Butter with Probiotics

2

tbsp.

coconut oil, melted

3/4

cup

Oat Flour

1/2

cup

Quick Cooking Oats

1

tsp.

Baking Powder

1/4

cup

Frozen or Fresh Blueberries

Granola for Sprinkling

I used Purely Elizabeth Granola.
Instructions
Preheat the Oven to 375 degrees. Mix together the warm water and ground flaxseed and set aside. This is how you make a flax egg for vegan baking. Feel free to use a real egg, but know that I did not test the recipe this way. The flax egg should set for 5 minutes.

In a large bowl, mix together banana, almond butter, coconut oil, and the flax egg.

You can purchase oat flour in store or just whiz up some quick cooking oats in your food processor until they are flour consistency.

Add the oat flour, oats, and baking powder into the bowl with the other ingredients and stir. Scoop out 8 cookies onto a parchment lined baking sheet.

The cookies won't spread much, so make sure to pat them down to cookie size with your hand. Stud them with the blueberries on top. I found this to work better than mixing them into the batter where they might bleed out all over the tray.

Sprinkle with your favorite granola and bake for 12-13 minutes. Allow to fully cool on a rack before serving. I individually wrapped these and put them in the fridge. They will keep for the work week and can be reheated in the microwave.
Notes
This recipe is Gluten Free and Vegan.