In last week's meal plan guide we tackled recipes you could make ahead of time. What if you don't have time to make something ahead of time? That's when you need a recipe that's light on ingredients and prep time, and big on flavor. All of the meals in Fresh Fit Meal Plan Guide Week 17 have 10 ingredients or less. Fewer ingredients means less cook time. It means you can run home and throw dinner together with little forethought. I might be a type A super planner, but with this post I am talking to my stage 4 procrastinators. 😉
Fresh Fit Meal Plan Guide Week 17- Weekly Breakfast
If you watched my Insta-Story this past week you saw a lot of oatmeal! I love oatmeal. Overnight oats, regular steel cut oats, quick oats topped with granola and almond butter. I cannot get enough. These Baked Banana Berry Oatmeal Cups are an oldie but a goodie on the blog. They will keep you satisfied all week long.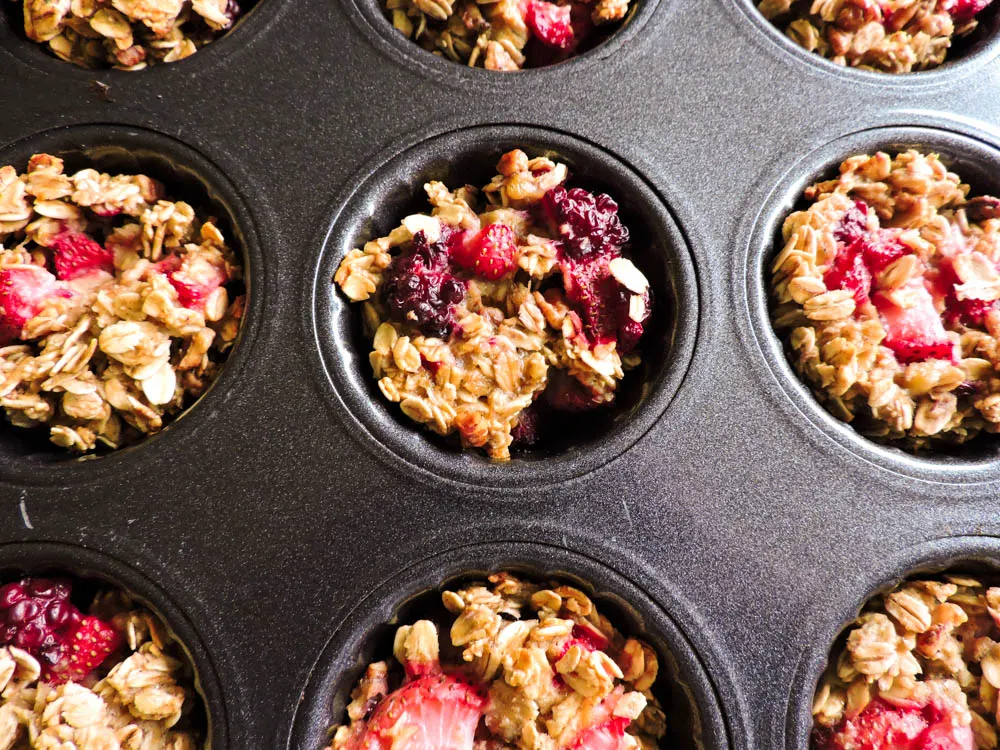 Salmon Quinoa Broccoli Spa Bowl
You can use any protein you have on hand for this. Chicken or another fish of your choosing would work just fine. This spa bowl is simply seasoned with lemon, salt, and pepper. The secret to the flavor is in the preparation. You want to make sure you sear the outside of the salmon so there is a nice crust. Developing those natural sugars means big flavor and no added ingredients.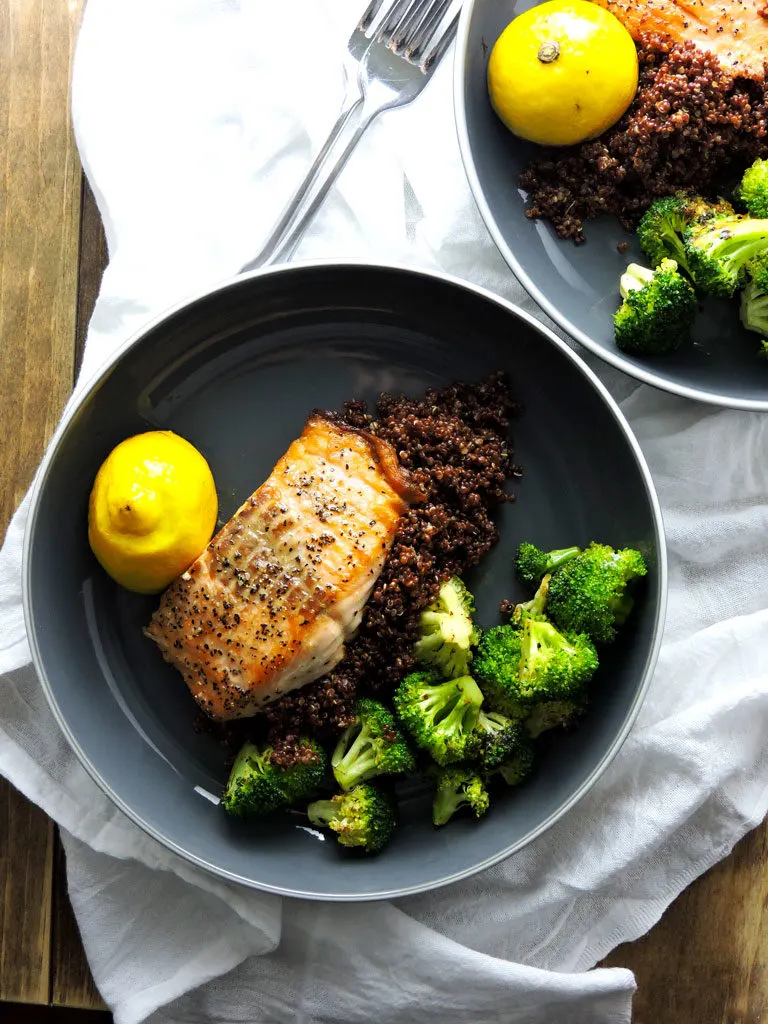 Lemon Garlic Shrimp Fettuccine
Lemon, garlic, shrimp, olive oil and pasta. Big flavors like this don't need a lot of fuss.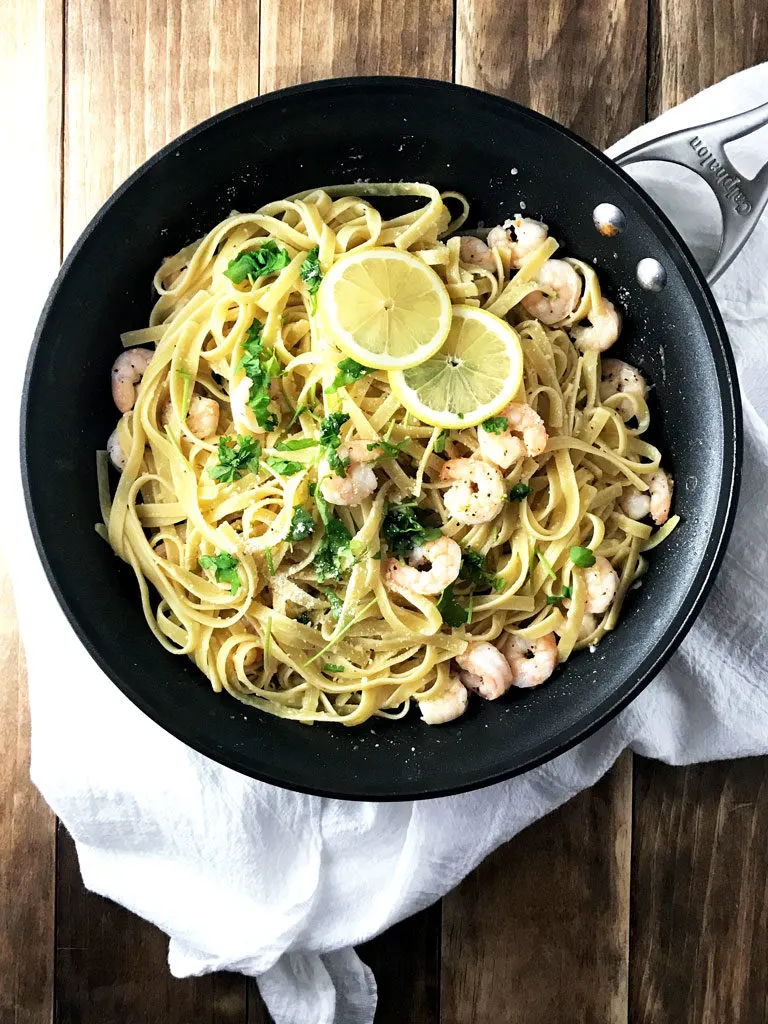 Hummus Quesadillas by Kate from Cookie and Kate.
Kate has a new cookbook coming out . I have it on pre-order with Amazon and I have to recommend you do the same.
If you want to get more plants into your diet, this is the lady to follow. Her dog Cookie is adorable too. Added bonus. 😉
Portabello Mushroom Pizzas from The Fitchen
Gluten free and veggie packed these are the ultimate healthy and quick meal.
Always have a no recipe- recipe. So, what does that mean? Always have some meals in your back pocket that require zero thought. My list includes:
Black Bean Tacos– Simply mix together some black beans, dash of chili powder, cumin and vegetable broth on the stove. Cook until the beans soften. Serve inside grilled corn tortillas with your favorite taco toppings.
Pita Pizzas– Take a pita bread and spread on some organic pizza sauce. Top it with cheese, veggies or whatever you like. Bake at 400 degrees until crispy and melty.
Eggs– Eggs are the ultimate protein source. They are quick, easy and filling. Scrambled eggs and a few organic frozen waffles mean dinner is on the table fast.
Stir Fry– Take a bag of Asian style vegetables out of the freezer. Drizzle some sesame oil in a pan and stir fry them until crispy tender. Add a little bottled teriyaki or soy sauce. Serve over a bag of 90 second brown rice. It's not fancy, but it is yummy and healthy!
What do you make when you're short on time? I'd love for you to tell me in the comments below!
Did you make any of these healthy easy recipes? If so, tag me on Instagram @freshfitkitchen. I love seeing your creations!
Fresh Fit Meal Plan Guide Week 17 is perfect for pinning!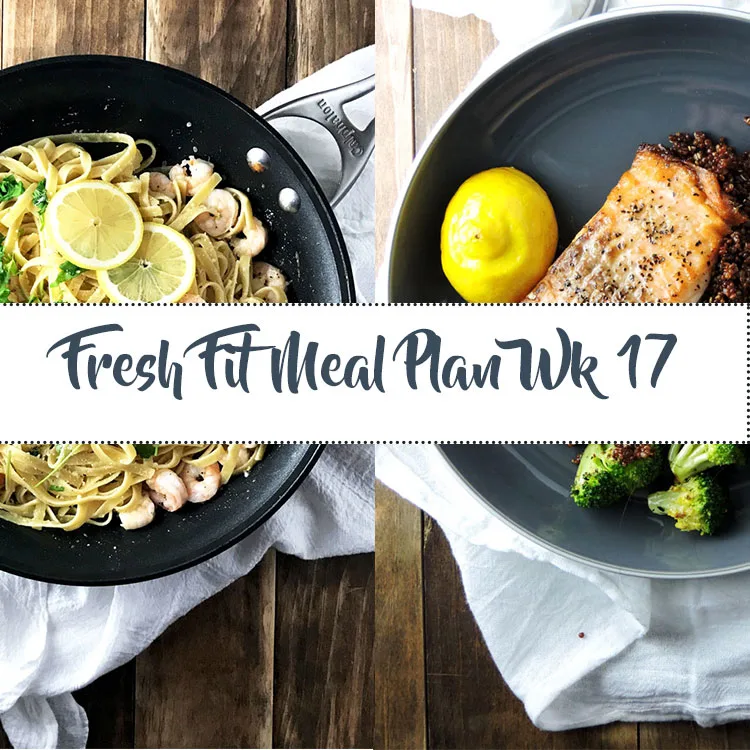 Save
Save
Save
Save
Save
Save
Save