You may think grilling season is all pork butts and ribs. If you're like me those kinds of things really don't appeal quite like the light and healthy fare of summer. Hotter tempertures and more active days leave me craving the lighter side. This Grilled Chicken Pasta Primavera Recipe is one I came up with the weekend I got my new Traeger Grill. When it's 95 in the shade fresh and easy is what I'm looking for.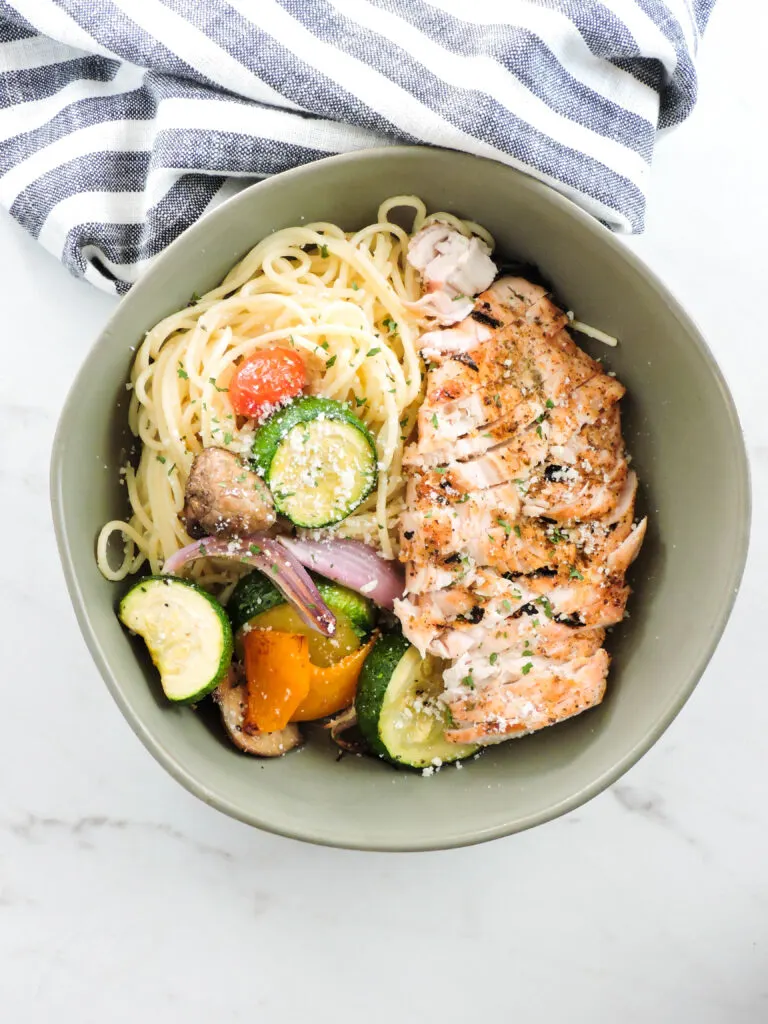 What is a Traeger Grill?
Traeger is the company behind the original pellet grill. The operation is pretty simple, but the results are full of precision and complex flavors. Quite simply a motor turns the auger, which puts pellets into the firebox. There, a hot rod automatically ignites the pellets and a combustion fan keeps them burning. Traeger's new D2 technology features an even more powerful drive train which gives you greater power and temp control. I have their new 780 Pro with Wifire technology. So far I'm majorly impressed with the wood fired flavor and the fact that I can monitor the progress of my dinner inside my air conditioned house when it's hot outside. *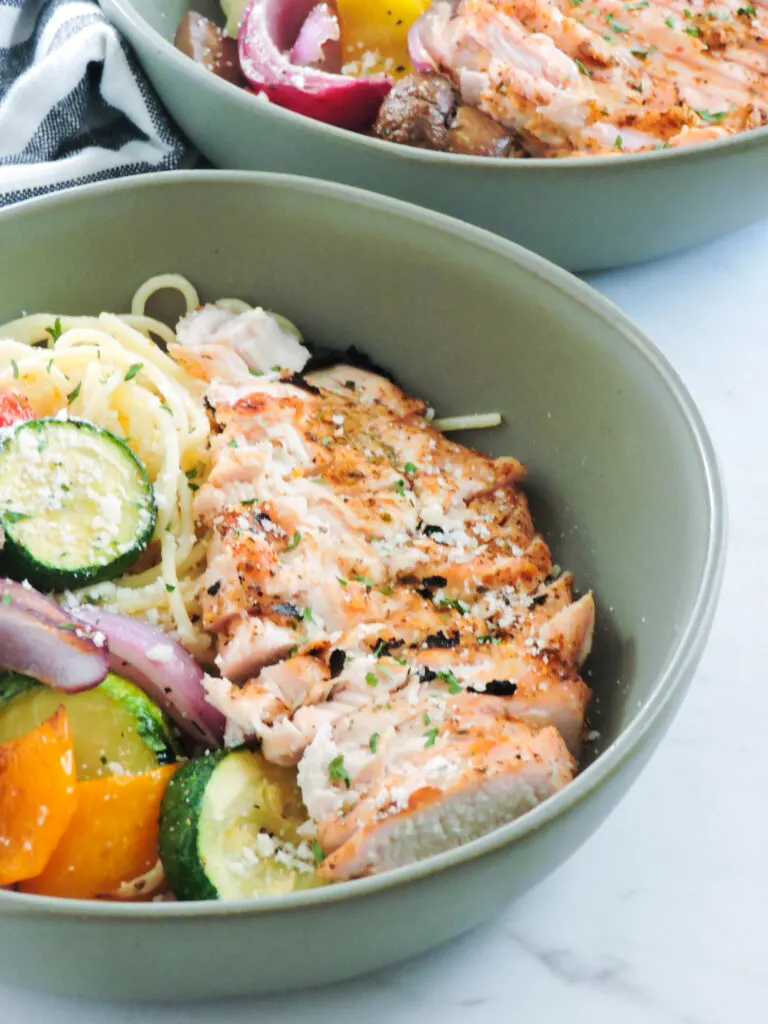 Gone are the days of flare ups, empty gas bottles, and realizing my chicken just went from underdone to charred and dry. In the weekend I've had my Traeger Grill I've literally made everything from this pasta to cookies , bacon , and biscuits.
Back to Grilled Chicken Pasta Primavera…
What I love about this recipe is that it's versatile. It's a good one to make if you're feeding vegetarians and meat eaters. Simply grill up the chicken and veggies and let everyone decide what goes in theirs. You won't find yourself making two separate meals and your vegetarian friends won't feel like an afterthought.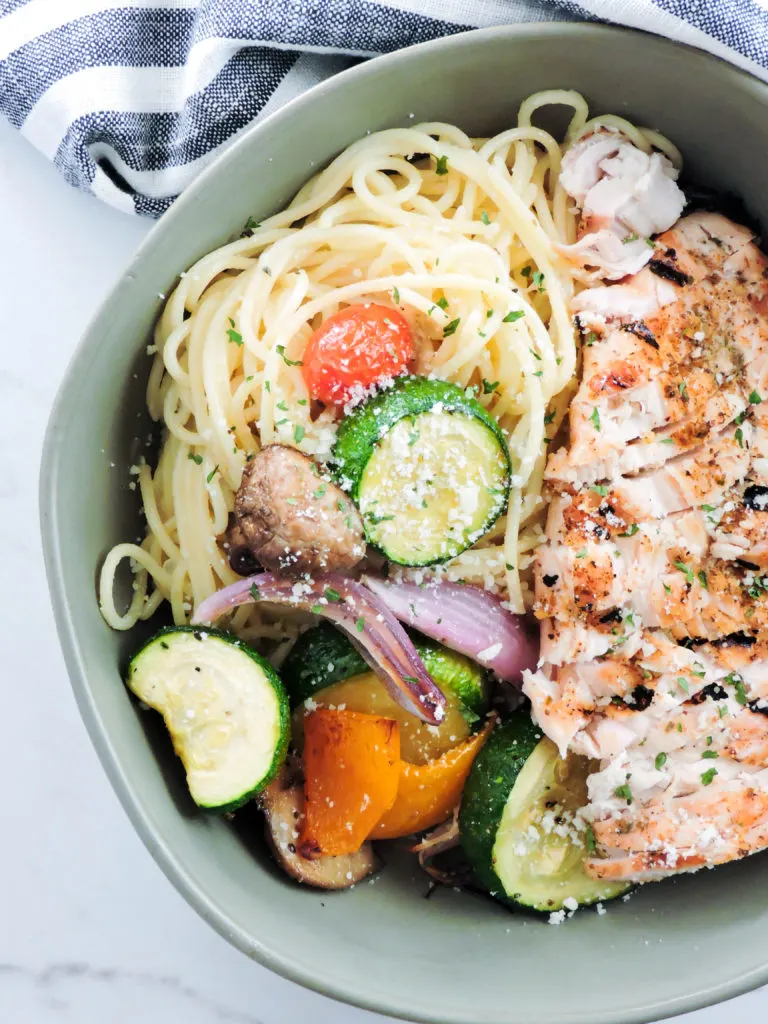 I'm truly in love with my Traeger and this recipe! Don't worry though-I've provided instructions below so you can make this on any grill. It's super simple. If you make this one tag me on Instagram @freshfitkitchen and don't forget to pin it for later!
*Please note that while Traeger was generous enough to send me this grill all opinions and reviews are my own. I would never steer your guys wrong and will always review and recommend products I love and would purchase with my own money.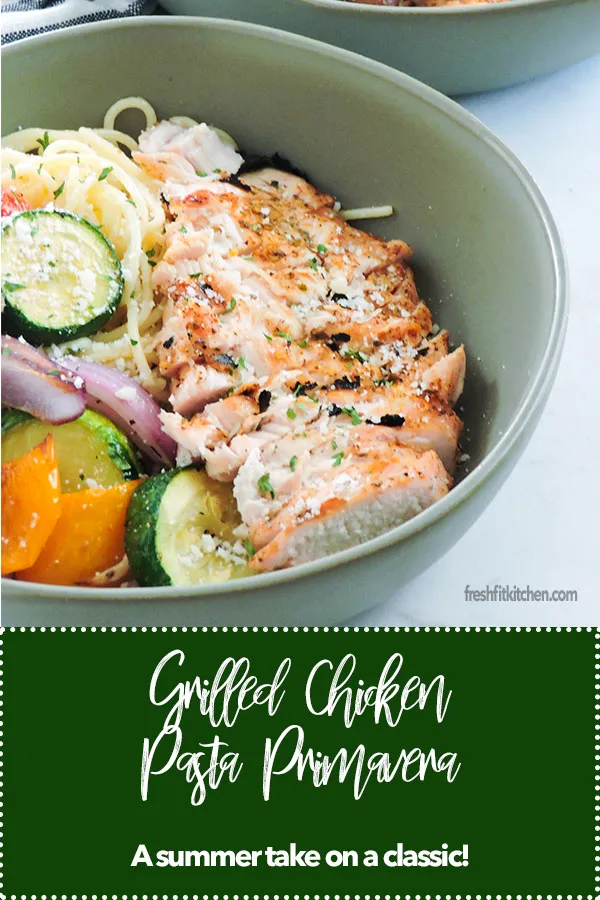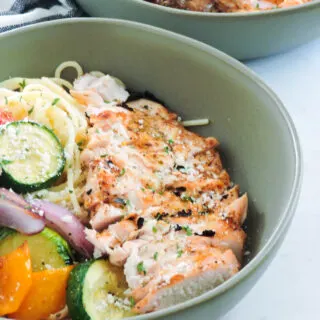 Grilled Chicken Pasta Primavera
Grilled Chicken Pasta Primavera is a light and healthy grilling recipe that's sure to be a crowd pleaser. Grilled veggies, grilled chicken and pasta with Parmesan, grilled lemon and olive oil.
Ingredients
4

Chicken Breasts

Pounded to an even thickness

2

tbsp.

Traeger Grills Fin and Feather Rub

You can also use the rub or seasoning of your choice.

1

Lemon

Cut in Half

1

large

Zucchini

Cut into Circles

8

oz.

Mushrooms

Halved

1

large

Onion

Cut into large wedges

1/2

cup

Cherry Tomatoes

2

tsp.

Garlic Powder

1/2

lb.

Thin Spaghetti

1/4

cup

Parmesan Cheese

2

tbsp.

Olive Oil

1

tbsp.

Butter

Salt

Black Pepper
Instructions
Traeger Grill Instructions
Preheat your grill to 450 degrees. While the grill is heating up slice up your veggies and prep your chicken. Sprinkle the chicken on both sides with Traeger Fin and Feather Seasoning (or seasoning of choice). Toss the veggies in a zip top bag with a little olive oil just to coat, a sprinkle of salt and pepper and garlic powder.

When your grill is hot put your chicken on. Use a veggie topper on the grill so the veggies don't fall through your grates. Add those to the pan. Place the lemon right on the grates cut side down. If you have the Traeger with Wifire make sure to insert the probe into your chicken breast. You'll want to pull it off when the temperture reaches 165 degrees.

The chicken and veggies will take 15-20 minutes. Monitor the temperture of your meat and pull it at 165 degrees. Don't open the lid. Traegers don't require you to flip the food. You'll literally just let it go and go inside to prepare your pasta.
Pasta Instructions
Boil pasta according to package instructions. Reserve 2-3 tbsp. of pasta water.

Stir the pasta together with 1/4 cup of parmesan, 1 tbsp. butter, 2 tbsp. olive oil and generous sprinkle of pepper.

When your chicken and veggies are ready allow the chicken to rest for 10 minutes. Slice the chicken and serve with pasta, grilled veggies and a squeeze from your grilled lemon. Add extra parmesan and parsley for garnish and enjoy!
Gas Grill or Stove Top Grill Pan
Preheat your indoor or outdoor grill to medium and add the chicken and veggies. Cook until the chicken is 165 degrees. Pull off the chicken, cover it and allow it to rest for 10 minutes prior to slicing and serving. Pasta instructions are the same. The main difference is you'll need to monitor things more closely than you would if you used a Traeger grill. I recommend using a meat thermometer to ensure you don't dry out the chicken.