People always ask if my bolognese sauce is homemade. My answer? Well , sort of 😉 The truth is a good jarred pasta sauce only has fresh ingredients you can read and the texture and flavors only add to your homemade sauce. With some additions and your slow cooker, your sauce can rival any restaurant. That's why I am sharing my Just Like Homemade Turkey Bolognese. You really don't need to tell anyone you used the jar, because I promise you, they can't tell.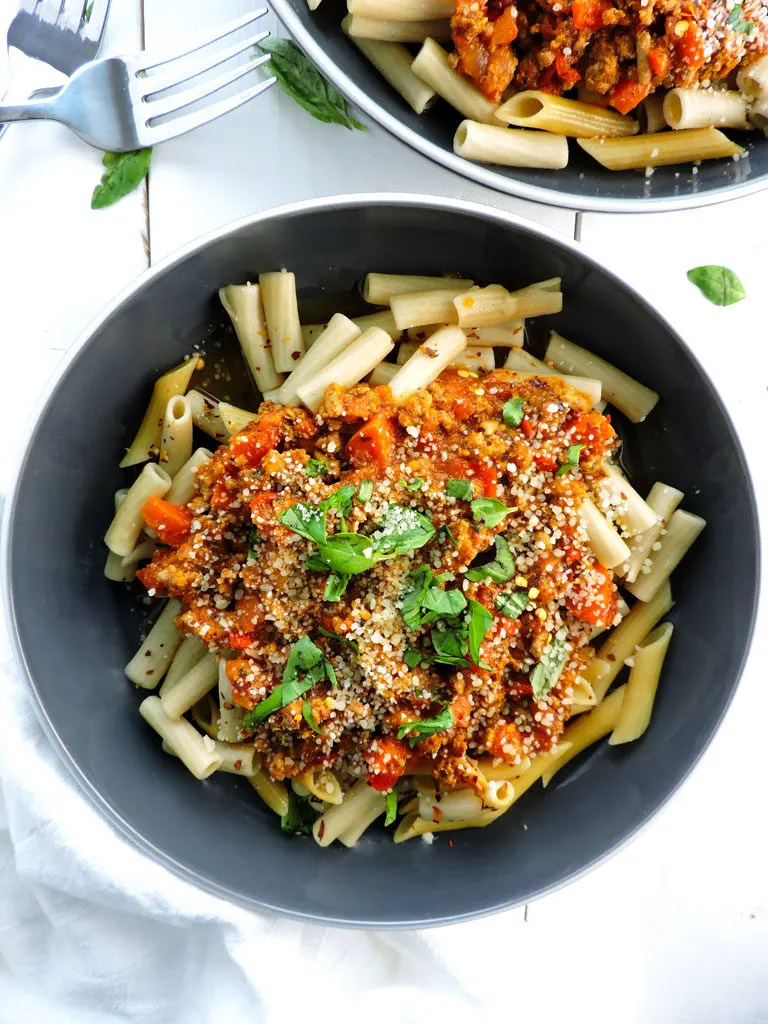 Many people tell me they don't like ground turkey in their pasta sauces. I highly recommend you stay away from the 99% fat free turkey breast. It's dry, flavorless, and it just screams poultry flavor. The 94% lean version gives you a little more to work with and by slow cooking it, you can fool those beef lovers in your life. It takes on that nice buttery texture that people often miss with ground turkey.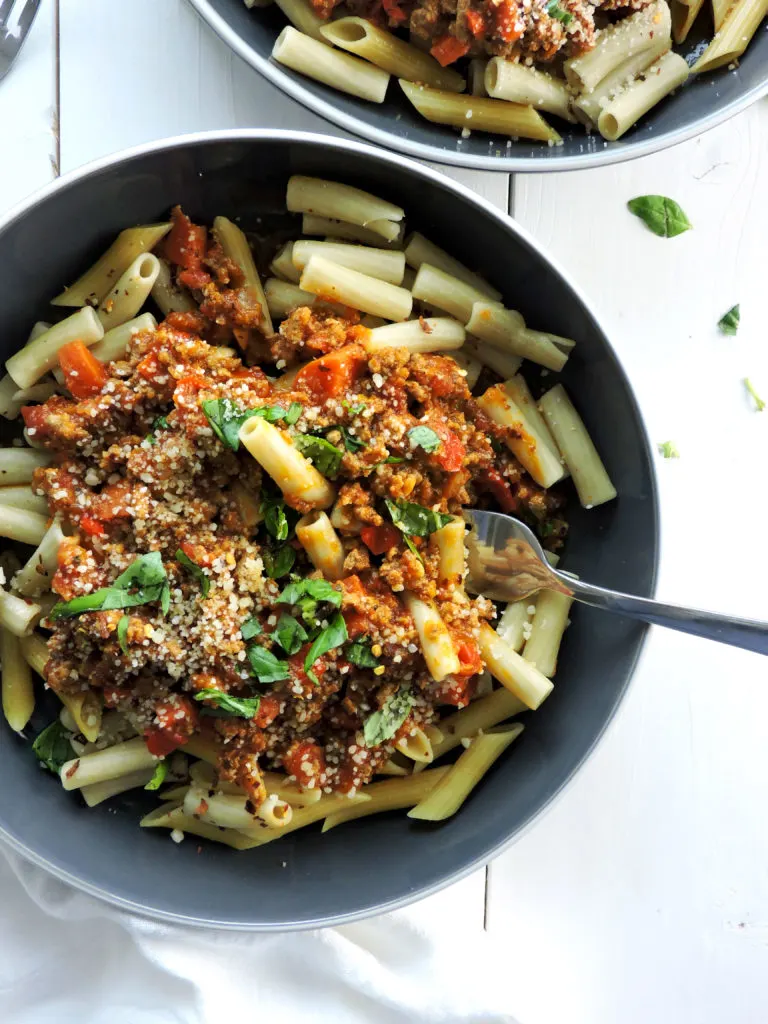 The next secret to this Just Like Homemade Turkey Bolognese is the addition of fresh vegetables. The peppers, carrots, and onion work together to give you that homemade texture and flavor. Carrot specifically works really well with pasta sauce. That sweetness cuts any acidic flavors in the jarred tomatoes without adding sugar. I often add a pinch of honey to my pasta sauces, but if I use carrot, I really don't have to. Carrots, especially cooked, are naturally sweet and above all good for you.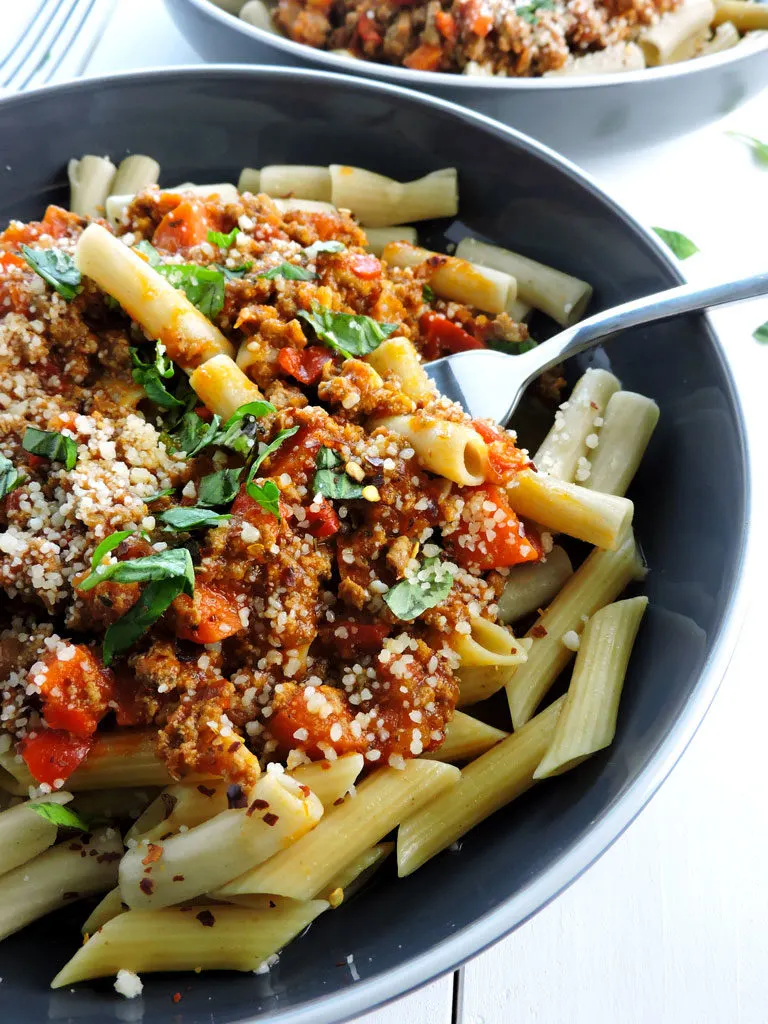 I mean look at that close up. If I told you that was beef, I think you'd believe me. Notice the ridiculous amount of crushed red pepper. You don't have to do that. I love me some spicy though. The final secret to sauce is the Parmesan cheese rind. Yes that's the end of the Parmesan cheese that you often throw away. Please stop throwing it away. It's a flavor bomb for soups and sauces. You just drop it in and remove it before serving.
A tiny bit of chopping, a good quality pasta sauce as a base, and you've got yourself a really yummy Sunday dinner or any night of the week dinner! If you try this Just Like Homemade Turkey Bolognese, please tag me on Instagram at FreshFitKitchen. I love seeing your creations 😉
Pin it For Later:
Tools you might need to make this recipe:
If you want to make zoodles (zucchini noodles) instead of using pasta to keep things gluten free or lower carb, I recommend the Inspiralizer. It's the best on the market.

I love my Instant Pot for this recipe. It slow cooks, pressure cooks and sautes your veggies and meats. You really can make the entire meal in here.

Save
Save
Save
Save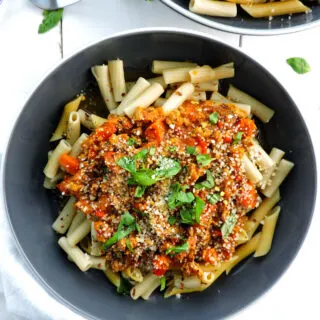 Just Like Homemade Turkey Bolognese
Just Like Homemade Turkey Bolognese is an easy recipe for healthy bolognese with ground turkey, vegetables, and herbs. Make that jarred pasta sauce taste like it simmered for hours with the ease of your slow cooker.
Ingredients
24

ounces

Jarred Marinara

14

ounces

Canned Petite Diced Tomatoes

3

tsp.

garlic, minced

2

tsp.

dried italian seasoning

1/2

cup

onion, finely chopped

1/3

cup

Carrot, finely chopped

1/2

cup

Red Bell Pepper, chopped

1

parmesan rind

This is the rind off the end of a block of Parmesan Cheese.

1

lb.

Ground Turkey

94% Lean
Instructions
I made this in the Instant Pot so I was able to saute my vegetables and turkey and then turn things to the slow cook function. If you do not have an Instant Pot, you can saute things on the stove and then transfer to the slow cooker.

Put 2 tbsp. of olive oil in the pan. Heat the pan over medium heat. When it's hot add in the garlic, onion, carrot, pepper, dried Italian seasoning, salt and pepper. Stir until the vegetables begin to soften. This takes about 5 minutes.

Add in ground turkey and mix everything together. Make sure to salt and pepper the turkey generously. When the turkey is browned, add in the diced tomatoes, jar of marinara, and the Parmesan Rind. Cook in the slow cooker for 4-5 hours until everything is tender and melted together. Discard the Parmesan Rind prior to serving.

You can serve this over zucchini noodles , whole grain pasta or gluten free pasta.
Notes
Make it Vegetarian- Instead of meat, just add some mushrooms and additional veggies of your choice. The slow cooking method isn't as necessary if you go meat free. Make it Low Carb- Serve over zoodles (zucchini noodles). I like to use the Inspiralizer to make my zucchini noodles. I've linked you to it in the post. Make it Gluten Free- Use gluten free pasta. I like the Live G Free brand from Aldi. Their Quinoa and Brown Rice Penne is what I used in this recipe. Make it Vegan- Omit the cheese and the meat in favor of tons of fresh veggies and herbs. Fresh Basil adds a big flavor punch.