My grandmother used to make the best salads. I know that sounds weird to say. Most people say Grandma made the best pie, biscuits, or some other indulgent treat, but really the thing I remember my Grandmother making that I always loved was this giant salad full of vegetables. She ran a restaurant and you could always find a giant bowl of this salad in her refrigerator. This Summer Rainbow Salad is a tribute to that.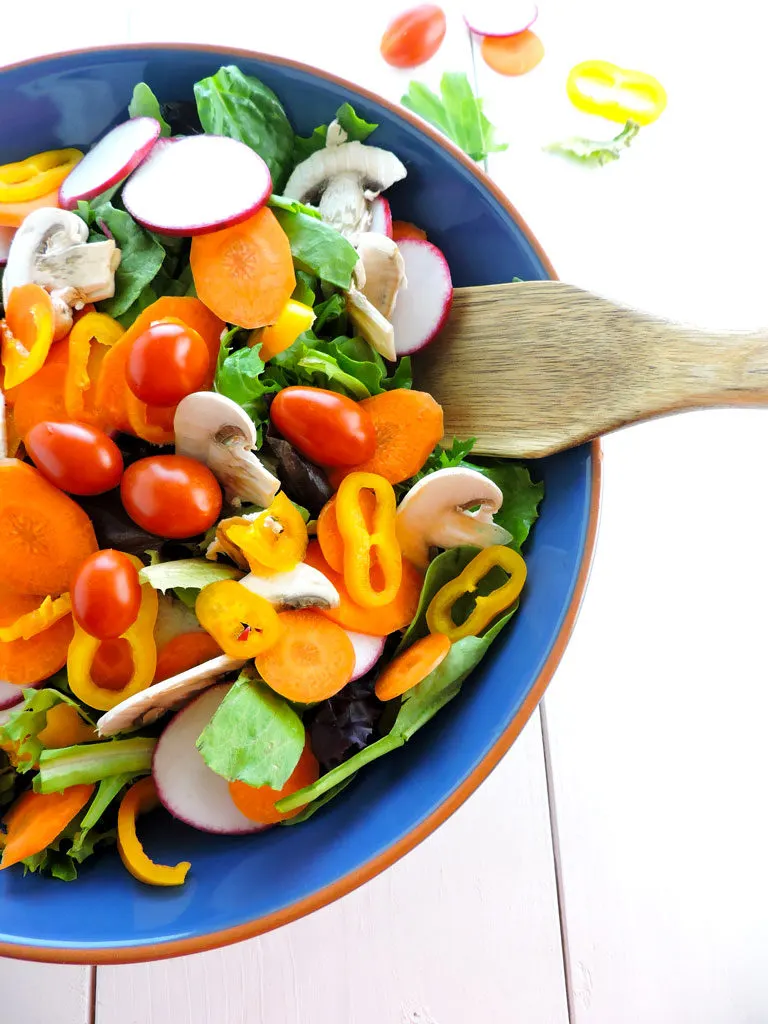 The secret to an all vegetable salad is the balance of sweet vegetables to the more zesty flavors. My grandmother always added radishes. The spice of those against the sweetness of carrot and tomato is key. You want to choose vegetables that will play nicely with each other. So, not all bitter and not all sweet. Additionally you want to cut them all about the same size. I usually snip my greens with my kitchen sheers to cut them down a bit and I use the mandolin slicer to make sure everything is of equal size and thickness. You want a little bit of everything in each and every bite.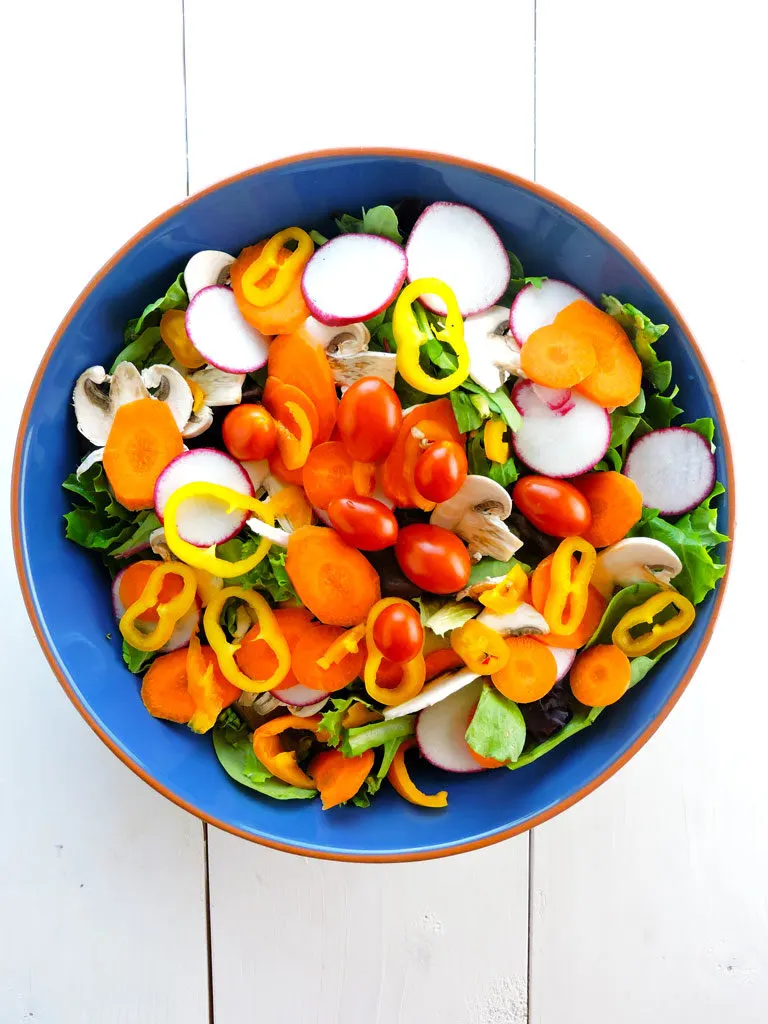 Summer Rainbow Salad is super simple, but it's one of those dishes where the balance of flavors will depend on the quality of ingredients and making sure everything is cut evenly. As for dressing this salad, I really love the Bolthouse Farms Yogurt Ranch Dressing. This is not a sponsored post, I just really enjoy those. You can also add some italian seasoning to your salad and then dress it simply with red wine vinegar and olive oil. So yummy and clean tasting.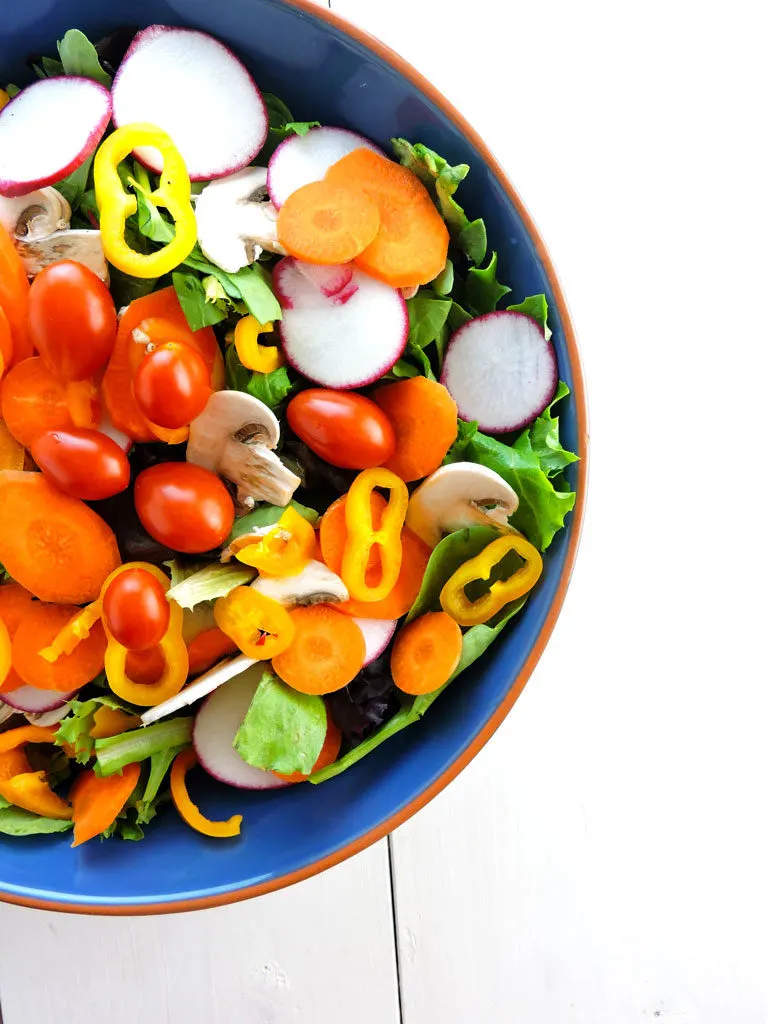 I really hope you guys try this one. It's a favorite around here. I normally provide a nutritional label, but really guys this is just good nutritious vegetables and you cannot get enough of those. So enjoy this one to your heart's content.
Pin it for later:

If you make this Summer Rainbow Salad please tag me on Instagram @FreshFitKitchen.
Save
Save
Save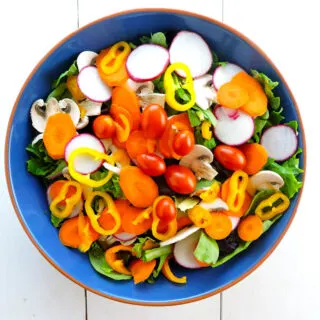 Summer Rainbow Salad
Summer Rainbow Salad is the perfect all vegetable salad. A nice balance of sweet tomatoes and carrots paired with zesty radishes and yellow peppers. Eat this as a side salad or as the main event when you add a little protein.
Ingredients
6

cups

Spring Mix Lettuce

1

cup

Carrots

thinly sliced

1

cup

Radishes

thinly sliced

1

cup

Baby Yellow Peppers

thinly sliced

1

cup

Cherry Tomatoes

whole or halved

1

cup

Mushrooms

thinly sliced
Notes
This recipe is low carb, gluten free, vegan and vegetarian 😉