Thanksgiving means oven space comes at a premium. So, if you have a smaller family and don't want to deal with the whole turkey, look no further than my easy slow cooker turkey breast recipe. This lemon thyme butter turkey breast recipe is so easy and flavorful, you may never go back!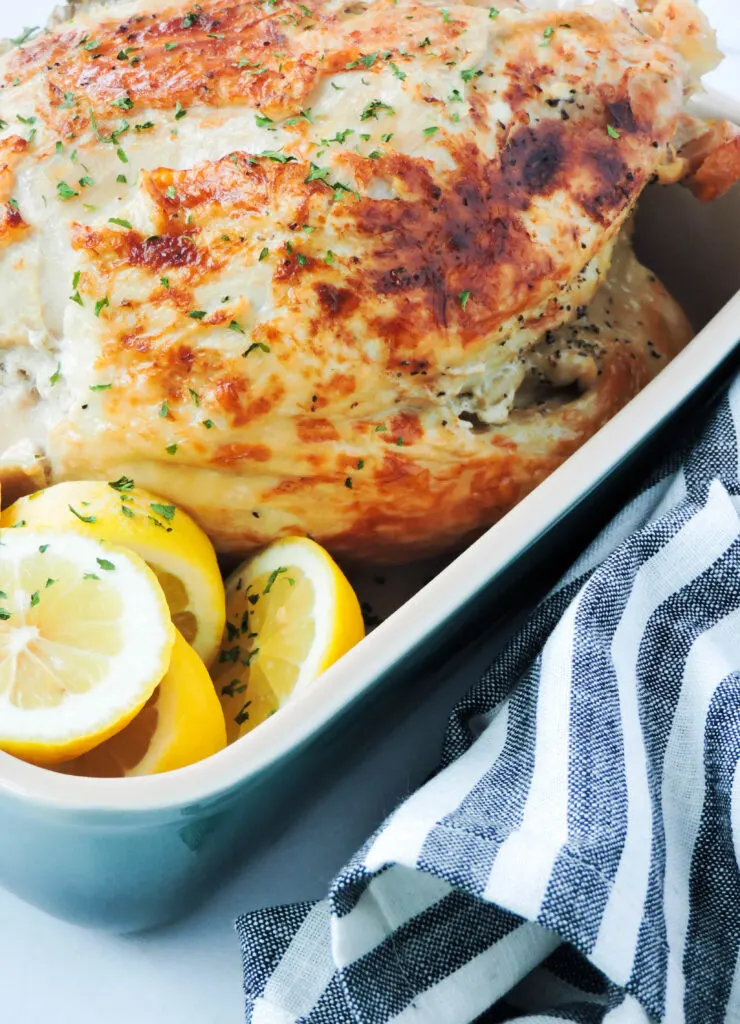 Lemon Thyme Butter Turkey Breast Tips
First, it is important to note that you'll usually find that your grocery store carries frozen turkey breast.
You can use boneless turkey breast or bone-in turkey breast for this recipe. Just be sure to monitor your cooking time if you go boneless. You want turkey to be an internal temperature of 165 degrees f. I always check mine with a meat thermometer.
Another note on cook time, you need to note that if you do less than a 6 lb turkey breast, you may need to reduce the cook time.
Now, I know you're thinking that because we use the slow cooker, we won't get the crispy skin. Wrong- just before you serve it you'll put it on a sheet pan under the broiler. This will give you that crispy skin. The butter thyme mixture really lends to the crispy skin.
Fresh herbs are the best way to lend flavor especially in something that is slow cooked. This crock pot turkey breast recipe gets all the flavor from fresh lemons, butter and a thyme bundle. It really is an easy recipe.
The turkey creates plenty of it's own juices so I don't add chicken broth or anything. I simply dry the turkey off with paper towels and season the outside with plenty of salt and pepper. Place it in the bottom of the slow cooker. Then, add your thyme bundle and top the turkey with 6 tablespoons of butter (cubed). That's it!
I know someone will ask and yes you could replace the butter with olive oil, but the flavor just won't be the same and after all it's thanksgiving dinner. Let's not skip on flavor.
The result is juicy turkey breast and your oven remains free for your other side dishes.
What to do with Left Over Turkey
What can't you do with it is the better question. The best part about leftover turkey is that it is so versatile. You can make an entirely new recipe. This tender turkey breast is the start of some of the best turkey sandwiches. It's the perfect way to make use of your leftovers.
Your leftover turkey will keep in an airtight container for 3-4 days.
The juices that gather in the slow cooker make a flavorful gravy, too. Do not discard those! This recipe is going to give you a big bang for your buck.
Affiliate Links
Here are the items I consider essential for this recipe. These are affiliate links. This just means I make a small commission when you purchase through them. It really helps support the blog and I appreciate it!
Sheet Pan ( for browning the turkey)
Leave a Rating and Review
Slow Cooking a turkey is so easy and has great flavor! I hope you'll put this recipe on your table this holiday season. It's perfect for feeding a smaller crowd. If you try this simple recipe leave a rating a review below. It's so helpful to other readers!
PIN IT!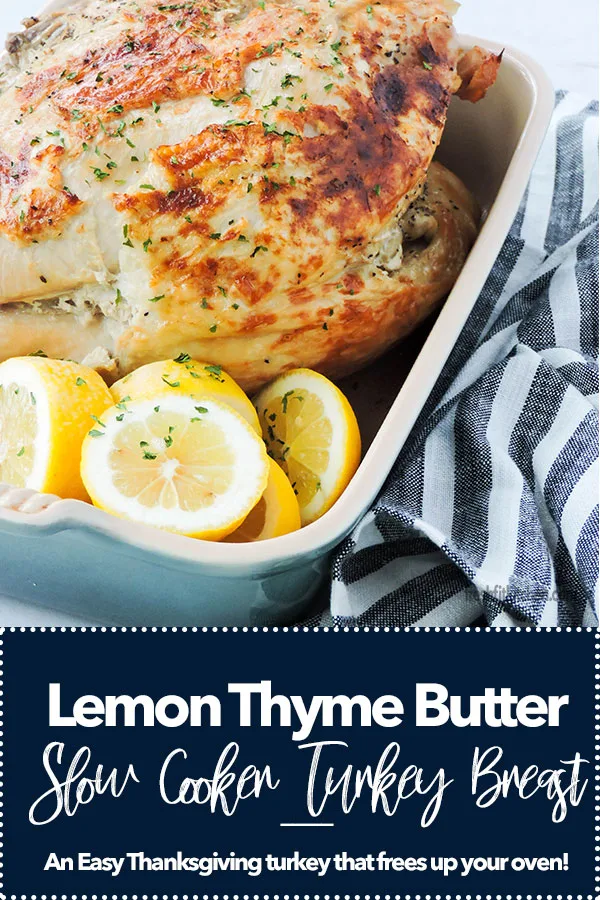 This post last updated 11/2/22.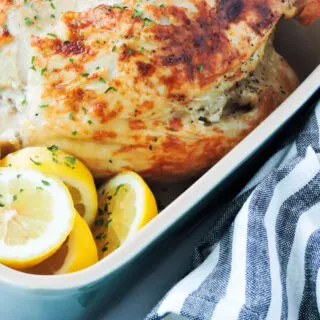 Lemon Thyme Butter Turkey Breast
Lemon Thyme Butter Turkey Breast is an easy turkey breast recipe you make in the slow cooker. Slow Cooker Turkey Breast frees up your oven so you can cook the rest of Thanksgiving dinner with ease.
Ingredients
6

lb.

Turkey Breast

10

sprigs

Thyme

Tied in a bundle with kitchen string.

2

tbsp.

Salt

1

tbsp.

Pepper

6

tbsp.

Butter

Cut into 1 tbsp. pats.

3

Lemons
Instructions
Make sure you give the turkey breast plenty of time to thaw. I use a 6 lb turkey breast for this recipe and it took 3 days to thaw in my fridge.

Remove the turkey breast from the package and dry it off well with paper towels.

Sprinkle the outside with salt and pepper.

Cut the lemons into wedges and place half in the cavity of the turkey breast and 1/2 on the bottom of the slow cooker. Add the turkey on top of the lemons.

Top the turkey breast with the thyme bundle and 6 pats of butter.

Set the slow cooker to low for about 6 hours.

When the turkey is finished cooking check to make sure the internal temperature is 165 in the thickest part of the breast. Carefully lift the turkey breast out of the slow cooker and place it in a roasting pan.

Put the juices from cooking the turkey into a measuring cup and strain out the lemons and herb bundle. You can reserve this for soup or my advice is to use it as part of the stock when you make gravy.

If you want to brown the skin (I like to) put the turkey under the broiler for 5-6 minutes.

Allow it to rest for at least 30 minutes before slicing and serving.
Nutrition
Calories:
315
kcal
Protein:
48
g
Fat:
10
g