Do you feel like every year your potatoes have a 50/50 shot of working out? Well, after you read this post, you'll know every little detail that goes into the best Thanksgiving mashed potatoes and gravy recipe. My easy classic mashed potatoes recipe is fool proof and I promise you will be able to guarantee success.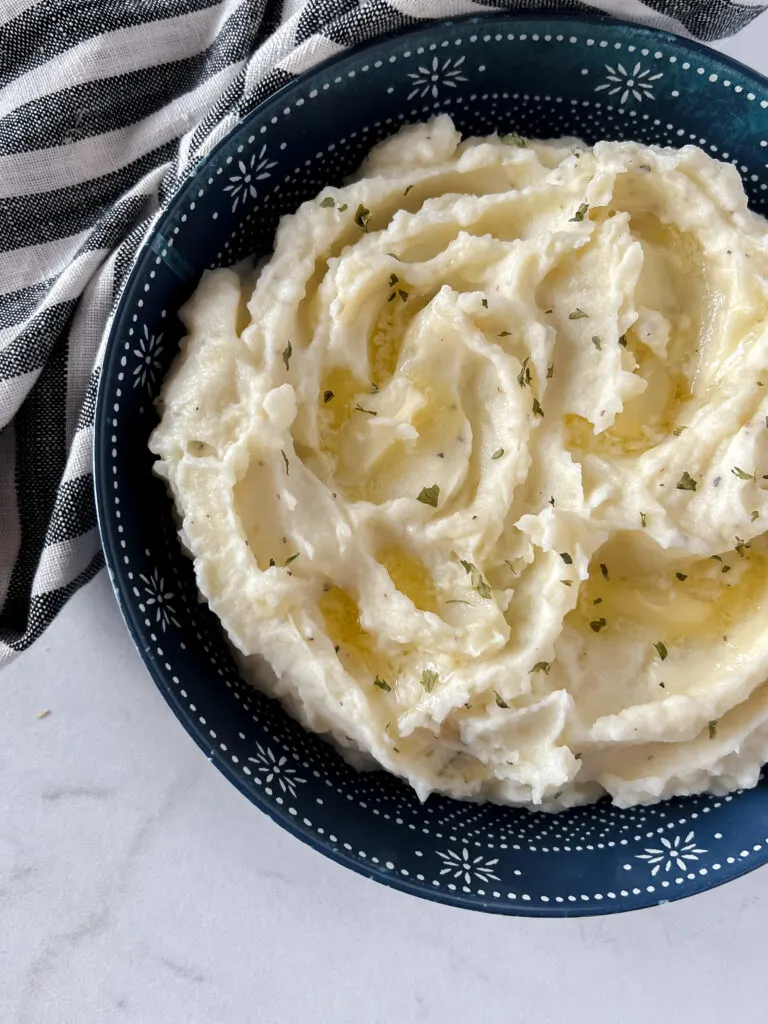 The Best Thanksgiving Mashed Potatoes and Gravy recipe starts with Potatoes
The best mashed potatoes start with the right potato. While some will say you need the yukon golds, I am going to tell you that russet potatoes should be the star of the show. Russets are the starchiest of potatoes and that means they are the fluffiest! I promise you these are the best potatoes for mashing.
Red potatoes are great for soups or roasting. Don't use them in mashed potatoes. There's just not enough starch for that classic creamy potato magic. The type of potato matters.
Do I start mashed potatoes in cold or hot water?
This is how you can mess it up right from the start. It feels intuitive to boil water and then add your food but when making mashed potatoes, always start with cold water. You also need to make sure your water is liberally salted. Under salting the potatoes and not salting the cooking water is the reason for bland mashed potatoes.
Start with cold water and boil until fork tender.
How to Make Mashed Potatoes Creamy
Everyone will tell you they have a secret ingredient or a hack for this, but the best mash potatoes go back to basics. Forget things like cream cheese, chicken broth or sour cream.
All you need is good old fashioned salted butter, heavy cream and whole milk. I can endorse 2% milk, but don't go lower than that. Fat is flavor and if you want these to be the star of Thanksgiving Day just trust me on that.
Should I use a mixer or a potato masher?
I recommend draining your potatoes well and then returning them to the warm pot over medium heat (be careful not to burn the bottom). I do not recommend a mixer for this. An electric mixer or stand mixer can over mix the potatoes and what you end up with is glue. Something you can hang wall paper with, but do not want to eat.
My favorite way and the most tried and true way is with a good old fashioned potato masher and elbow grease. Use a large pot so you can really get in there.
For best results, always a potato masher.
What do I season mashed potatoes with?
It's very simple. You need good salted butter, heavy cream, plenty of black pepper, salt and I do garnish with parsley. That's it. Sure you can add extra flavor with green onions, chives, or fresh herbs, but this is a basic recipe. If you want to please a crowd and get the basics down, don't add anything else. Stick to what works.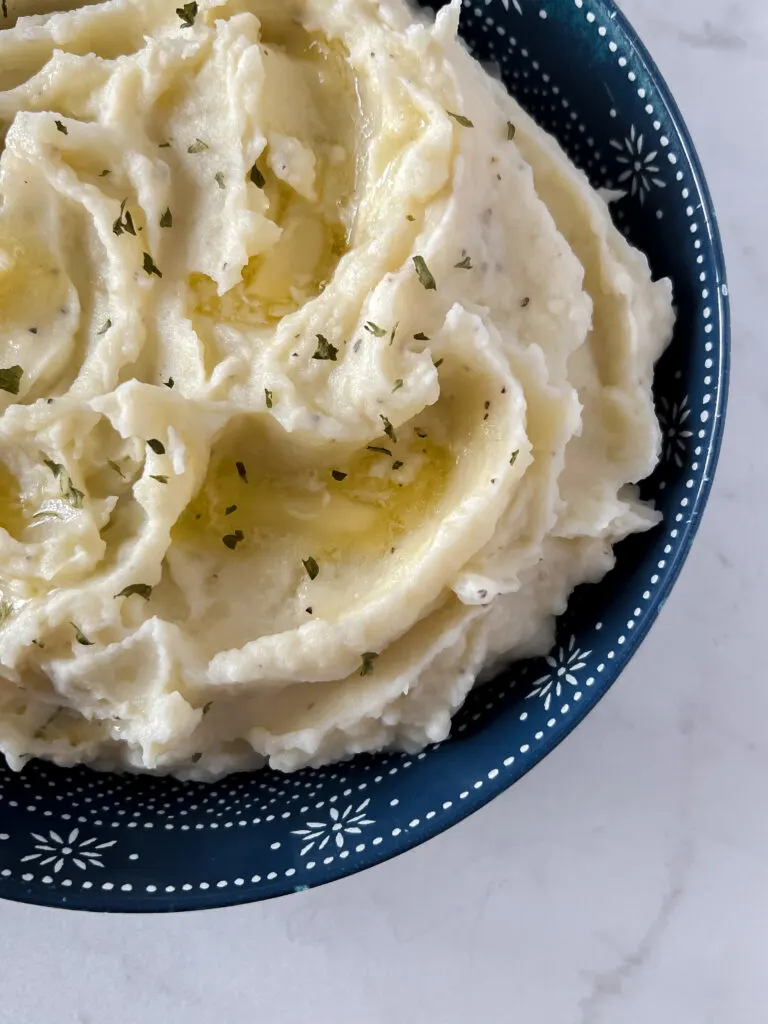 How do I keep mashed potatoes warm for Thanksgiving dinner?
The biggest challenge to Thanksgiving is getting all the food to table warm. It is such a big time consuming meal with many moving parts. My best advice is to make the mashed potatoes and then keep them warm in your crock pot or slow cooker.
If you don't want to do that, you can use a large bowl over top a big pot of simmering water. Cover the bowl with plastic wrap. Your Instant Pot, if you have one, also has a keep warm function.
Either way it has to be a warm moist environment so the potatoes don't dry out.
How long do leftover mashed potatoes keep?
Store Leftovers in an airtight container up to 5 days.
What is the best way to reheat mashed potatoes?
I like to reheat mashed potatoes on the stove top. A little bit of milk brings them right back to life!
What is the best gravy for mashed potatoes?
It depends on what you're serving them with. In the case of Thanksgiving you are probably serving them with roast turkey. You'll want to use the turkey drippings and turkey broth or chicken stock. This is my go to method for gravy making.
It's basic using your drippings and all purpose flour. It's my personal favorite for learning to make basic gravy. A fat separator really helps with gravy making.
Leaving a Rating and Review
This homemade mashed potatoes recipe is the basic approach for perfect mashed potatoes. Once you master it, you'll go back to it again and again. Leave a star rating and review if you make this mashed potato recipe. See the recipe card below for full instructions and note that you can change the serving size and it will instruct you so you can make a big batch of potatoes.
Happy Thanksgiving!
Pin for Later!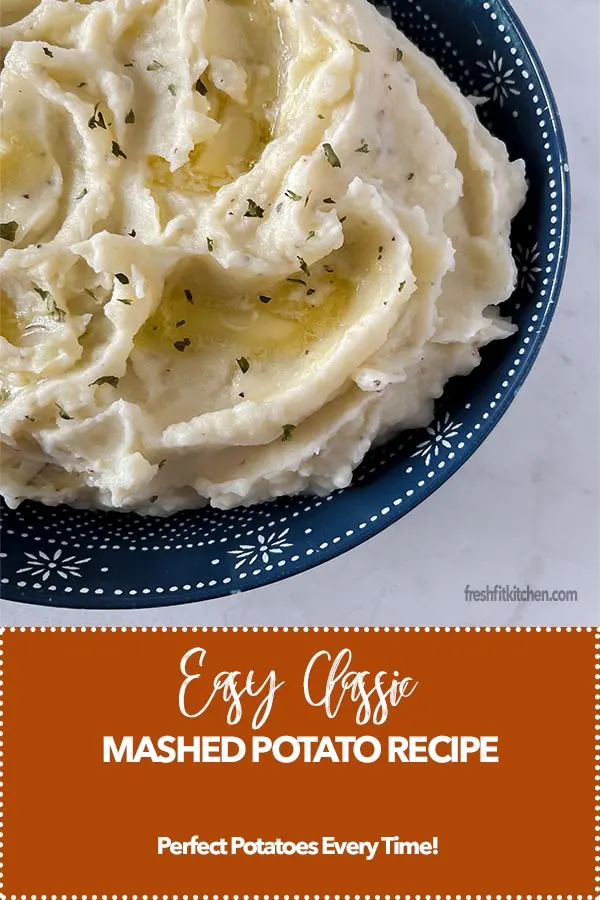 These are real deal perfect for Thanksgiving mashed potatoes. If you want a lighter take, check out these recipes:
Creamy Cauliflower Mashed Potatoes
Sour Cream and Onion Mashed Potatoes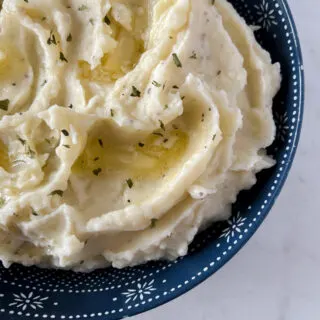 Easy Classic Mashed Potato Recipe
This easy classic mashed potato recipe will deliver you fool proof success every time. The best mashed potatoes and gravy are easier than you think.
Ingredients
3

lbs.

Russet Potatoes

Peeled and diced into 1 inch cubes.

6

tbsp.

Salted Butter

softened

2

tsp.

Salt

Plus more to salt the water you boil potatoes in.

1

tsp.

Course Black Pepper

1

cup

Whole Milk

2% also works

1/2

cup

Heavy Cream
Instructions
Peel and cut your potatoes into 1 inch cubes.

Put your potatoes in a large pot of cold and salted water. Your water should taste like the sea.

Bring your potatoes to a boil and cook until fork tender. About 15 minutes.

Drain potatoes and return to the hot pot.

Using a potato masher, give the potatoes a rough mash then add in the butter, salt , pepper and cream. Slowly add the milk a quarter cup at a time making sure your potatoes don't get too loose. Some will soak up liquid differently than others so don't dump in all at once. Mash to desired consistency.
Notes
You can sub whole milk for 2%, but please note this is a holiday recipe not an everyday recipe. I'm aware the calories and fat are higher than most of my other recipes, but holidays are for celebrating and enjoying the best and that too is part of a healthy lifestyle. Thank you for being here.
Nutrition
Calories:
360
kcal
Carbohydrates:
38
g
Protein:
6
g
Fat:
20
g