Who doesn't love fried zucchini? Well before your garden is overflowing let me give you the easiest low carb fried zucchini recipe you'll ever make. These Low Carb Healthy Zucchini Tots are crispy, easy and make great use of summers plentiful vegetables.
All you need are zucchini, almond flour, cheese, and your oven (or air fryer) to make this recipe work. Let's get to it!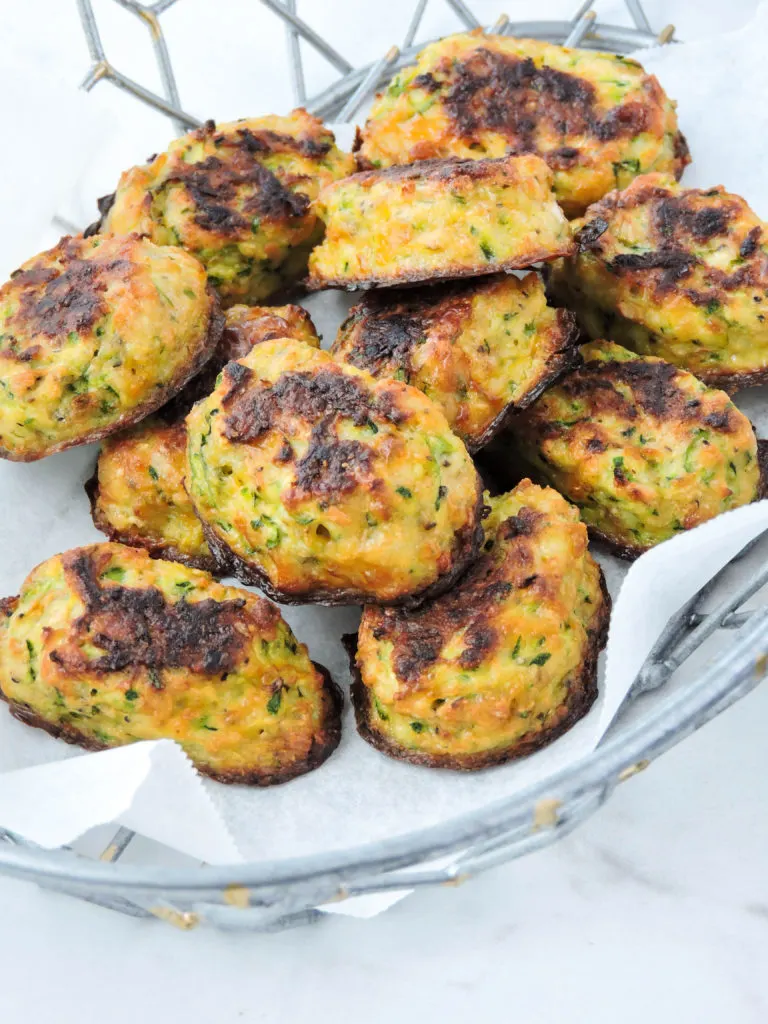 Low Carb Healthy Zucchini Tots Recipe Tips
Trust me that when you follow this method, you will get golden brown zucchini goodness. These are a great way to replace your usual french fries when you want something lighter.
You first want to draw as much excess moisture from the zucchini as possible. For this you'll need a paper towel or 2 , a box grater and a strainer. Finely grate your zucchini then wrap it in the paper towel.
If you don't want to grate the zucchini by hand, feel free to use the help of a food processor.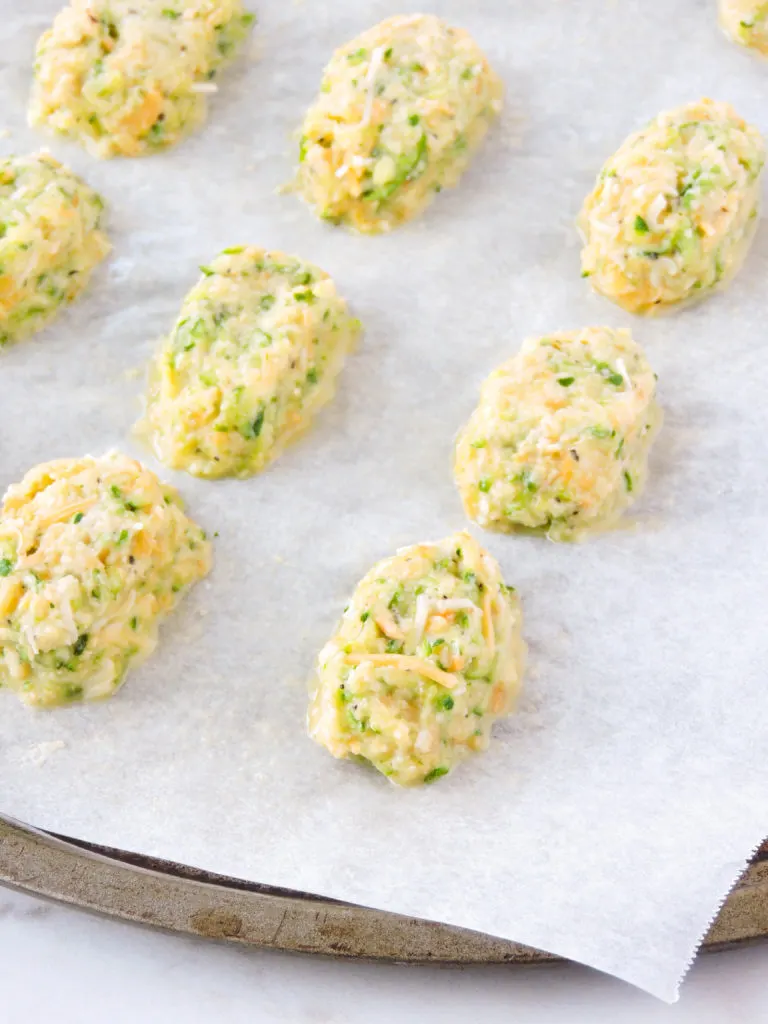 Place that into a colander over a bowl and place something heavy on top. I use a big can of tomatoes. This will push the moisture from the zucchini. If we want things to have a crispy texture, moisture is not our friend.
For this recipe, I like to use a pizza pan with holes. If you're using your air fryer, your air fryer basket will provide plenty of ventilation. You just want as much air circulating around the tots as possible. A baking sheet with a rack over top works too. Just lay a piece of parchment paper over the rack first so the tots don't fall through.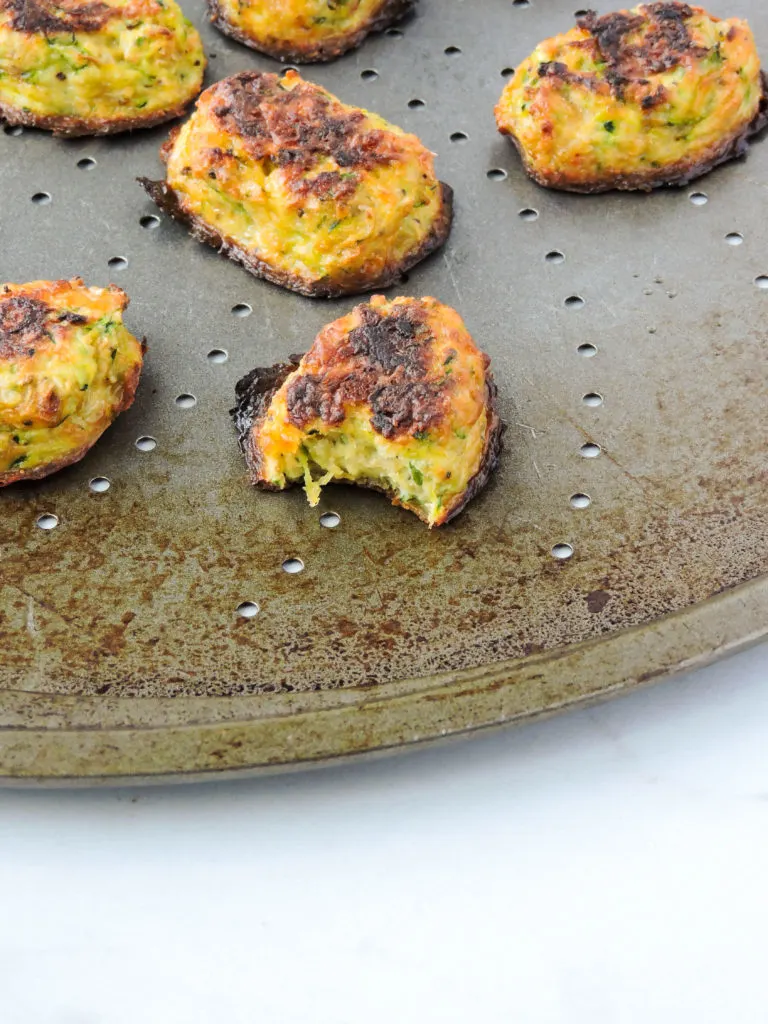 It's also super important to be sure the tots are in a single layer!
Zucchini Tots Substitutions
The recipe calls for cheddar cheese, but you could definitely replace with parmesan cheese. I've been asked before about subbing the almond flour. You could use pork rinds ground up and that would probably work okay, but I wouldn't use coconut flour. It will soak up too much moisture and probably impart a strange flavor.
I use cooking spray or an olive oil sprayer. Avocado oil is also a great choice. Either way, just make sure you're hitting them with some oil for browning purposes. If you aren't following a low carb diet, feel free to use regular bread crumbs.
How you flavor the zucchini tots is also very flexible. Garlic powder is a pretty key ingredient, but you also might choose to add some spice with crushed red pepper. If you want a more Italian flavor profile then Italian seasoning is a great choice!
If you don't have regular zucchini yellow squash will taste quite similar and provide the same result!
The nutritional information will fluctuate depending on any subs you make, so just be aware of that.
Dipping sauces for Low Carb Fried Zucchini Recipe
So glad you asked! You could dip these in marinara sauce , keto ranch dressing, garlic aioli, pesto or even a spicy ketchup. The possibilities are endless.
It's also fun to dust some parmesan and extra season over these when they are hot out of the oven. Although you aren't deep frying these, the salt and herbs have a lot of flavor when going onto a warm dish.
Crispy fried zucchini are possible without even getting out your frying pan, just follow these simple instructions.
Affiliate Links
I like this Pizza Pan. It has holes so it really allows air to circulate.
I also have this Olive Oil Sprayer. I use it all the time and it cuts down on the need to purchase cooking sprays.
I am part of the Amazon Services affiliate advertising program. The links you see here provide me a small commission. Your product is the same great price.
At only 2 net carbs per serving, this recipe is a great low-carb side dish with true nutritional value. Follow these simple tips and steps and you can make the most of that summer garden zucchini.
Zucchini season is sure to be your favorite with this recipe.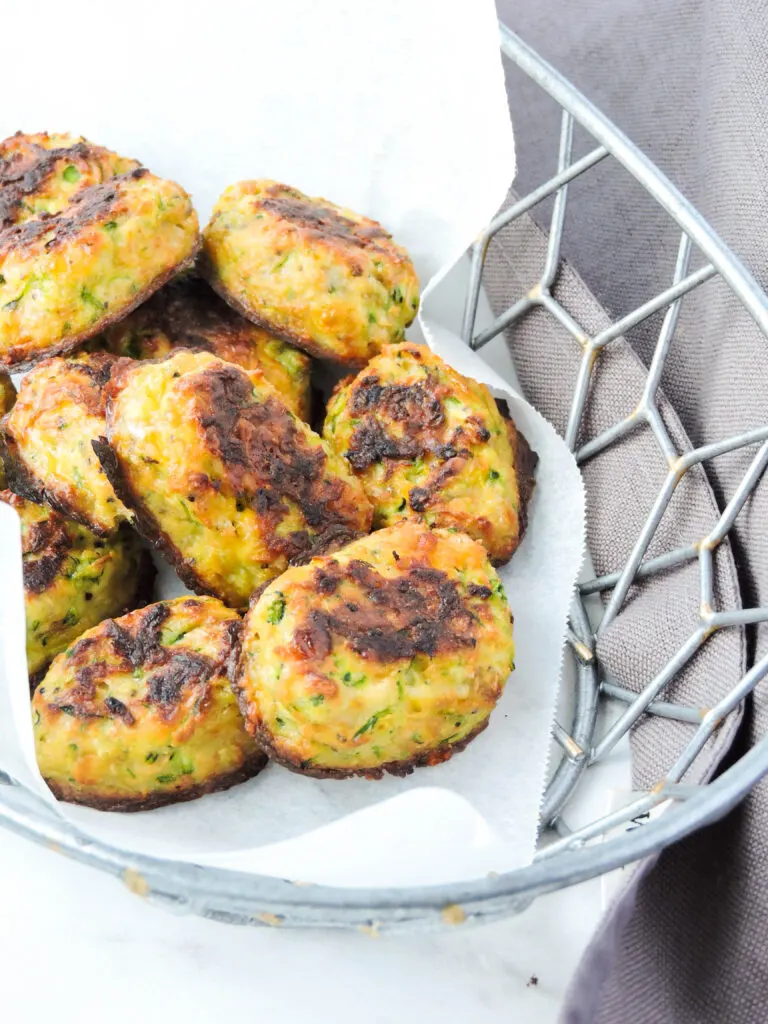 Tried this recipe? Please Leave a Star Rating!
Please leave a comment if you made this recipe and a star rating! It really helps our readers when they make it!
PIN FOR LATER!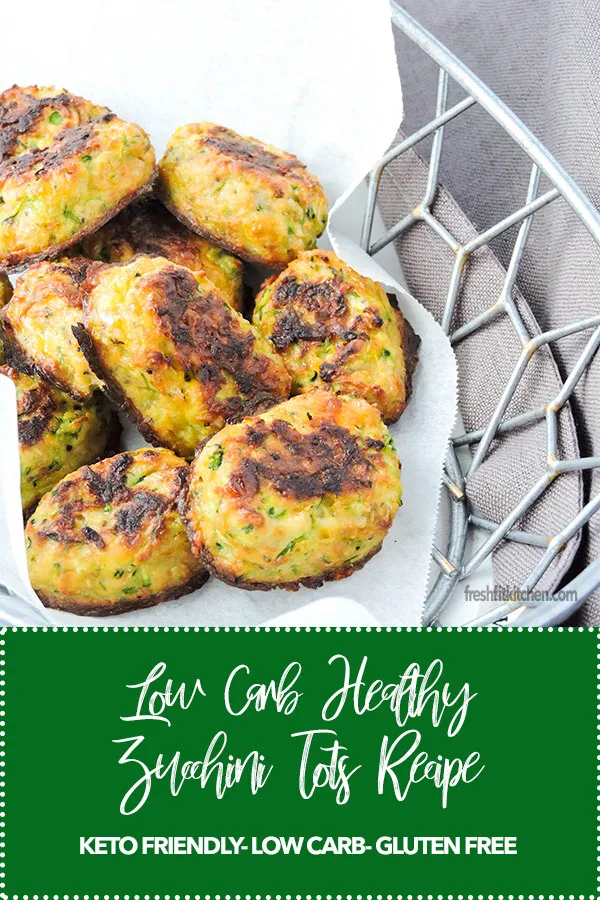 This Post was last updated on 7/7/22.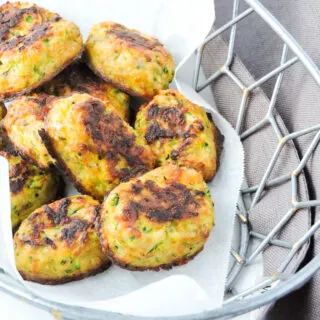 Low Carb Healthy Zucchini Tots Recipe
A low carb fried zucchini recipe your entire family will love! These zucchini tots won't leave you missing the fries!
Ingredients
1

medium

Zucchini

Finely shredded

1/4 +1 tbsp.

Fine Ground Almond Flour

This means 1/4 cup PLUS ONE ADDITIONAL TABLESPOON of Almond Flour.

1

tbsp.

Dried Minced Onion*

See recipe notes

1

large

egg

1/4

cup

Cheddar Cheese

finely grated

1/4

tsp.

Garlic Powder

salt and pepper to taste
Instructions
Finely grate the zucchini and transfer it to a colander lined with paper towels. Lightly sprinkle the zucchini with salt. Cover it with more paper towels and weigh it down with something heavy. I used a large can of tomatoes. What you're trying to do is squeeze as liquid from the zucchini as possible. Let it sit like this for 20 minutes.


After 20 minutes pick up the zucchini and squeeze the water out. You'll see a lot of water come out.


Preheat the oven to 425 degrees and put the zucchini in a medium sized bowl. Push it to one side and in the other side add the egg, almond flour, garlic powder and minced dried onion. Whisk it together.


Fold the zucchini into the almond flour mixture. Evenly sprinkle the top with salt and pepper. Fold in the cheese.


I use a pizza pan with holes to make these. Line one of these pans (or a regular sheet pan if you don't have one) with parchment paper. Spray it with cooking spray.


Use a small cookie scoop or tablespoon to scoop the zucchini mixture onto the tray. Use your fingers to shape it in a tot shape (See photos in post). Spray the tops with cooking spray.


Bake on the first side for 15 minutes. Flip the tots over and bake another 10. Allow to cool for 5 minutes on the tray prior to serving. Serve with your favorite dipping sauce. I recommend marinara or avocado ranch for dipping.

Air Fryer Instructions
For the Air Fryer, you can cook these in your air fryer basket (spray it with cooking spray first) at 400 degrees for 8 minutes. Flip them and then cook another 2-4 minutes. Air Fryers vary so much so watch these and be sure to always cook them in a single layer.
Notes
Nutrition Info is calculated using My Fitness Pal. Different cheeses and almond flours used may effect nutrition info.
*Minced Dried Onion is found in the spices section. This is not onion powder. It's literally small pieces of dried onion that's minced very fine. If you sub in onion powder, you can sub in 1 tsp. Do not use an entire tbsp. of onion powder if you make the substitution.
Nutrition
Serving:
4
tots
Calories:
90
kcal
Carbohydrates:
2
g
Protein:
5
g
Fat:
7
g