Perfectly Pan Seared Chicken Breast- I know this seems so basic, but I shudder every time I watch most people make chicken or any meat on the stove top. Every time I post a picture of seared chicken people tell me how good it looks and ask how they an do it this way. I thought well- give them what they want!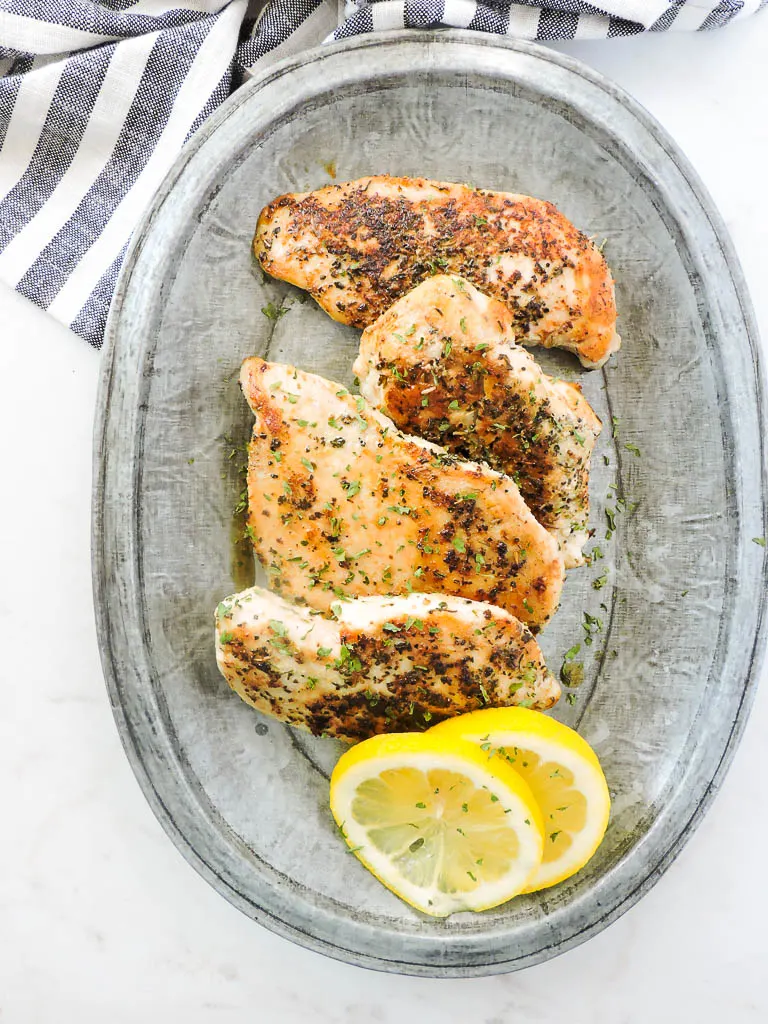 How to Make Pan Seared Chicken Crispy without Breading
The secret to making chicken crisp without the breading is to dry it off thoroughly. Meat collects moisture sitting in the package and if you add moisture to a hot pan, you'll just get steam.
The other key is to season it thoroughly on the outside. The spices act a sort of dredge to crisp the chicken. Under seasoned chicken will always yield an underwhelming result.
Lastly you need to LEAVE IT ALONE. Don't be moving the meat around the pan a hundred times. This gives it no time to sear and you won't get that nice golden crust.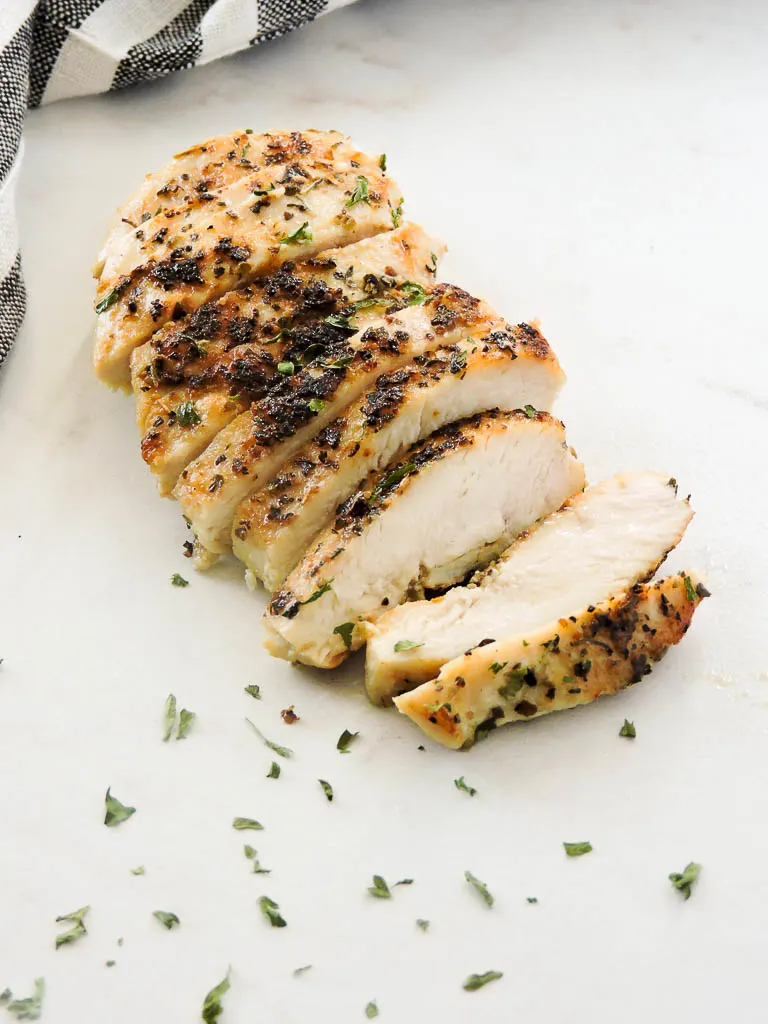 Do I need to pound chicken breasts before cooking?
In a word – YES! Your butcher might cut you perfect cutlets, but pounding also makes things tender. Chicken can get rubbery and tough- especially chicken breast. Even if it's pretty even, a little tap with the mallet goes a long way!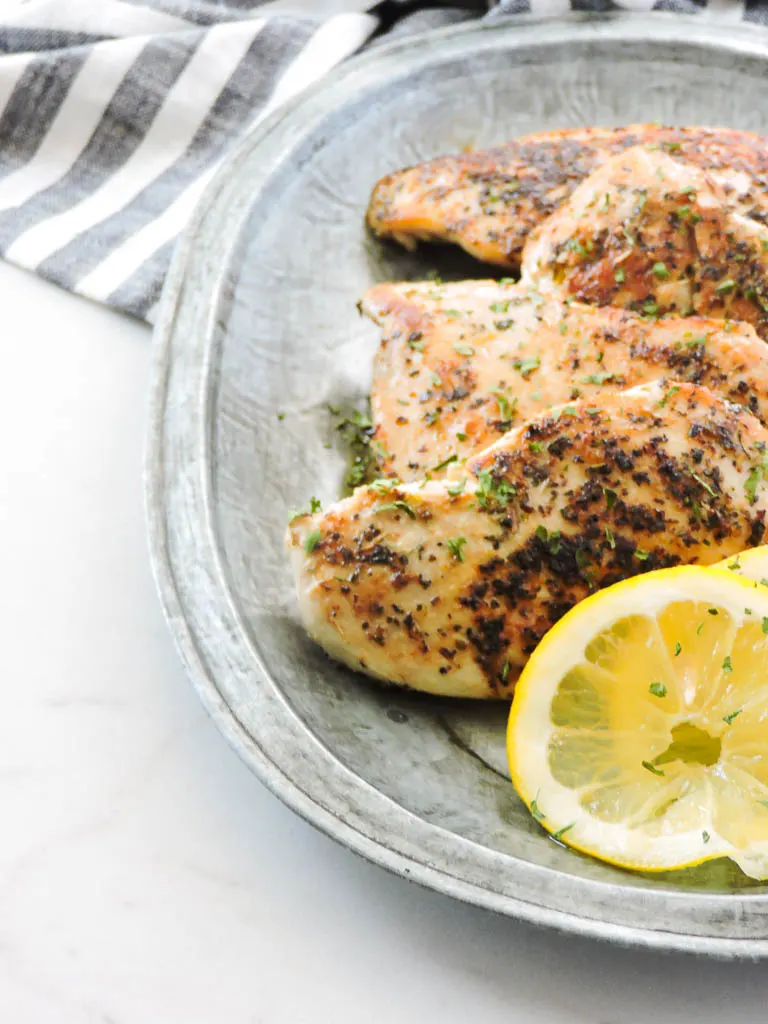 What spices are good for seasoning chicken breast?
I use this easy spice blend because I always have these spices in my pantry. You can be as simple as salt and pepper as long as you follow this method. You could also season with regard to what you're making. To make quick chicken tacos, I'll sometimes use taco seasoning.
What to serve with Pan Seared Chicken Breast?
Pan seared chicken can be served all on it's own, you could use it with pasta sauce and serve with pasta or my favorite way is to serve it with salad. Meal prep the chicken so you can enjoy it for a few days. Just reheat in a pan with a little oil!
I really hope you make this recipe. It's a staple for me and I think by applying these principles to any meat you are searing, you'll find better success and can say goodbye to colorless and flavorless proteins!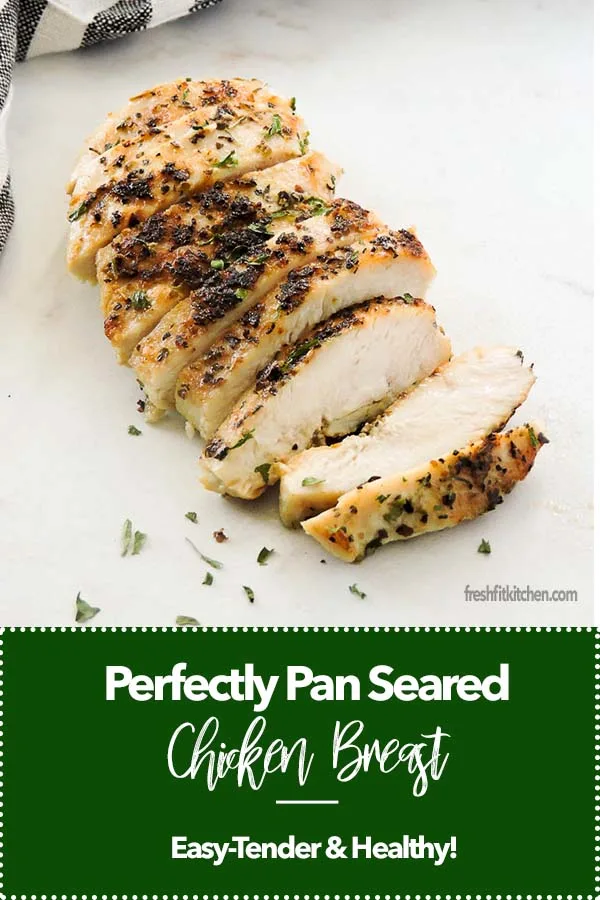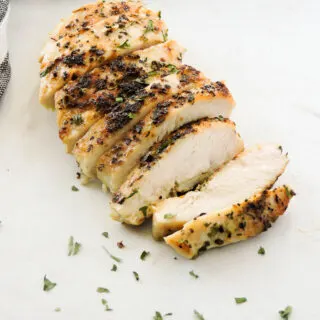 Perfectly Pan Seared Chicken Breast
Never make a dry chicken breast again with this fool proof recipe for pan seared chicken breast. No breading is required to have crisp on the outside and juicy on the inside chicken breast.
Ingredients
4

Chicken Breasts

About 6 ounces Each

1/2

tsp.

Onion Powder

1/2

tsp.

Garlic Powder

1/2

tsp.

Paprika

1/2

tsp.

Oregano

2

tsp.

Salt

I use kosher salt, if you're using fine salt cut back to 1.5 tsp.

1

tsp.

Course Ground Black Pepper

1/2

tbsp.

Avocado Oil

Or other high heat point oil like sunflower or grapeseed.
Instructions
To prepare the chicken breasts, remove them from the package and dry off well with paper towels.

Place the chicken on a cutting board and trim of all visible fat. Lay a piece of plastic wrap on top of the chicken and using a meat mallet pound it to an even thickness . About 1 inch of thickness is ideal.

Sprinkle each side with the seasoning mixture. Be generous.

Heat a pan over medium high heat. Allow the oil to get hot. It will start to shimmer. Don't overheat it until it's smoking.

Place the chicken breast in the pan and the key here is leaving it alone. Keep the heat around medium. If it seems to be burning you can cut the heat back. The key is good even heating where the chicken has time to make contact with the pan.

If you've pounded your chicken to a 1 inch thickness, expect it to take 4 minutes per side. When the edges of the chicken look white and a peek underneath reveals a golden crust, flip it. Continue to cook 3-4 minutes on the other side.

Remove the chicken from the pan and place on a cutting board. Allow to rest for 8 minutes before slicing.
Notes
It is very important you allow the meat to rest so the juices can redistribute. This will create a much more tender chicken.
Nutrition
Calories:
213
kcal
Protein:
39
g
Fat:
6
g