Now that we are all moved into our new house, I've wanted to bake. This is different for me, because I've never considered myself a baker. The urge to fill the house with comfort is strong, so these Pumpkin Chocolate Chip Monster Cookies seem like the perfect way to do that.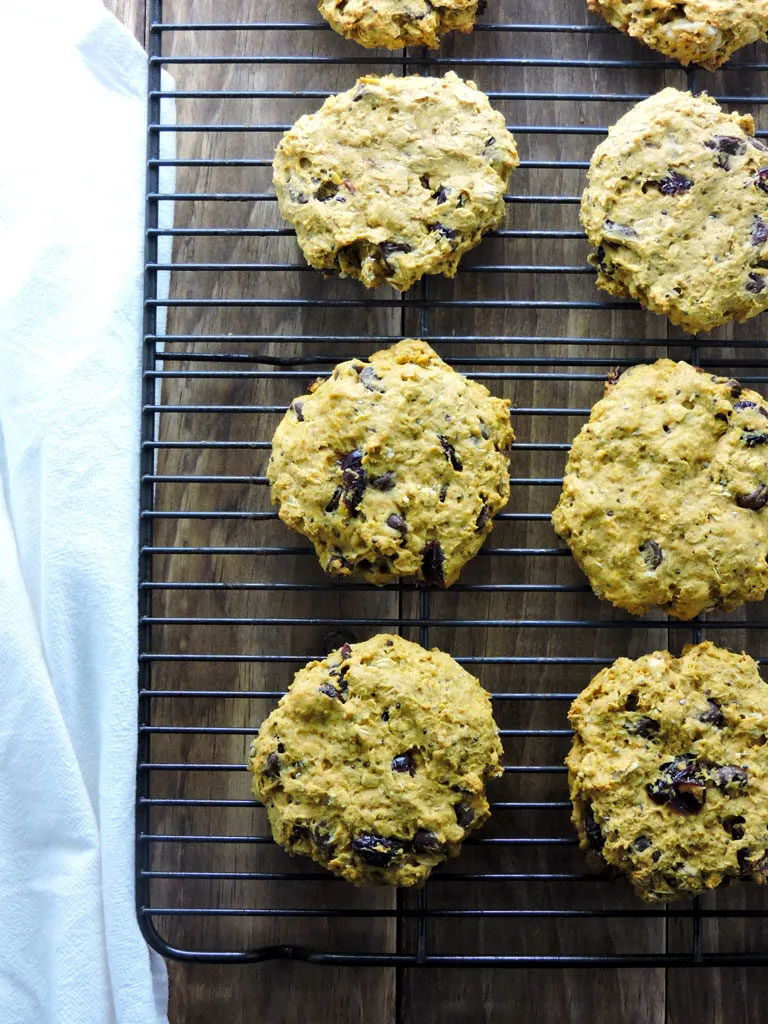 You'll find that most recipes on the blog are quite clean, but I also promote balance. These cookies fall into the balance category. There is butter and real sugar. There is also pumpkin, oats, chia seeds and low sugar dried cranberries. A local bakery I like makes a "Monster Cookie" that is filled with nuts, chocolate and chewy dried fruit. I love all of the different textures so I thought why not make this a semi good for you cookie you can make for the holidays? The cranberries remind me of the pretty jewel tones of the holiday season.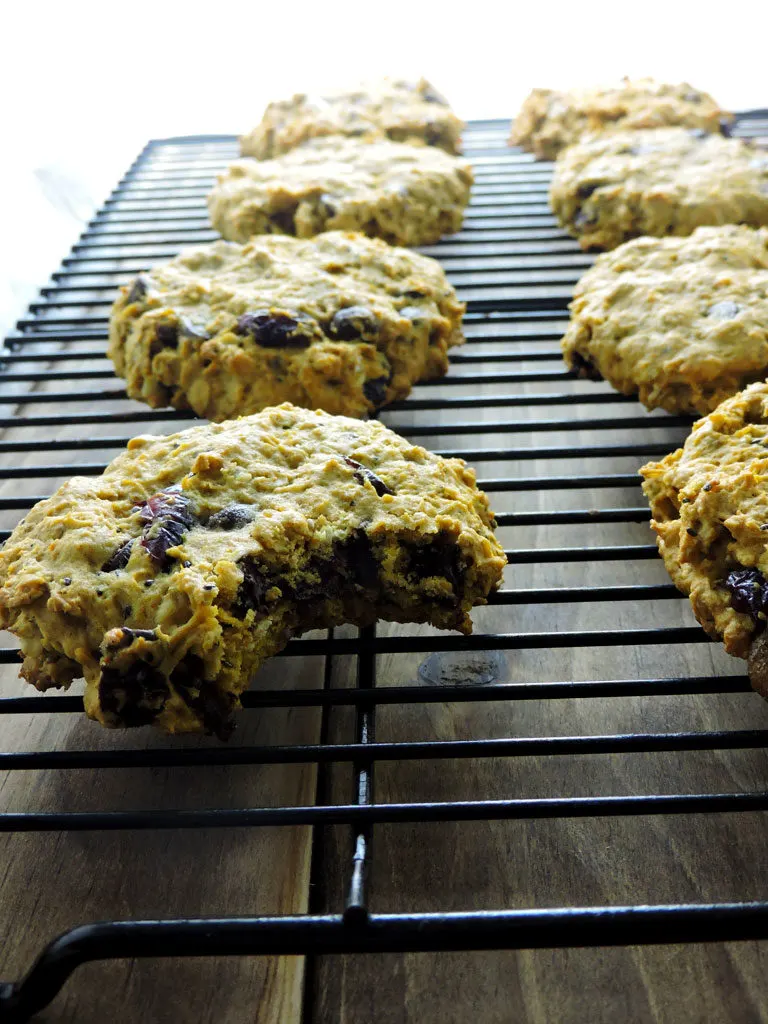 It's Time for a Little Comfort..
I am not going to lie. This past week was tough. Maybe the reason I am looking for comfort in the kitchen, is that life on the outside feels far different than it did just a week ago. Don't get me wrong, this is NOT a political post. I don't care which side of things you sit on when it comes to the election of our new President, you probably felt a lot of different emotions this week. Perhaps you're looking for a little comfort too. While I would suggest one of these Pumpkin Chocolate Chip Monster Cookies, I'd also suggest hitting pause and taking good care of yourself and your family.
As we head into the holidays and out of what has been a very difficult time in our country, we all need to make sure we are practicing self care and care for others. Perhaps there's a charity you can give to this holiday season. Maybe you want to volunteer, but haven't taken those first steps. Whatever the case may be, be kind to yourself and each other. Elections, being at battle with your fellow man, will not change a thing. Opening your mind and being a positive force for others and those closest to you will.
So bake a batch of cookies (hopefully you make these), share one with a friend, and just take a little time to admire all that is great in this world.
Save
Save
Save
Save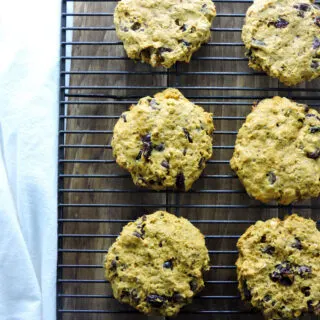 Pumpkin Chocolate Chip Monster Cookies
Ingredients
1

cup

pumpkin puree

1

cup

brown sugar

1

stick

Melted Butter

1

Large Egg

1

tsp.

Vanilla extract

2

cups

Unbleached White Flour

1

tsp.

cinnamon

1/4

tsp.

nutmeg

1/4

tsp.

Ground Ginger

pinch

salt

1

tsp.

Baking Powder

1

tsp.

Baking Soda

1 1/2

cups

Rolled Old Fashioned Oats

1/2

cup

Low Sugar Dried Cranberries

1

cup

Semi-Sweet Chocolate Chips

1/8

cup

Chia Seeds
Instructions
Preheat the oven to 375 degrees. Melt the stick of butter in the microwave and allow to cool for a few minutes. Pour the pumpkin puree into a bowl lined with a paper towel. Pumpkin has a lot of moisture so you want to get that out before baking. Allow it to sit for 5-10 minutes. When you do this the paper towel will be soaked with the liquid and you will be left with a drier pumpkin mixture.

In a large bowl add the butter, brown sugar , egg and vanilla. Mix together until smooth. Add in the drained pumpkin puree then mix again.

In a separate bowl mix together the flour, cinnamon, nutmeg, ginger, salt, baking powder and baking soda.

Slowly add the dry ingredients into the pumpkin mixture. Do not over mix.

Add the oats a half cup at a time, mixing between each cup. Then, add in the cranberries, chocolate chips and chia seeds. Fold them into the dough with a rubber spatula.

On a parchment lined baking sheet, scoop the cookie dough with a large cookie scoop. Make sure to push the cookies down because they will not spread much in the baking process.

Bake cookies for 11-13 minutes and allow them to cool on a wire rack.