Thanksgiving used to be the only time I'd make mashed potatoes. I truly dislike peeling potatoes. My husband loves mashed potatoes though. Seeing his face light up when I say I am making them, makes me happy. I love the whole cauliflower mash thing, but let's be real, sometimes you want the real deal. These Sour Cream and Onion Mashed Potatoes have no cauliflower and no guilt. They are so easy, you could whip them up on a week night.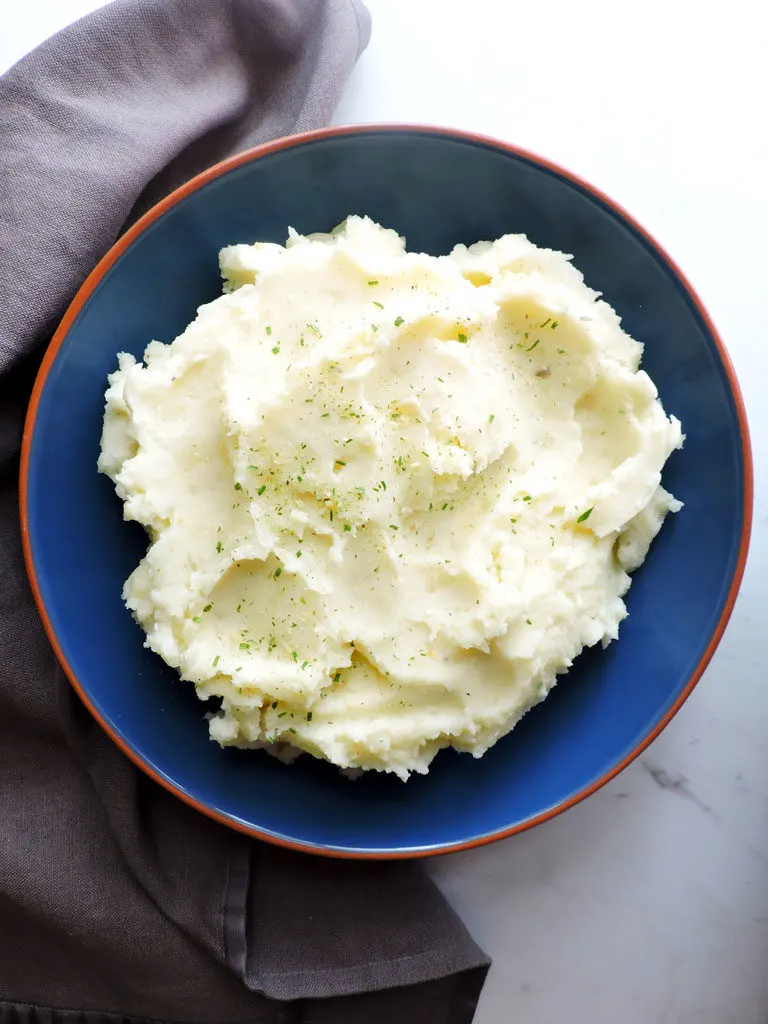 I use Trader Joe's Onion Salt Seasoning in these. It's such a delicious seasoning. It has the onion powder, salt, and some other herbs in there to make things yummy. If you don't have this, just follow the instructions in my recipe notes. The light sour cream cuts the need for more butter while the onion salt adds a nice punch of flavor.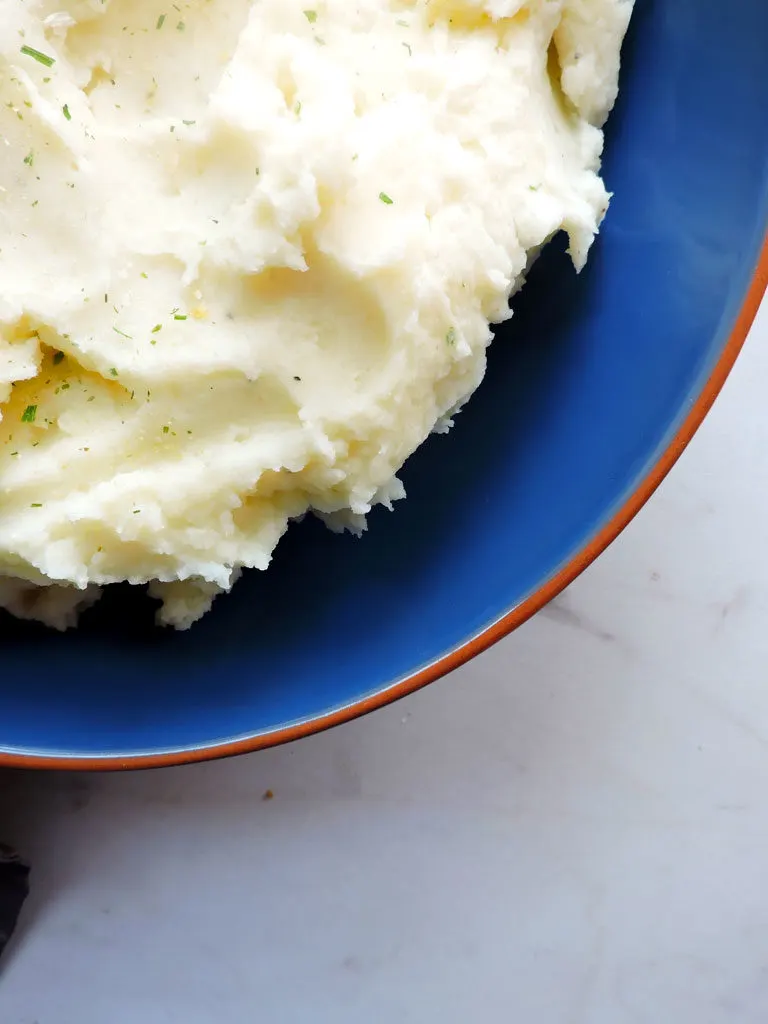 Although these are flavored mashed potatoes, I still find them to be an acceptable Thanksgiving mashed potato recipe. Sure some people are married to tradition, but I think you can convince them with these. Much of the reason healthified dishes can disappoint is a lack of flavor. You have to replace the fat and calories you're negating with flavor or the entire dish suffers. You sit there with your bland little potatoes and all you can think is how nice some more butter would be. Sour Cream and Onion Mashed Potatoes bring in a whole new flavor profile so you'll never miss the butter. See how I did that?
I really hope you try these Sour Cream and Onion Mashed Potatoes. I would love to hear your feedback int the comments below or tag me on Instagram @FreshFitKitchen.
Pin for Later!

Save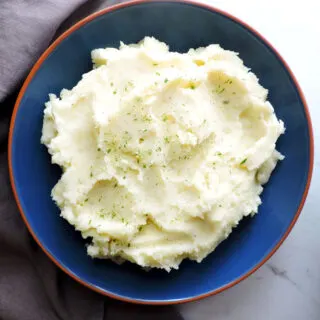 Sour Cream and Onion Mashed Potatoes
Healthy Sour Cream and Onion Mashed Potatoes are made with light sour cream and less butter than traditional mashed potatoes. No cauliflower is needed for this light and creamy mashed potato recipe.
Ingredients
8

medium

Russett Potatoes

Peeled and cut into one inch chunks.

1/3

cup

Light Sour Cream

4

tbsp.

Butter

softened

2

tsp.

Onion Salt

Preferrably Trader Joe's Onion Salt Seasoning

salt

to taste

pepper

to taste

1/4

cup

2% milk

Add for desired consistency.
Instructions
Peel and cut the potatoes into one inch chunks. Toss into a large pot and cover with cold water. Make sure you salt the water as you would for pasta. Bring the pot to a boil and boil for 8-10 minutes or until potatoes are fork tender.

Drain the potatoes and return them to the hot pot. Add the butter, sour cream and Trader Joe's Onion Salt (see recipe notes for if you don't have this ingredient). Mash with a potato masher.

Taste for seasoning and add salt, pepper and milk to achieve desired taste and consistency.
Notes
If you don't have Trader Joe's Onion Salt I recommend you use another brand of onion salt OR you can use onion powder and mix it with some salt and chives. I would recommend 1 tbsp. of chives , 2 tsp. of onion powder and then you'll just need to adjust the salt in the potatoes to account for the lack of salt in the seasoning if you use powder.