If you haven't baked with browned butter yet… read on. Yes this recipe takes some prep, but the nutty, sweet and salty delicious flavor of these Browned Butter Chocolate Chip Cookies is entirely worth it. Especially at the holidays.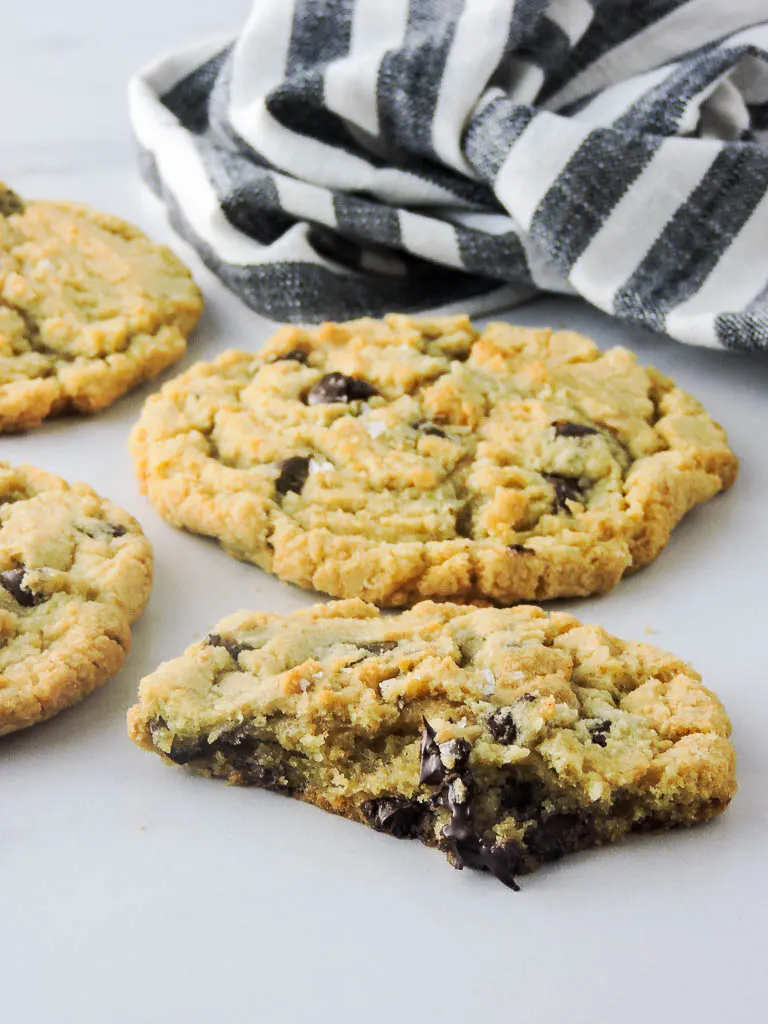 Browned Butter Chocolate Chip Cookies
The browned butter is chilled after you make it. This makes it softened instead of in liquid form. You can use it just as you would regular softened butter. Browned butter develops an almost caramel like flavor.
I also do not skimp on the salt. I use salted butter in this recipe and I add some maldon sea salt to the top of these cookies. Salt is so essential to baking so this is not the cookie recipe where you use the traditional unsalted butter.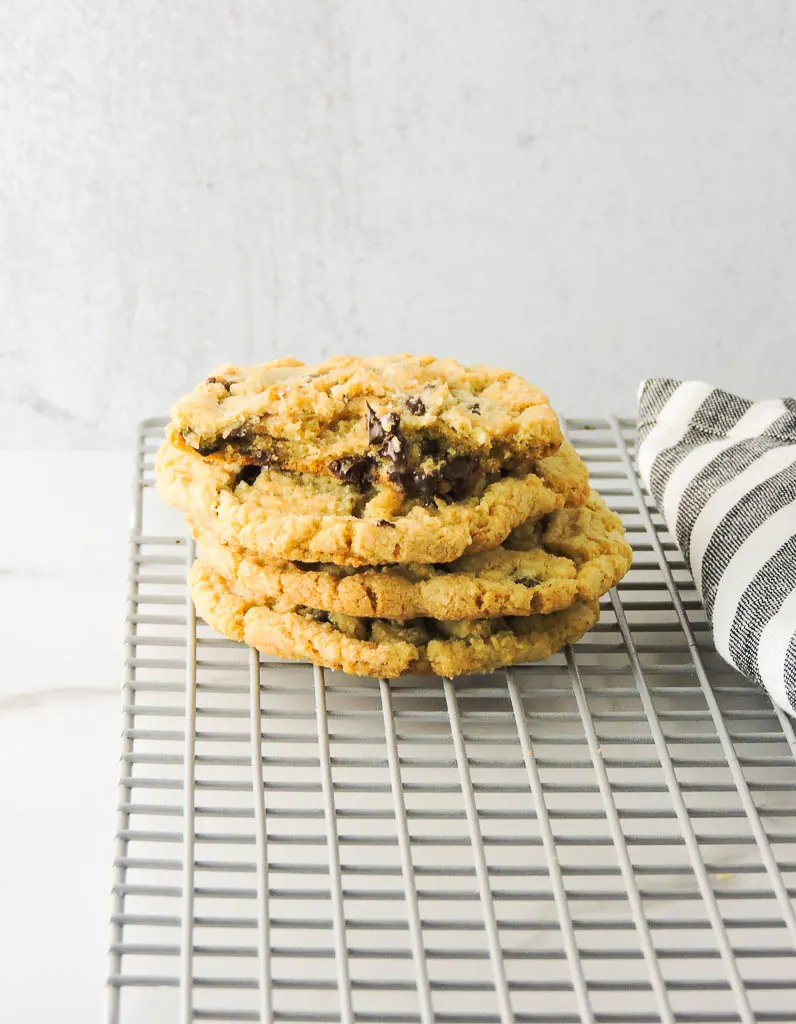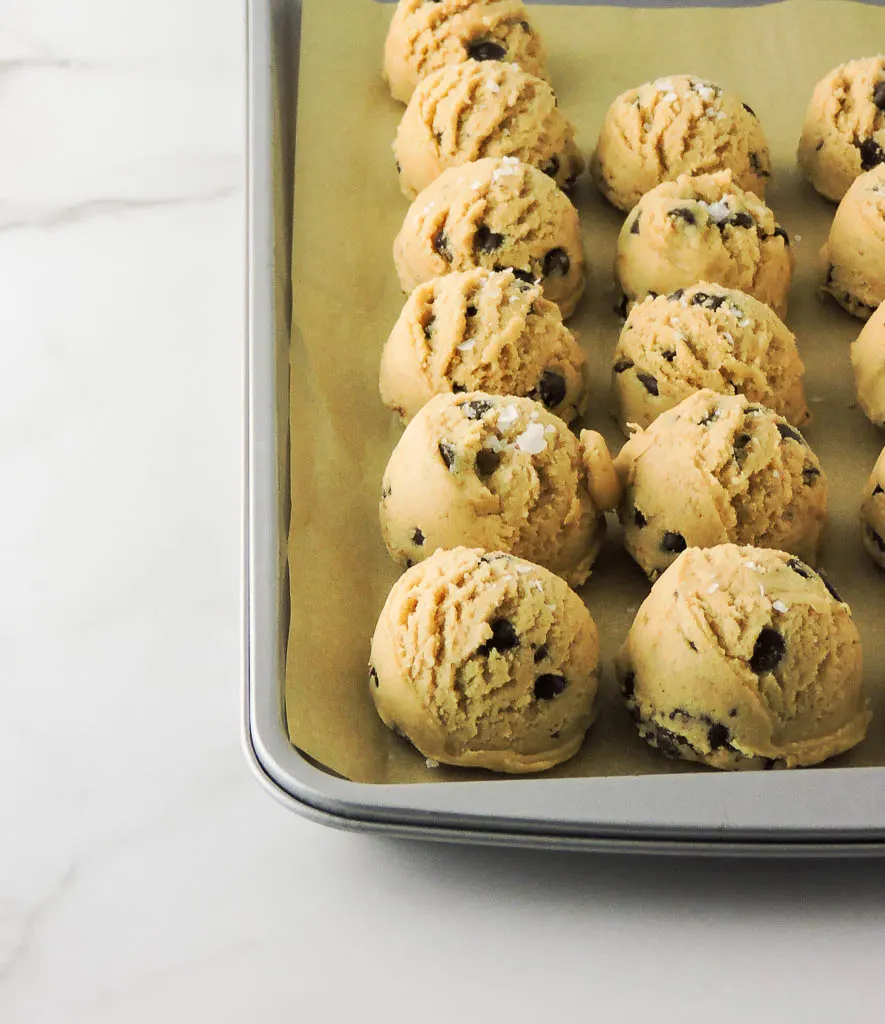 How to make Browned Butter
It's really easy to make browned butter. Just do not walk away from it. Browned butter is simply a method and you can use it in sweet as well as savory applications. You just cook the butter over medium heat until the milk solids separate and brown.
Once it starts foaming and separating you're seconds from brown so I can't stress enough not to take your eyes off of it. The result is liquid gold!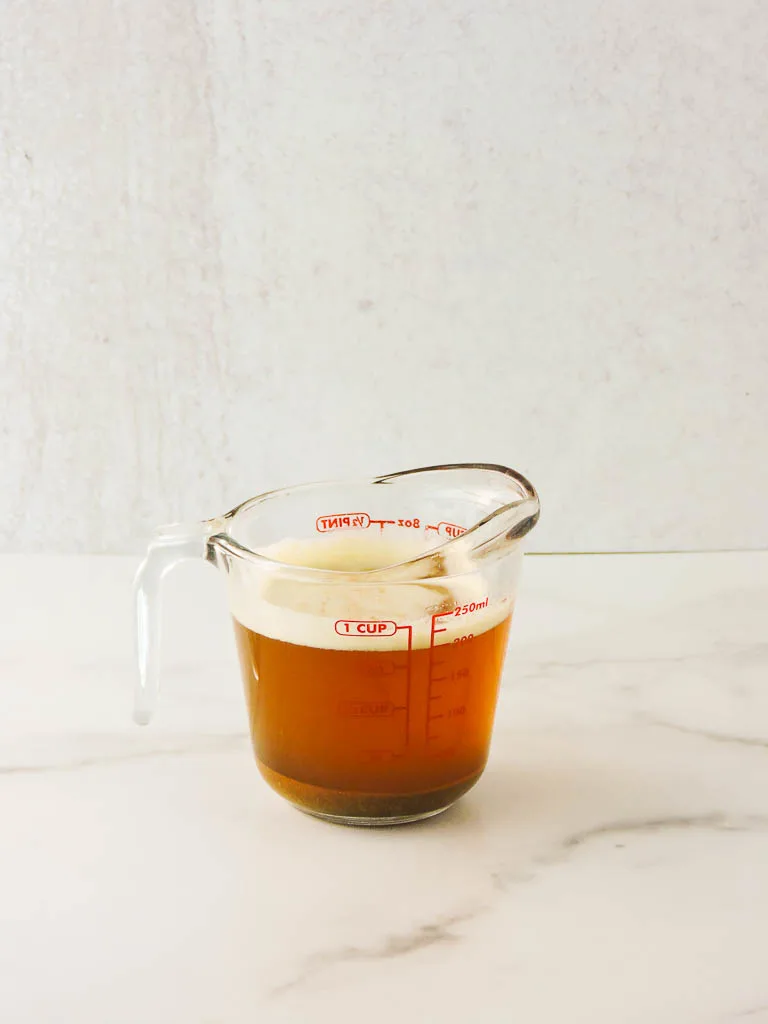 The holidays were made for recipes that take a little time. I love to put some Christmas music on and get into the kitchen to bake. I know we are a world of instant gratification, but this recipe is worth the time and attention!
I am picky on cookie sheets and do not like super dark ones. These Nordic Aluminum ones are the very best I've found!
If you make this recipe and I sure hope you do, please tag me on Instagram @freshfitkitchen. I love seeing you make my recipes! Leave a comment below to let me know how it went for you.
Pin it for later too!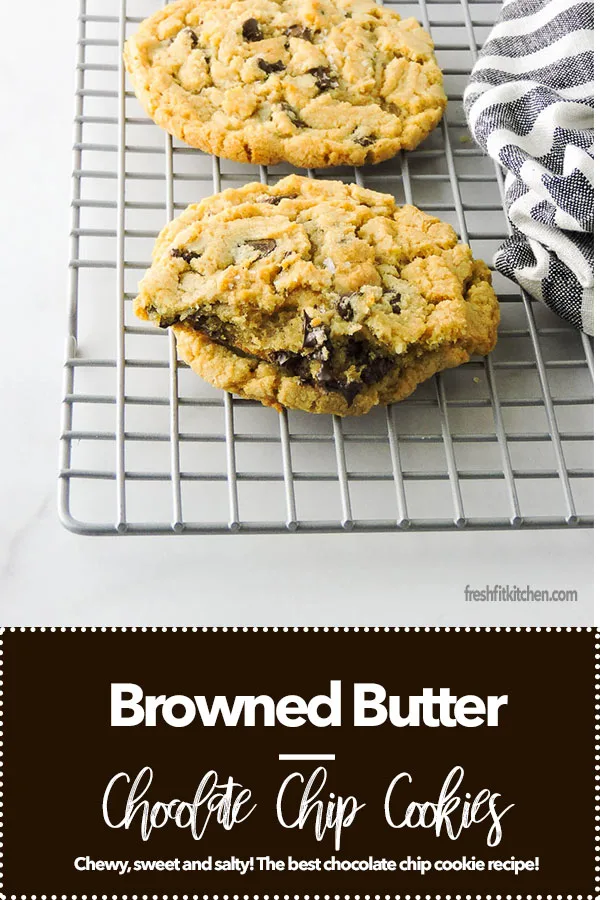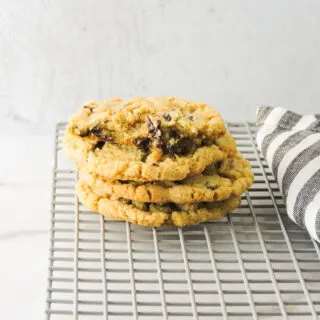 Browned Butter Chocolate Chip Cookies
This Browned Butter Chocolate Chip Cookie recipe is the BEST chocolate chip cookie recipe. The sweet and salty combo can't be beat.
Ingredients
3/4

cup

Browned Butter

2 Sticks Salted Butter

1/2

cup

Butter

1 stick ,Salted Butter

1 & 1/4

cups

Brown Sugar

1

cup

White Sugar

2

tsp.

Vanilla

2

Large Eggs

2 & 1/4

cups

All Purpose Flour

1 & 1/2

tsp.

Baking Powder

1 & 1/4

tsp.

Baking Soda

1

cup

Semisweet Chocolate Chips

1/2

cup

Dark Chocolate chips

Course Maldon Sea Salt for sprinkling on top
Instructions
BROWNED BUTTER
Heat a light colored sauce pan over medium heat. It's very important you use a light colored sauce pan so you can accurately see when the butter turns. It will happen quickly and you don't want it to burn!

Add 2 sticks of butter and allow it to melt down. You'll want to be careful with the heat because if your stove runs hot you might have to turn it down below medium setting. The butter will sizzle and a white foam will form. This is the milk solids separating from the butter.

Watch the butter and gently swirl it in the pan to evenly distribute those milk solids. That is what is going to brown and give you the nutty delicious flavor of browned butter.

After about 5 minutes on the heat the butter will really get to foaming and you should see the liquid getting to be a light shade of brown. You want to pull it off the heat at this point. The color of a darker caramel is what you're looking for. Not black! Black will be bitter and off tasting.

Put the butter into a heat safe dish or measuring cup and refrigerate for 1 hour. This will give it the consistency of softened butter which is perfect for use in cookies.
COOKIES
In the bowl of stand mixer or with a hand mixer and a bowl cream together the browned butter, softened butter, brown sugar, white sugar and vanilla. Mix for 2 minutes or until it becomes fluffy and well incorporated.

Add eggs in one at a time. Be sure to crack the eggs in a separate bowl in case you get a bad one.

Once the eggs are incorporated add in the baking powder, baking soda and then add in the flour 1/2 cup at a time.

Using a spatula fold in the chocolate chips.

Line a sheet tray with parchment paper and scoop the cookies onto the tray. Sprinkle with sea salt.

Place in the refrigerator for 3 hours or as long as 24 hours. You can also freeze the cookie dough balls on the sheet tray then store them in a zip top bag to bake later.

When ready to bake line a sheet tray with parchment paper or a silicon baking mat. Preheat oven to 350 degrees. Leave at least 2 inches between the cookies. Do not crowd.

Bake for 15-17 minutes for large cookies and 10-12 for smaller cookies. Make sure to check often and do not over bake. They should be a little soft in the center.

As soon as you are done baking the cookies, bring them out of the oven and holding the tray about 1 foot above the counter- DROP them. Yes you want the cookie tray to smack the counter. This gives you that nice round, no longer domed cookie center. Just trust. Allow them to sit on the tray for 10 minutes total before moving them to a cooling rack

To bake from frozen- You'll need to add 3-4 minutes cooking time from frozen or feel free to move cookies from freezer to fridge a few hours before baking to thaw out more.
Nutrition
Calories:
257
kcal
Carbohydrates:
35
g
Protein:
2
g
Fat:
12.5
g