Welcome to my Holiday Gift Ideas for Foodies Guide! If you have someone in your life who loves to cook, you might be asking what to get them. The things on my holiday gift list are often things like dishes, blenders and new cookie sheets. What might sound boring to others really brings me joy. So, if you're just not sure what to get the kitchen enthusiast in your life- read on! I've provided gifts for every price range.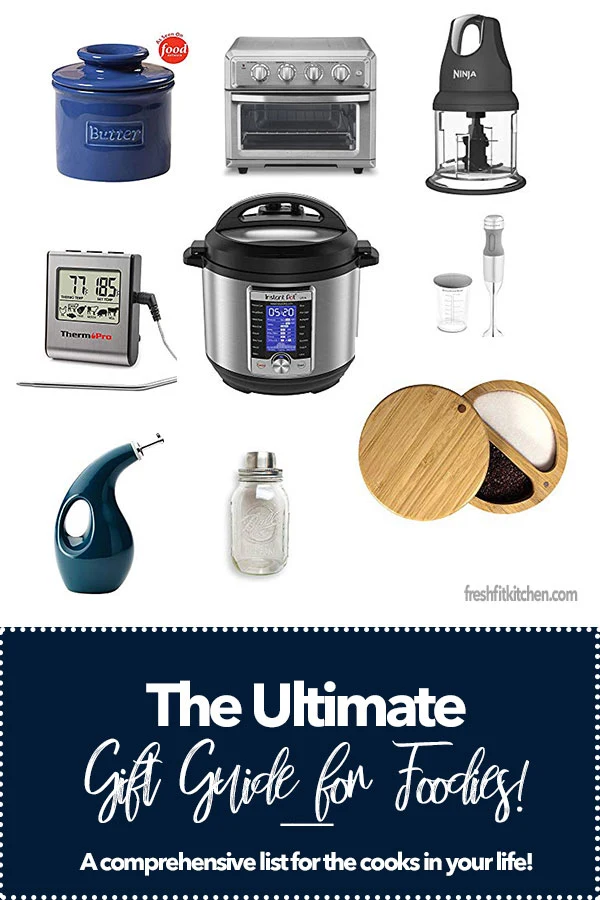 Note that this post contains affiliate links. All this means is that if you purchase using the link I get a commission. You pay the same price regardless. This income helps keep the blog going and I so appreciate you using these links and trusting my recommendations!
Holiday Gift Ideas for Foodies
Ninja Food Chopper– This little chopper will save you in the kitchen. When you are prepping salsa, chopping vegetables for soup or just doing general prep; it's a real life saver.

No Crumbs Left Cookbook– Teri Turner is the woman behind so many delicious Whole30 approved recipes, but besides being Whole30 her recipes are delicious, simple and you'll learn so much from her in this amazing cookbook. It's the perfect cookbook to start the new year with.
Butter Bell– The french know how to have perfectly softened butter on the counter at all times. This little crock gets filled with a little cold water and in the bell portion is your perfectly soft butter. Cooks and toast lovers alike will appreciate this one!
SkinnyTaste Air Fryer Cook Book– This little cookbook is perfect for the air fryer enthusiast!
Lodge Cast Iron Skillet– I love these skillets for everything from searing to baking. They are the workhorse in my kitchen and so affordable!
Thermopro Meat Thermometer– Nothing ensures perfectly cooked meat every time like a probe thermometer. Stick it in the meat and be alerted when it's cooked to temp!

Silicone Baking Mats– Have a baker int he family? These are great! They keep you from using so much parchment and nothing sticks!
Olive Oil Bottle– Every cook loves some good bottles for storing oils in. The Rachel Ray line is super affordable and has a nice ergonomic spout that keeps the oil from dripping down the side with each pour.
Bamboo Salt and Pepper Keeper- I have this exact salt and pepper storage container by my stove. It's great for seasoning as you cook. I use kosher salt in all my cooking and this is the perfect way to store it!
Mason Jar Shaker– I love to put together a cocktail kit as a gift. This Mason Jar shaker is the perfect gift. Add a card with a good cock tail recipe, the necessary mixers and liquor and you've got a really thoughtful fun gift!
Ninja Air Fryer– This one is high quality and it's been on sale on Amazon this season. An Airfryer is a great gift for someone with small kids. It heats things up quick!
Kitchen Aid Immersion Blender– I have this immersion blender and it makes quick work with stews and sauces that need to be pureed. I love the storage cup that comes with it.
Instant Pot– It's been on my list for a few years running and for good reason! It's awesome. The new 10 in 1 Ultra has me ready for the upgrade!
Toaster Oven Air Fryer by Cuisinart– I love this thing! I definitely love the toaster oven air fryers more than the ones with the drawer. The main reason is the space and that they do more than one thing. I got my air fryer and my toaster off the counter and got one of these guys and there's no going back!
Slow Cooker– Now is the time to buy a slow cooker if you want to upgrade yours. I love one that travels well because it's great to be able to keep food warm at gatherings! This Crock Pot programmable is the exact one I have in my kitchen. The food comes out perfect every time and it's very affordable.
Pin it to refer to later!